FOOD & DRINK
Five Epic Food Experiences You Can Only Have in New Zealand
From foraging adventures to secluded lunch spots, sink your teeth into these unmissable food experiences across the ditch.
Five Epic Food Experiences You Can Only Have in New Zealand
From foraging adventures to secluded lunch spots, sink your teeth into these unmissable food experiences across the ditch.
---
in partnership with

Everyone knows that New Zealand has epic Lord of the Rings landscapes, but far fewer know about its quietly awesome food scene. Much like the people, the country's food is unassuming, approachable and punches above its weight. With plentiful seafood and homegrown produce, New Zealand's cuisine scene celebrates this bounty from land and sea. Come for the scenery, stay for the food — it'll be love at first bite.
Good food calls for a great wine match. Enter Cloudy Bay, one of New Zealand's most acclaimed wine brands. Whether you're foraging for fresh crayfish or sailing through the Marlborough Sounds, Cloudy Bay has you covered with its diverse and elegant selection. Together, we've dished up five top-notch food experiences you can only have in New Zealand.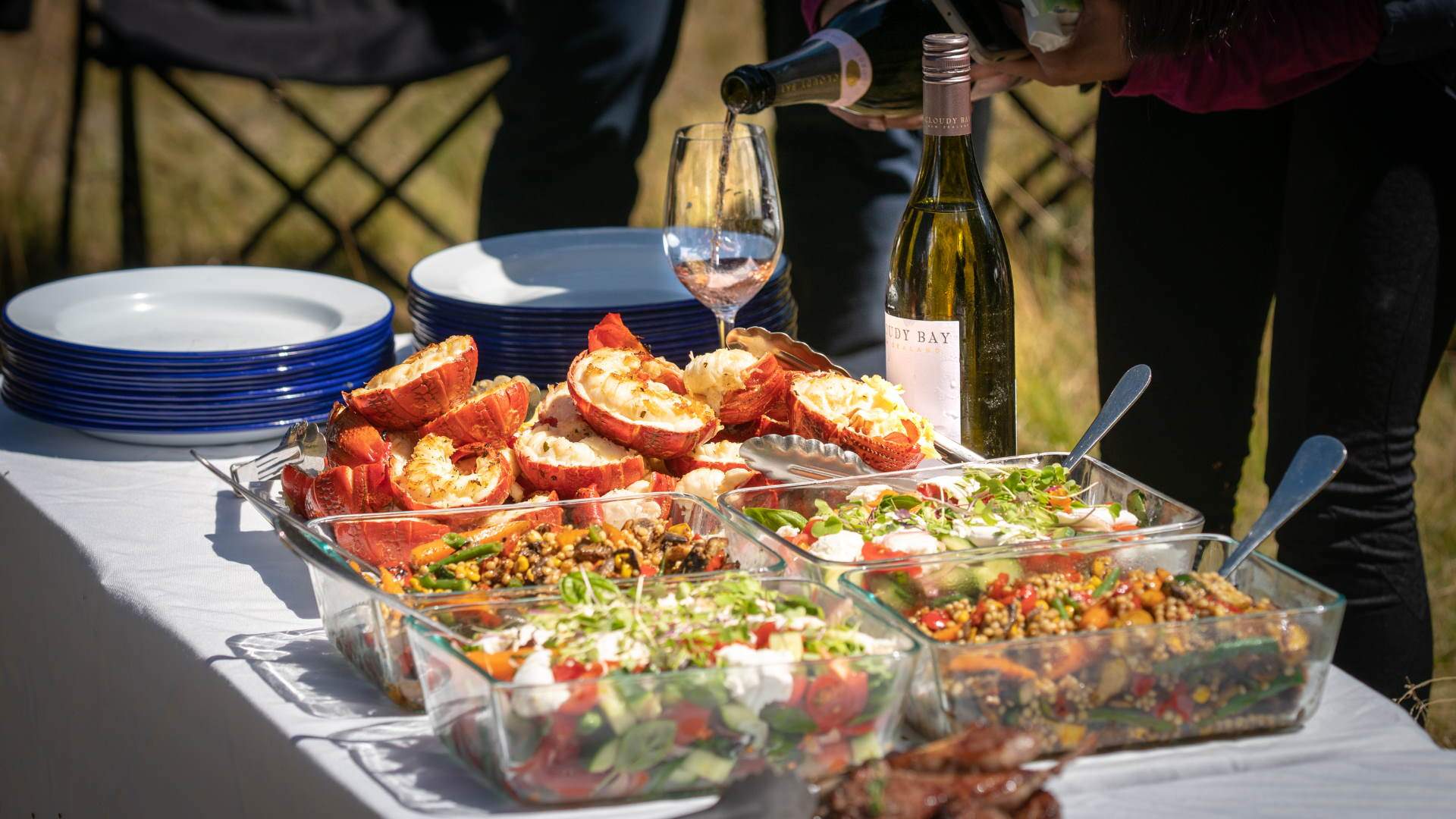 TAKE FLIGHT AND FORAGE FOR WILD FOOD
Blending jaw-dropping scenery with locally sourced food, a foraging tour with Alpine Helicopters is the ultimate way for food lovers to get a taste of New Zealand. Spend the day flying high as you glide over giant glaciers, majestic mountains, winding rivers and lush native bush, with foraging stops along the way. Fish for trout on the edge of Lake Wanaka, help your heli crew rustle up crayfish from the sea, and fill up your camera roll with the most epic landscapes you've ever seen. Once you've worked up an appetite you'll be flown to a secluded spot for a surreal lunch stop — a Kiwi bush barbecue featuring your catch and gorgeous wines to match. It's no free lunch, but it sure is priceless.
Wine match: Cloud Bay Te Koko, a wild take on sauvignon blanc, is the perfect pairing for fresh crayfish.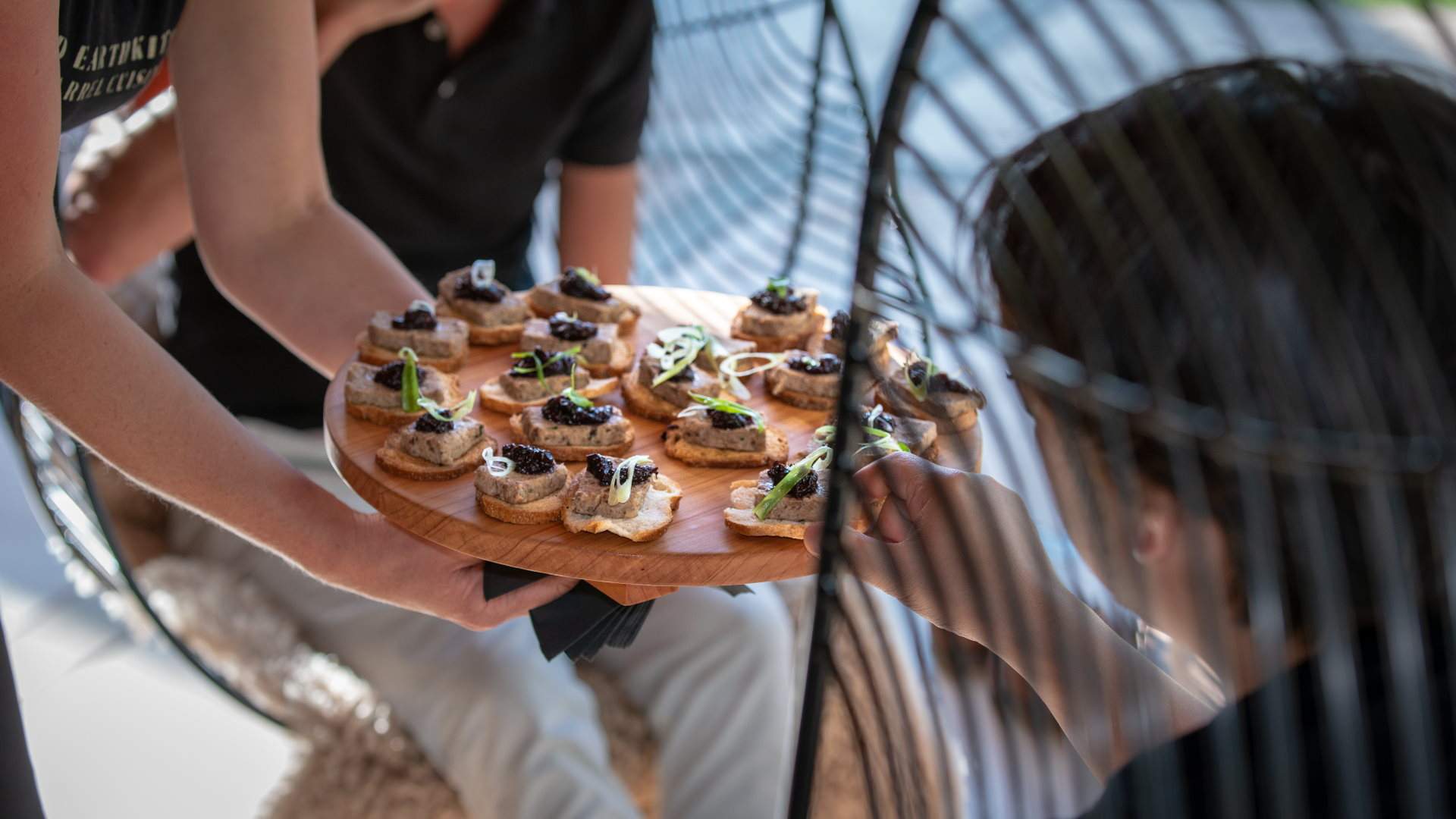 FEAST ON CUISINE COOKED IN WINE BARRELS
If you thought wine barrels were just for wine, think again. For an ingenious spin on the classic barbie, sink your teeth into 'barrel cuisine' at The Stoaker Room Bistro and Bar. Using retired French oak pinot noir barrels, the clever chefs cook up mouthwatering eats which burst with smoky, earthy flavours. From goat and wild pork to mussels and salmon, The Stoaker Room specialises in wild meat and seafood. For a real gastronomic experience, arrange a private catered meal at the Cloudy Bay Shed. The Stoaker Room team will roll up with their barrels and put on an incredible multi-course feast, matched with Cloudy Bay wines and dazzling Central Otago vistas.
Wine match: Cloudy Bay Te Wahi, a poised pinot noir with a bit of a wild side.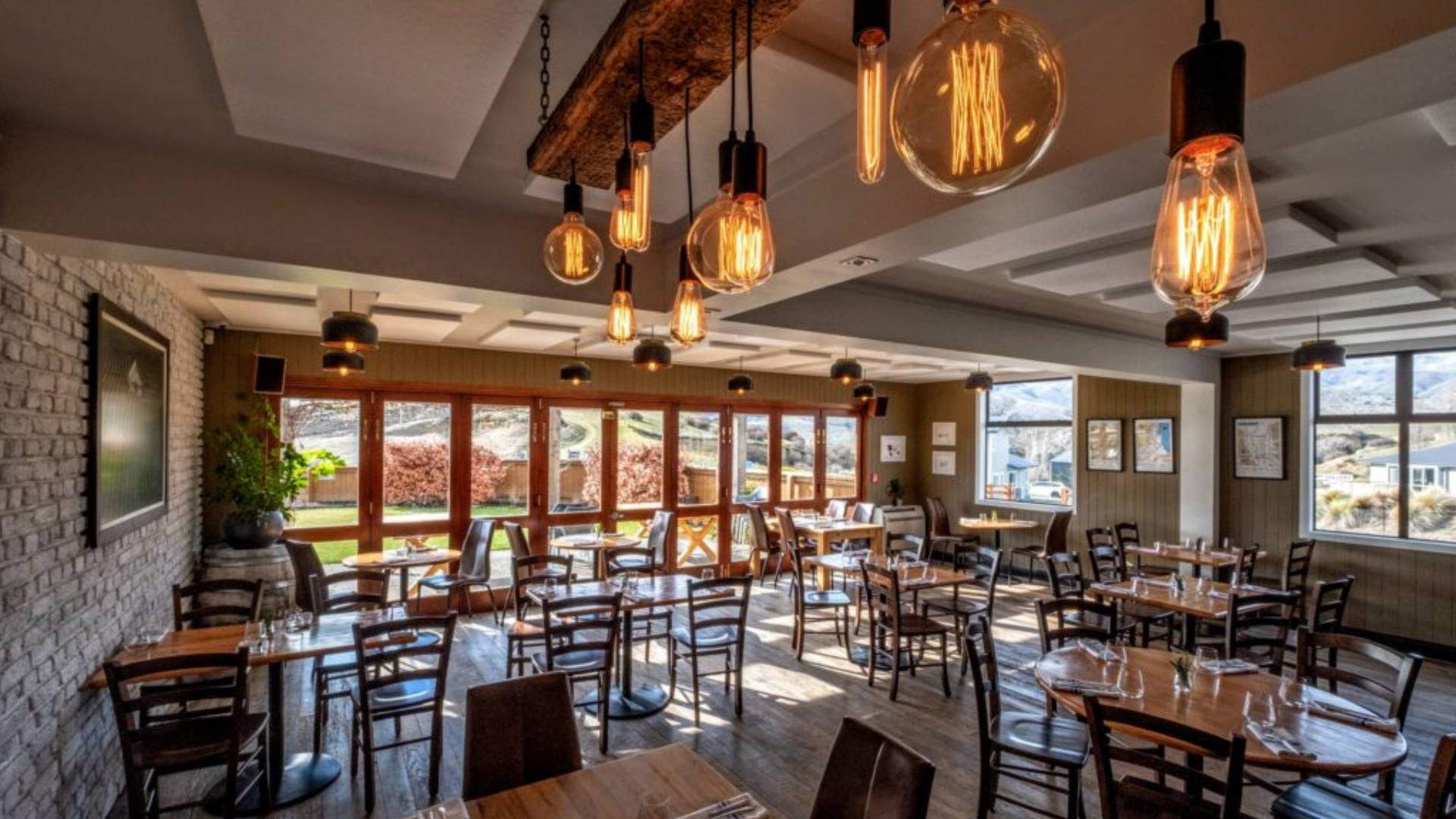 GRAZE ON TAPAS AT A PUB STEEPED IN HISTORY
Smack bang in the heart of old gold mining country, Bannockburn Hotel in Cromwell, Central Otago, is a restaurant that's got a tale or two to tell. First established in 1862, the Bannockburn Hotel was born during the great New Zealand Gold Rush, which saw the region flooded with prospectors chasing the golden dream. As the first pub to be granted a liquor licence in the region, the hotel was understandably a popular spot with the gold seekers. Today, the old pub remains a popular haunt. Following a makeover or two, it has been transformed into a sophisticated restaurant, with rustic touches celebrating its history. Serving up top-notch tapas made from the best local produce, Bannockburn Hotel is the ideal spot for a cold brew and a grazing session. Feast on goats cheese croquettes, chorizo, meatballs, and relish the views over the craggy, historic countryside. 
Wine match: enjoy the savoury bites and rich history with a lively Cloudy Bay pinot noir.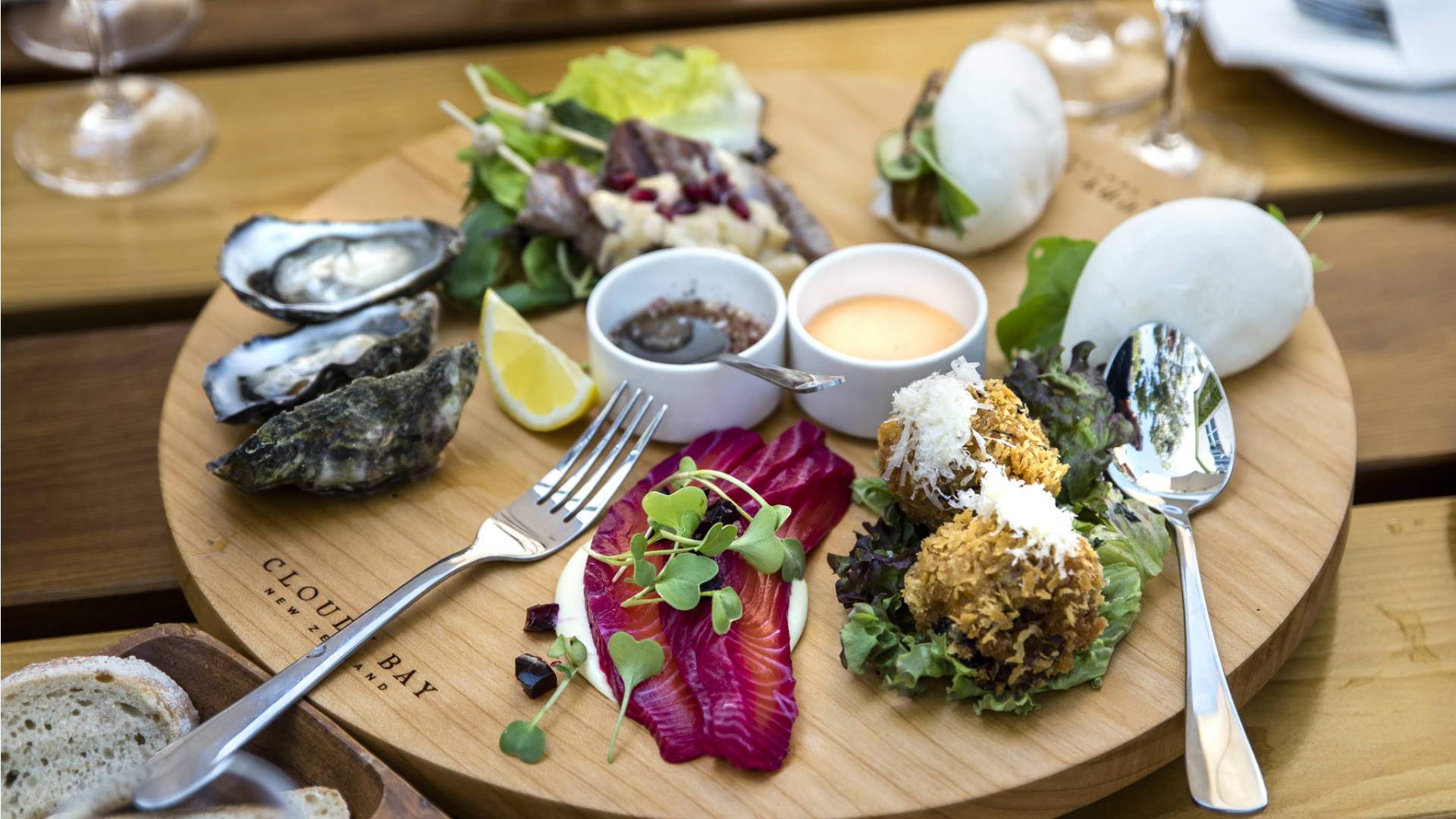 SAVOUR FRESH SEAFOOD WITH VINEYARD VIEWS
A culinary tour of New Zealand would not complete without a visit to Marlborough, one of the world's finest wine regions. With the sparkling waters of the Sounds just a stone's throw away, this region also boasts bountiful seafood. Experience the best of the region's goods in a picturesque vineyard setting at Jack's Raw Bar — the summertime restaurant at the Cloudy Bay winery. Relax in the outdoor wine lounge as you tuck into fresh Marlborough oysters, Cloudy Bay clams, cured salmon and other regional delicacies, all matched with Cloudy Bay wines.
Wine match: Cloudy Bay sauvignon blanc, the iconic drop that put the winery on the map.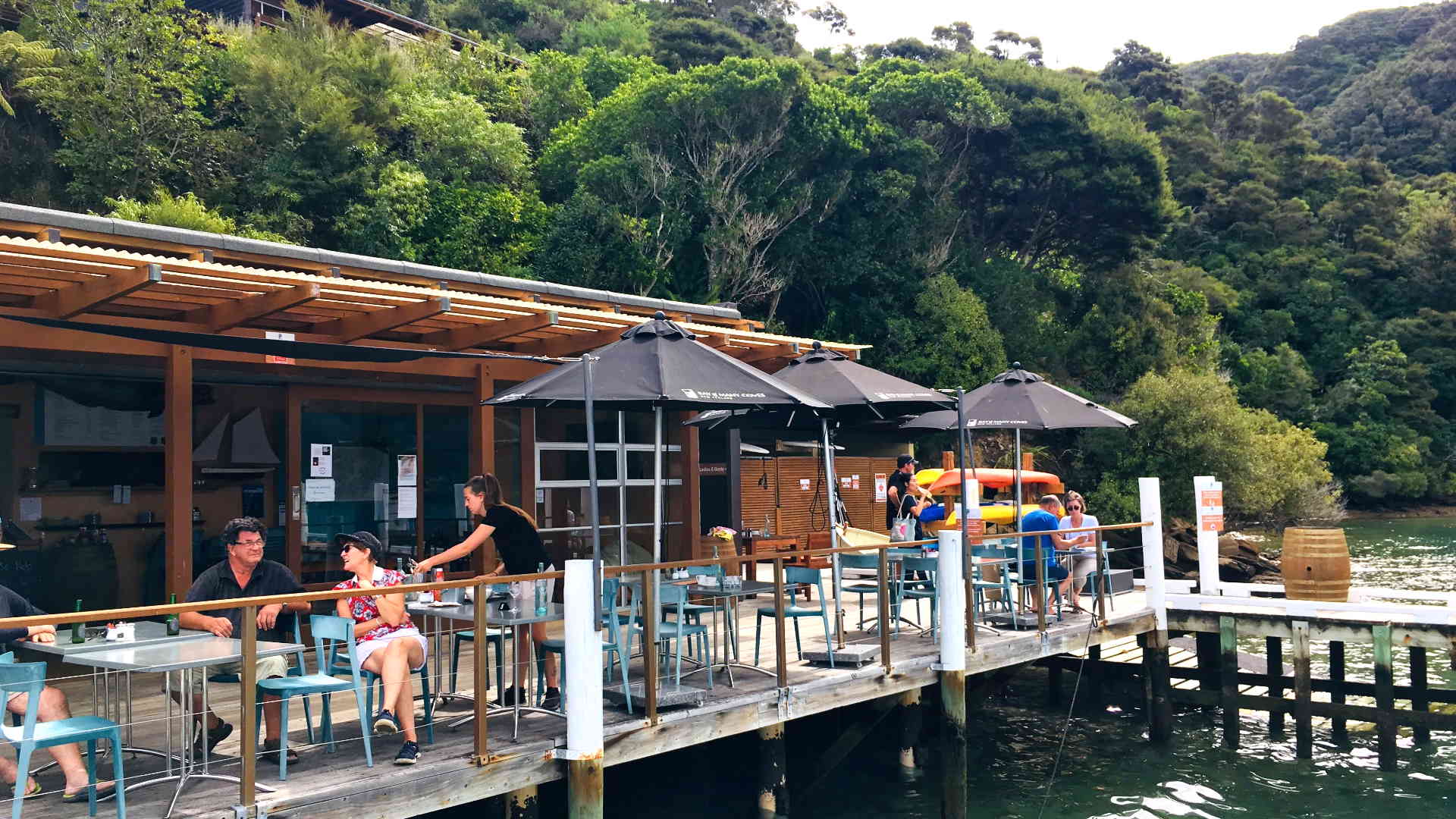 DINE IN A BAY THAT'S ONLY ACCESSIBLE BY BOAT
Nestled into a lush hillside, in a remote corner of the Marlborough Sounds, Bay of Many Coves is a shimmering sanctuary loaded with views. Take a boat from Picton to visit this tranquil retreat for a dreamy lunch escape. Cool down with a dip in the bay before settling in for a breezy lunch at the cafe on the water's edge. Sample the famous fish 'n' chips or seafood chowder and soak up the serenity. If you fancy a longer visit (and trust us, you will), stay overnight in one of the luxury villas. In the evening, treat yourself to a sumptuous meal in the award-winning restaurant, The Foredeck, which serves up immaculate cuisine from land and sea, and views to dine for.  
Wine match: an escape in the Sounds is best enjoyed with a glass of sparkling Cloudy Bay Pelorus. 

Discover the full Cloudy Bay range, alongside plenty more food pairing suggestions, here.
Published on September 12, 2019 by Catherine Reisima