FOOD & DRINK
Twelve Grown-Up Easter Treats to Hunt Down Around Sydney
You're never too old for this Easter hunt.
Twelve Grown-Up Easter Treats to Hunt Down Around Sydney
You're never too old for this Easter hunt.
---
It's Easter. Time to stuff yourself with baby animal-shaped chocolates and cross-covered pastries while feeling absolutely zero shame. To help you make the most of it, here are the best holiday treats making up your Easter hunt this year — from hot cross bun beers and Easter croissants to Messina's gelato eggs.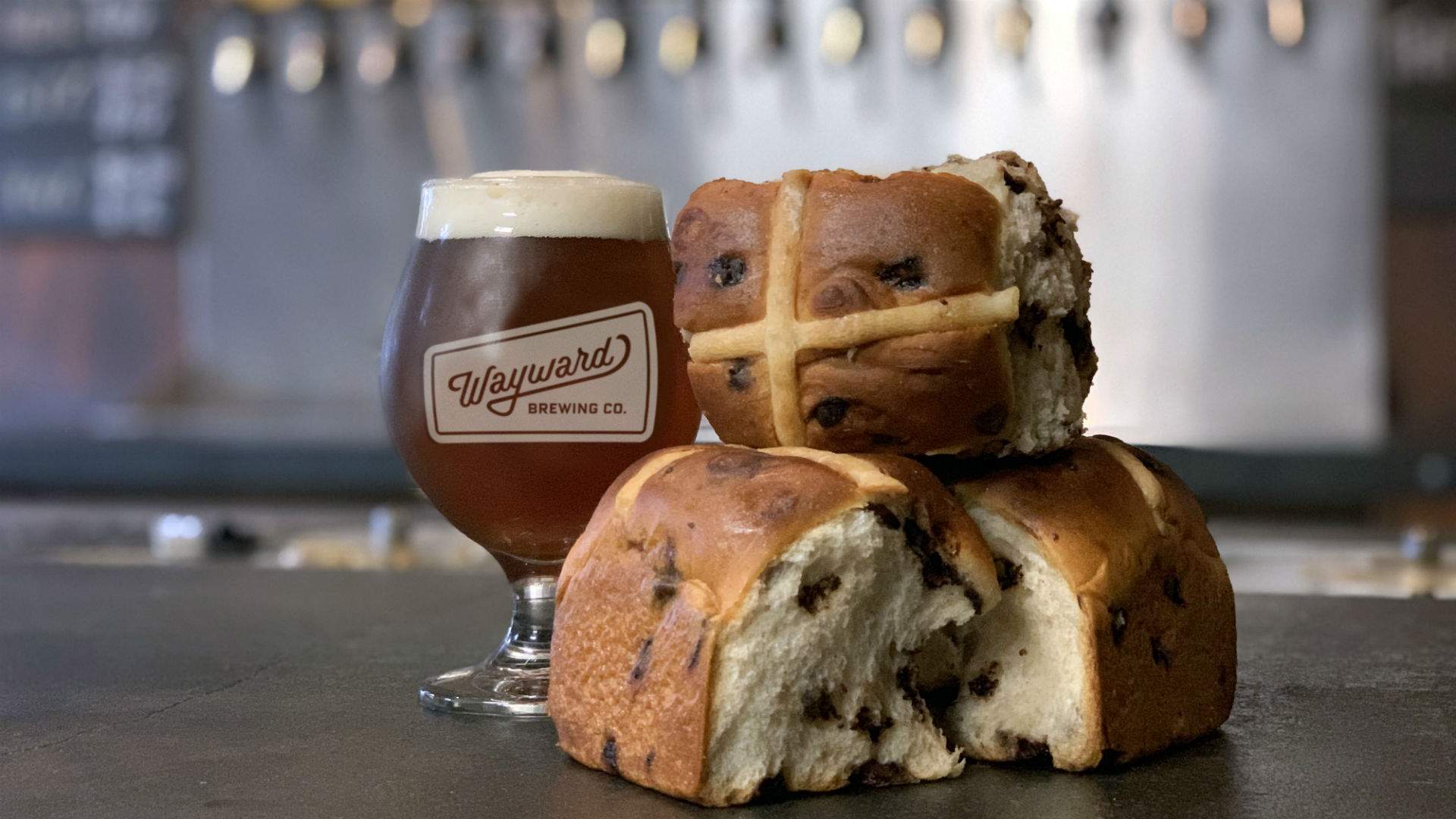 Wayward's cellar bar will be open all long weekend and be releasing a different beer each day — one of which is a hot cross bun beer. The festive brew is a Kvass-style beer, which originated in Russia and is considered one of the oldest-known beer styles. Kvass beers typically use rye bread in the brew, but Wayward head brewer Shaun Blissett is instead using a whole heap of HCB in the brew. The spiced beer will also be available to bring along to your various Easter festivities — just grab a growler or squealer to-go.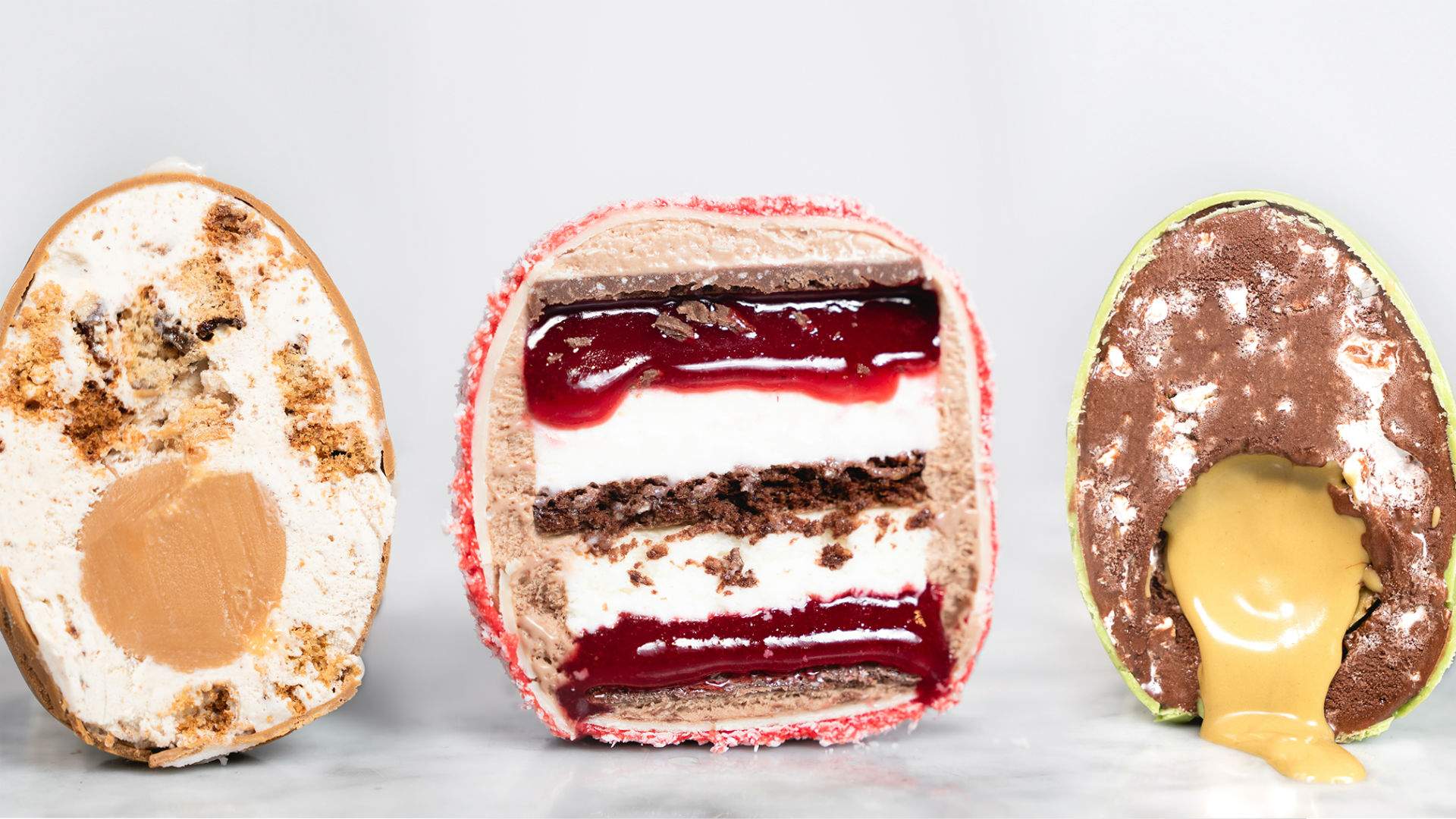 Messina is known for its incredibly lavish, over-the-top and rather pricey Easter desserts. This year, it's The Holy Trinity collection — which includes the Holy Hot Cross Buns (chunky hot cross bun gelato, an oozing dulce de leche yolk and a milk chocolate shell), the Saint Pistachio (Italian nougat and chocolate honey gelato with a pistachio fudge centre), and the Lord Lamington (coconut gelato, raspberry gel, coconut and chocolate dacquoise and milk chocolate parfait, all covered in red chocolate glaze and coconut).
The three gelato-filled Easter eggs will set you back $79 and online orders have already sold out country-wide. You'll have to head into the Rosebery headquarters on Saturday, April 20 to get your hands on 'em — but it's a very limited supply, so best get in early.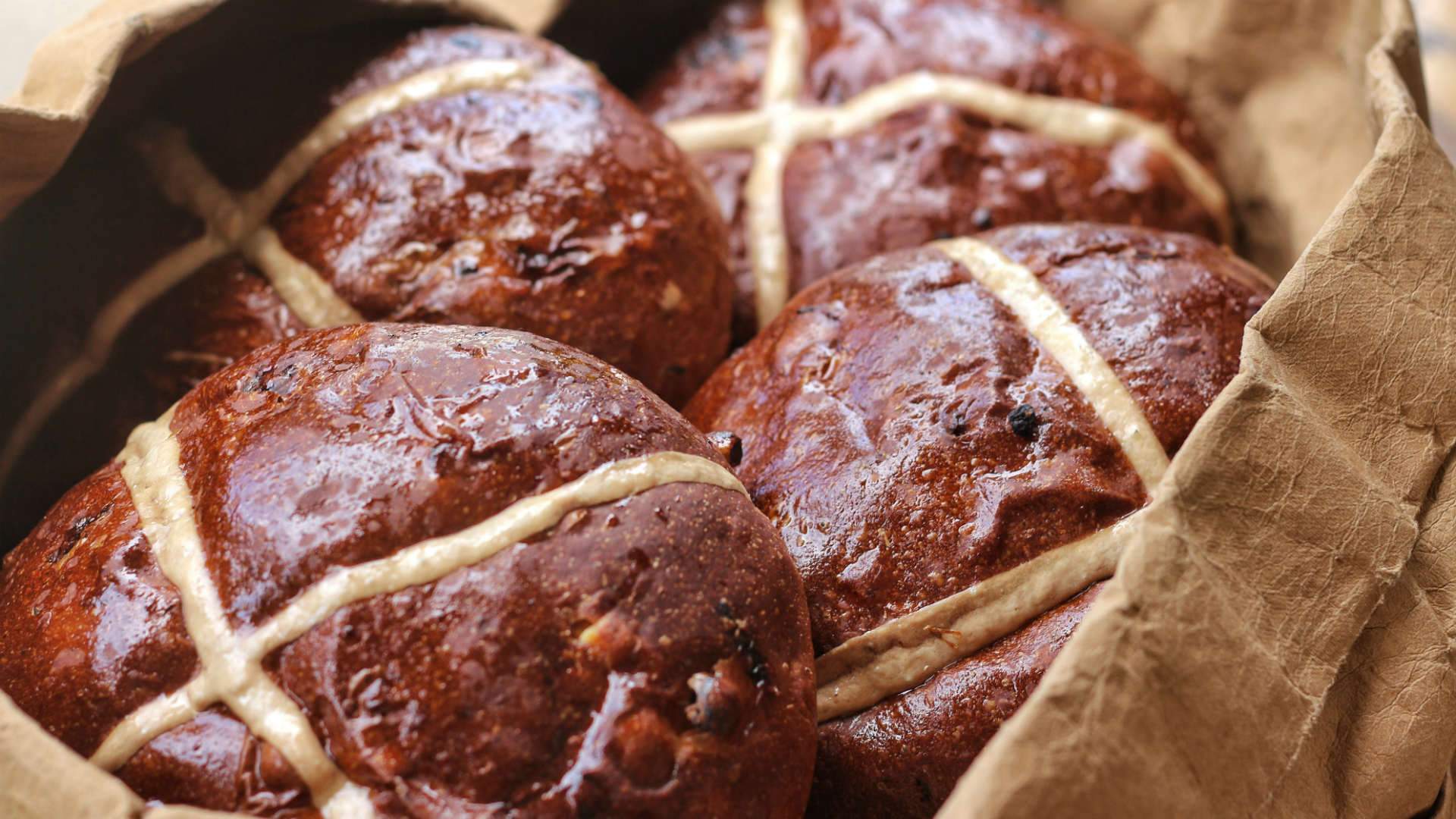 A big favourite around Easter time, the Bourke Street Bakery hot cross loaves skip the part where you eat a whole bag of hot cross buns and just give you the slice-sized portion you know you want. They're available up until Easter Monday at all eleven bakeries and are perfect to share around at Easter family gatherings or to toast up for breakfast all throughout the Easter season.


The Grounds loves to celebrate Easter in a big way — with a giant Easter egg that's over three-metres tall and stuffed with over 500-kilograms of chocolate. Australia's largest, in fact. No bookings, pre-orders or payments of any kind are necessary — the 'community cracking' will take place on Easter Sunday at 3pm where patrons are encouraged to show up and fill their bellies with as much chocolate as they like.



HOT CROSS BUN CROISSANTS AT TEXTBOOK
The Alexandria patisserie is getting into the Easter season with a French version of the hot cross bun. This croissant is stuffed with an HCB mix of spiced custard and dried fruit, then glazed and crossed with even more custard. It will only be available over the next two weekends, from April 13–14 and on Easter Saturday (April 20). Textbook's croissants have already gained a cult following in Sydney, so you can imagine how crazy people will go for these beauties — it's another one worth getting up early for.


NOT X BUNS AT SONOMA
While most of Sydney's bakeries are putting the finishing touches on their bun crosses, Sonoma adorns its sourdough hot buns with its signature S instead — hence the nickname, 'Not X Buns'. Its version is studded with plumped sultanas and cranberries and spiced to perfection. The buns are available in all Sonoma stores right up until Easter Sunday.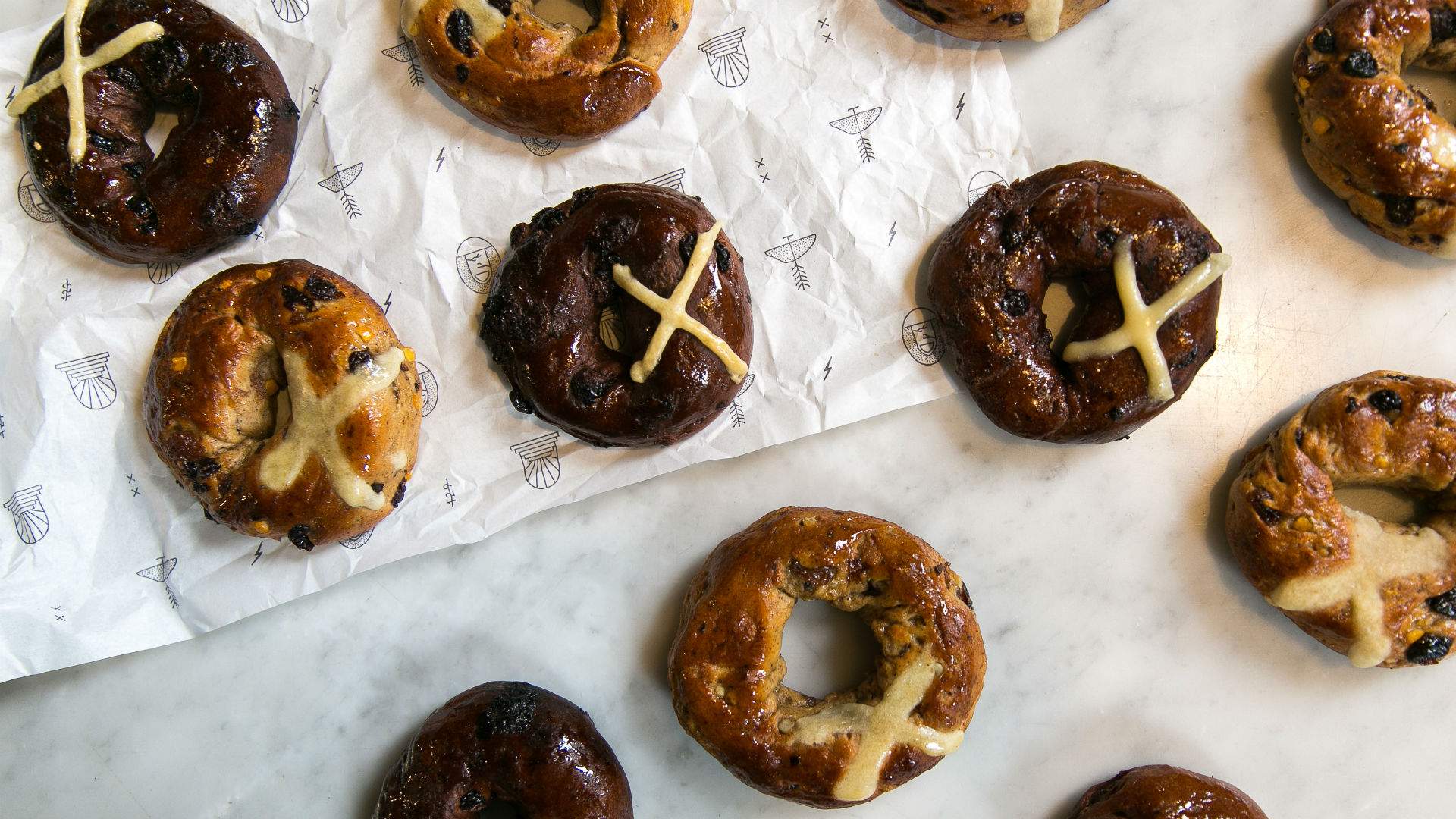 A more savoury, chewy alternative to the Easter staple, Smoking Gun's hot cross bagels are an excellent addition to your long weekend breakfasts. The team has spent years perfecting this recipe, which is full of cloves, grated nutmeg, cinnamon and candied orange peel, then topped with a maple glaze. This year, Smoking Gun is also slinging a chocolate version in collaboration with Callebaut — in which most of the fruit has been replaced with the Belgian chocolate. We have a feeling a mixed dozen is in our future.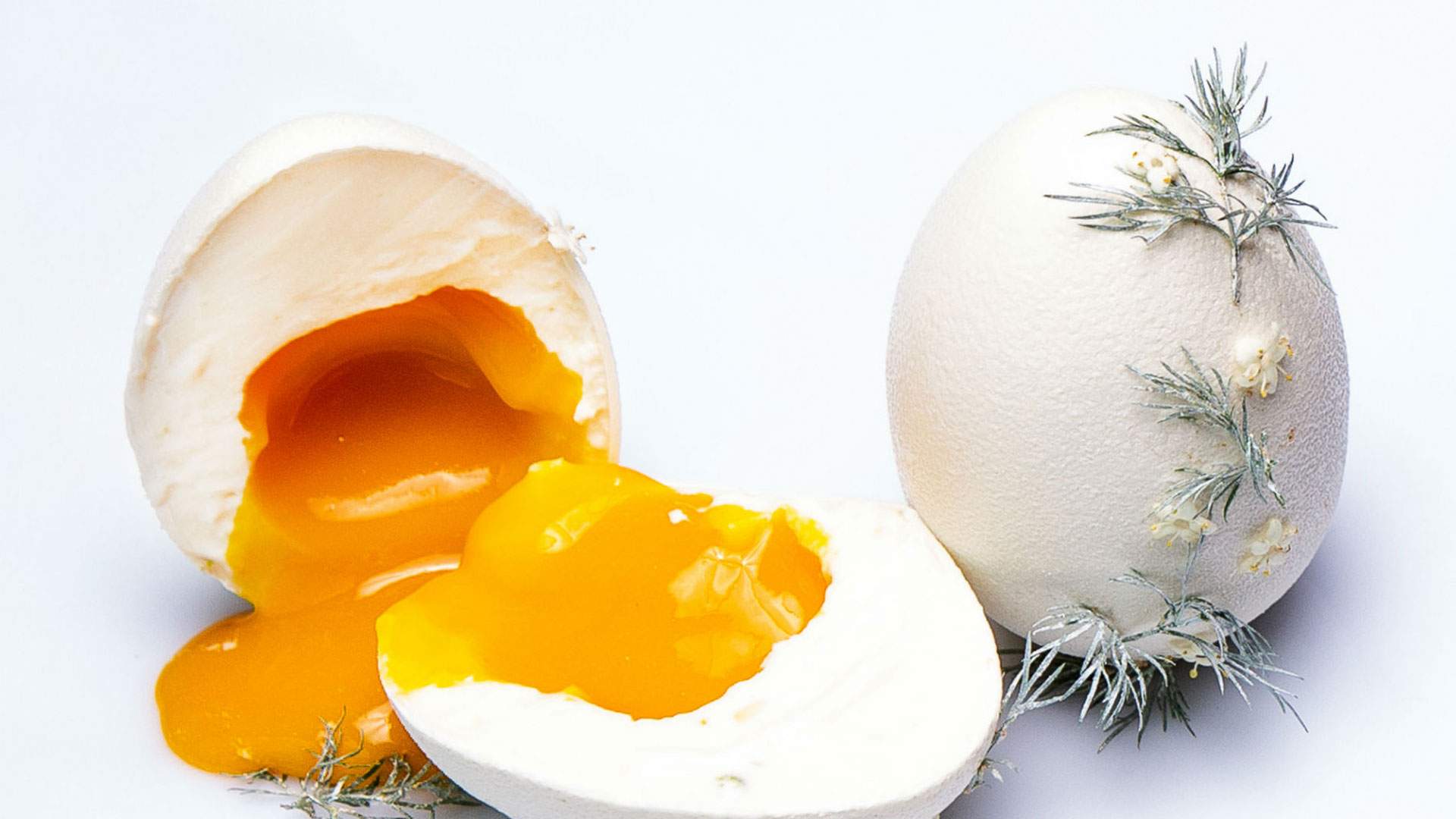 The innovative dessert crafters at Koi really outdo themselves for Easter. This year, they're offering up a stunning specialty dessert called The Dragon Egg. It's just so damn pretty and comes in 'white' or 'black' flavours. The white Dragon Egg is yoghurt mousse with a oozing lime and mango yolk, while the black Dragon Egg is black sesame mousse with a Japanese citrus, yuzu curd and mango gel centre. These beauties are $15 a pop and are only available from April 12–18 across all Koi shops (Chippendale, Ryde, Macquarie and the Regent Place pop-up).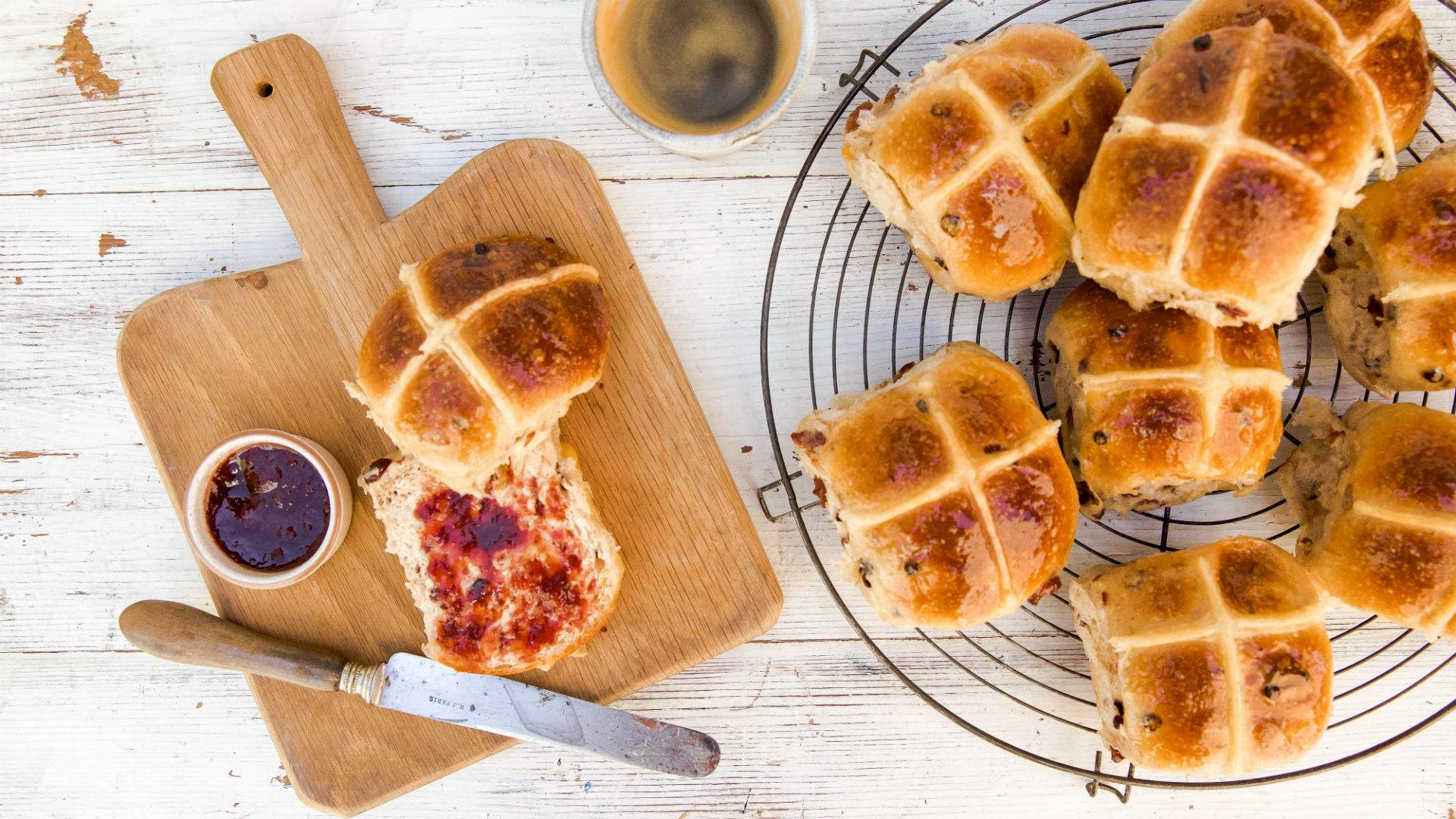 GLUTEN-FREE HOT CROSS BUNS AT BAKE BAR
The artisan bakers at Bake Bar are bringing Sydneysiders a dietary requirement-friendly hot cross bun for Easter — they're organic and gluten free. Each cinnamon-spiced batch is filled with organic currants, sultanas and raisins. If you're not looking for gluten-free, don't worry, the bakery's traditional HCB are also up for grabs. All three shops (Double Bay, Randwick and Alexandria) are slinging both versions from April 1 through 25, so you have plenty of time to snag some before (and after) Easter.


HAND-PAINTED EASTER GOODIES AT OH! BOO CHOCOLATES
Barangaroo's chocolate shop adds a special touch to treats during Easter by offering hand-painted chocolate bunnies, chooks and eggs. Oh! Boo sources the finest chocolate from Peru and Venezuela to handcraft these delicious bites. Expect classic flavours like milk, strawberry and white chocolates that are also available in kosher and gluten-free form. The eggs can also be personalised with the lucky recipients name painted directly onto the chocolate. All of Oh! Boo's chocolates are made from scratch onsite, so you know you're giving, or getting, that little extra love this year.


HOT CROSS DOUGHNUTS AT SHORTSTOP
These rings of spiced, doughy goodness are the Easter creations from the ever-baking doughnuteers at Shortstop Coffee and Donuts. Brandy-soaked dried fruit is mixed through a sweet and spiced yeast-raised dough, before being fried, dunked in a honey glaze and striped with a cinnamon sugar cross. You can pick one up at its Barangaroo store or pre-order online up until Easter Monday. They'll set you back $5.50 each or $30 for six. If that's not an Easter miracle, what is?


Melbourne's premium chocolate shop Koko Black is ringing in the Easter season with its limited-edition bunnies, eggs and pralines. Head chocolatier Remco Brigou is bringing back his ever-popular Inbetween Eggs — a grown-up selection of big eggs that combine toasty, salty, crispy and creamy elements. This year, the flavours of the $22 eggs includes salty cashew brittle, cookies and cream, caramelised coconut flecks and passion fruit. The full range is available in-store and online straight through the season. Check out all the Sydney locations here.
Published on April 09, 2018 by Concrete Playground