FOOD & DRINK
Twelve Grown-Up Easter Treats to Try in Sydney
You're never too old for this Easter hunt.
It's Easter. Time to stuff yourself with baby animal-shaped chocolates and cross-covered pastries while feeling absolutely zero shame. To help you make the most of it, here are the best holiday treats making up your Easter hunt this year.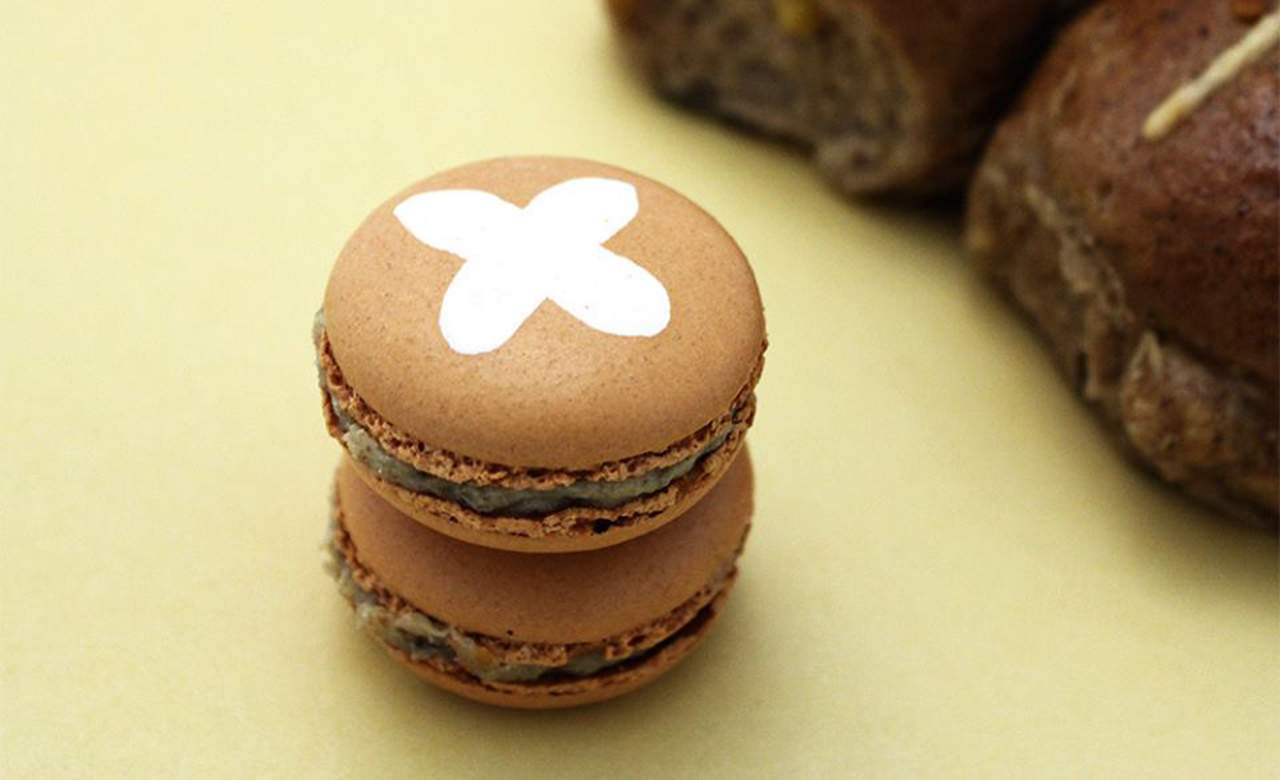 Adriano Zumbo Patissier has to win the award for the most creative and varied range of Easter treats in Sydney. Alongside Easter Bunny Pause tarts and fish, bunny and chicken couverture dioramas, a favourite for pure simplicity is the Hot X Bun Zumbarons. They lend an Easter touch to the patissier's year-round mouthwatering macarons.
Check the Zumbo website for locations.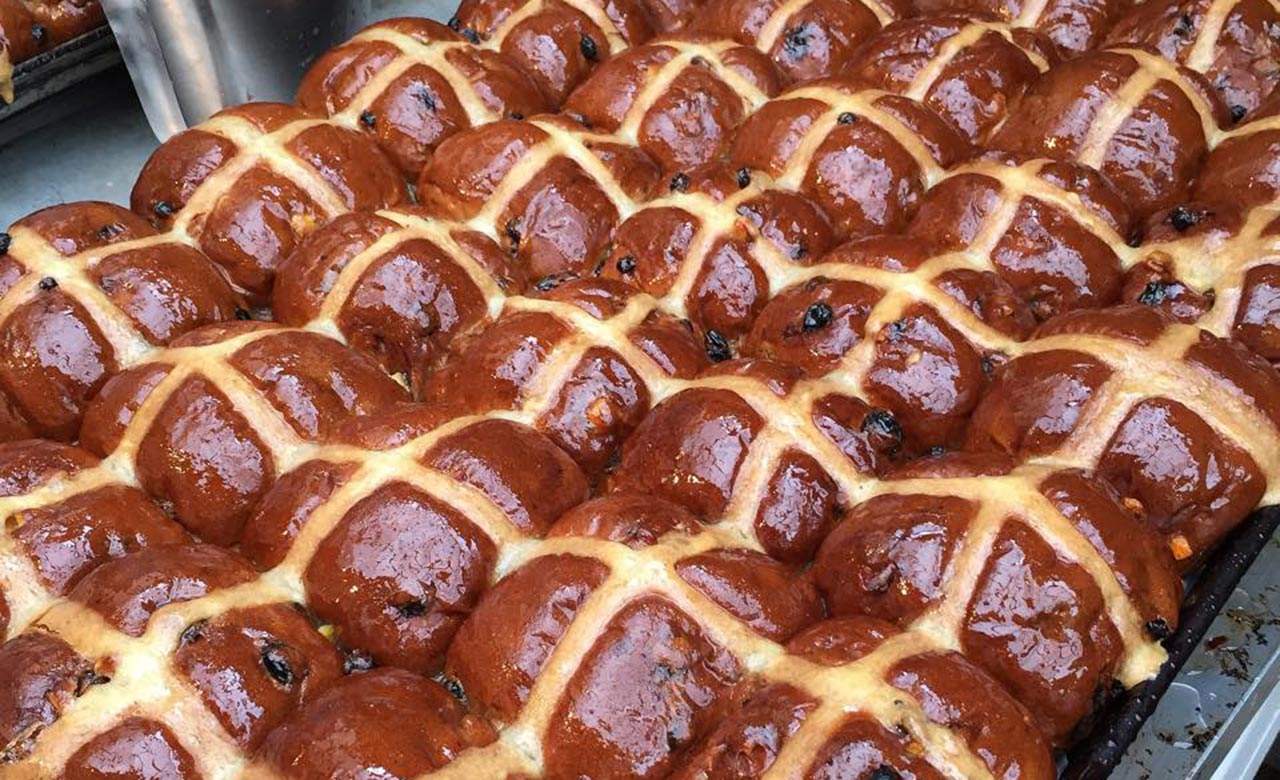 FRANKINCENSE COATED HOT CROSS BUNS AT BLACK STAR PASTRY
For a pleasant old-world feel with your Easter treats, have a try of Black Star Pastry's traditional hot cross buns. Famous for their strawberry and watermelon cake, this patisserie coats all of their hot cross buns in Frankincense glaze to truly take over all your senses with the spirit of the season. At $4.50 each, get in quick — they usually cap the amount each customer can order because the demand is so high.
277 Australia Street, Newtown and corner of Dunning Avenue and Hays Road, Rosebery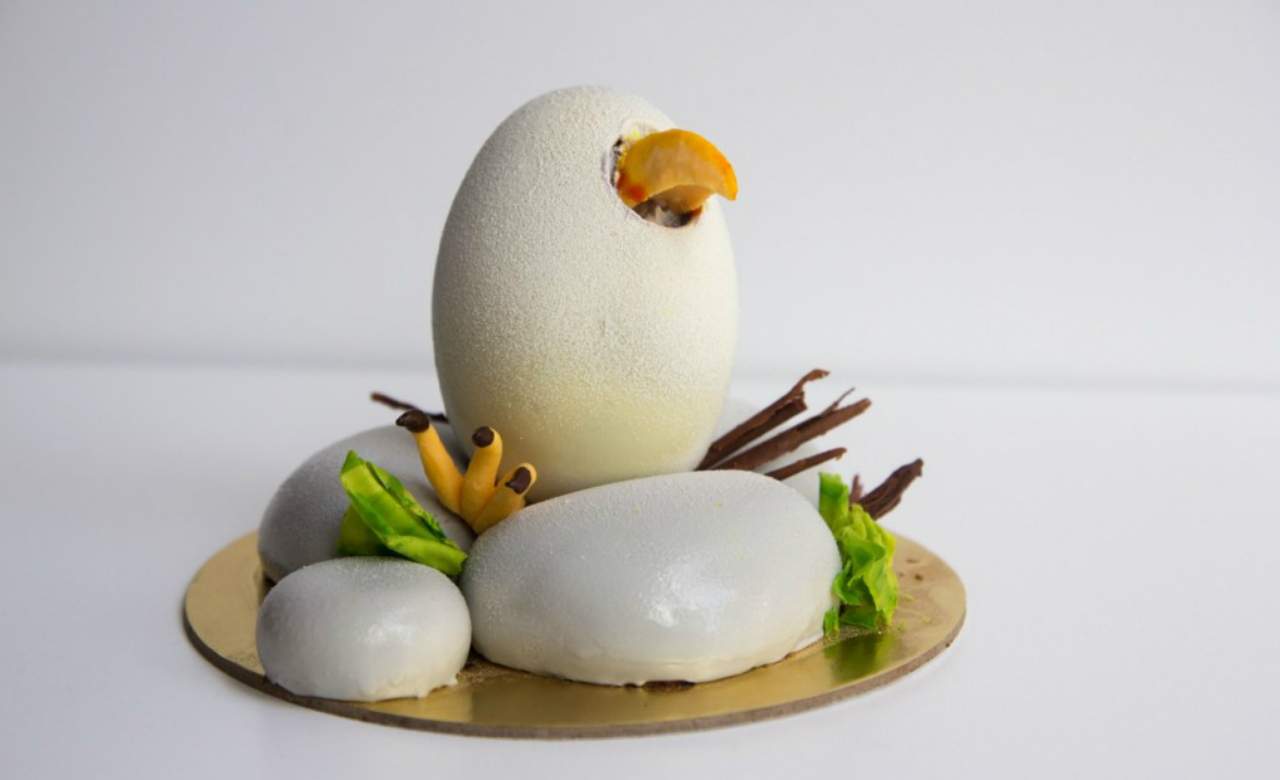 GELATO MESSINA'S CHICK MAGNET
Easter gelato? Yep, it's a thing. Every year, those frozen wonder wizards at Gelato Messina whip up a specific dish that'll make you think they've grown their very own pair of rabbit ears. In 2016, none other than the Chick Magnet is on the menu, offering up milk chocolate ganache and white choc hazelnut gelato inside a milk and white chocolate shell.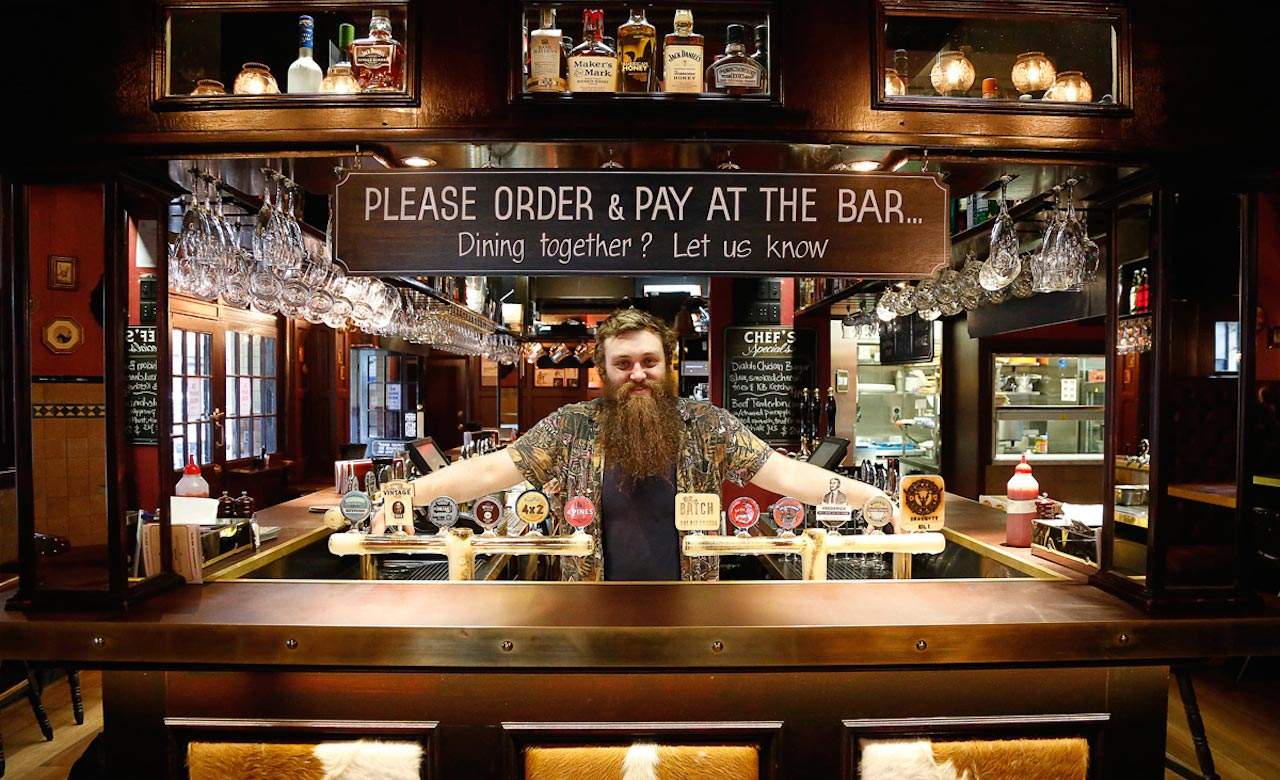 DARK EASTER BEERS AT KEG & BREW
Keg & Brew, along with their big sister venue the Dove & Olive and new family member The Dog in Randwick, is turning your 'traditional' Easter celebrations on their head with a special craft beer offering. Look for Willie the Boatman's Black Bunny Dark Ale on tap, with hints of chocolate, vanilla, cream, caramel and toffee. There'll also be a selection of 'hot cross burgers' at the K&B, D&O and The Dog, in two versions: tempura soft shell crab and Ohio turkey hot cross burgers.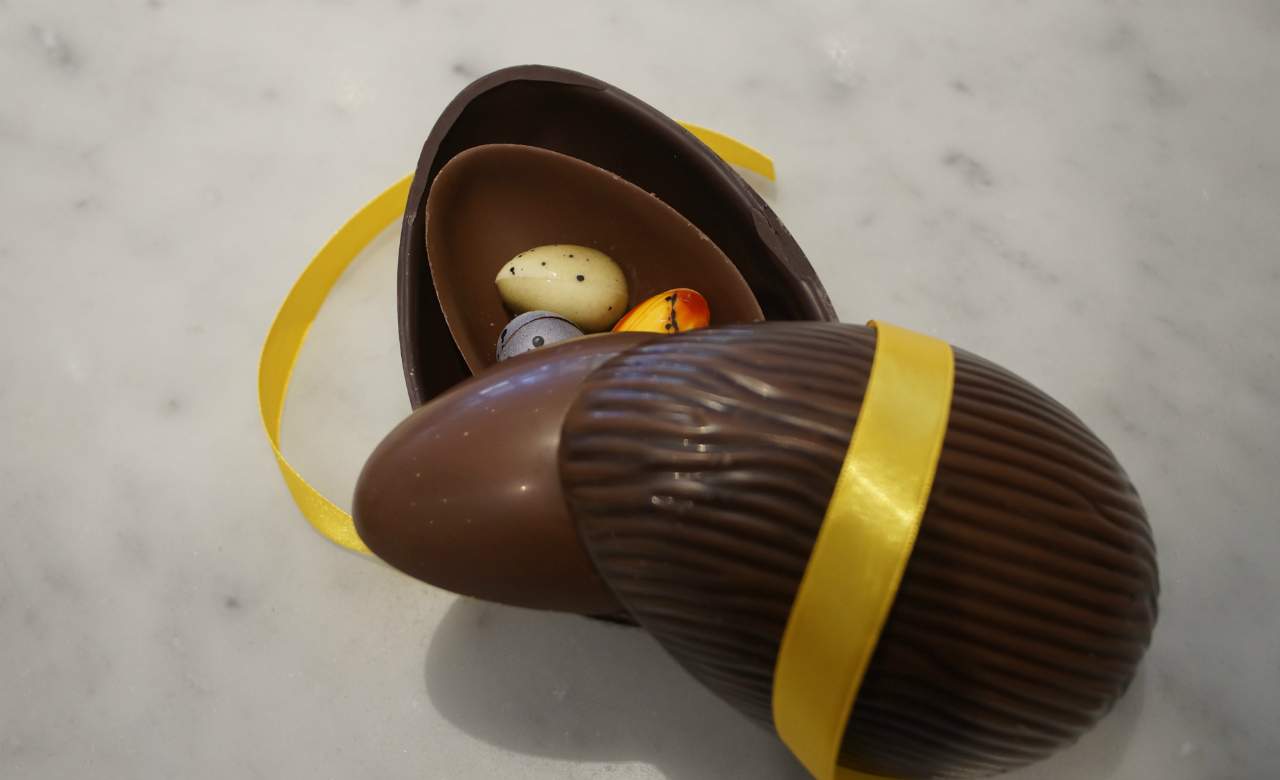 This could be the most grown-up Easter egg/piece of chocolate art we've found this year. Purveyors of lovely things Sorry Thanks I Love You have worked with Sydney chocolate wizards Kawawa Chocolates to create this gem. Painstakingly constructed by hand by master chocolatier Jin Sun Kim over a few days, these limited edition Babushka eggs are three layers of delicate, chocolatey goodness. Hand-painted 'quail' eggs are encased within a fine milk chocolate shell, within a thick, single origin dark chocolate outer shell. It's about 20cm long and will set you back $60, available from Sorry Thanks I Love You's Martin Place store.

SOURDOUGH HOT CROSS BUNS AT BRICKFIELDS
Brickfields offer you a different take on the traditional hot cross bun with their own signature sourdough version. Made with whey and mixed with cranberries, currents and sultanas, they're denser then the traditional Easter bun, and somehow extra delicious.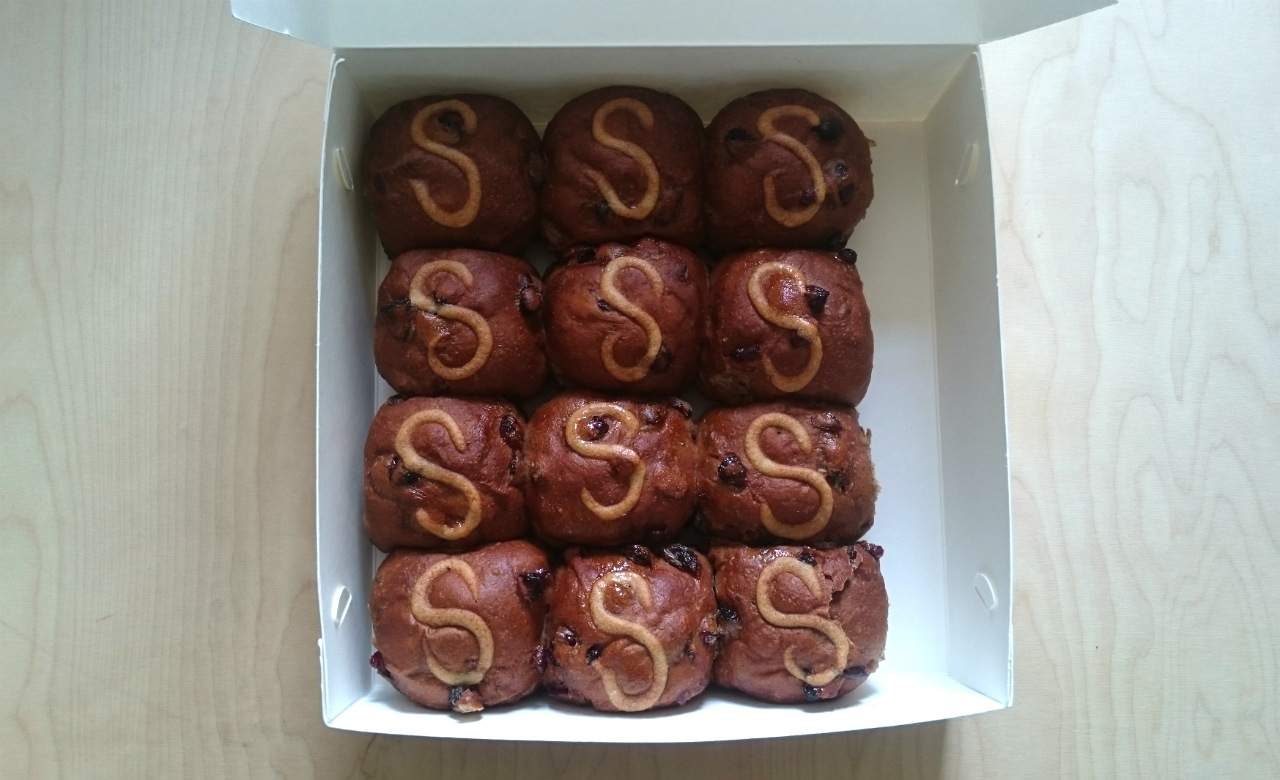 SOURDOUGH HOT CROSS BUNS AT SONOMA
Ok, so we're including two sourdough hot cross buns. But Sonoma's buns are worth including too. Balancing that tricky ratio of moisture to fluffiness, Sonoma's sourdough delights come with just right amount of juicy fruit bits. Whack a big dollop of local butter on them, we're done.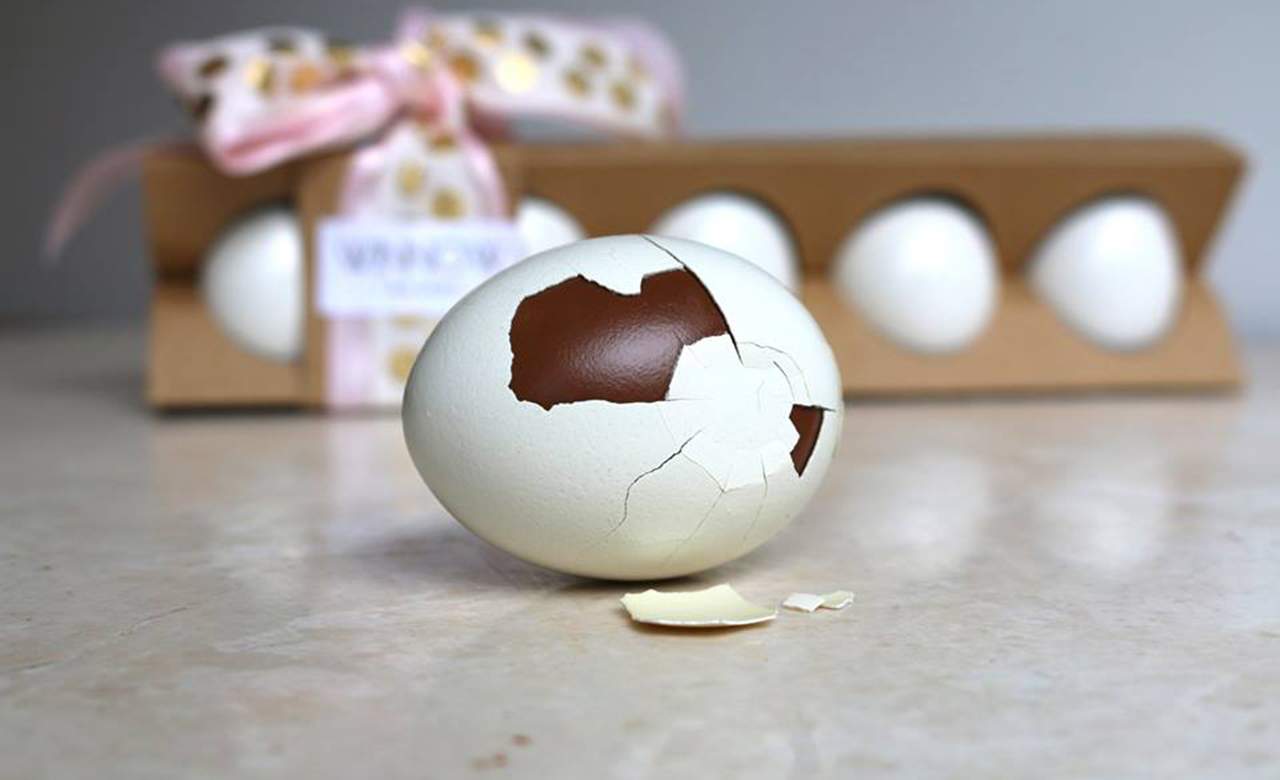 CLASSY PRALINE EGG INSIDE A REAL EGGSHELL FROM WINNOW CHOCOLATES
For some a bit of whimsy and a touch of "how the hell did they get that in there?" look no further than Winnow Chocolates' praline eggs. Sealed inside a real eggshell that you have to crack and peel yourself to reach the sweet hazelnut praline inside, they're a completely reasonable $4.50 each. The perfect treat to hide through your garden for a natural egg hunt look.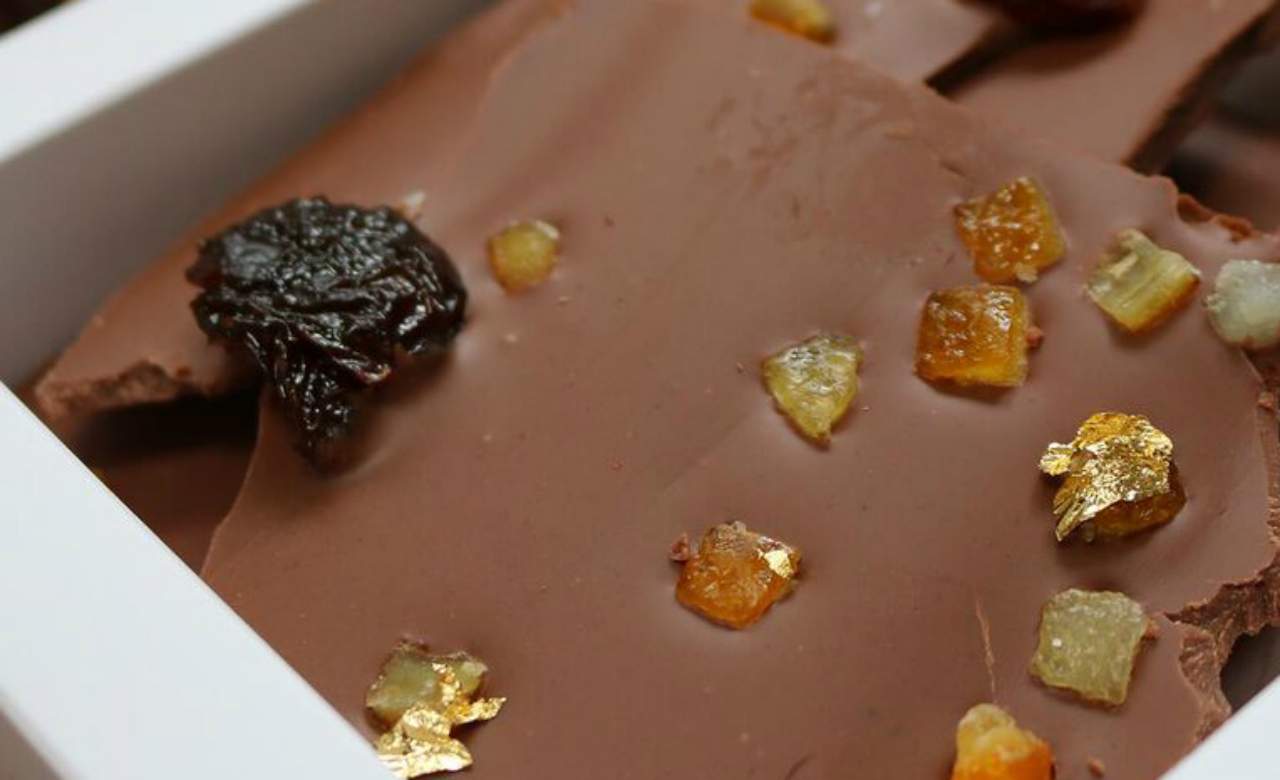 When sweet things pose as other sweet things, we're always on board. Dark couverture chocolate, decorated with edible 23 carat gold leaf, lemon rind, candied orange and sultanas, and spiced with cinnamon and nutmeg, Winnow Chocolate's signature Easter treat is one decadent slab. While this one's a little exxy for one slab of brittle at $22 each, we reckon it's worth every bite.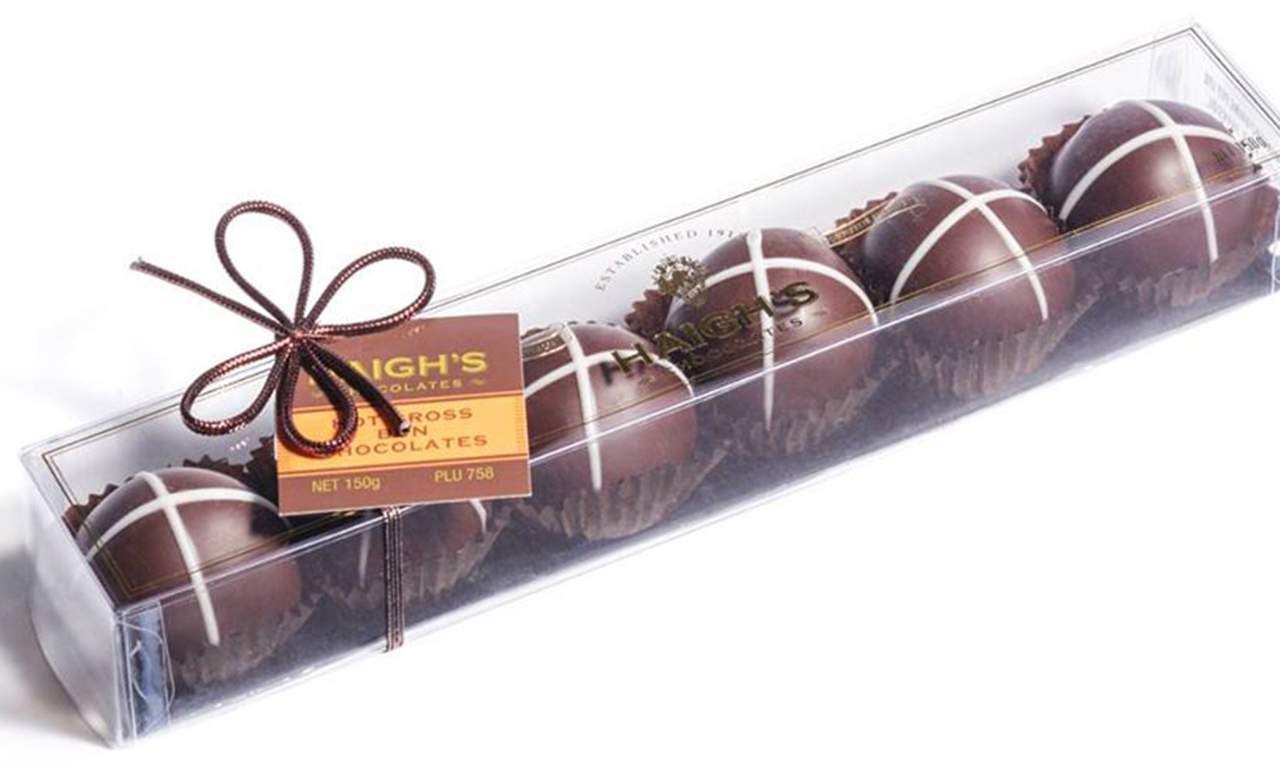 HOT CROSS BEN TRUFFLES AT HAIGH'S
In a precious little crossover of your favourite Easter treats, Haigh's is offering hot cross bun chocolates ($23.75 for six). Filled with fruit and spice fudge, covered in dark chocolate and finished with a white cross, they'll go perfectly with the traditional Haigh's chocolate bilby.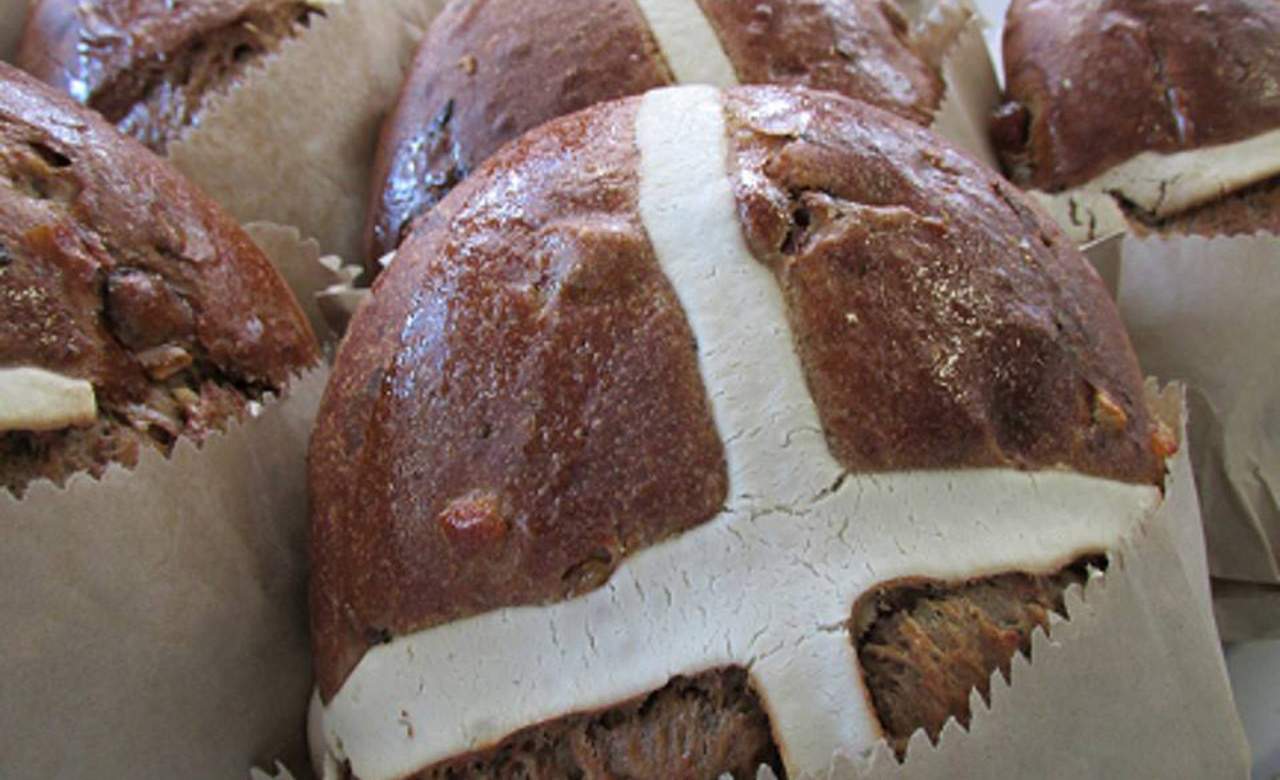 A big favourite around Easter time, the Bourke Street Bakery hot cross loaves skip the part where you eat a whole bag of hot cross buns and just give you the loaf-sized portion you know you want. They're perfect to share around at Easter family gatherings and are great to toast up for breakfast all throughout the Easter season.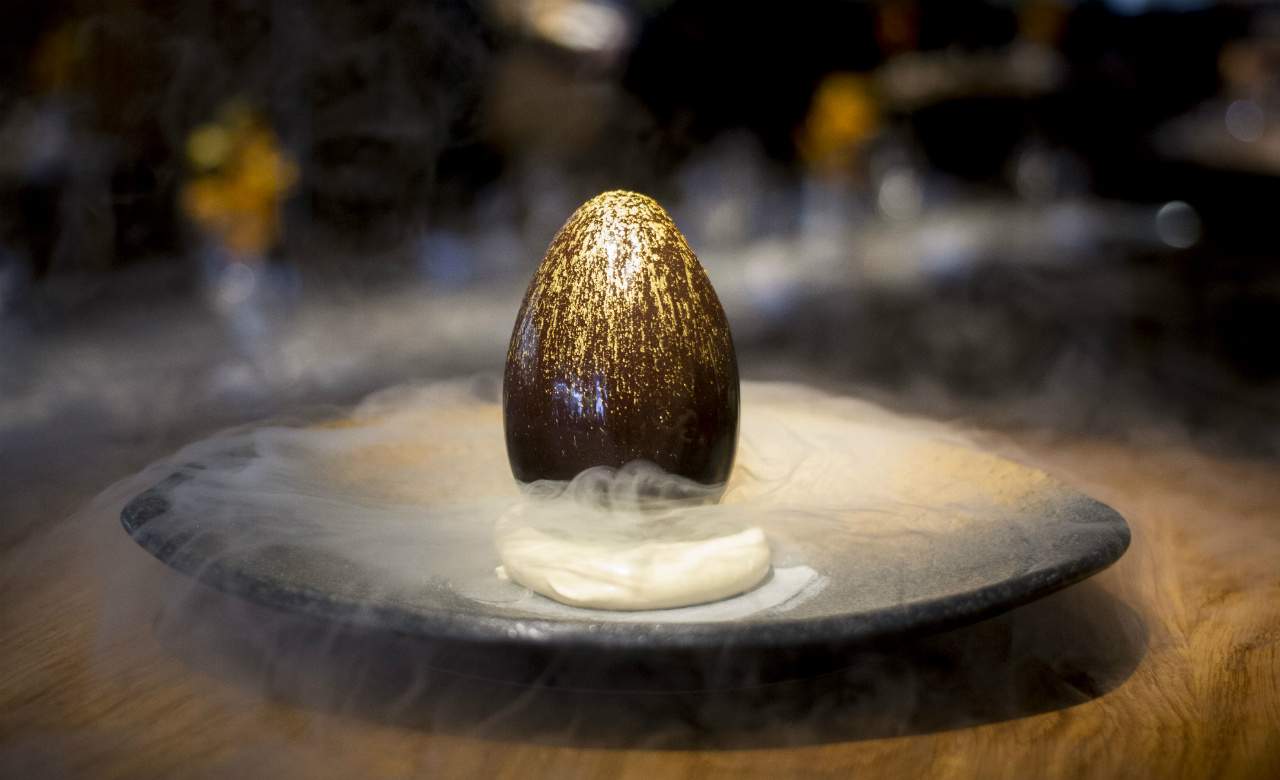 DRAGON EGG AT SAKE
Taking three days to make, the signature Dragon Egg dessert at Saké Double Bay has a bit of a cult following (around 400 are made each week at the Double Bay venue). It's a Valrhona chocolate shell filled with toasted chocolate crumble, edible soil, passionfruit yoghurt crispy chips, chocolate mousse, passionfruit curd, and mango caramel, A light gold dust finishes everything off and the egg comes served with passionfruit ice cream, under a pouring of liquid nitrogen — so it can be broken open with a mere spoon. Over Easter, you'll be able to order the Dragon Egg at Sake in The Rocks (Sydney), Hamer Hall (in Melbourne) and Eagle Street Pier (Brisbane) too. Only 50 will be available at each venue and for a limited period — Friday, March 25 to Monday, March 28.
Spotted any other inventive and tasty Easter treats around town? Let us know in the comments below.
By Elise Newton, Sarah Ward, Shannon Connellan and Gemma Mollenhauer.
Published on March 17, 2016 by Gemma Mollenhauer