FOOD & DRINK
The Seven Best Breakfast Buffets in Sydney
They say it's the most important meal of the day, so you may as well stretch it out to several platefuls.
The Seven Best Breakfast Buffets in Sydney
They say it's the most important meal of the day, so you may as well stretch it out to several platefuls.
The way we see it, there are two types of people in the world. First, there are the early risers: those who spring out of bed, salute the rising sun, and throw themselves into the new day with all the gusto and impatience of those raring to get things done. The second group are the nocturnal creatures. Eyes bleary, hair a mess, they arise with a guttural grumble that dissipates only post-double espresso and undisturbed review of the morning paper.
In our experience, the one thing that truly unites the early birds and the night owls, regardless of the time of morning, is a deep and enduring love for a hearty breakfast spread. So far, Concrete Playground has brought you Sydney's best brunches, her most delicious a la carte breakfasts and her winning hangover breakfasts. Today, we continue our love letter to the most important meal of the day with a round-up of Sydney's unbeatable breakfast buffets.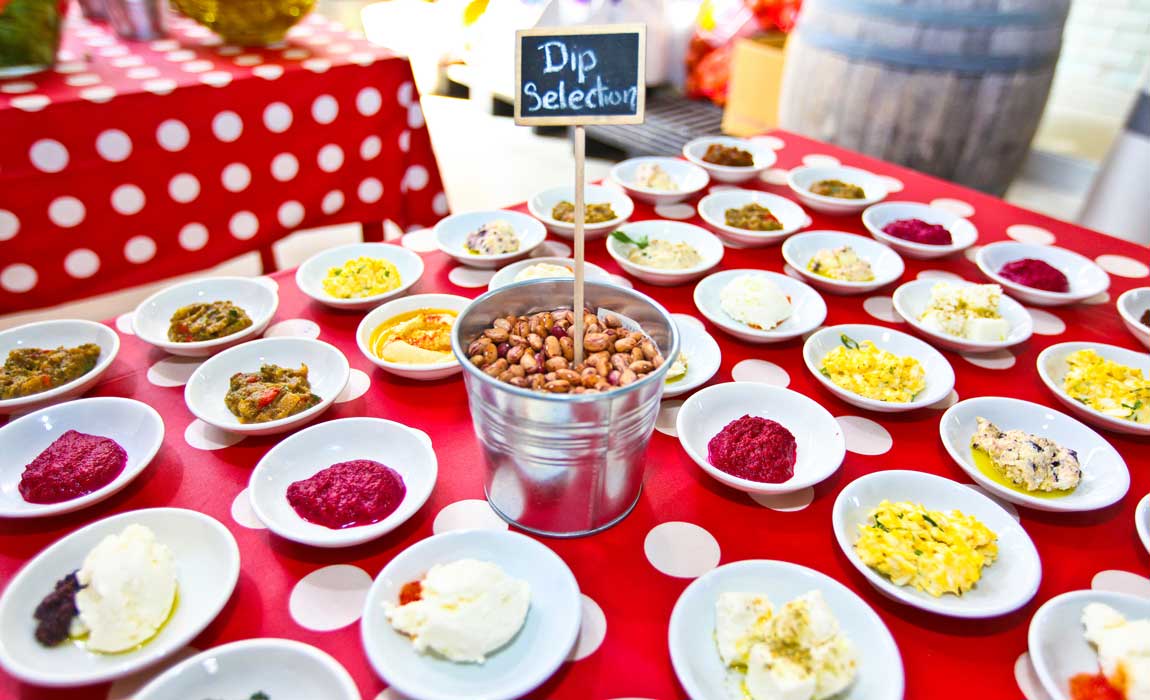 GRANDMA'S LITTLE BAKERY
Best for: A relaxed Saturday morning breakfast with family or friends.
If all the Jewish grandmas got together to make one phenomenal breakfast spread, this would be it. Fluffy, homemade spinach and cheese bourekas compete for space on your plate with oven-fresh rolls, fleshy and colourful heirloom tomatoes, creamy pumpkin and zucchini frittatas and four different types of shakshouka. Fresh fruits and vegetables abound; they are sourced from the owners' farm in Collector, NSW and taste like they were picked the very same morning. You can also choose your own Mediterranean adventure, with a selection of hearty dips in tiny tasting plates, which include olive tapenade, hummus, feta sprinkled with za'atar and smoky baba ganoush. Be sure to leave enough space for a round of baked delicacies, like warm scones with farm-made jam and cream, tangy lemon tarts and flourless cakes that your gran would want the recipe for. Wrap it all up in quaint garden-party decor, Di Lorenzo coffee that packs a punch and a cost of only $20 per head (plus drinks) for all-you-can-eat goodness, and your perfect Saturday morning is sorted.
42 O'Riordan Street, Alexandria, Sat 8.30am – noon, www.grandmasbakery.com.au.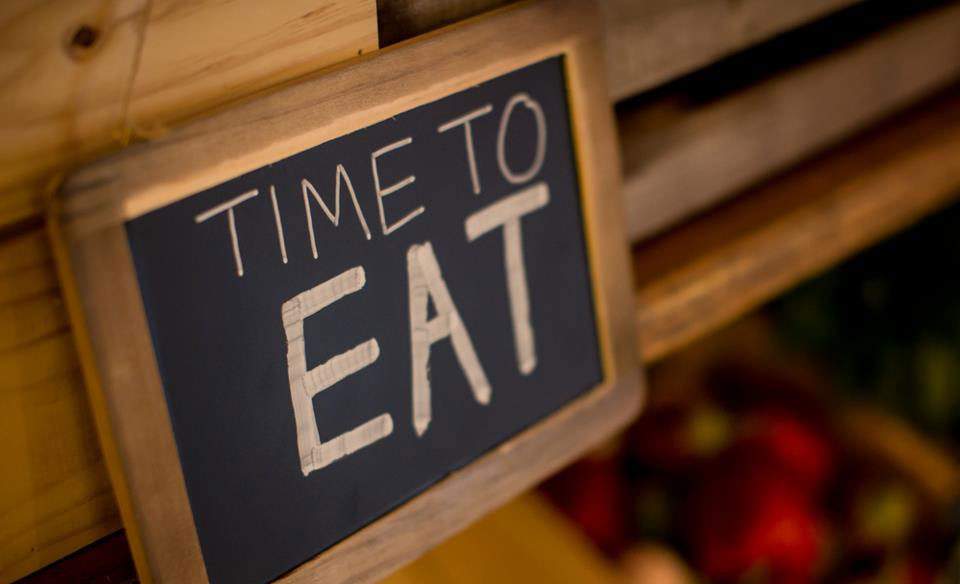 CAFE OPERA
Best for: Foodies who love quality and quantity in equal measures.
Cafe Opera turns the breakfast buffet into an art form, with a la carte-quality dishes that showcase the unique talents of local producers. Take a crusty slice of Neu's handmade German bread and smear it generously with locally cultured Pepe Saya butter or honey off the comb, before moving onto a bowl of crunchy Barossa Valley muesli with a generous serve of organic yoghurt. Cafe Opera's executive chef Tamas Pamer takes breakfast seriously, and it shows. The sausages are fashioned from Tasmanian lamb and they burst with Moroccan-inspired flavours; the eggs are cooked to perfection no matter how you order them; and the impressive array of spiced, poached fruits, including pears, peaches and rhubarb, will warm even the frostiest of mornings. Set within the gorgeous sandstone Treasury Building that dates back to 1851, Cafe Opera is a classy location for a breakfast made from only the finest local ingredients. And the best bit? All of the leftover food gets whisked off by OzHarvest at the end of the morning to feed people in need.
Intercontinental Sydney, 117 Macquarie Street, Sydney, Mon – Sun 6.30am – 10.30am, www.interconsydney.com.au/cafeopera.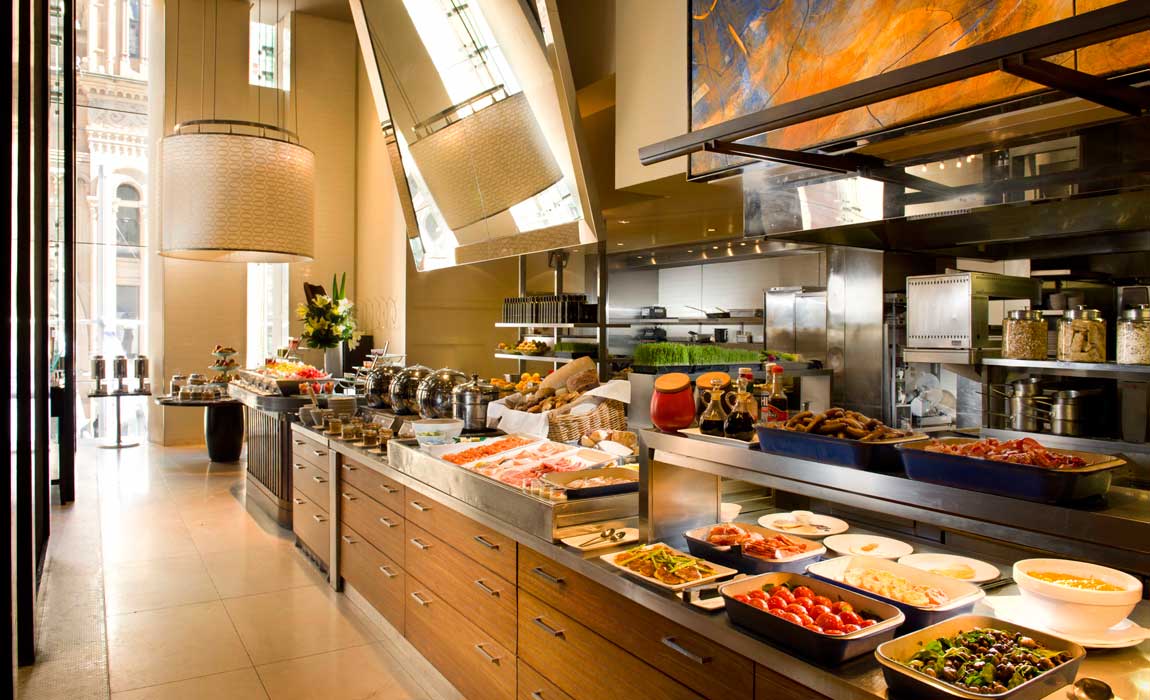 GLASS BRASSERIE
Best for: A healthy, customisable breakfast buffet in a stunning CBD location
When Luke Mangan is serving breakfast, we know to expect a lot, and Glass Brasserie at the Sydney Hilton doesn't disappoint. Fluffy hash browns, melt-in-your-mouth croissants and eggs whichever way you like them are highlights among a solid spread. Even better are the nifty design-it-yourself options that allow careful customisation of your breakfast experience. At the fresh juice bar, mountains of gorgeous seasonal fruits compete to be liquefied into your glass; the golden kiwi fruit and juicy rockmelon pieces had us at hello. The muesli stand offers another opportunity to create your own masterpiece, offering bowls heaped with grains, hazelnuts, dried apples, banana chips, almond slivers and raisins. Nestle in by the windows and watch the corporate types hurry past on George Street below, or marvel at the architectural beauty of the Queen Victoria Building across the street. Either way, you'll leave feeling nourished, refreshed and ready to tackle the day.
Hilton Sydney, 448 George Street, Sydney, Mon – Fri 6 – 10am, Sat – Sun 7 – 11am, www.glassbrasserie.com.au.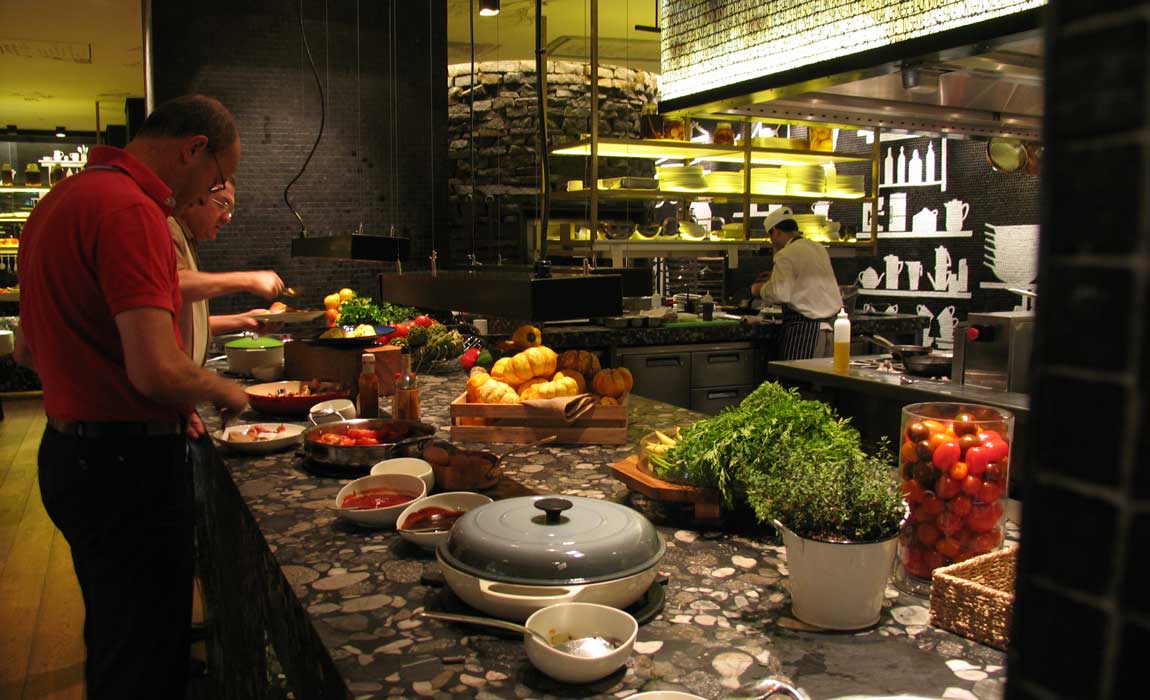 Best for: A romantic breakfast date or a luxurious splurge with friends.
The Woods is where you go when you want to feel pampered. Walk through the stunning marble entryway and into a forest-themed open restaurant where lush, mismatched pot plants and whimsical floral lights create an understated sylvan feel. Sip your morning roast to the sound of veteran pianist Michael's angelic melodies, and take a moment to review and appreciate the dainty and impeccably presented breakfast display. One countertop hosts a range of scrumptious home-style muffins, cakes and pastries; another offers plump sausages, herbed flat mushrooms and tender bacon. Or go bespoke and order a fluffy omelette, made while you watch and presented with an optional chilli kick. Look closely, and you'll find every condiment under the sun scattered throughout the buffet, from raspberry coulis to Nutella to chilli sauce. This attention to even the smallest of details sets The Woods apart as an especially lavish breakfast experience.
Four Seasons Sydney, 199 George Street, Sydney, Mon – Fri 6:30 – 10am, Sat – Sun 6:30am – 11am, www.thewoodsrestaurant.com.au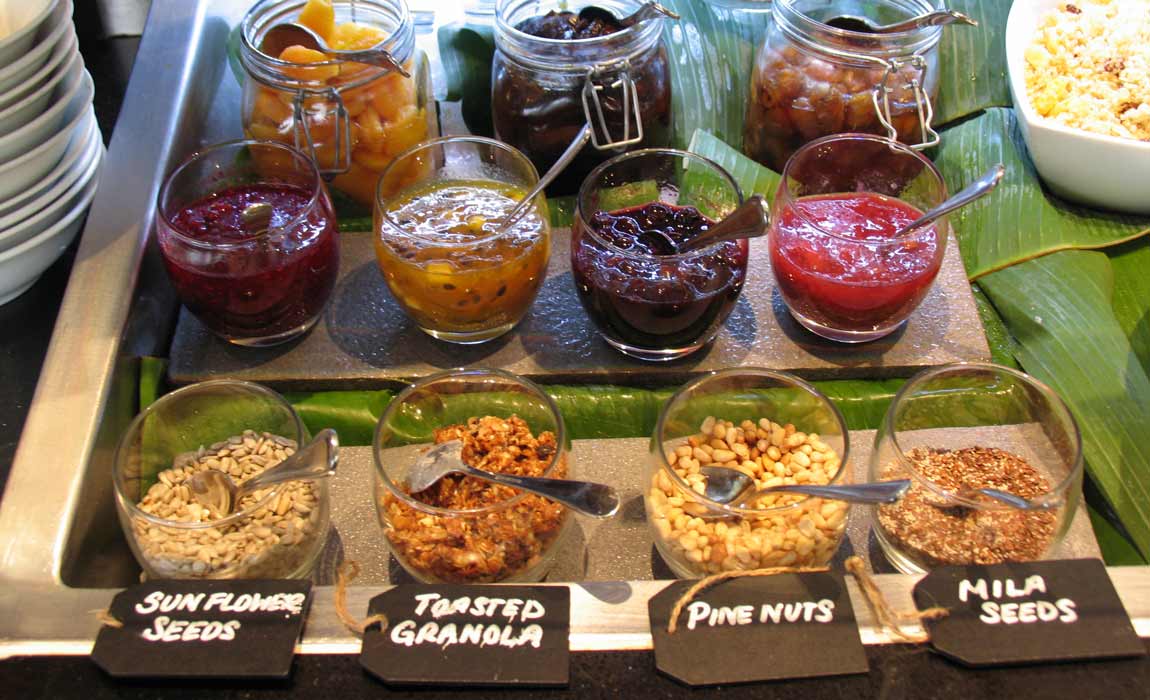 CAFE MIX
Best for: A variety of bite-sized treats.
What we love most about Cafe Mix is its dedication to all things miniature. From tiny tropical smoothies to mini muesli bars, fluffy corn fritters to baby chocolate croissants, if it's a cute and bite-sized breakfast treat, it's on the menu. Mini yoghurt tubs are accompanied by little fishbowls of compotes and coulis, tiny banana and carrot muffins are set out alongside a tray of pint-sized muesli bars, and little gourmet jam jars are presented beautifully at your table, offering interesting options like rose and apricot, Seville bitter orange, and garden strawberry. Many of the baked goods are prepared on-site and arrive on your plate warm and soft from the oven. Of course, breakfast is best accompanied by a suitably diminutive but punchy piccolo latte.
Shangri-La Hotel Sydney, 176 Cumberland Street, The Rocks, Mon – Sun 6 – 10.30am, www.shangri-la.com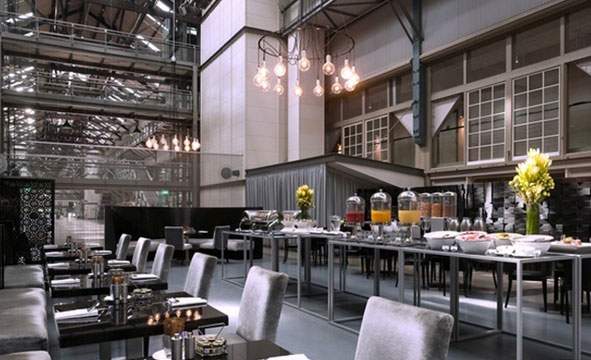 BLUE Cafe
Best for: A business breakfast in a chic location
BLUE Sydney is an indisputably chic hotel and offers a breakfast buffet to match. Breakfast is laid out under the high gabled ceilings of the iconic Finger Wharf warehouse, with sleek standing heaters dispersed throughout the tables to bring cosiness to the enormous space. Highlights of the spread include hearty house-made baked beans and a delicious 'crunch pot' featuring layers of organic toasted granola, sweet yoghurt, mango puree and passionfruit coulis. Sleek, silver surfaces and stylish black and grey decor are lifted by bursts of colour: a bright bunch of flowers here, a dispenser of freshly squeezed 'detox' juice (watermelon, grape, orange and mint) there. BLUE Sydney gets down to business with breakfast, and is an ideal location for others to do the same.
Blue Sydney, 6 Cowper Wharf Road, Woolloomooloo, Mon – Fri 6.30 – 11am, Sat – Sun 7am – 12pm, www.tajhotels.com.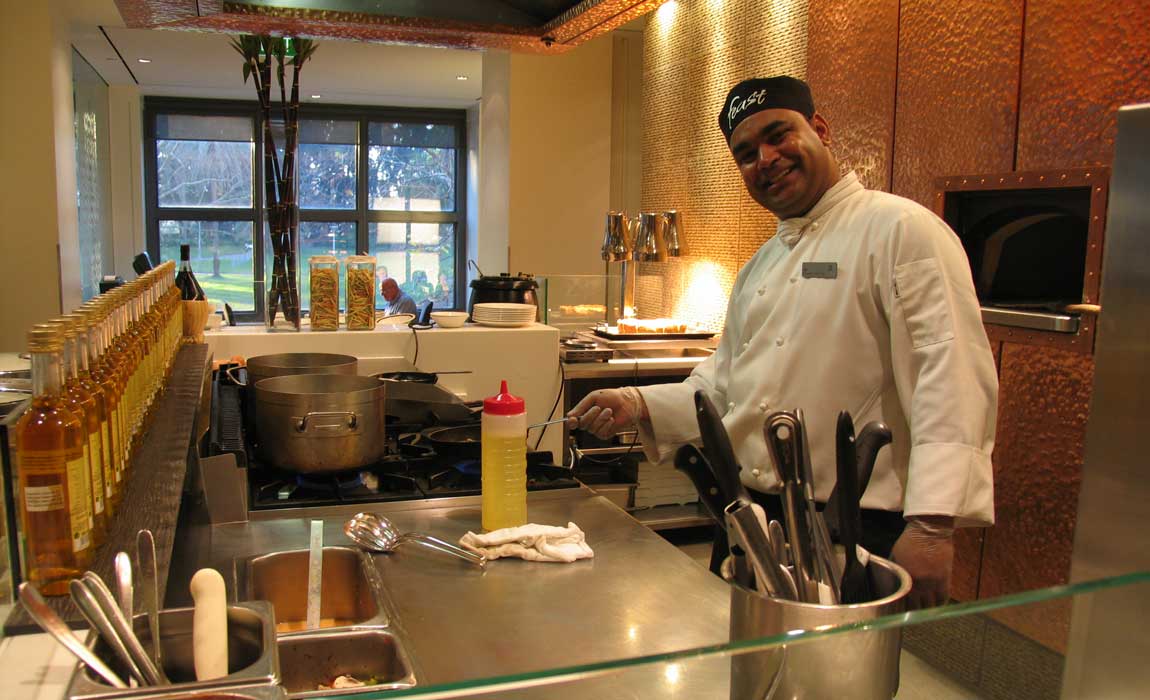 FEAST
Best for: A holiday at home in Sydney.
Feast, the recently refurbished restaurant at the Sheraton on the Park, offers a grand, traditional hotel breakfast. All the usual favourites are there, like herbed chicken sausages, sauteed mushrooms and eggs cooked to order by a cheerful chef named Alf. Every other day, Feast gets feisty with innovative interpretations of the morning meal. Most exciting is the breakfast pizza, served steaming from the stone hearth oven, heaped with crispy bacon, slices of sausage, eggs, mushrooms and cheese, and drizzled with a tangy barbecue sauce. Request a table by the storybook windows that overlook Hyde Park and watch the morning sun stream through the grand old fig trees and the twinkling water of the Archibald Fountain. You'll want nothing other than to head straight upstairs, change into a fuzzy bathrobe and spend the rest of the day lazing about in one of the hotel's stylish rooms.
Sheraton on the Park, 161 Elizabeth Street Sydney, Mon – Sun 6.30 – 10.30am, www.feastsydney.com.au.
Published on July 18, 2013 by Sarah Lux-Lee