The Ten Best Brunches in Sydney
Eggs Benno with the side of booze is just the beginning.
Straddling the late morning divide of breakfast and lunch, the linguist's nightmare that is 'brunch' is just about our favourite weekend activity. When we say brunch, we're not talking about your quick morning coffee; we're talking mountains of food, shareable plates and a healthy dose of pre-midday alcohol (cue the flowing of mimosas).
So whether you're a traditionalist or prepared to give your tastebuds a workout and whether your preference is of the organic, health-conscious variety or the bacon-on-the-side-of-heart-disease variety, we have a brunch experience for just about every disposition.
Muchos food porn awaits!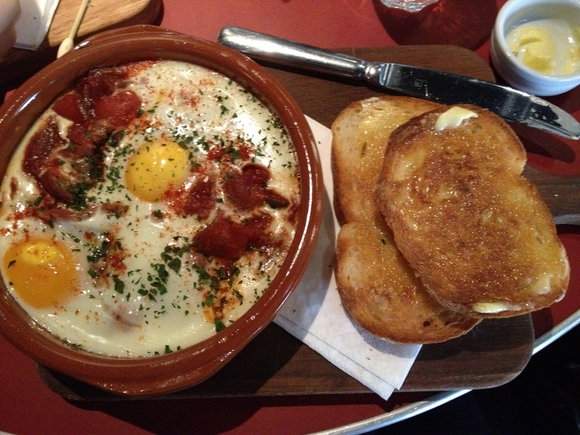 Where: 538 Bourke St, Surry Hills
If you're looking for cocktails with breakfast, it's hard to go past one of our favourite haunts: the Spanglish mash-up of the Carrington. While other gastronomical institutions might offer brunch-goers modestly alcoholic beverages and watered-down champagne, the Carrington says screw your hangover and your sense of propriety with a full menu of beer, spirits and hair-raising cocktails. There are the standard Mimosas, but for the more ambitious amongst you we suggest trying out the Bacon Caesar (bacon-infused vodka, spices and clamato juice) or Single Mother (with red wine, Southern Comfort, nutmeg and ginger beer). The food itself is straight out of a Majorca cafe, with even the more traditional breakfast dishes given a Spanish twist. Think smoked paprika eggs benedict, Ibiza muesli or big breakfast with chorizo and rosti. Buenos dias!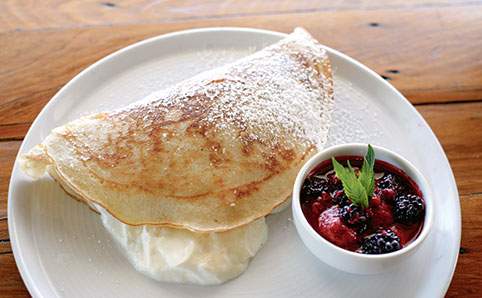 Where: 286 Campbell Pde, North Bondi
As an increasingly cynical restauranteur, I have to expect that when it comes to beachside cafes, the quality of the view will always be directly disproportionate to the quality of the food. Thankfully, Jo & Willys Depot is an emphatic exception to this rule. Instead, the Depot has found what you might call a winning formula: a rough and ready decor, resembling something like a shabby-chic version of the Antiques Roadshow, panoramic views of Sydney's most iconic beach and an all-day breakfast menu to die for. Their approach to food is pretty simple. Keep the produce fresh and the ingredients organic and you can hardly go wrong. Their pancakes made from rice and tapioca flour are a particular local favourite while their homemade berry and banana muffins are melt-in-you-mouth spectacular.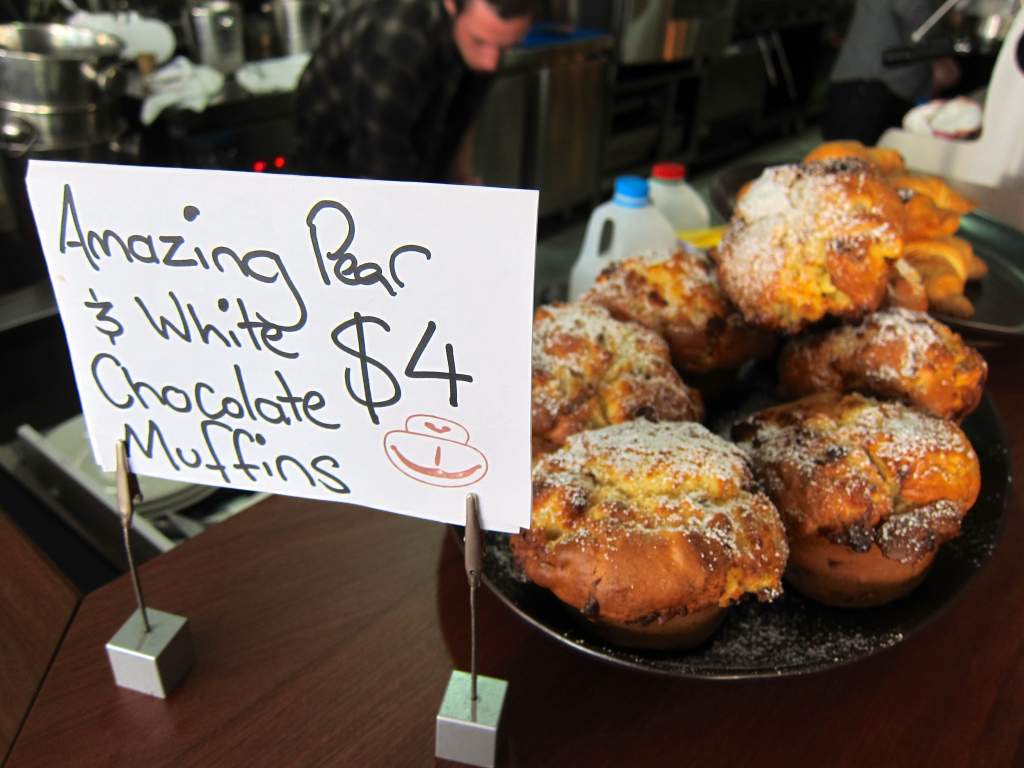 Where: 198-206 St Johns Rd, Glebe
Two Peas is the sort of uber-trendy cafe that Glebe seems to have coming out of its ears — but it also radiates the sort of homely vibe that turns its customers into regulars and friends. Two Peas is the love child of British chefs Nick Johnson and Tom Stoneham, who met while working for Jamie's Italian in Cambridge. The boys, it seems, learnt a thing or two from Jamie: (1) Produce should always be fresh and locally produced, (2) Banoffee muffins can solve all the world's problems and (3) The Brits always do it best. With a short but delightful menu of updated British staples such as poached eggs and baked beans on toast (made from fantastically spicy beans) and porridge with figs, Two Peas does English breakfast the way it should be done. Of course, it's not a British meal without a cold lager to wash it all down, and as such the drinks menu is chock-a-block full of local brews handpicked by the owners. At their suggestion I had a try of the Australian Brewery pale ale, which was positively crackling with refreshing, passionfruit-y goodness.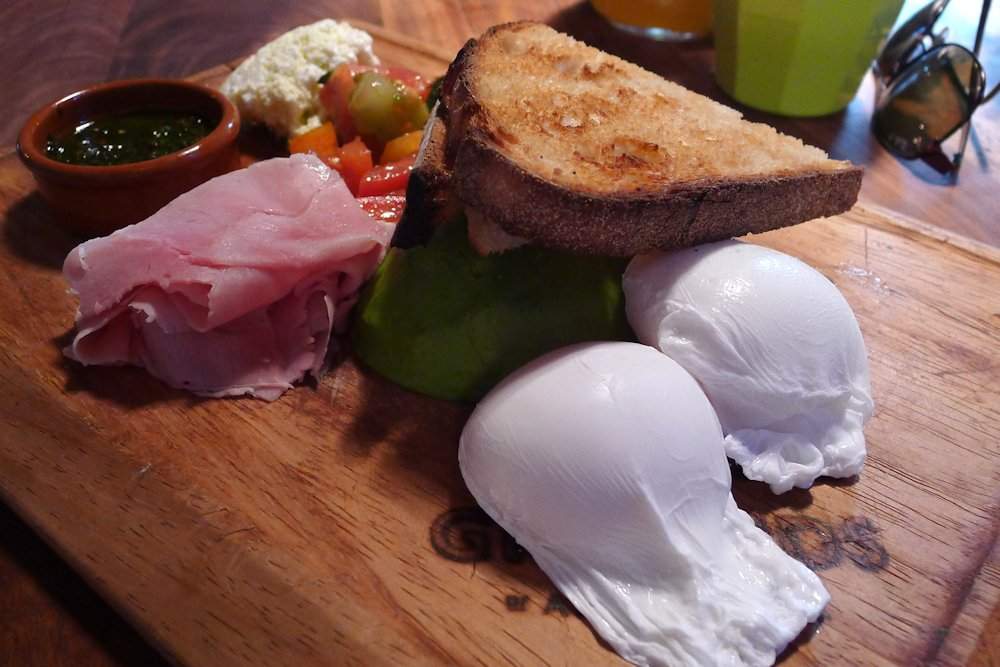 Where: Building 7A, 2 Huntley St, Alexandria
It's no secret; we at Concrete Playground are pretty fond of the Grounds. There is something undeniably intoxicating about this repurposed Four'n Twenty Pie Factory, whether it's the blackboards advertising '25 hour breakfast' or the buzzing, bustling atmosphere of Alexandria's most sought-after brunch venue. Our meal of choice is the mountain of ocean trout stacked on toast with a light and tangy fennel and herb salad and a generous helping of scrambled eggs. While alcohol is available, you'd be remiss not to try one of their multi-award winning coffees from former world latte art champion Jack Hanna. They are as creamy, subtle and dazzling as you could possibly hope for. And always, always do they look as good as they taste. Somehow the Grounds continues to match its hype.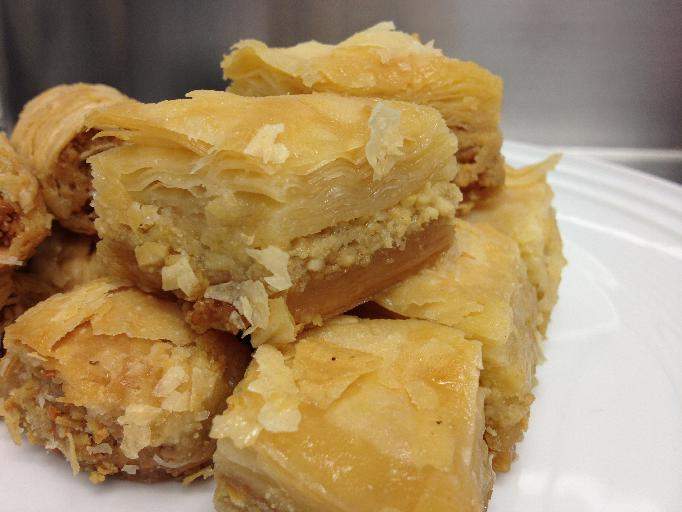 Where: 379 Liverpool St, Darlinghurst
One of the defining aspect for any good brunch is its shareability. Almond Bar understands this and Almond Bar nails it. This hotspot for Darlinghurst brunch-ers specialises in serving food by the truckload, with a veritable feast of big breakfasts, share plates and breakfast platters for you and your fellow diners to gorge on. The food however is not your typical eggs and bacon bonanza but instead specialises in Syrian cuisine in all its multiplicity of flavours. There are Middle Eastern omelettes; traditional ful, fatteh made from layers of crushed chickpeas, tahini, fried bread, yoghurt, pinenuts and almonds; and the (mandatory) baklava. Get your bookings in early because these breakfast mezze feasts only happen on the first Sunday of each month.

Where: 371-373 Bourke St, Darlinghurst
When the Friday night crowds have subsided and the hangover hits, there is no better place to grab a boozy brunch than Foley Lane. Try out their pork and potato hash topped with poached egg if you're looking for a hearty hangover cure, or if you're feeling a little more adventurous, then the roasted field mushroom with ricotta and eschalot dressing is to-die-for good. Foley Lane is first and foremost a bar and as such their breakfast cocktails are pretty red hot. Try out the Seasonal Margarita, enlivened with the zing of fresh plum, or the Morning Martini made from citrus vodka, apricot brandy and marmalade.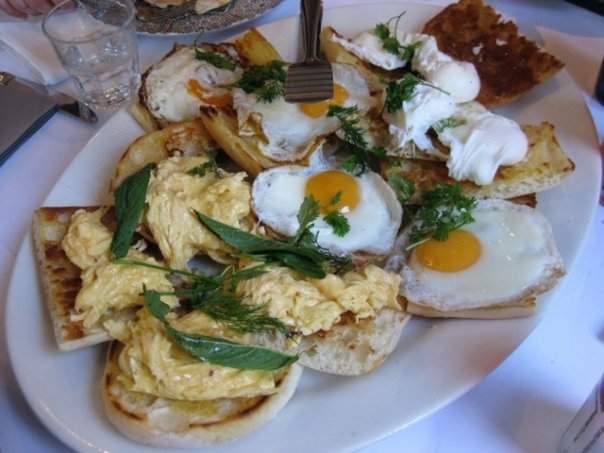 Where: 379 Darling St, Balmain
Darlinghurst does not corner the market on Arabic brunches. Balmain's Kazbah are of the culinary school that says that bigger is always better with the sort of giant servings that will have any carnivore salivating. For groups of four or more, your best bet is one of the Kazbah's famous breakfast feasts, which features up to nine separate dishes, ranging from Middle Eastern treats such as lamb mince tagine to such devilishly sweet delights as chocolate and raspberry pancakes with butterscotch sauce and chocolate fudge ice cream. With the breakfast menu lasting until 3pm each weekend, there is no reason to feel guilty for trying out one of Kazbah's $14 breakfast cocktails. The Salty Dog made from vodka, lime and grapefruit is a particular specialty.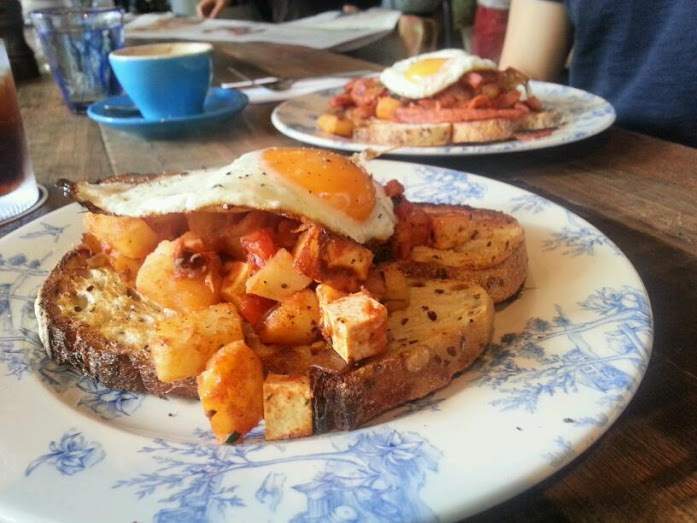 Where: 500 Crown St, Surry Hills
It was to the great distress of many Surry Hills locals when Rainford Street Social cut their breakfast menu. Thankfully, it's back and better than ever with super-chef Ben Orpwood's unique take on classic brekky dishes like smoked salmon and truffled scrambled eggs and a pastrami and Emmental croissant melt. With meals named after such Rainford Street regulars as "Matty", "Ben" and "Eddy", it's clear that this Crown Street favourite are not only "social" by name but also "social" by nature. Just ask any of the revellers that stack the restaurant on any given weekend. Orpwood is clearly a man after our own hearts with a propensity for hangover-curing cocktails such as the delightfully creamy "White Rabbit Shake" made from Jack Daniels and banana cream pie ice cream.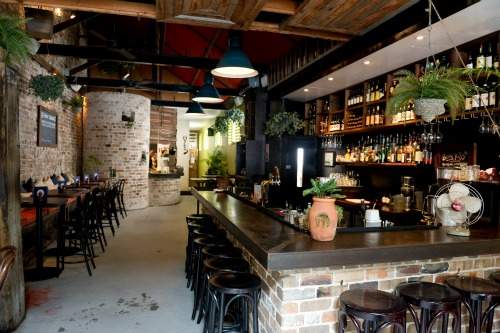 Where: 39 Hall St, Bondi Beach
'Hardware' is an apt descriptor for this Bondi gem. With its exposed brick walls, cracking plaster and mishmash of pot plants, dining at Bondi Hardware is much like what I imagine dining in an interior designer's garage must feel like. While previously a hardware store, nowadays Bondi Hardware plays host to awesomely funky tunes, vibrant staff and the delectable Moroccan eggs with minted yoghurt and sourdough. You haven't really been to Bondi Hardware until you've tried their infamous Bloody Mary. More a meal-in-a-glass than a mere cocktail, this brunch staple has been overhauled by the Bondi boys with spicy tomato, cucumber and beetroot juice mixed with a shot of tequila.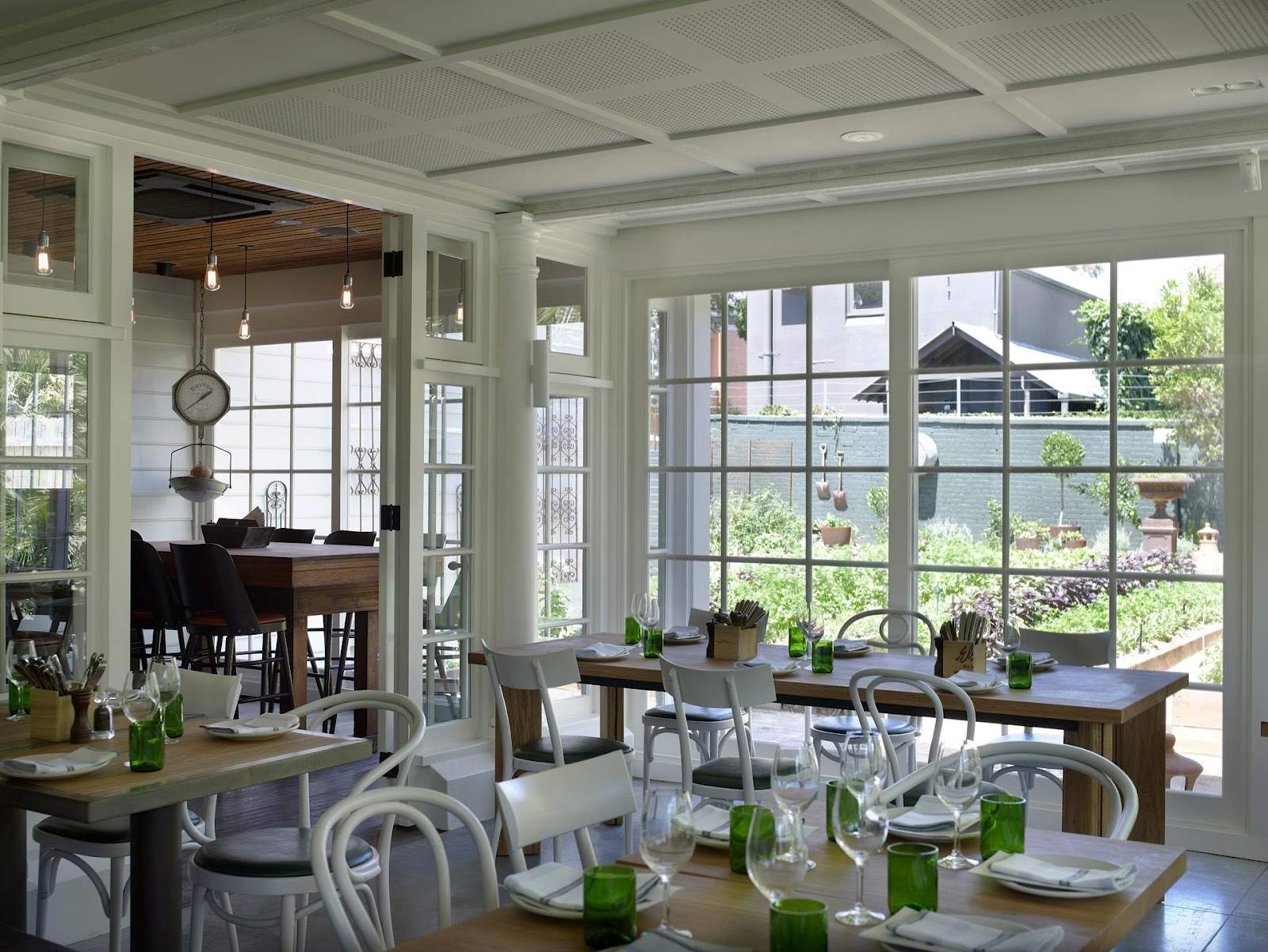 Where: 65 Ocean St, Woollahra
The first thing that springs to mind about the Chiswick is its classiness. The floor-to-ceiling windows overlooking the postcard-ready gardens is like something out of a Victorian-era tea party (without any of the political connotations), while the menu has all the hallmarks of head chef Matt Moran. Even casual Masterchef fans could probably tell you that if its got the Moran signature, then this probably means you're looking at huge slabs of Moran family meat, with the chargrilled grass-fed beef or wood-roasted lamb perhaps the two most enticing numbers on the menu. This carnivorous lust is complemented by Chiswick's love of fresh herbs and vegetables, much of which is grown in the Chiswick gardens. Add to this the refreshing Cucumber Margarita and you have yourself one of eastern Sydney's hottest late brunch venues.

Published on June 06, 2013 by Sean Robertson