FOOD & DRINK
Two MasterChef-Quality Dishes You Can Recreate at Home — and What Wines to Pair Them With
Take your food and wine knowledge to the next level.
Two MasterChef-Quality Dishes You Can Recreate at Home — and What Wines to Pair Them With
Take your food and wine knowledge to the next level.
in partnership with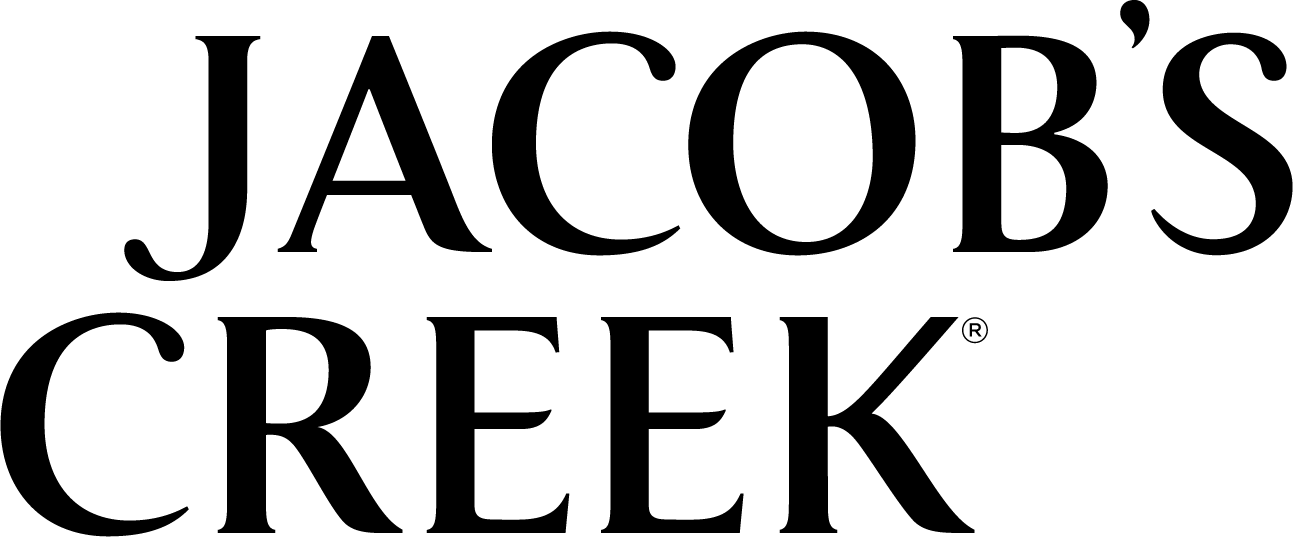 Nothing makes a nice meal fall apart quite like pairing it with the wrong wine  — and nothing reveals how little you know about wine like trying to defend your wine choices. Imagine if you knew how to sniff, swirl and speak eloquently to what makes a wine perfect for the delicious feast you have prepared.
As MasterChef Australia's official wine of choice for the second year running, Jacob's Creek is here to help home kitchen chefs create an evening worthy of a master. It's bringing back last year's sell-out Kitchen Collective pop-up, where ticketholders can learn skills from previous MasterChef Australia guest judge (and the man behind Huxtaburger) Daniel Wilson and Rocker chef Stuart Toon, a former MasterChef UK contestant. From a pop-up on Bennelong Lawn, you'll take part in a cook-off against your mates and enjoy a three-course dining experience, as wine experts Kristy Farrell and Katherine Candy let you in on the secrets of food and wine pairing. 
Jacob's Creek has let us have a sneak peek at the menu, and we have the recipes for an entree and dessert to share with you. Test your skills before the big day, and sharpen your wine talk with tasting notes for the Jacob's Creek wines they pair with from Jacob Creek's chief winemaker Dan Swincer.


ENTREE
When you pop down to the market to gather fresh ingredients for this confit vanilla king salmon, make sure to pick up a bottle of Jacob's Creek Barossa signature chardonnay. The creaminess of the wine works with the fat deposits of the fish (often called the wagyu of the sea), while the drop's citrus notes and the finger lime in the dish refresh the palate. Obviously, the ultimate pairing is putting wine in your food, so a splash of that chardonnay makes the fennel puree even creamier. Be sure to comment on the nutty, cashew notes in the wine, and how they interplay with the macadamia pesto.
CONFIT VANILLA KING SALMON
Ingredients
5 portions (about 400gm) of New Zealand king salmon, boneless, skinless and bloodline removed
Half a vanilla bean 
1 bunch of watercress, picked 
1 finger lime 
70ml of extra virgin olive oil
FENNEL PUREE
Ingredients
1 large fennel, diced 
1 tablespoon of butter 
50ml of Jacob's Creek Barossa signature chardonnay 
40ml of cream 
Sea salt and ground white pepper

MACADAMIA, THAI BASIL AND FINGER LIME PESTO

Ingredients
Half a bunch of Thai basil, picked 
100gm of roasted and salted macadamia nuts 
5gm of freeze dried finger lime powder 
Pinch of citric acid 
125ml of extra virgin olive oil
Method
Switch your oven on to 90 degrees celsius, then get started on the vanilla oil. Cut the vanilla bean in half, scrape the seeds out and into a small bowl with 20ml of the olive oil. Add a pinch of salt and mix.
Place the salmon fillets, evenly spaced, onto a baking paper-lined tray and rub the salmon on all sides with the vanilla oil. Pop that to the side (keep at room temperature).
For the fennel puree, heat a saucepan over medium heat and add butter. Once melted, add fennel and sweat for five minutes stirring often. Add the chardonnay, then cover with a lid and turn down to low. Give it a stir every four to five minutes and cook until soft with no colour. Once the wine has evaporated and the fennel is soft, add cream. Puree with a stick blender, season with sea salt and ground white pepper and pass mixture through a fine sieve. Put the puree to the side and cover.
In a bowl, mix up 50ml of the olive oil and the flesh of finger lime, making sure to remove any seeds. Set this aside for later. 
Pop the tray of salmon into the oven and cook for about 10 minutes or until just cooked. 
While that's in the oven, toss the basil leaves, macadamia nuts, finger lime powder and citric acid into a food processor until finely chopped. Add olive oil and blitz until it is the consistency of pesto and season with salt and pepper. Hey, presto, you've got pesto.
To plate up like a real masterchef, warm the fennel puree and put a nice circle slightly to the left of centre on the plate. Carefully place the salmon half on the puree. Top with a quenelle (fancy way of saying an oval-shaped scoop) of the pesto and four pieces of watercress. Finally, whimsically drizzle that bad boy with finger lime oil, and enjoy with a glass of Jacob's Creek Barossa signature chardonnay.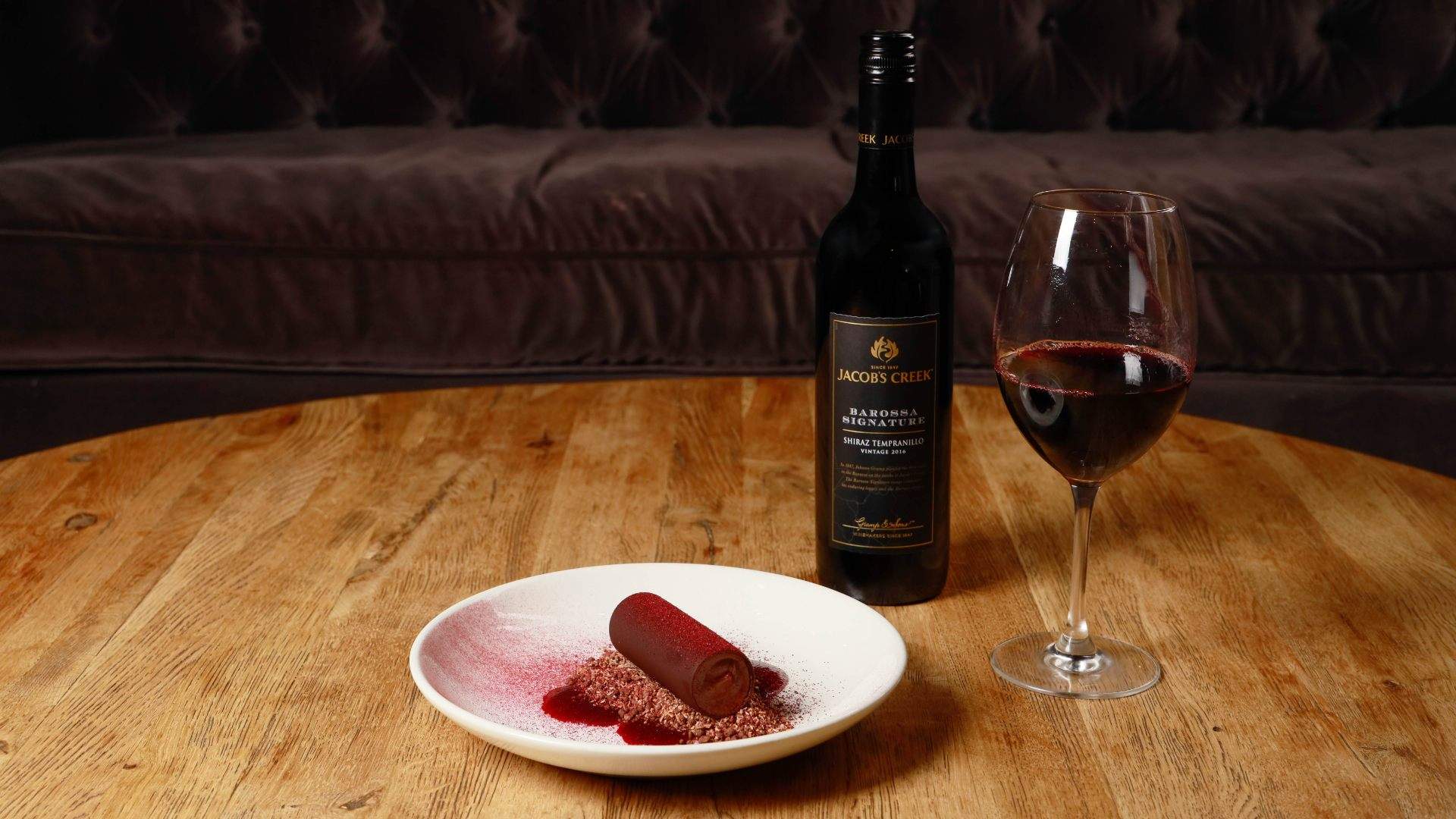 DESSERT
Decadent is the only way to describe this dark chocolate and plum mousse, served with chocolate, coconut and shiraz soil and raspberry coulis. It's best enjoyed with a glass of Jacob's Creek Barossa Signature shiraz tempranillo. Each flavour in the dish mirrors the flavours of the wine: plum from the tempranillo, chocolate from the shiraz and coconut from the American oak. Plus, the fruity sweetness of the tempranillo matches the tart and slightly sour coulis. So fancy. Just make sure you correctly pronounce "tem-pra-ni-yo", so you sound sophisticated. 
DARK CHOCOLATE AND DAVIDSON PLUM MOUSSE
Ingredients
200 grams of coconut milk
200 grams of dark chocolate
3 grams of Davidson plum powder 
2 egg whites, room temperature 
Pinch of salt 
20 grams of castor sugar 
5 dark chocolate cylinders
Method
In a small saucepan, bring coconut milk to the boil, making sure not to scorch the bottom.
While that's heating up, place the chocolate and Davidson plum powder into a stainless steel bowl. When the coconut milk is lightly simmering, pour it over the chocolate. Stir once with a rubber spatula and let sit for two minutes to melt, then stir well until it is all combined.
Next, whisk two egg whites on high. Once it starts to froth up, gently add the sugar bit by bit until it's all mixed together. Continue to whip until glossy, stiff peaks have formed, but do not over whip.
Grab the rubber spatula again and quickly fold one-third of the meringue into the chocolate mixture, making sure to scrape the bottom of the bowl. Fold in the rest of the meringue, mixing gently until it's all combined.
Transfer the mousse into a piping bag and pipe into the chocolate cylinders, making sure not to leave any air gaps. Cover with baking paper and pop in the fridge to set.
CHOCOLATE AND SHIRAZ SOIL
Ingredients
40ml of cold water 
100 grams of caster sugar 
75 grams of dark chocolate 
10 grams of shiraz powder 
30 grams of desiccated coconut, lightly toasted 
10 grams of raw cacao powder
Method
Place the water in a small saucepan and gently pour the sugar into the middle of the water, careful not to get any sugar crystals on the side of the pan. Do not stir or mix. 
Prepare a pastry brush in a small bowl of cold water to brush down the sides if the syrup starts to crystalise around the edge of the pan. 
Put the chocolate in a medium-sized stainless steel bowl and set aside until the syrup is ready.
Pop the saucepan on a high heat and wait until it dissolves and starts to bubble. Don't stir the sugar. Continue to cook until you start to see golden brown edges. Immediately remove the saucepan from the heat and whisk into the chocolate; don't forget to whisk around the edges. Keep whisking until all the chocolate has crumbled and looks like soil, which should only take a couple of minutes. Mix in the shiraz powder, toasted coconut and raw cacao, and transfer onto a baking paper-lined tray to cool.
RASPBERRY AND ROSELLA COULIS
Ingredients
150 grams of frozen raspberries 
20 grams of caster sugar 
Juice of half a lemon
2 grams of dried rosella powder
Method
Over medium heat, mix up raspberries, sugar and lemon juice in a small saucepan, using a wooden spoon to break up the berries as they start to soften. Turn the heat down to low and simmer for two minutes. Pour the raspberry mix into a sieve over a bowl, pushing through with a spatula. Add the rosella powder and mix well. If you have one handy, transfer the sauce to a small squeeze bottle for next-level presentation. Pop this in the fridge until you are ready to plate up. 
On the plate, place a few puddles of the raspberry coulis and a couple of spoons of chocolate soil. Top with a chocolate cylinder of mousse and use a sieve to dust with plum powder.
Pop open a bottle of Jacob's Creek Barossa Signature tempranillo shiraz and pour yourself a glass to enjoy with your indulgent dessert.
---
Jacob's Creek Kitchen Collective will take place between Tuesday, July 16 and Sunday, August 4. Daytime sessions will run from 12pm–4pm every Thursday to Sunday, and the nighttime experience will run from 6pm–10pm every Tuesday to Sunday. Only 16 seats are available for each session, so move quickly and get tickets here.
Published on July 12, 2019 by Leisha Kapor