Gelato Messina Is Bringing Back Its Golden Gaytime-Inspired Super-Fancy Viennetta
Two beloved desserts combine again in this returning — and delicious — limited-edition Messina special.
Why just eat one regular old sweet treat when you can feast your way through a glorious hybrid of two beloved desserts? That's long been Gelato Messina's unspoken motto. So, last year, the chain delivered a tastebud-tempting creation that took its delicious take on the trusty Viennetta and mixed it with its version of Golden Gaytimes.
The result: the Have a Gay Old Messinetta tub, or the Gayinnetta as Messina has also dubbed it. And, in great news for your tastebuds this winter — because yes, you can still eat gelato when it's frosty outside — this limited-edition treat is making a comeback.
If you've tried a scoop of the brand's popular Have a Gay Old Time flavour already but didn't tuck into any Gayinnetta last time around, just imagine that flavour turned into Viennetta. This dessert combines layers of caramel and milk gelato, then covers it with chocolate-covered biscuit crumbs, and finally tops it all with ripples of vanilla and caramel chantilly cream.
And yes, the end result looks like the dessert you know and love, but in a caramel colour for a change.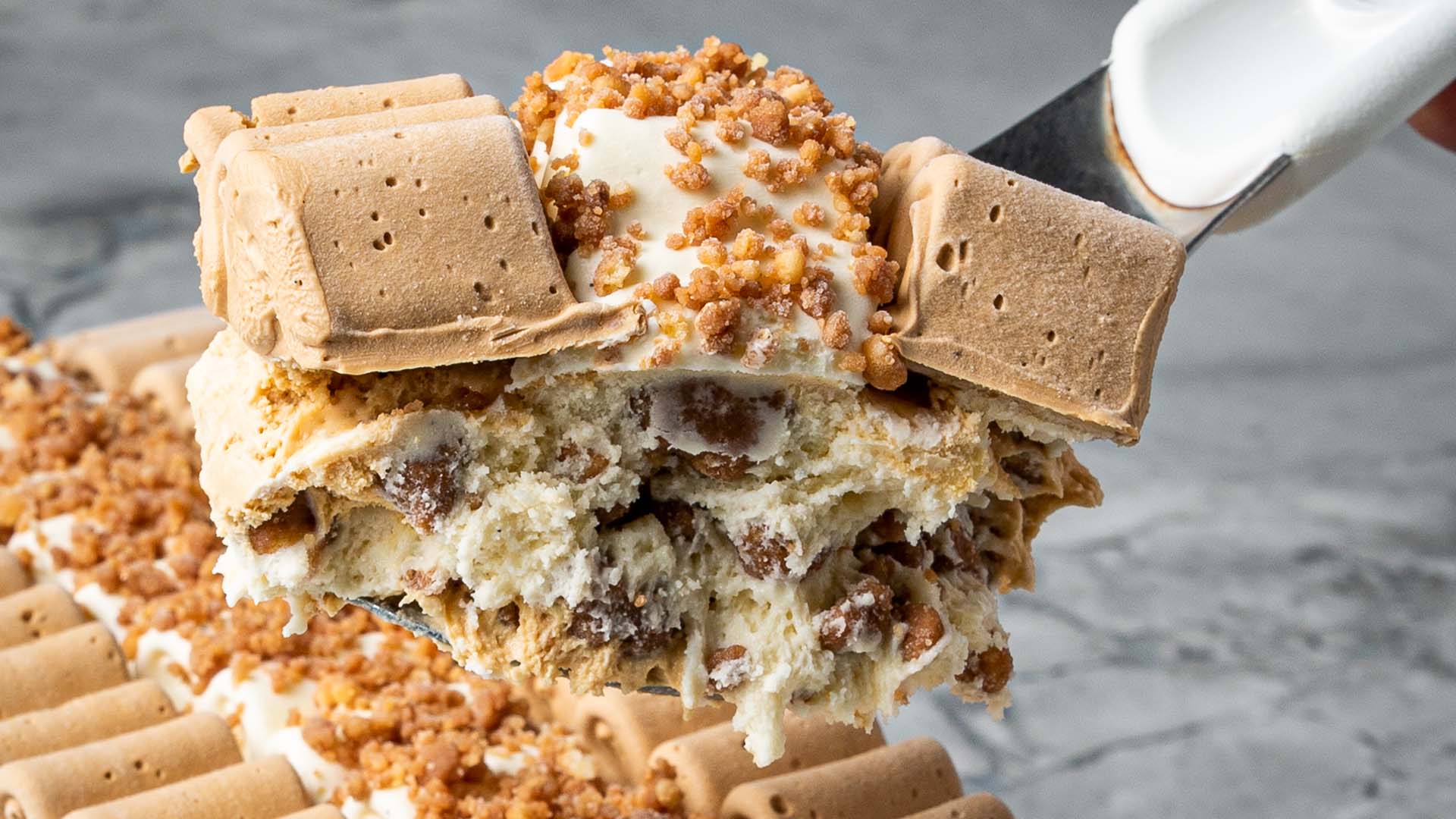 If you're keen to get yourself a Gayinnetta — which'll cost you $40 — they're available to preorder online on Monday, May 30, for pick up between Friday, June 3–Sunday, August 5 from all stores.
And, because Messina's specials always prove popular, the brand is now staggering the on-sale times. Accordingly, folks in Queensland and the ACT are able to purchase at 9am, Victorians at 9.30am, and New South Wales customers split across three times depending on the store (with pies from Circular Quay, Surry Hills, Bondi, Randwick and Miranda on sale at 10am; Brighton Le Sands, Tramsheds, Parramatta and Darlinghurst at 10.30am; and Darling Square, Newtown, Rosebery and Penrith at 11am).
Gelato Messina's Have a Gay Old Messinetta tubs will be available to order on Monday, May 30, for pick up between Friday, June 3–Sunday, August 5 from all stores. Head to the Messina website for further details.