FOOD & DRINK
Eight Grown-Up Easter Treats to Hunt Down Around Sydney
You're never too old for this Easter hunt.
These days, Easter promises a whole lot more than just generic choccy eggs and old-school hot cross buns. Bakeries, chocolate brands and dessert shops across the city are getting more inventive with each passing year, whipping up all sorts of creative treats worthy of a spot in your own personal Easter hunt. Here, we've rounded up some of the coolest grown-up goodies to seek out, from decadent booze-filled Easter eggs to hot cross bun-inspired bao and cinnamon scrolls with an Easter twist. Which of these creations will the Easter bunny be bringing you this year?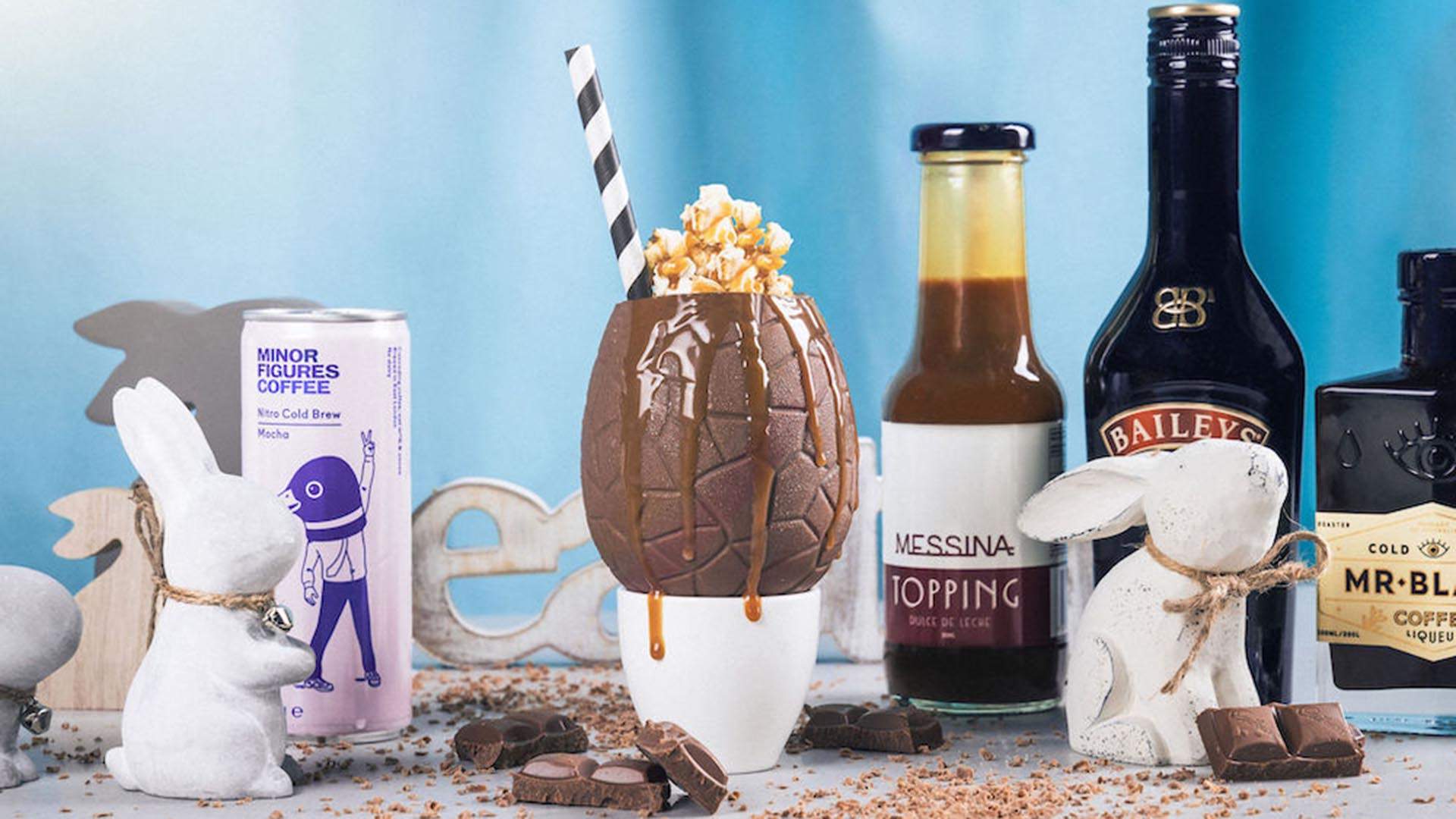 Ready for the ultimate adult riff on the classic choccy egg? The dessert maestros at Gelato Messina have teamed up with drink delivery service Cocktail Porter to offer a new DIY cocktail kit with a very Easter twist — these boozy concoctions are served not in glasses, but in chocolate eggs. Each pack contains all the cocktail ingredients, including some of Messina's legendary dulce de leche, plus Baileys, cold-drip coffee and Mr Black Coffee Liqueur. You'll also score Easter eggs for serving and salted caramel popcorn for a garnish. The kits are available here for delivery Australia-wide, with two sizes to choose from — the smaller option has ingredients to make five drinks ($80), while the larger makes 12 ($140).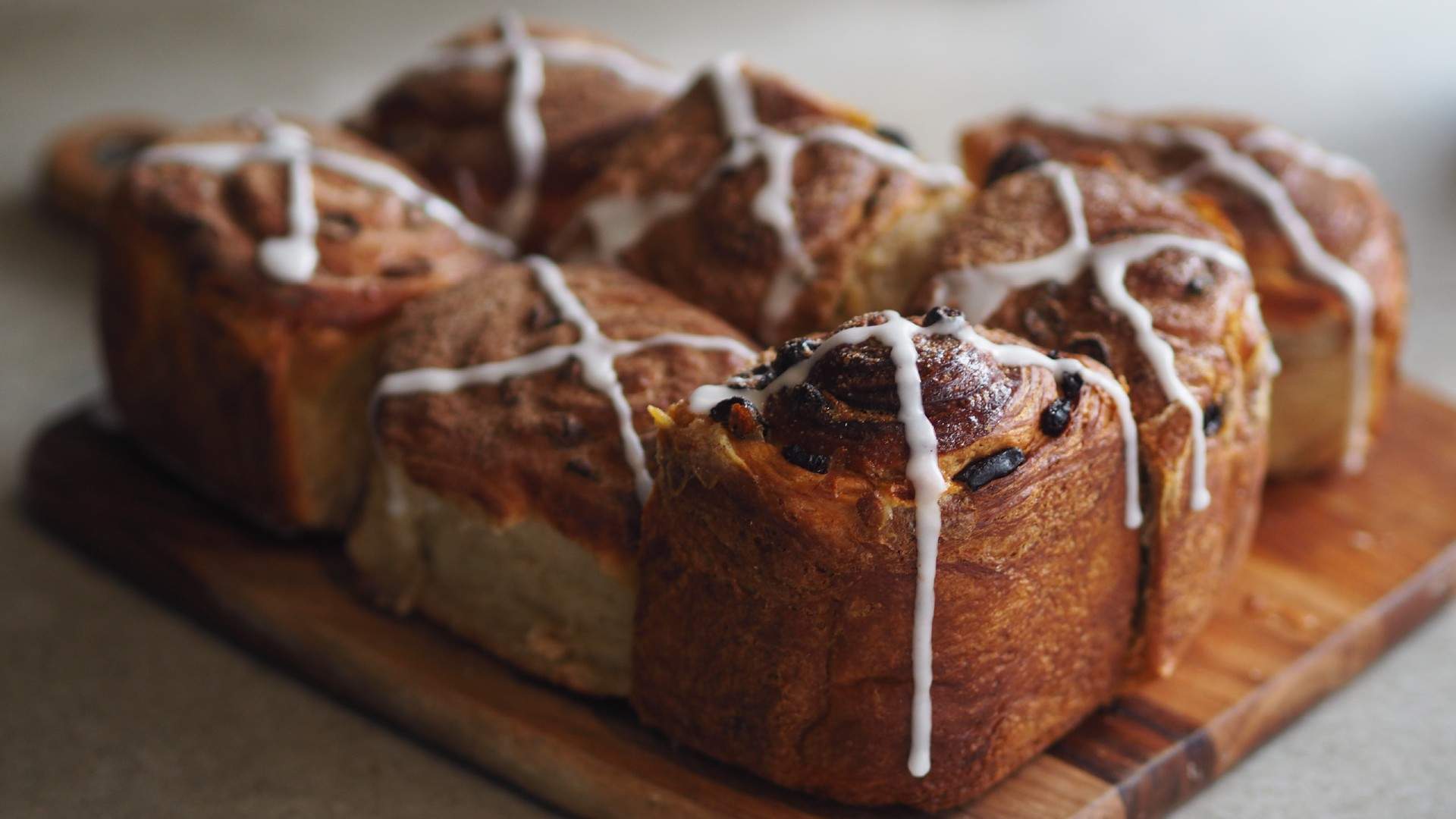 HOT CROSS CINNAMON SCROLLS FROM FLOUR DRUM
Combining sultanas and cinnamon, this fresh take on the hot cross bun from Newtown cafe Flour Drum rolls three Easter treats into one. In 2020, the cafe first tried its hand at the hot cross buns, and this year it's revising that recipe with elements of the cafe's always-popular cinnamon scrolls and chef John Ageletos' mum's tsoureki (Greek Easter brioche) recipe. The scrolls start with a buttery brioche pastry and use ginger grown in Flour Drum's back garden to create a cinnamon scroll spice mix, before adding sultanas and house-made candied oranges spread throughout. They're available for $5 each or $16 for a four pack up until Easter Monday.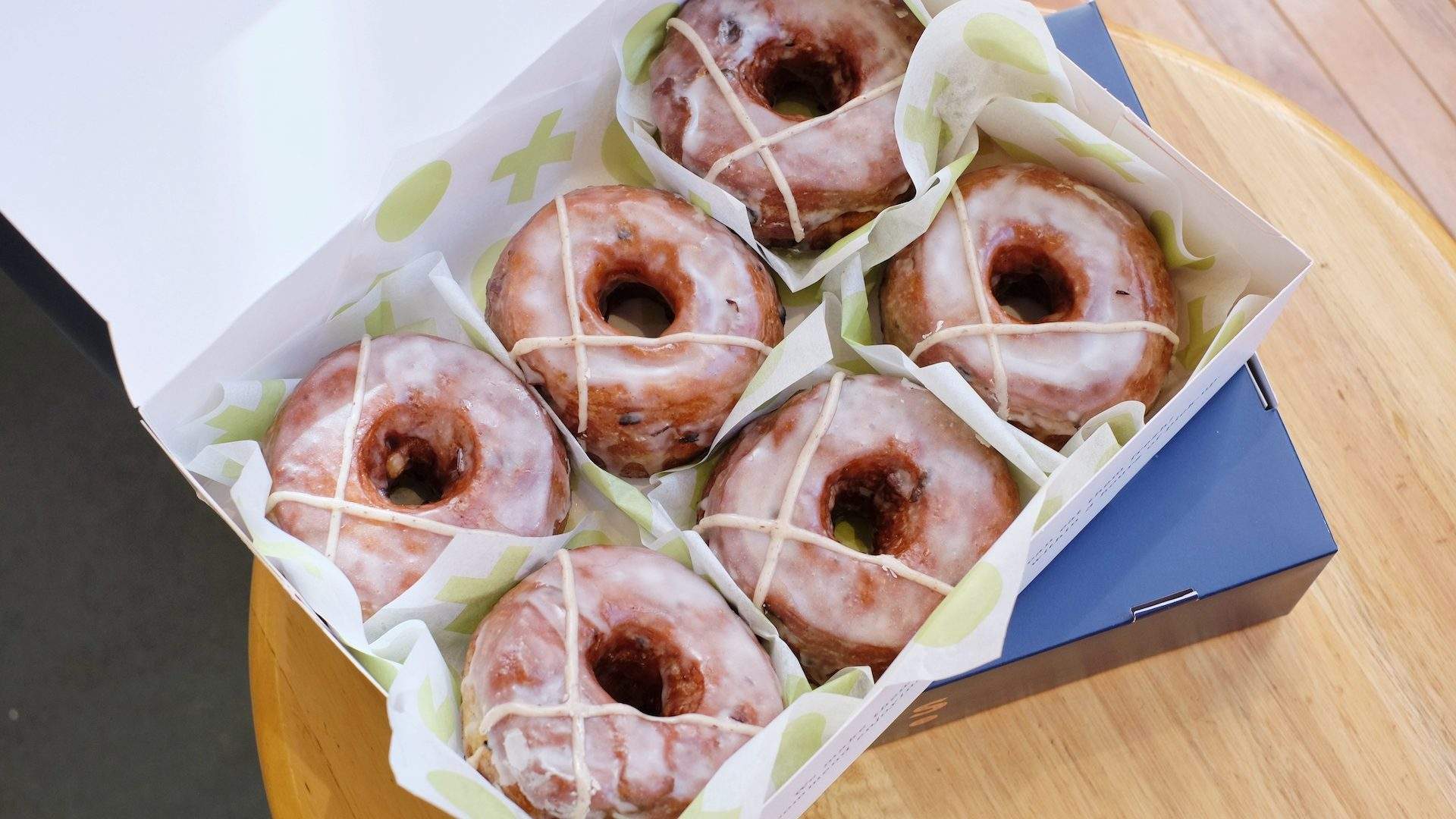 HOT CROSS DOUGHNUT FROM SHORTSTOP
One of Shortstop's best-loved seasonal treats is the one that makes an appearance every Easter — the smash-hit hot cross doughnut. A hole-y riff on the traditional bun, it's made using a spiced dough that's spiked with plenty of brandy-soaked fruit, with each doughnut dunked in a sweet honey glaze and topped with the telltale cinnamon sugar cross. As always, these return favourites are here for a good time, but not a long time, with the ovens churning out fresh batches on the daily, only until Monday, April 5. Stock up in-store, or head to the website to pre-order a few for pick-up or home-delivery.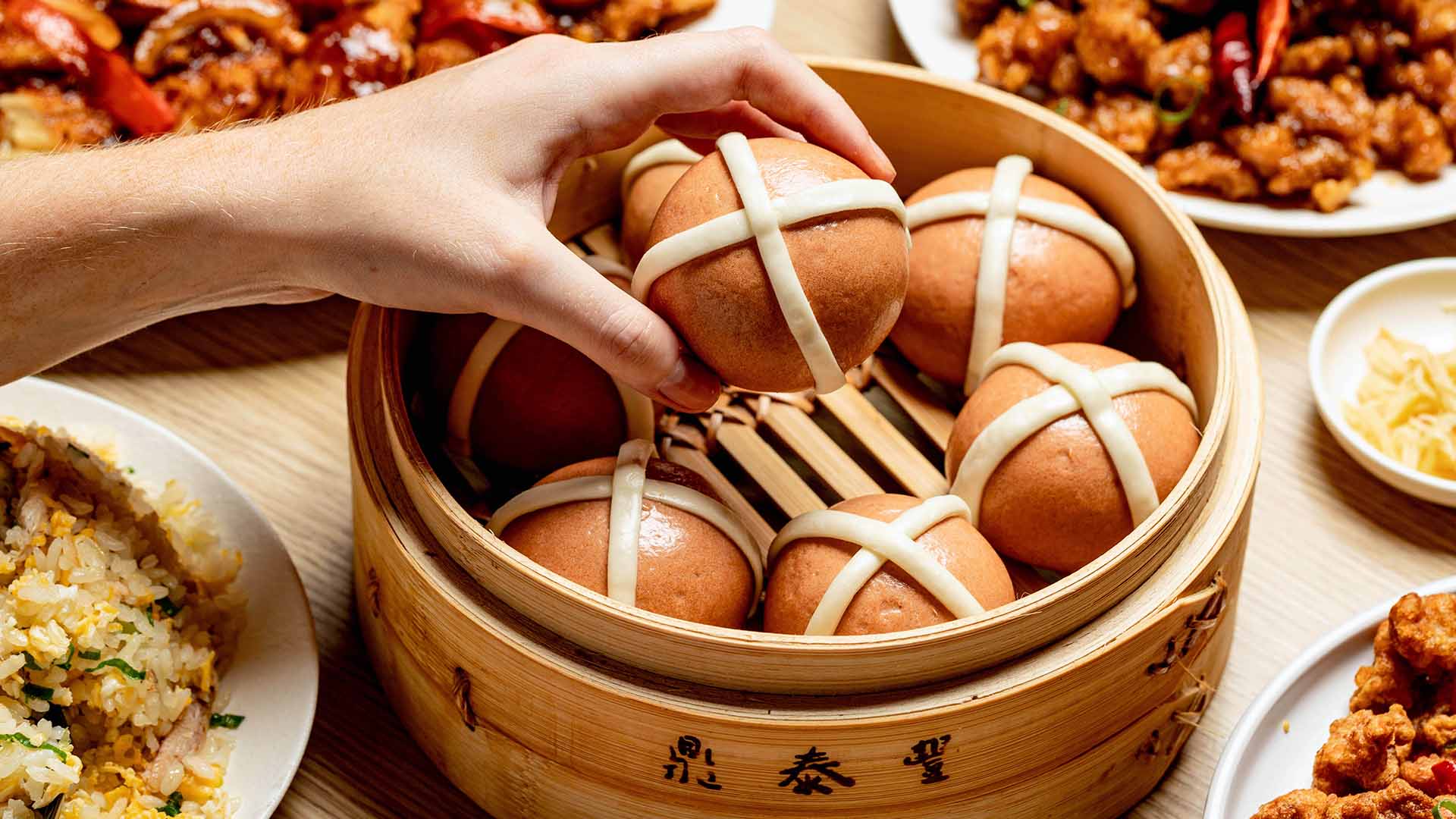 HOT CROSS BAO FROM DIN TAI FUNG
The dumpling masters at Din Tai Fung are celebrating Easter with a multicultural mash-up that's sure to delight any sweet-toothed folk — these rather charming hot cross bun-inspired bao. A nod to the traditional Easter bun, the pillowy little beauties are made with steamed bread and filled with oozing molten chocolate, each one finished with a sweet white cross. Available for a limited time on the menu at all Din Tai Fung restaurants and food court outlets in Sydney, so you'll want to hit up its World Square, Westfield Chatswood, Westfield Miranda, Westfield Sydney, Broadway Shopping Centre, Gateway Sydney, The Star, Greenwood Plaza and MLC Centre venues. They'll set you back $5.80 for a serve of two. Otherwise, you can extend the Easter vibes well into April by stocking up on a bag of three frozen hot cross bao, delivered to your door for $8.

NOT X BUNS AT SONOMA
While most of Sydney's bakeries are putting the finishing touches on their bun crosses, Sonoma adorns its sourdough hot buns with its signature S instead — hence the nickname, 'Not X Buns'. It comes in two versions: a more traditional bun studded with raisins, sultanas, candied orange, cranberries and apricot, and brushed with a house-made spiced syrup; and a chocolate twist on the Easter treat made with indulgent Belgian dark chocolate. You can nab a single Not X Bun for $3.50, a six-pack for $20 and a 12-piece pull-apart loaf for $36. They're available to pick up from all Sonona bakeries across NSW.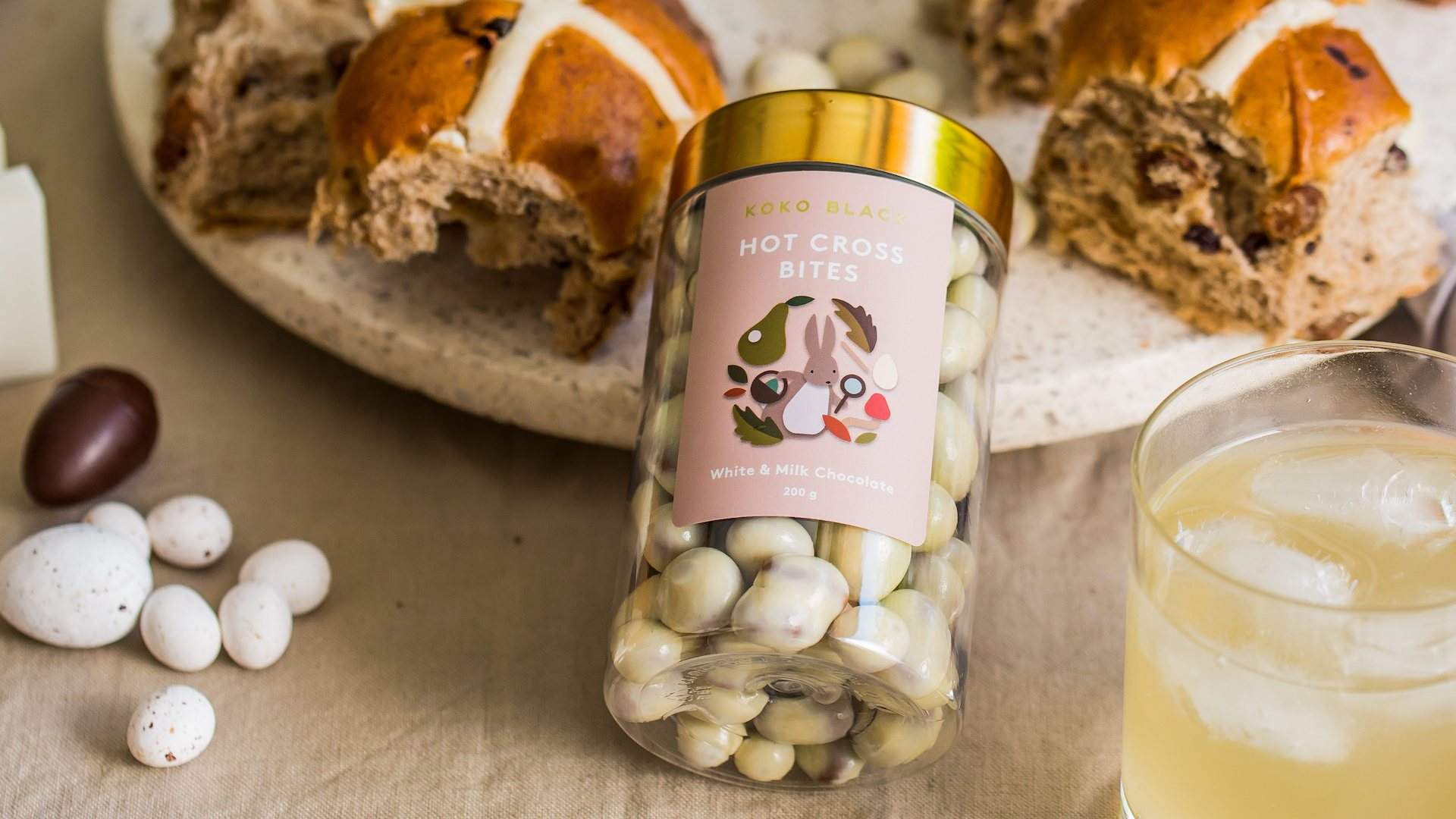 HOT CROSS BITES FROM KOKO BLACK
Renowned Aussie chocolate brand Koko Black has some serious game when it comes to dreaming up Easter treats, with a hefty assortment of sweet delights on offer each year. But one that's earned a particularly loyal following is its inventive riff on a classic — the signature hot cross bites. They're miniature bundles of cinnamon and Easter spice, double-coated in chocolate and loaded into a big jar to be enjoyed (read: scoffed) by the handful, no toasting necessary. And if you prefer a more indulgent kind of packaging, there's the pimped-out version, featuring 200g of these tasty morsels housed in a big milk chocolate half-egg.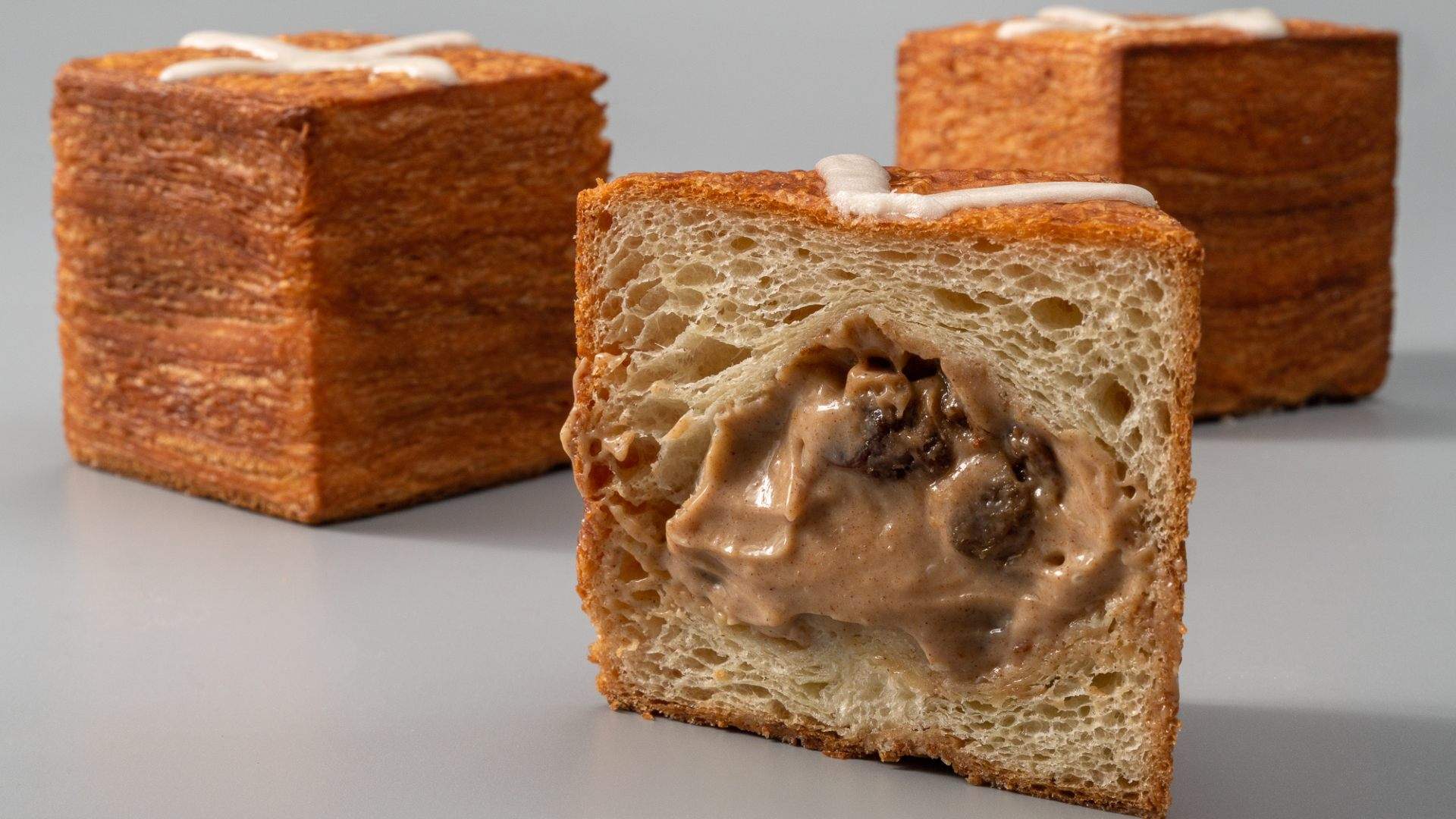 If you're over the cronut and on the hunt for new croissant crossover treats, look no further than this creation from the Banksia Bakehouse that folds in the best elements of a buttery, flakey croissant with the ever-reliable hot cross bun. On the outside, the limited-time pastry appears to be just a cubed croissant, but inside you'll find cinnamon creme patissiere with Australian sunmuscat sultanas. This isn't the CBD bakehouse's first run at a croissant crossover, either, with the Cramington (a croissant/lamington hybrid) a staple on the menu. The hot cross croissant is available throughout April.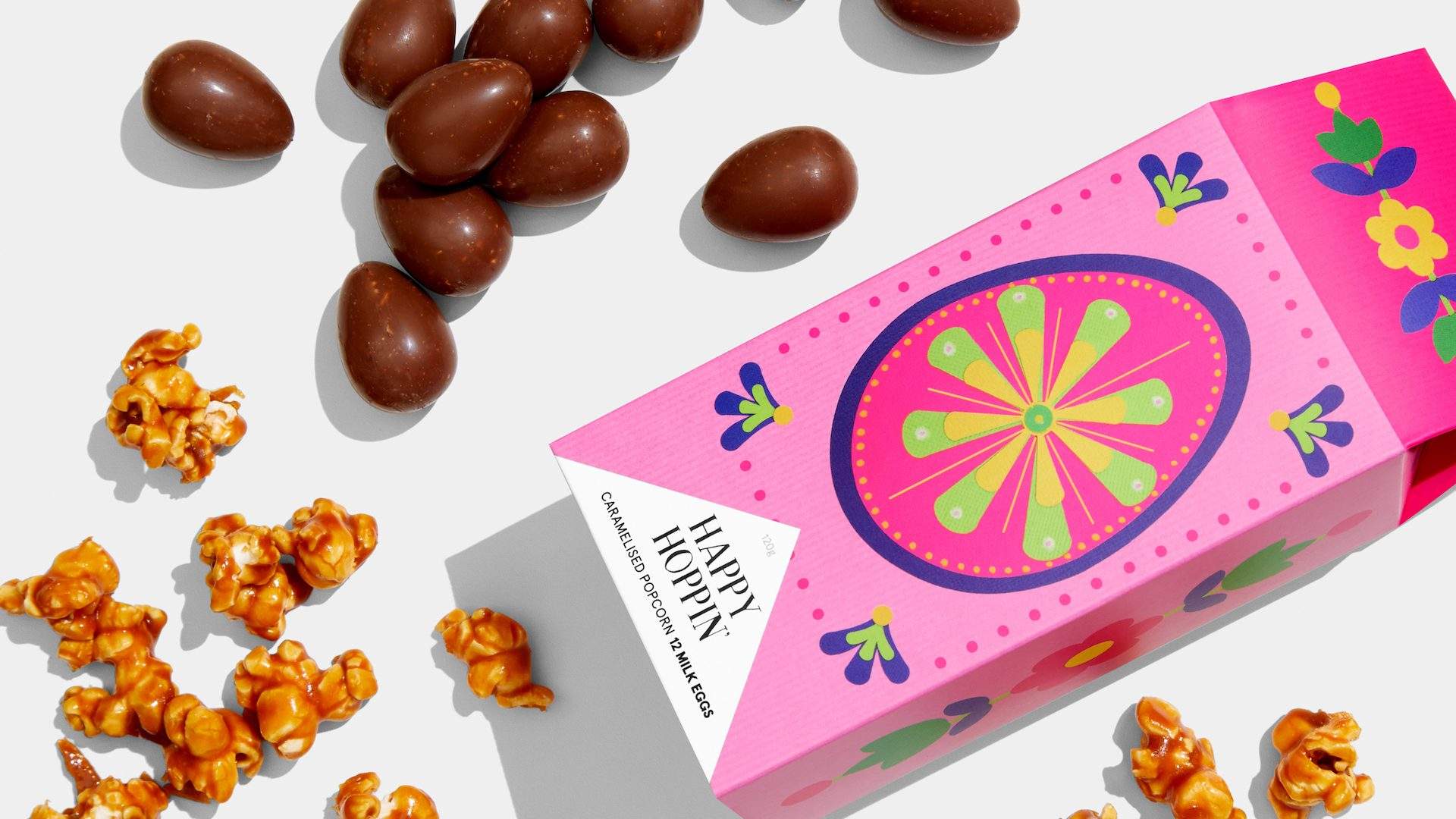 HAPPY HOPPIN' CARAMEL POPCORN EGGS FROM HEY TIGER
The minds at Hey Tiger have a knack for whipping up fun and innovative chocolate bar recipes, their repertoire including crafty flavour combinations like caramel and cracker crumb, and the birthday cake-inspired Glitter Kitten. And you can bet they're throwing around plenty of sweet ingenuity this Easter. Right now, you can get your mitts on a range of mini eggs and specialty bars, housed in colourful cardboard packaging that's designed to be upcycled into your next craft project. For a supremely scoffable Easter fix, hit the online store to try the Happy Hoppin' eggs, featuring smooth milk choccy bites with puffs of caramel sea salt popcorn at their centre.

Top image: Sonoma by Alana Dimou
Published on March 24, 2021 by Concrete Playground