The City of Sydney Is Putting an Extra $5.7 Million Towards the Inner City's Al Fresco Dining Areas
Since the outdoor dining initiative launched in December 2020, 204 permits have been issued — and 2690 square metres of al fresco dining space has been approved.
Along with washing your hands, social distancing and staying home if you're feeling unwell, we've all heard plenty about spending more time outdoors during the pandemic. In the City of Sydney, that notion was the catalyst for a new al fresco dining scheme, which aims to give bars, restaurants and cafes some extra space to play with while still working within COVID-19 capacity guidelines. And, over summer, the economy-boosting tactic has unsurprisingly proven popular.
Enjoying a bite to eat and a few drinks while soaking in the fresh air might be a perfect warm weather activity, but the inner city's shift towards outdoor dining isn't going anywhere for the time being. Recognising the concept's success, the City of Sydney has just announced $5.7 million in extra funding for the initiative, which includes waiving al fresco permit fees until June 2022.
$3.5 million of the newly pledged cash will be allocated to fee waivers, which will help expand the already hefty number of places that have made the leap to outdoor dining. Since the program launched in December 2020, 204 permits have been issued, including 116 al fresco dining spaces on footpaths and 52 on roadways. In total, 2690 square metres of outdoor dining space has been approved so far.
"Waiving outdoor dining fees was one of the first things we did when the pandemic hit Sydney, to make it easier for restaurants, bars and cafes to operate while encouraging physical distancing," said Lord Mayor Clover Moore. "People have really embraced it, with participating businesses telling us they've taken on extra staff and seen increased patronage — a crucial aid to staying afloat in these difficult times."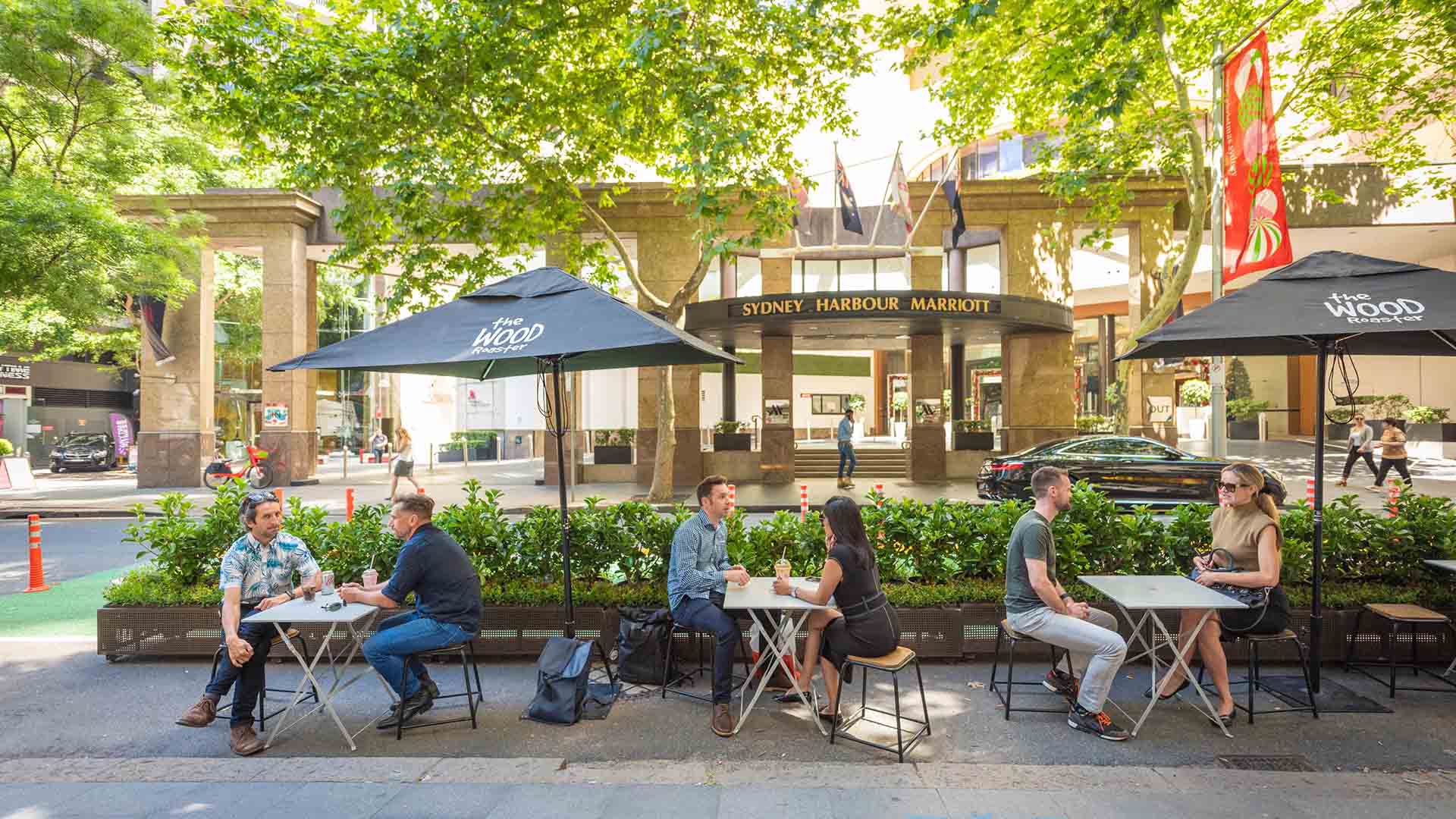 In its quest to help reactivate the CBD by making it easier than ever for venues to offer outdoor dining, late-night trading and live music, the City of Sydney will also put $2.2 million towards inner city events and activations — so you'll more to do than just eat and sip. The NSW Government has also allocated another $20 million towards its CBD Revitalisation program, with NSW Treasurer Dominic Perrottet advising that it'll be focused on getting folks back into the city, "whether that's working or shopping or coming in for entertainment and dining."
"This initiative means venues can apply to transform car parking space into outdoor dining and some venues may request more footpath space to attract customers," said NSW Minister for Finance and Small Business Damien Tudehope. "It is about greater certainty and opening up more capacity for venues so they can continue to host guests and serve top-notch food and drinks."
To achieve this al fresco goal CBD-wide, the government bodies have been working together to cut red tape for businesses to easily reclaim outdoor space. That led to an initial wave of al fresco dining spaces in The Rocks, before spreading CBD-wide.
In response to the changes, 90 percent of restaurants and cafes taking part in the program told the City of Sydney that al fresco dining was beneficial or crucial to their business. Forty percent increased their staff hours by 10 hours or more per week as a result, 45 percent employed at least two more staff members a week, and 58 percent have seen their turnover increase up to ten percent.
Committing to outdoor dining in a big way, the City of Sydney is also set to further extend George Street's car-free zone, spreading the vehicle-free area across its entire run between Town Hall and Railway Square.
For more information about the increased funding for the al fresco dining plan, head to the City of Sydney website. 
Images: Jes Lindsay
Introducing Concrete Playground Trips
Book unique getaways and adventures dreamed up by our editors