FOOD & DRINK
An Exploration of Orana in Residence's 22 Courses in 22 Emojis
This pop-up is offering up a pretty groundbreaking Australian dining experience — here's what we took from it *face with tears of joy emoji*.
An Exploration of Orana in Residence's 22 Courses in 22 Emojis
This pop-up is offering up a pretty groundbreaking Australian dining experience — here's what we took from it *face with tears of joy emoji*.
---
One of Australia's top restaurants has finally landed in Sydney. But, Orana in Residence — the local outpost of Adelaide's Restaurant Orana — is only here for a month. Taking over the former Longrain site, the pop-up headed by chef and owner Jock Zonfrillo is serving up a very involved 22-course dinner. It's not a typical meal, but instead more like a very detailed, very tasty journey through Australia.
On it, you'll try Tasmanian mountain pepper leaf, Port Lincoln bluefin tuna and buffalo milk from Myponga. You'll also try lots of native ingredients — which aren't a tokenistic nod to Australia's Indigenous culture, but a pillar of Orana. Ten percent of all profits from the $350-a-head dinners go to Zonfrillo's charity The Orana Foundation, which helps foster and preserve Australia's Indigenous food culture. Zonfrillo has also worked with local growers and Eora Nation Elders to source the ingredients.
It's groundbreaking Australian dining — some are even calling it life-changing. And you've got three more weeks to make a booking. If you can't make it (or can't afford to splash at least $350 on dinner) we've distilled the 22-course experience into 22 easy-to-consume emojis.

1. 🦘 On Commonwealth Street, there's currently a luminescent 'Orana' sign out the front of the otherwise fairly nondescript Orana in Residence building. While at first glance it may look like it's made of rabbit fur, it's actually kangaroo — something I'll be eating a lot of throughout the dinner.
2. 🐕 Inside, I take a seat on a custom-made chair, at a custom-made charred wood table under a sea of native plants hanging from the ceiling. This isn't Longrain anymore, Toto.
3. 👩🏻‍🍳 Despite the meal costing $350, I help prepare the first course. Well, just rotate the potato damper, which is wrapped around a stick of lemon myrtle and cooking on a bed of coals on the table. Once baked, I dip it in an umami-rich lamb butter. This is the only type of bread I ever want to eat again.
4. 🍞 But wait, there's more (*insert bread emoji*). It's on the table in front of us, proofing under glass domes. One of the Orana team members — some flown over from Adelaide, some Sydney hospitality stalwarts — comes to pick it up and take it back to kitchen to bake. They casually mention it's made with wattleseed and wholewheat flour from the Clare Valley. Of course.
5. 🤯 Have you tried emu eggs? As a custard? Topped with bunya nut miso, bunya nut cheese, crispy salt bush, long yam and trout roe? No, neither had I. And it blew my mind.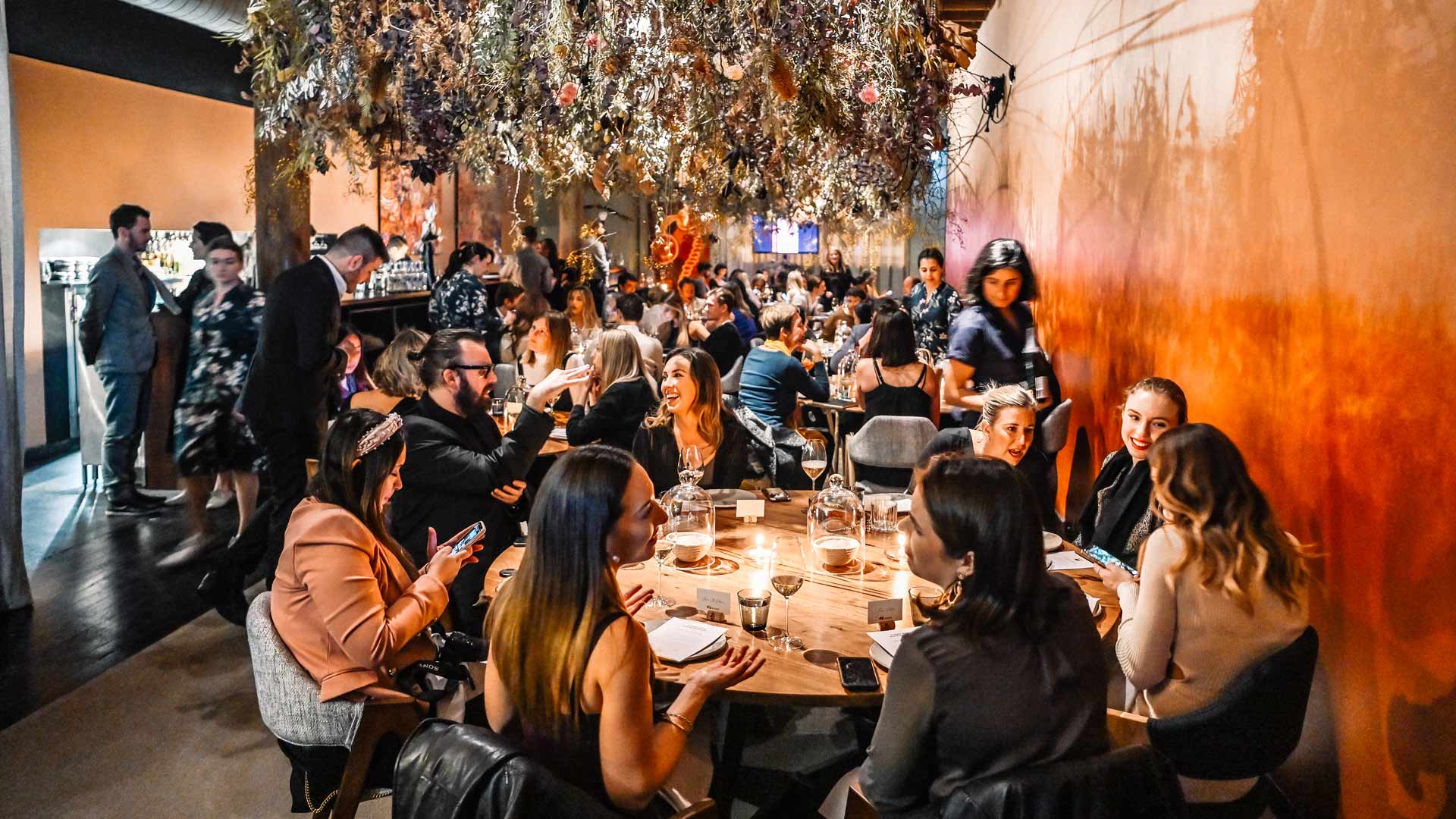 6. 🍷 The first wine of the evening — carefully selected by Orana wine director Kyle Poole and a handful of top Sydney sommeliers — is not red. But there's not an emoji for that. It's a Deviation Road brut from the Adelaide Hills, created exclusively for Orana.
7. 👽 Wines that follow include a magnum of skin-contact Tangerine Dream by Smallfry, a 2010 cabernet sauvignon from Wynn's, a Lucy Margaux pét-nat and something very tasty and red poured out of a giant harp-shaped decanter. Impressed, I am.
8. 🍺 Speaking of alcohol, the South Australian icon that is Coopers Sparkling Ale also makes it onto the menu — but not in liquid form. (I'll let you know more about that later.)
9. 🍔 The next dish, I kid you not, tastes like a Macca's cheeseburger. Although I'm sure it wasn't what Zonfrillo was going for when he created the roti sandwich filled with veal tongue and leek mayo, it's what he has achieved. And it's definitely not a bad thing.
10. 🐊🐊 Two emojis? Yes, for the 'soup soup' — so good they named it twice. And it is. A crocodile broth with lemon myrtle, aniseed, cinnamon myrtle and Tasmanian mountain pepper leaf, it makes a convincing case for ditching chicken soup in favour of croc.
11. 🎵 These two cubes of Port Lincoln blue fin tuna and Millicent beef cheek berry sauce — aptly called Surf and Turf —  are so juicy, they almost deserve their own song.
12. 🤷🏻‍♀️ Despite trying to diligently track details of all the courses, I falter. A note in my phone reads: "kangaroo, potato, red wine, goat, decanter". The G.O.A.T dish? A goat carrying a decanter of red wine? Your guess is as good as mine.
13. 🍗 The next dish, however, is impossible to forget. A whole quail, carved at the table. Pick it up and eat it with your hands. Finger lickin' good. I think the Colonel would approve.
14. 🌒 It's 10.30pm. I'm about three hours and 17 (15? 20?) courses in. I hope it never ends.
15. 😭 Confirmed: only two more savoury courses to go.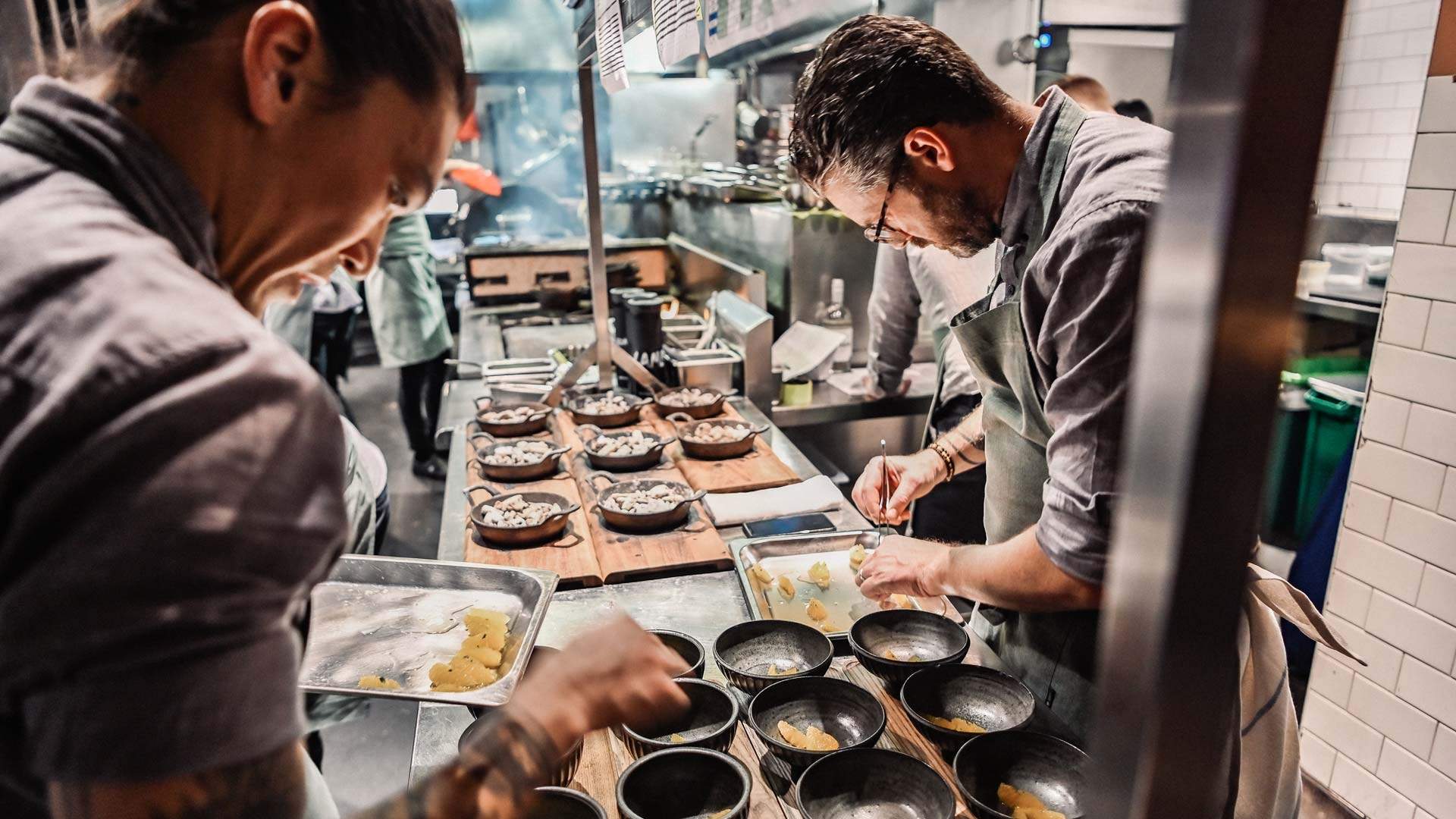 16. 🍩 Oh, and five desserts.
17. 🤠 !!
18. 🍵 Thankfully, there's a short tea break to digest before we move onto sweets. A tannic jilungin dreamtime tea, harvested by the Nyul Nyul people of Western Australian.
19. 🍦 Remember that SA icon I mentioned? Instead of being served in a long neck, the Coopers Sparkling Ale is served as ice cream inside a paper bark sandwich. Hopefully this makes its way onto the Exeter menu.
20. 🕺 On the topic of Aussie icons, one of them created the playlist: Jimmy Barnes. Thankfully it's not just ten hours of screaming, but a very impressive genre-spanning, 524-song list — and you can listen to all 35 hours of it here.
21. 👵🏻 Finally, the oldest surviving dish on the Orana menu: set Wyponga buffalo milk with strawberry juice and eucalyptus. I can see why they haven't taken it off.
22. ⏮ It's done. I'm finished. I'm full. And I want to do it all over again.
Orana in Residence is located at 85 Commonwealth Street, Surry Hills, from August 16–September 15. It's open for lunch and dinner Thursday–Sunday and you can make your reservation via the Restaurant Orana website. 
Published on August 23, 2019 by Samantha Teague