Sydney Tower Is Now Home to a Retrofuturistic 83rd-Level Bar, a Moody Fine-Diner and a Fancy Buffet
The 40-year-old CBD tower has had a multimillion-dollar makeover.
On September 25, 1981, Sydneysiders got their first look at the revolving restaurants inside Sydney Tower. Exactly 39 years later, the restaurants have reopened after a $12-million renovation, with new looks, A-plus cocktails and a star cast of Sydney hospitality elite.
The tower's dining precinct is split into three levels: 70s-inspired Bar 83, opulent fine-diner Infinity and casual buffet restaurant Sky Feast. Each space has a unique design by Loopcreative, pulling inspiration from the likes of space odysseys, Aussie backyard pools and bygone Kings Cross bars.
Here, we'll walk you through each level.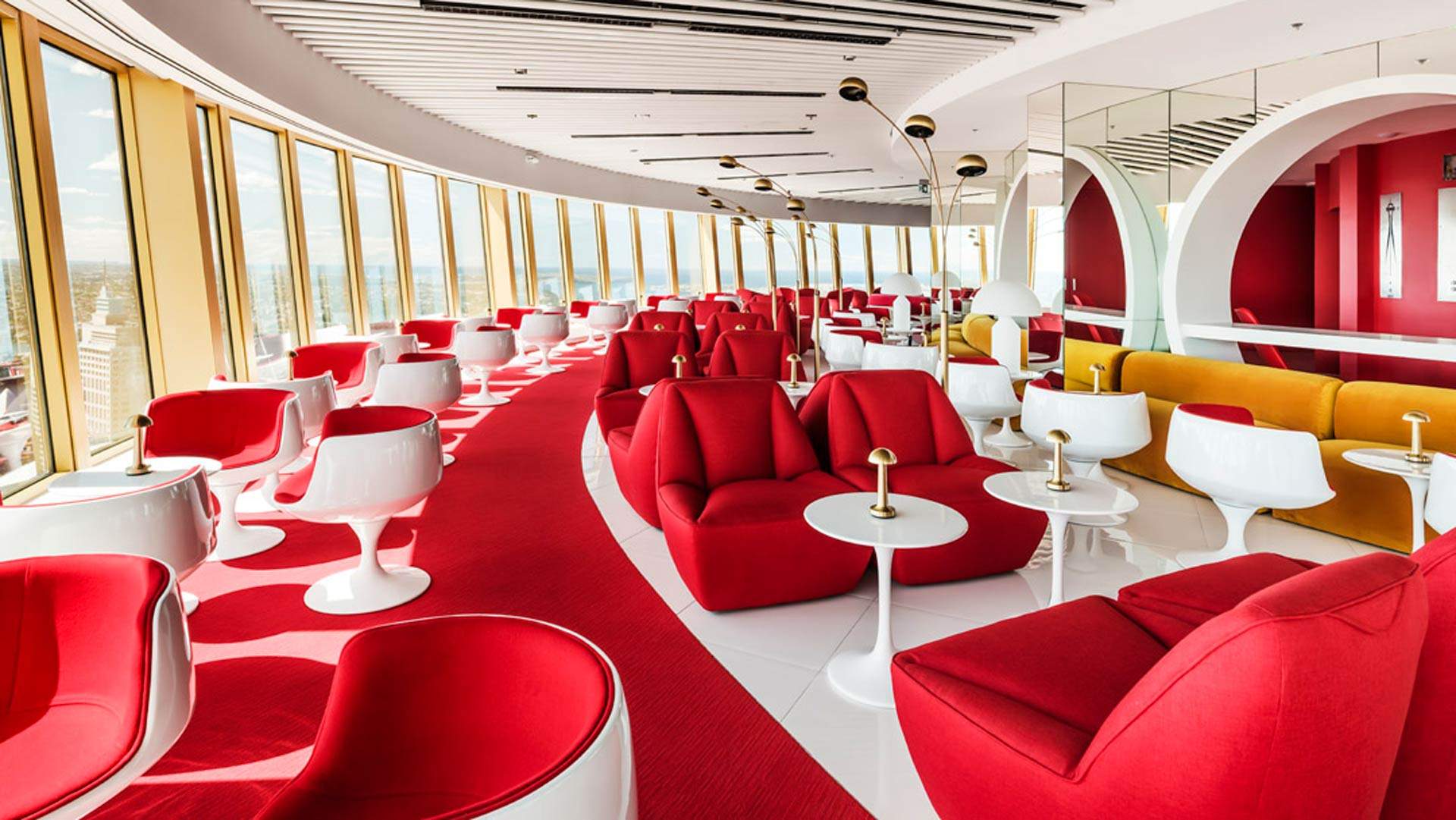 BAR 83
Part-retro, part-futuristic with circular red and white lounges, gold lights and striking mirrors, Bar 83 is officially Sydney's highest bar. Some have suggested the bar looks as if it was pulled straight from an episode of The Jetsons, but Loopcreative director Rod Faucheux says the design is a nod to the building's history and Sydney bars from the 70s and 80s, such as Baron's in the Cross. As the name suggests, it's towering above the city on level 83, with views across to the edges of the suburbs. While there's no denying the bar's main drawcard is the views, the cocktails are equally impressive. Award-winning bartender Jenna Hemsworth (Restaurant Hubert, The Baxter Inn) has stepped in as venue manager, and is stirring up outstanding cocktails including Pain Pleasure Principle (with cognac, cacao and lemon myrtle) and the Ignore All Rules (tequila, sherry, tomato and basil). Snacks don't push the boundaries too much (oysters, bread and olives, roasted nuts) but you're not here for the food — that's all happening on the levels below. That said, it'd be remiss not to order at least one of the lamb and harissa sausage rolls while you're there.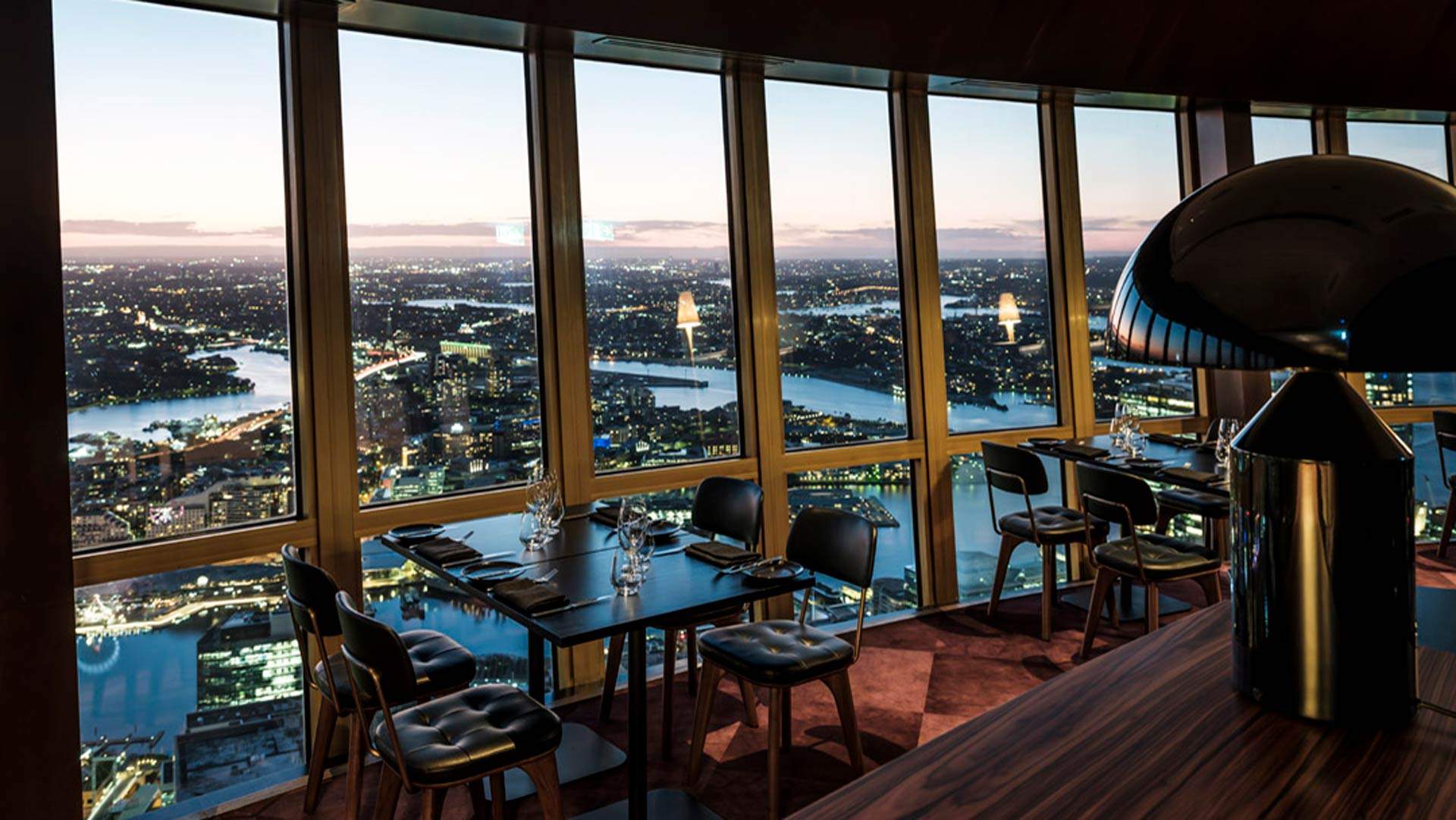 INFINITY
While Bar 83 is playful, Infinity is dark, moody and sophisticated, with leather banquettes, deep purple carpets and brass details. It's where you come when you're ready to do some serious eating. In the kitchen is Chef Mike Dierlinger (The Bridge Room), who is plating up five- and seven-course degustations. The menu is decidedly international, with raw swordfish paired with miso and enoki mushrooms, Shanghai-style drunken chicken served with yellow beets and brioche, and lamb belly coming with a side of Yemeni sauce called zhoug. It's not the cheapest degustation in the city — five courses come in at $115, seven at $145 — but it's far from the most expensive (eight courses will set you back $290 at Quay). And you're paying for the views, which, on this level, are 360 degrees. Like its predecessor 360 Bar and Dining, Infinity rotates.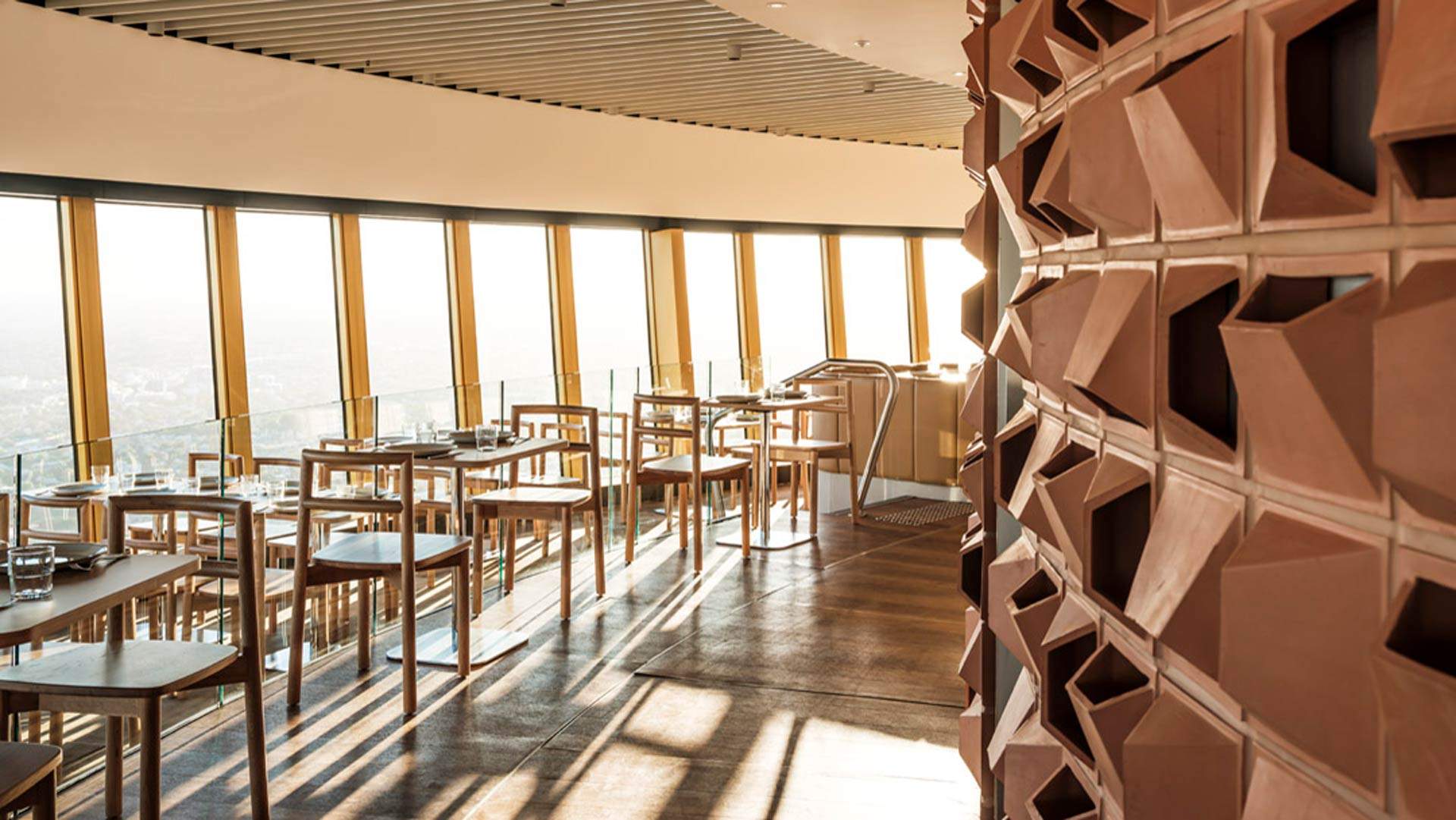 SKY FEAST
The final restaurant in Sydney Tower is Sky Feast, which, according to the team, caters to a broader tourism market. Its design is a throwback to suburban Aussie backyards of the 70s and 80s with pebblecrete, breeze blocks, terracotta tiles and plenty of blonde furniture by Melbourne's Ross Didier. Food here is served buffet-style, but at the moment, because of COVID-19, it's a buffet that the staff bring to you for $80 a head (or $60 for lunch). There are more than 30 dishes on the menu, which we won't run through here, but expect plenty of seafood (oysters, mussels, baked barramundi), curries, noodles and six different desserts. If you've got a hunger that a regular dinner just won't fix, a big feed here might be just what you need.

Bar 83, Infinity and Sky Feast are now open at Sydney Tower, between Pitt and Castlereagh streets, Sydney CBD.
Images: Robert Walsh, @robertwphoto.
Published on October 14, 2020 by Samantha Teague