FOOD & DRINK
Taka Gin Is the New Indigenous-Owned Label That's Making Spirits with Native Plants
The Melbourne-produced tipple is made with lemon-scented gum leaf and native lemongrass.
Next time you sip a G&T, or whichever other gin cocktail takes your fancy, you could be drinking a new Australian label that puts homegrown ingredients to great use. That'd be Taka Gin, a brand that's just hit the market thanks to Melbourne's Niyoka Bundle — who has branched out into the world of spirits from her Indigenous-fusion catering company Pawa Catering.
Like plenty of recent new businesses, the idea behind Taka Gin came about in lockdown, with Indigenous woman Bundle and her husband Vincent Manning inspired to take on a new project — and to continue to highlight First Nations people's native foods in the process. That's why their tipple heroes lemon-scented gum leaf and native lemongrass, two plants that the duo consider underutilised. They're paired with a base of seven other botanicals: juniper, coriander, angelica root, cassia chips, finger lime, orris root and desert lime.
Taka Gin's key ingredients have been foraged from around Melbourne, and sourced from Indigenous wild harvesters, including via Natif Super Foods and Warndu. The gin is then distilled by Gypsy Hub at Collingwood's Craft & Co, and sold online via the brand's website, with a 700-millilitre bottle costing $90.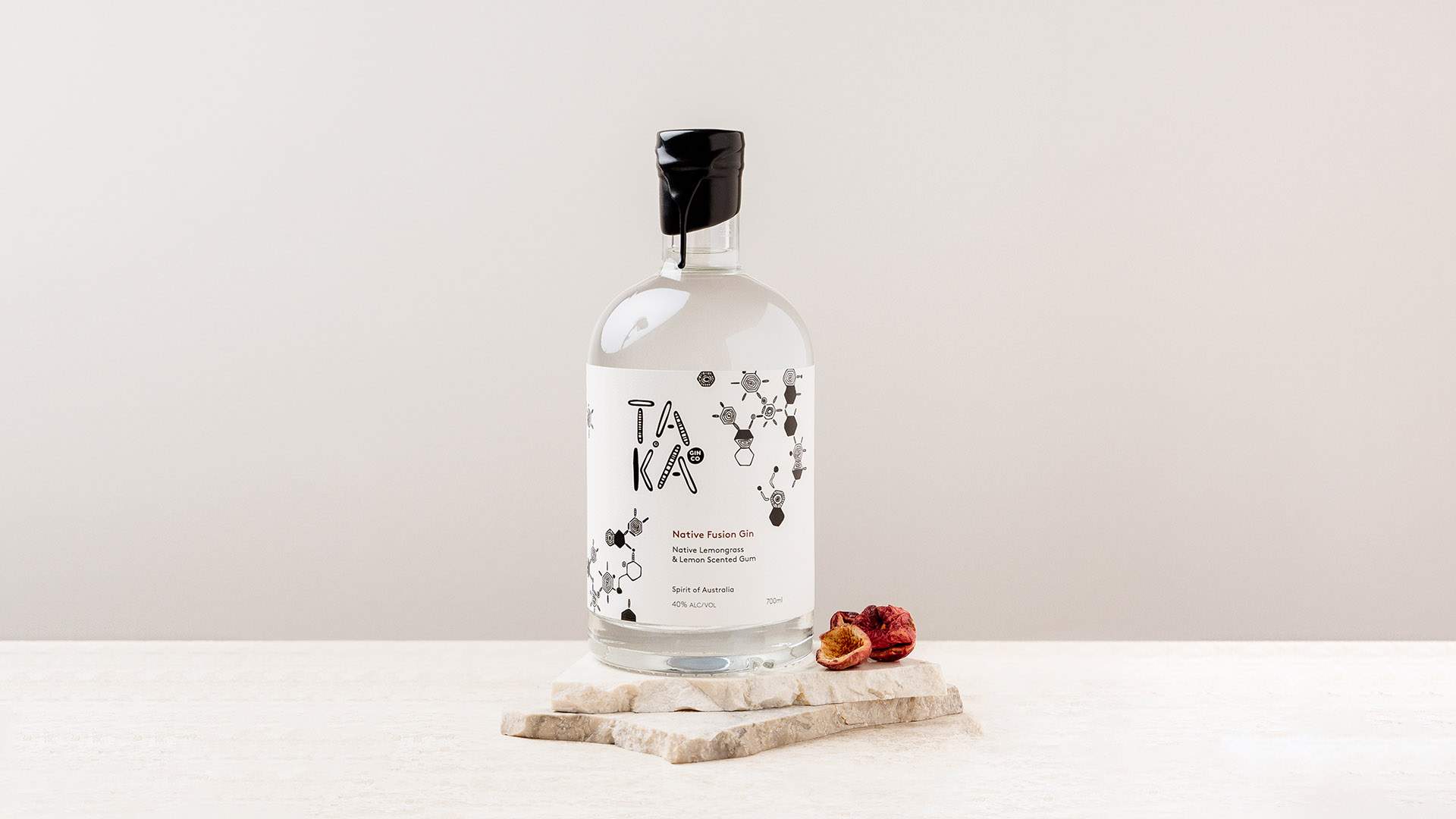 In terms of taste, this is a smooth gin. Expect soft citrus flavours, as well as a fragrance that helps bring out the tipple's flavour.
The brand takes its name from the Gunditjmara language, which hails from southwest Victoria, with 'taka' meaning taste. And, its eye-catching labels are designed by Bundle's mother and Gunditjmara Keerray Woorroong artist Vicki Couzens. Against a white background, the minimalistic images represent the phytochemical molecular components that comprise Taka Gin's flavours.
Handily, Taka Gin is doing free shipping Australia-wide, too, if you need another reason to expand your gin shelf.
For more information about Taka Gin, or to buy a bottle, head to the brand's website. 
Images: Marcie Raw Studio.
Published on August 02, 2021 by Sarah Ward