FOOD & DRINK
US Bakery Chain Cinnabon Has Opened Its First Aussie Store in Brisbane
And a second sticky scroll outpost is due to launch early next year.
US Bakery Chain Cinnabon Has Opened Its First Aussie Store in Brisbane
And a second sticky scroll outpost is due to launch early next year.
They're sticky, cinnamon scrolls, drenched in glaze and famous all across the USA. And now, at last, they're available Down Under. Yep, Seattle-born chain Cinnabon has landed in Australia, with a Brisbane outpost now serving up delicious baked goods.
The launch was first announced in January this year, when family-run Queensland company Bansal Foods scored the Aussie rights to Cinnabon. But, now, it's more than just news. Brisbanites eager to get their fix can head to Toombul Shopping Centre in the city's north, and grab a scroll seven days a week — well, once the opening queues die down.
Cinnabon has been going strong in America since 1985, so it has already picked up plenty of Aussie fans along the way. But this is the first time that we're able to get our hands on those sticky, cinnamon-infused baked goods on home soil.
The new Brisbane store slings a trio of Cinnabon cult classics, including the classic cream cheese cinnamon roll, the popular chocolate-drizzled Chocobon and very extra Caramel Pecanbon. They're available in both mini and large sizes, along with packs featuring either four or nine 'minibons'.  There's coffee and lots of sugary drinks to pair with your snacks, too, including a cinnamon bun frappe.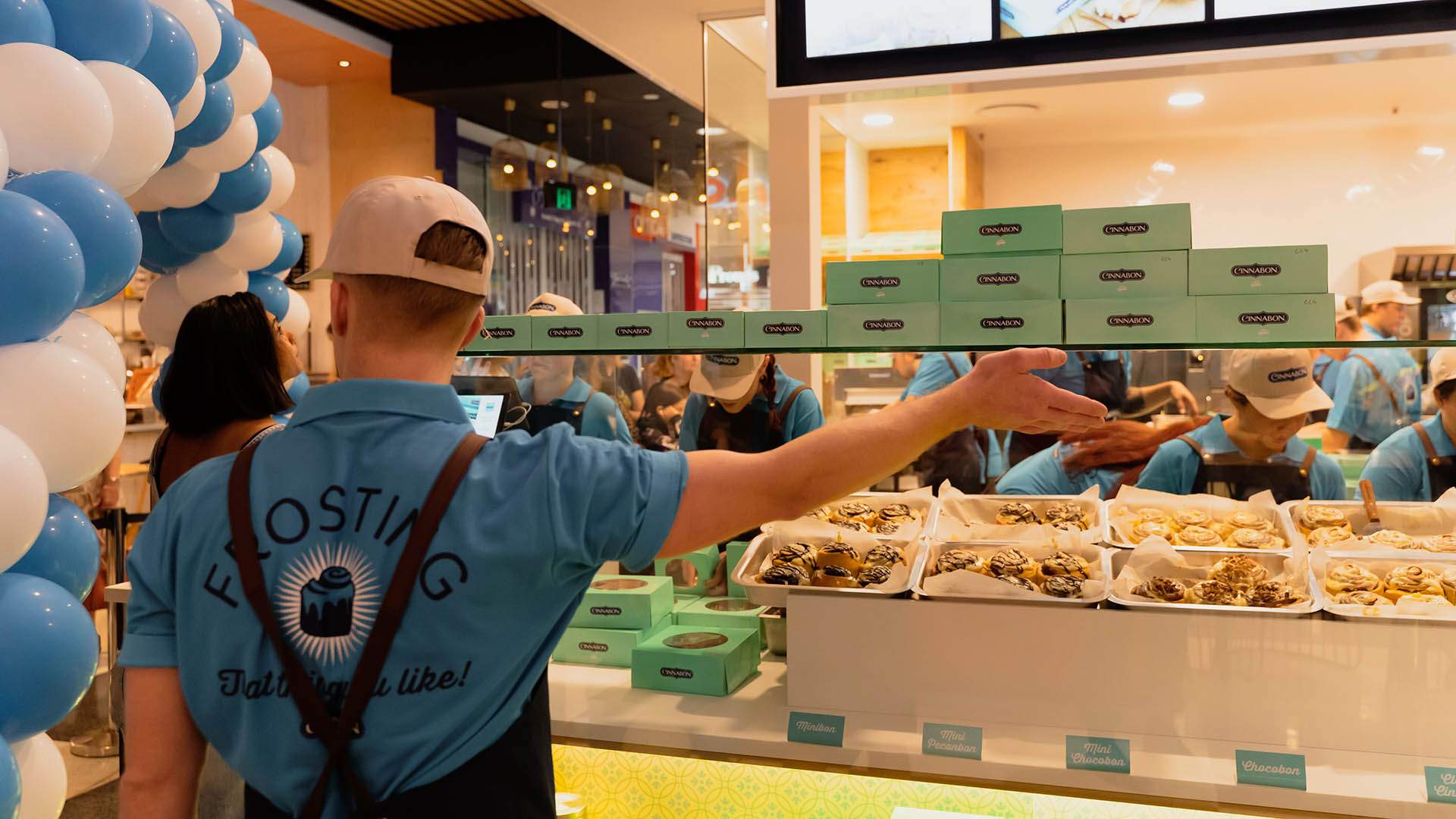 If you're yet to get acquainted with the decadent dessert creations, prepare yourself for aromatic, cinnamon-spiked dough made to a long-held recipe, decked out with stacks of signature cream cheese frosting and loaded with extras. They're notoriously tough to replicate.
Toombul Shopping Centre recently opened a new neon-lit upstairs dining precinct, but Cinnabon isn't a part of that. Instead, it's located on the ground floor near Coles.
And if you're not in Brisbane, it probably won't be too long until Cinnabon makes its way down south. The Toombul store is set to be the first of many. A second Brisbane store in Mt Gravatt is due to open in January 2020 and, going off plans announced earlier in the year, Cinnabon is looking to launch in Sydney and beyond in 2021.
Cinnabon is now open on the ground level of Toombul Shopping Centre, 1015 Sandgate Road, Toombul. 
Published on December 19, 2019 by Libby Curran