FOOD & DRINK
You Can Now Make These Classic Cocktails at Home Without too Much Effort
Practise your kitchen bartending skills with these easy-to-use cocktail mixes, available from Amazon.
You Can Now Make These Classic Cocktails at Home Without too Much Effort
Practise your kitchen bartending skills with these easy-to-use cocktail mixes, available from Amazon.
in partnership with

Remember the days when you could swim up to a pool bar and order a cheeky margarita? On holiday we'd aim for life to be as slow and simple as possible, ideally with a salty rimmed drink in hand and a gripping read to look forward to. Well, as we can't travel very far right now, it might be fun to bring those holiday vibes to your home with the flavours of your favourite beachside tipples — namely margaritas, mojitos, daiquiris and piña coladas.
And it's easier than you think. If you have a cocktail shaker, ice and a few spirits lurking in the cupboard, you're already halfway there — and now that French brand Monin has added a range of its 'bartender in a bottle' mixes and syrups to Amazon for around $13 a bottle, with free delivery for orders over $39, all you need is to add your desired flavours to your virtual cart and you could be shaking up a creamy piña colada without touching a pineapple.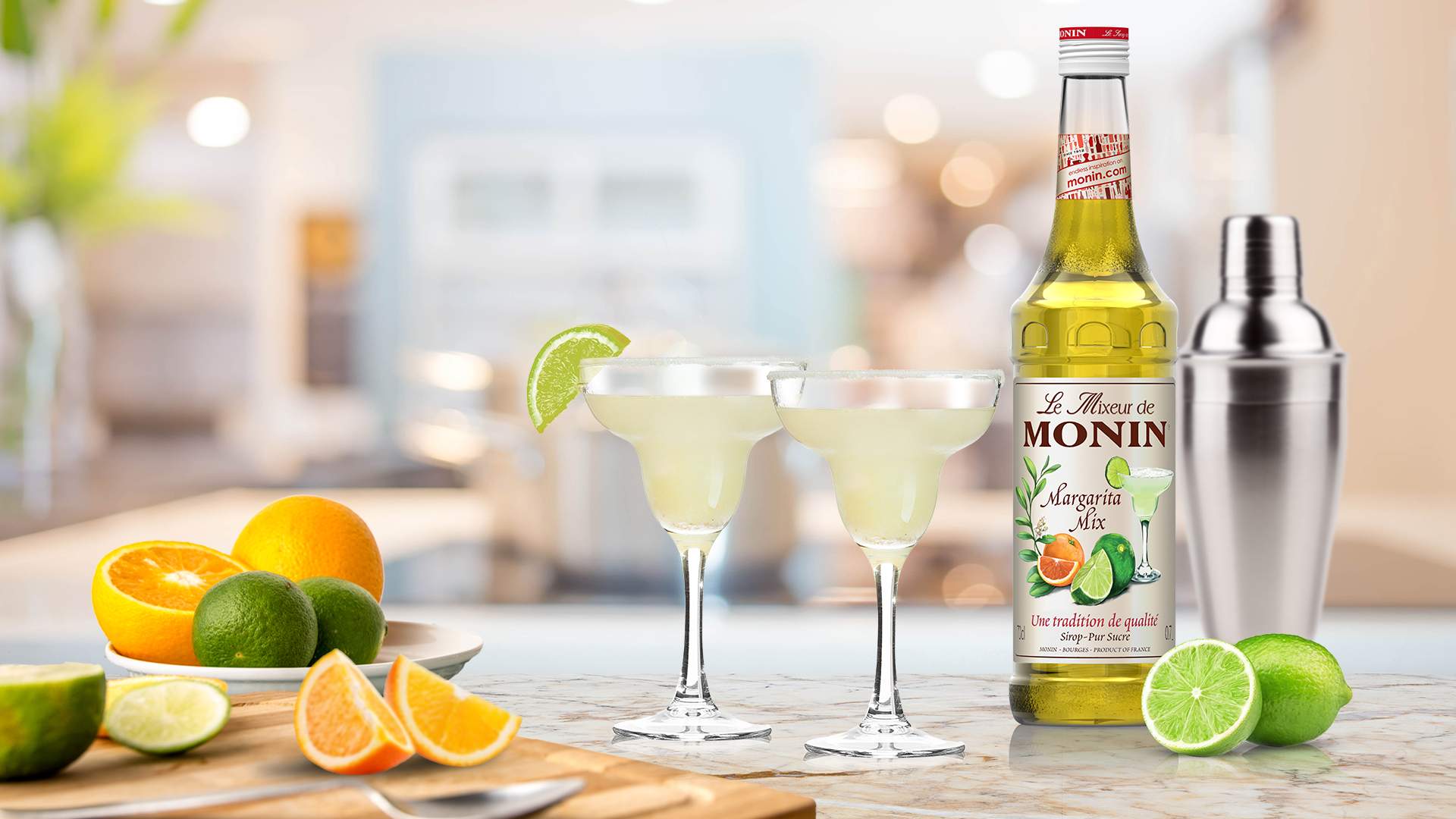 Considered bartender staples, Monin's premixed cocktail flavours are made with real fruit juice and nothing artificial, so in the strawberry daiquiri mix you're tasting ripe strawberries and lime that's coloured naturally, as well as vegan and gluten free. And with the minty, tangy mojito mix you can skip the muddling step entirely and just add rum, or whip up a non-alcoholic soda by adding carbonated water. Like the daiquiri mix, it's also made with natural ingredients and it's halal, kosher and dairy free, too.
Order your preferred mix on Amazon, then load up a tropical island playlist and slip on some floaty linen ready for your stay-at-home staycation. For some inspiration, see the below recipe for a zesty margarita with a hint of orange.

MARGARITA INGREDIENTS
45ml Monin Le Mixeur Margarita Mix
45ml blanco tequila
Fresh orange and good quality salt for the rim
METHOD
Add Monin Le Mixeur Margarita mix and tequila to a standard cocktail shaker. Let those liquids make friends for a while as you press the rim of your glass into a freshly cut orange. Dip the rim into a plate of salt to coat the glass all the way around. Add ice to your cocktail shaker and rigorously shake. Strain the cocktail into a glass.

See the full range of Monin products on Amazon.
Top image: Tanialee Gonzalez.
Published on May 08, 2020 by Emma Joyce