Baba's Place
A kaleidoscope of south-west Sydney food and culture inside a Marrickville warehouse.
"This is an actual restaurant in a warehouse. Where else is that happening in Sydney?" Baba's Place co-owner Alexander Kelly queries. Following a series of pop-ups that started in Newtown's Rolling Penny, Baba's Place has found a permanent home in a red brick warehouse on Sloane Street in Marrickville.
Kelly started Baba's Place with longtime friend Jean-Paul El Tom, but the team has quickly expanded. Co-owner James Bellos, Jean-Paul's sister running the front of house and Brand Director Zaal Kaboli are just some of the many figures you'll find floating around the inner west restaurant. The young team brings together an eclectic mix of experiences and fresh exciting ideas. "One of the things we try and stress, we're all learning," says Kelly. "This is a school."
The menu here pulls from Kelly and El Tom's south-west Sydney upbringing, from family meals to eating out in Burwood and Hurstville. You'll find some of the best taramasalata toast going around, a perfectly creamy and sour house yoghurt served with burnt butter, almonds and fried bread and pan-fried rice noodles dressed in chickpea miso, tarator and garlic oil.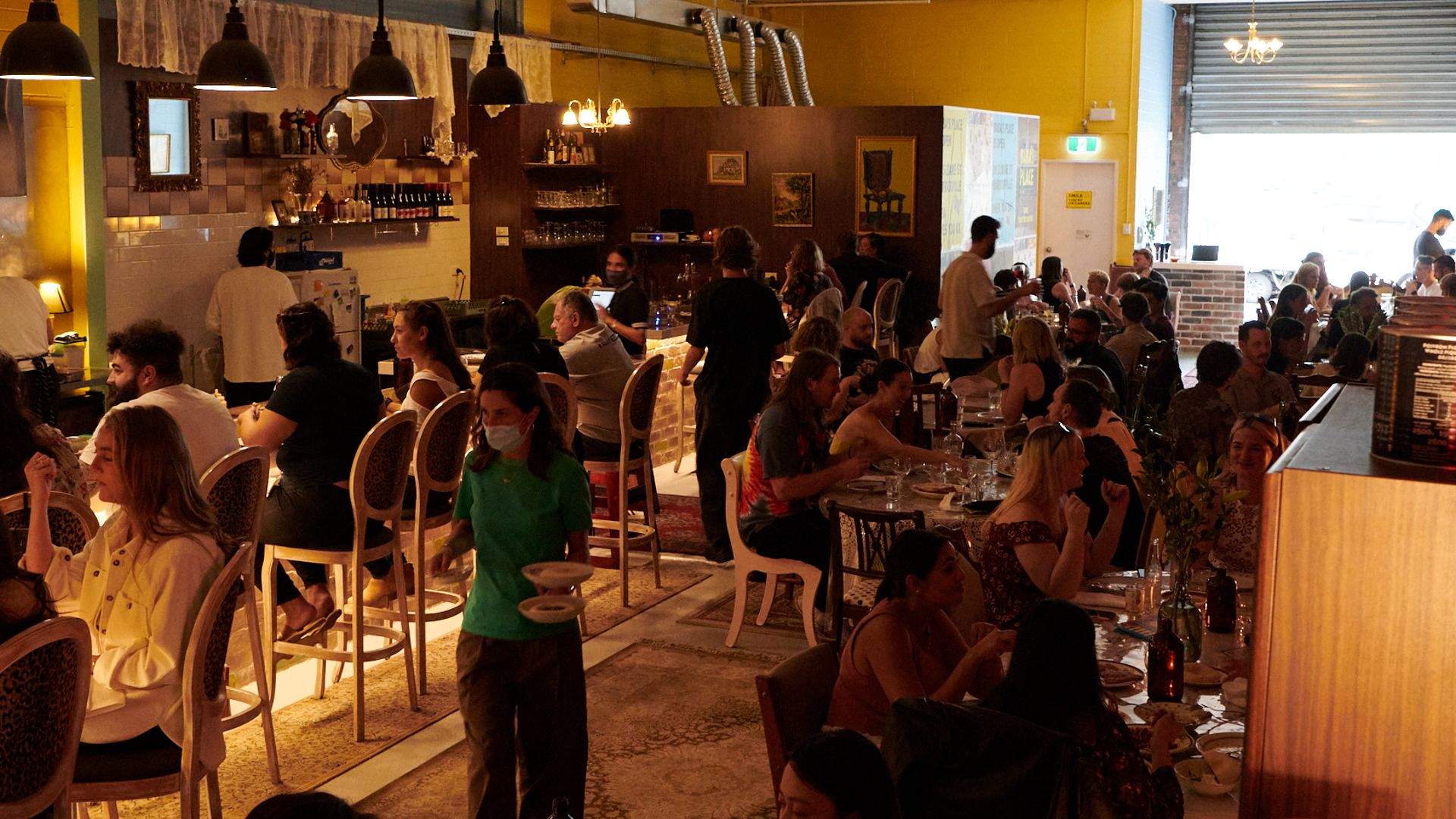 The fit-out in the warehouse is designed to drop you straight into a family dinner at your Eastern European baba's house, illuminating the beauty of the suburban home with family photos, white frilly table cloths and 80s tableware. These hallmarks of your childhood home, or your school friend's house, is what Kelly, with the help of Kaboli wants to highlight. "Aspects of Sydney and Sydney's culture, like pillars and red bricks and doilies, they're all fucking beautiful."
As with any meal around the family table, the dishes are all designed to be shared. While the smaller dishes are impressive and can be combined to create a top-notch spread, there are also heftier dishes if your group arrives ravished. The beef stroganoff infuses dry-aged sirloin with a mushroom sauce, and the half roast chicken is accompanied with toum and fermented garlic caramel.
The drinks menu is always evolving, with love shown to rakia and to a range of minimal-intervention Middle Eastern, Baltic and Australian wines.
"[At the Rolling Penny pop-ups] I was just excited to have somebody say Baba," he says. "Now we have bigger goals. Now we have goals to really highlight suburban Sydney and southwest Sydney."
Outside of your meal at Baba's Place, the music and art is just as central to the restaurant. Head on the right night and you'll find some of Sydney's most exciting and cutting-edge DJs in charge of the music, while art and the further reaches of culture are spaces the team explores with weekend galleries and event series.
Finally, the Baba's Place ethos extends past just the restaurant. The team also runs an online store where you can extend your experience into your day-to-day with apparel and pantry goods. Ranging from Baba-branded jerseys to jars of fermented garlic caramel, it's a real party.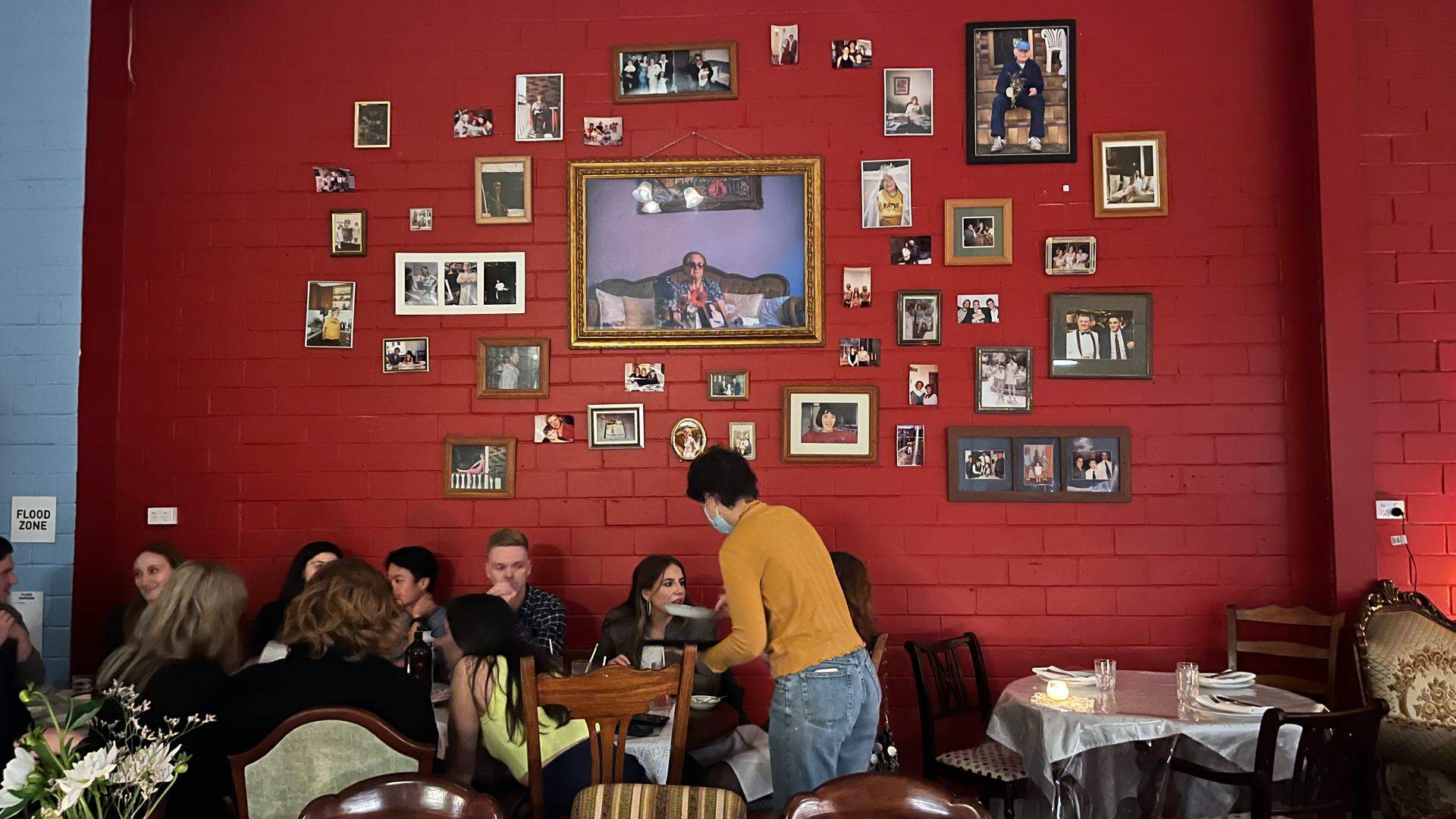 Images: Cordelia Williamson
Updated Tuesday, March 21, 2023.
Appears in:
Concrete Playground Trips
Book unique getaways and adventures dreamed up by our editors