Bar Mammoni
Hinchcliff House's 30-seat walk-in-only bar and cafe is serving up morning coffees and afternoon cocktails.
Bar Mammoni, is the final piece to join Circular Quay's expansive multi-storey venue Hinchcliff House. Located one street over from the flagship venue, Mammoni is a 30-seat cafe and bar hidden within the Quay Quarter Lanes precinct. Offering coffees in the morning, cocktails in the afternoon and snacks throughout the day, it's a day-long winner.
Tucked away on Loftus Lane, Bar Mammoni offers a more casual way of sampling the next-level pastries from Grana Bakery or the cocktail creations cooked up over at Apollonia. In charge of the pastries is Jonny Pisanelli of Adelaide's acclaimed bakery Abbots and Kinney, while Head Chef Jason Duncan (ex-Charlie Parker's) has pulled together the wider food menu with help from Pisanelli.
Items like gelato millefoglie and croissant cubes are baked overnight at Grana Bakery and walked across to the laneway venue each morning where they're offered alongside breakfast options like fruit or granola bowls ($14–16), morning sandwiches ($8.50–13) and toast made with Grana's signature bread ($8). Grana and all of the Hinchcliff House venues offer up sourdough milled in-house using the building's combi mill.
Once the morning dew has settled, the lunchtime menu features pizza by the slice ($5–9). The enticing toppings including pork, king prawn, octopus and roast fennel; or garlic-smoked stracciatella with truffle honey are placed on top of 72-hour fermented pizza dough that also takes advantage of Hinchcliff House's mill. Alongside the pizza, you'll find daily salads ($6–12) and a whole heap of snacks. Think whipped calamari fritti ($14), garlic bread ($10) and the Sicilian arancini of the day ($7).
All the available eats are on offer for takeaway, or to be enjoyed with a drink on-site. Three spritzes ($18) head up the drinks menu with a passito, a strawberry and a rosemary option. There are also negronis ($24), americanos ($18), sbagliatos ($18), Hinchcliff's house-made sparkling ($13) and Bondi Small Batch pale ales ($10).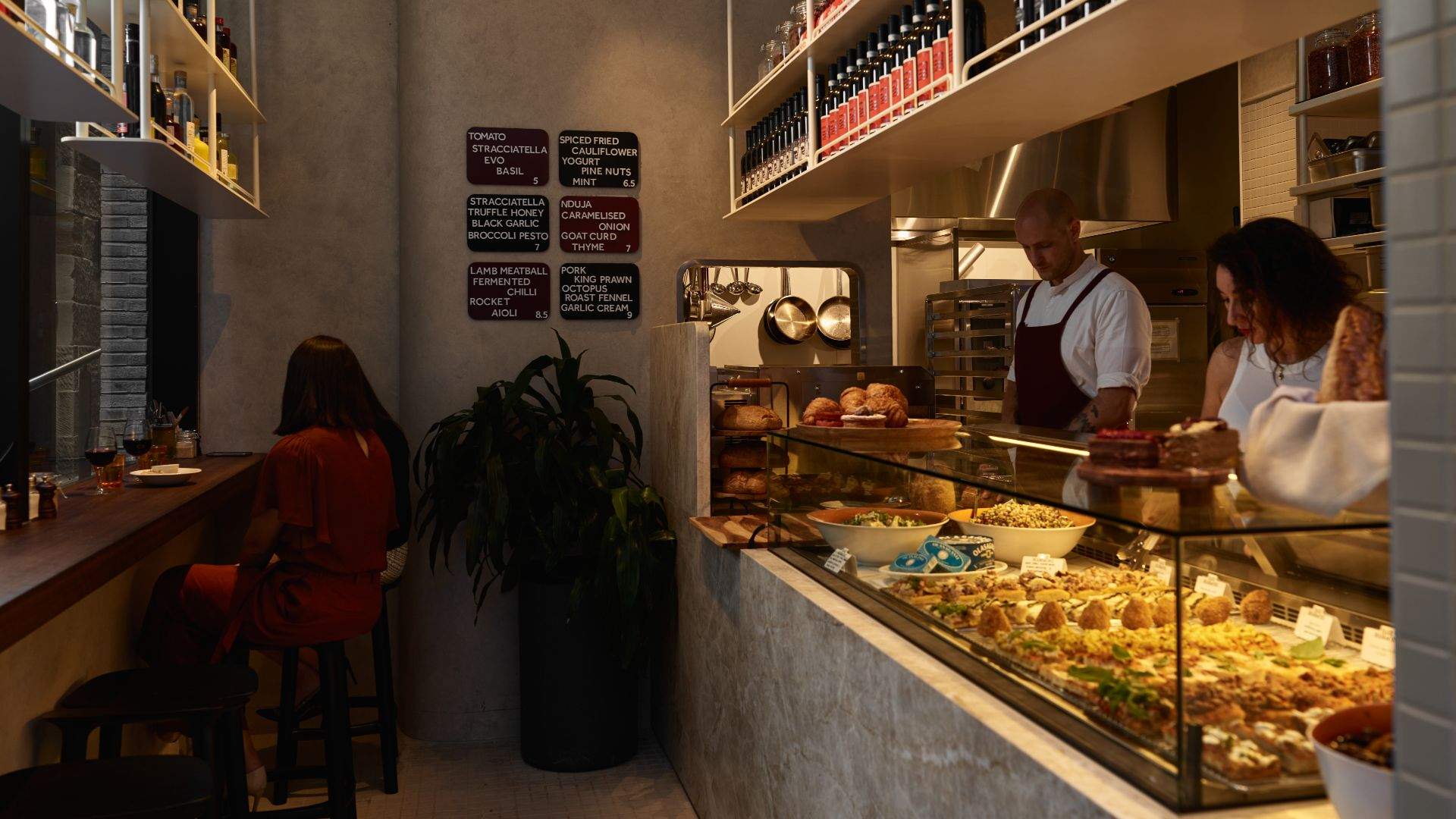 Images: Steven Woodburn