Cafe Freda's
The Chippendale nightclub has moved to Darlinghurst and swapped the dance floors and neon lights for natural wines and pastel hues.
At beloved Chippendale nightclub Freda's, you might've found yourself dancing with a hoard of shirtless strangers at 3am. At the new Freda's in Taylor Square, patrons are predominantly seated (and fully clothed). Like much of its clientele, Freda's has grown up — but it hasn't forgotten how to have fun.
In late 2020, we mourned the loss of Freda's the nightclub, with the venue closing its doors after a nine-year reign. But owner David Abram didn't sit on his proverbial hands for long, opening the doors to the new iteration of Freda's — Cafe Freda's — just a couple of months later, on NYE.
As is clear from the name, Cafe Freda's isn't a nightclub. It's not just a cafe, either. It's a restaurant, neighbourhood bar and creative space. And, like its predecessor, it's a haven of expression, art and music. A set of DJ decks sit behind the bar in preparation for upcoming live music nights, ceramics made by artist and Abram's partner Carla Uriarte line the walls and a cultural program of readings and exhibitions, overseen by Uriarte, is set to launch in coming weeks.
Unlike the OG Freda's, however, here there's a stronger focus on food and wine. The kitchen is helmed by chef Xinyi Lim, who has worked at New York restaurants Marlow & Sons and Achilles Heel, and runs Megafauna, which combines food, art and social justice. The food is reflective of Xinyi's Chinese Malaysian heritage and driven by seasonal and locally sourced produce. In short: it's unfussy and nourishing.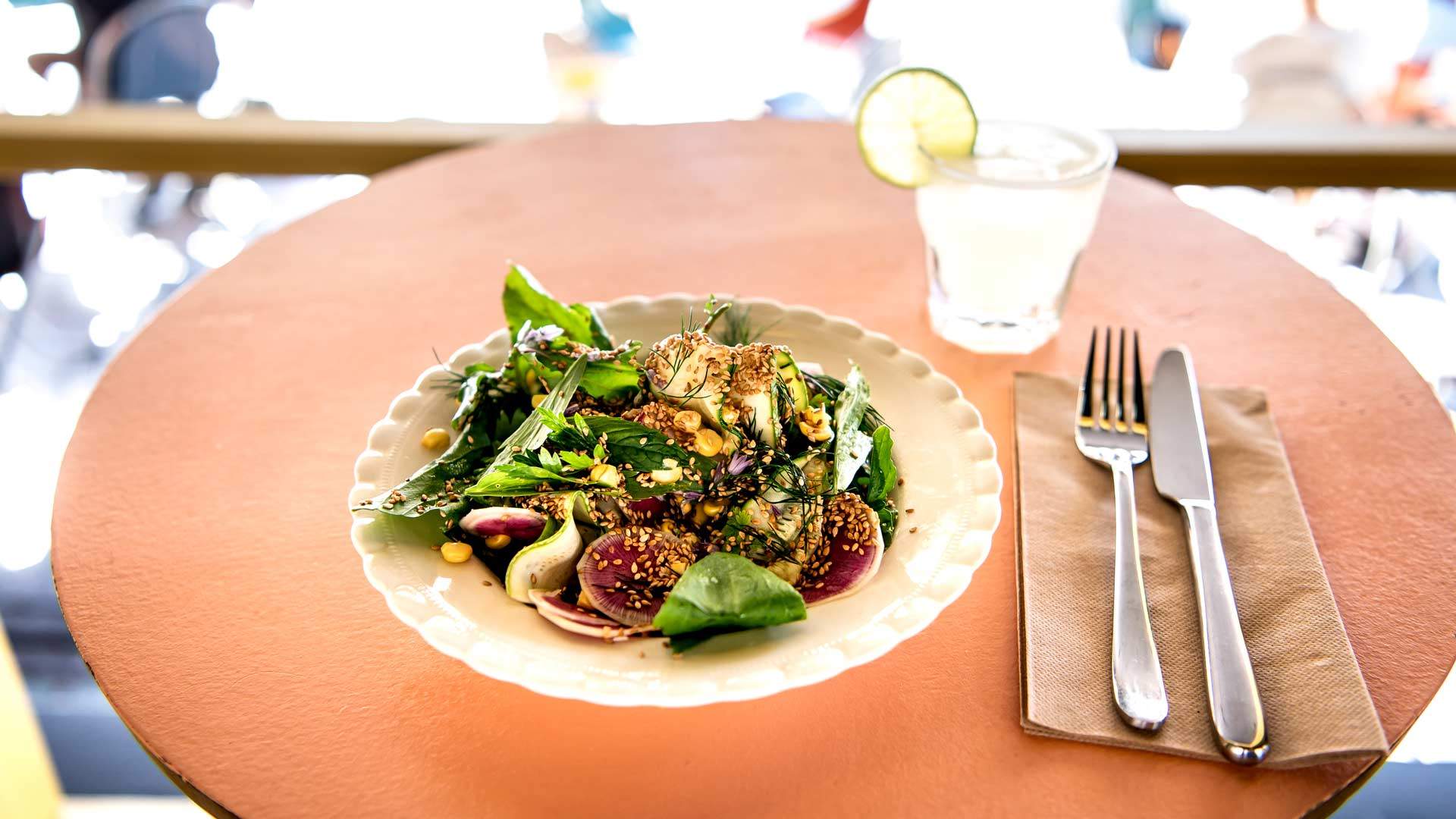 The menu at Cafe Freda's is constantly changing, but some exciting dishes you may run into include a salad of shaved summer vegetables with sorrel and sesame, topped with a soft egg; a rustic galette of dark leafy greens ; or a plate of pulled pork served with labneh and a barley salad. If dessert is on offer, we suggest you order it. So far, sweet hits have included the likes of a generous slice of peach, rye and cardamom brunch cake topped with whipped cream and pastel green pandan panna cotta.
Like the panna cotta, the space is covered in pastels. Grand yellow windows open onto Oxford Street, pink walls pop behind the bar and a large blue painting hangs on the wall. Other features have been repurposed from the nightclub, including stools and the bar top itself.
The wine list, by Restaurant Leo's Darcy Creenaune Ellis, focuses on minimal-intervention drops from smaller producers across Australia and the globe, including fun pét-nats and skin-contact drops from Ari's Natural Wine in the southern highlands and natural numbers from Cantina Giardino in the hills of Campania, Italy.
A cocktail list stars the regular suspects: spritzes, margaritas, espresso martinis and negronis — all for under $20. Club Mate, a carbonated, caffeinated tea-based soft drink that has a bit of a cult following in Europe, has also made the journey over from Chippendale. In Taylor Square, you can drink it as is or as part of a Mega Mate cocktail, with vodka and fresh lime.
Images: Cassandra Hannagan