Cafe Freda's
The Chippendale nightclub has moved to Darlinghurst and swapped late nights and neon lights for natural wines and pastel hues.
At beloved Chippendale nightclub Freda's, you might've found yourself dancing with a hoard of shirtless strangers at 3am. At Cafe Freda's in Taylor Square, patrons are predominantly seated (and fully clothed). Like much of its clientele, Freda's has grown up — but it hasn't forgotten how to have fun.
In late 2020, we mourned the loss of Freda's the nightclub, with the venue closing its doors after a nine-year reign. But owner David Abram didn't sit on his proverbial hands for long, opening the doors to the new iteration of Freda's just a couple of months later, on NYE.
As is clear from the name, Cafe Freda's isn't a nightclub. It's not just a cafe, either. It's a restaurant, neighbourhood bar and creative space, and it still regularly operates as a dance floor. And, like its predecessor, it's a haven of expression, art and music.
A set of DJ decks sit behind the bar in preparation for its regular DJ sets and weekend parties featuring some of Sydney's top musical tastemakers. Lining the wall are ceramics made by artist and Abram's partner Carla Uriarte. And, head across to the Abstract Thoughts Gallery for a full program of exhibitions and workshops.
Unlike the OG Freda's, however, Cafe Freda's sports a stronger focus on food and wine. Following 18 months under the guidance of trailblazing chef Xinyi Lim of Megafauna, Freda's brought in a new menu designed with the help of Bart Jr's Georgia Woodyard and inspired by Mediterranean wine bars. Sophia Fleming is now leading the charge in the kitchen, which offers moreish snacks and Italian favourites.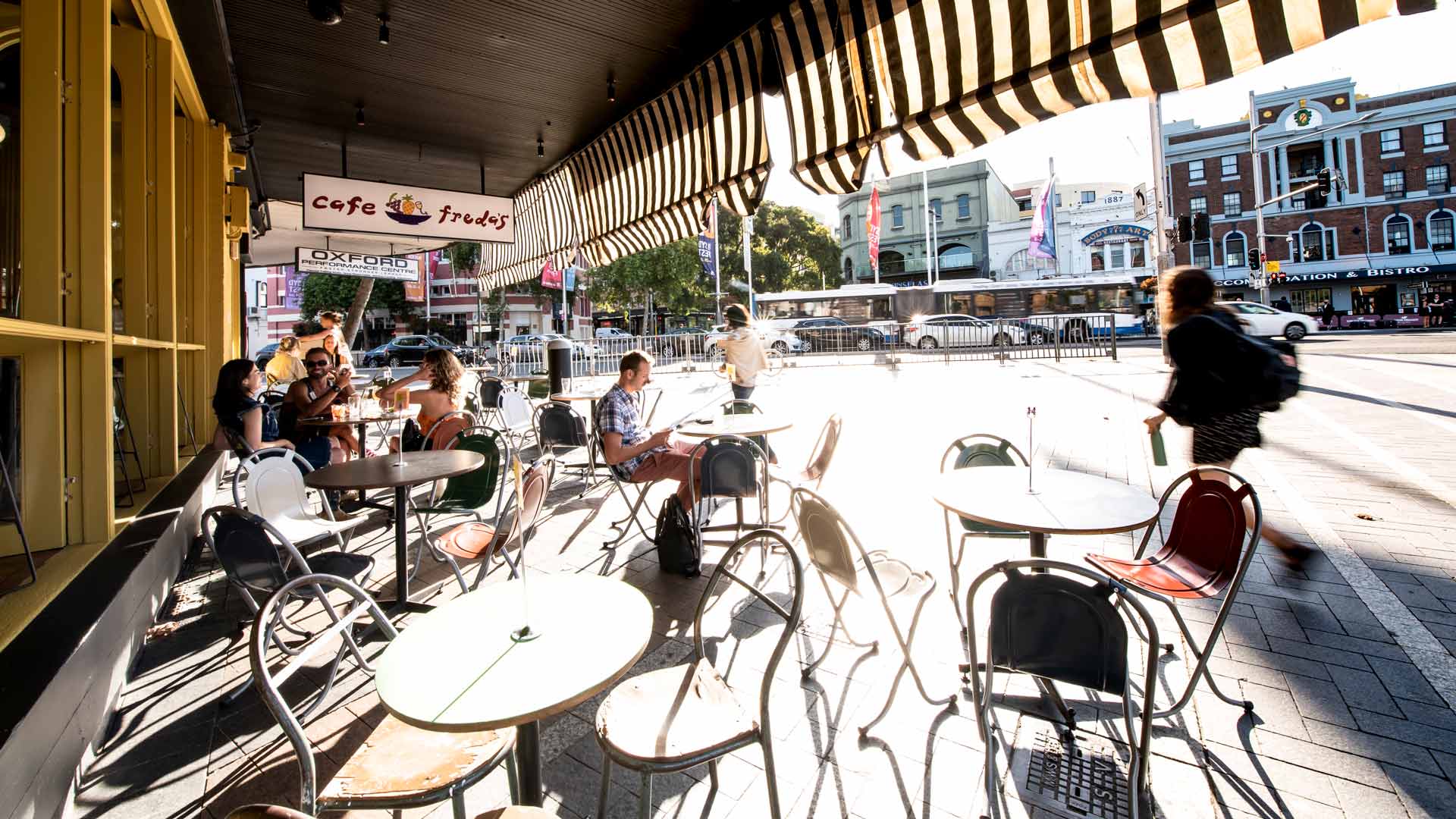 The menu at Cafe Freda's is constantly changing, but some exciting dishes you may run into include smoked mussel or cauliflower tostadas; stracciatella; and a next-level fish finger sandwich made with panko-crumbed fish fingers, house tartare sauce, zucchini pickles and hot sauce on a potato roll. On Wednesdays, you can order yourself a heft bowl of pasta and a selection from the wine list for $30.
Speaking of wine, the range focuses on minimal-intervention drops from smaller producers across Australia and the globe, including fun pét-nats and skin-contact drops from Alsace in the north of France or Cantina Giardino in the hills of Campania, Italy.
A cocktail list stars the regular suspects with fun tweaks: a banana negroni or a chinato and tonic — all for $20 or under. Club Mate, a carbonated, caffeinated tea-based soft drink that has a bit of a cult following in Europe, has also made the journey over from Chippendale. In Taylor Square, you can drink it as is or as part of a Mega Mate cocktail, with vodka and fresh lime.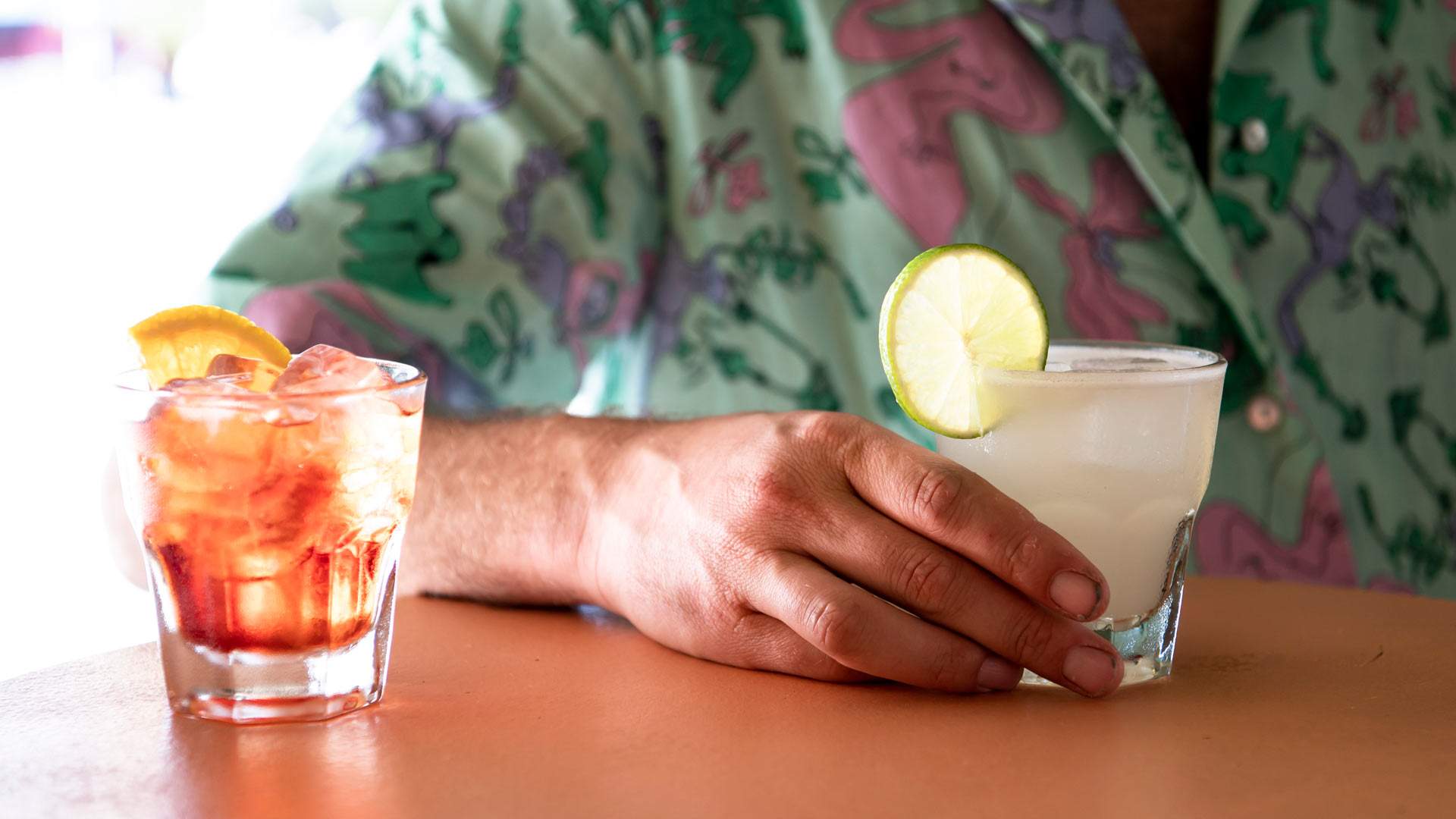 'Cafe Freda's' is one of our favourite spots for a drink. So much so that it features in our list of the 20 best bars Sydney has to offer. Browse the full list for all of the city's top watering holes.
Images: Cassandra Hannagan
Updated Tuesday, March 21, 2023.
Concrete Playground Trips
Book unique getaways and adventures dreamed up by our editors