Dainty Sichuan - CLOSED
Get ready for the numbness — one of Melbourne's best Sichuan eateries is now serving up spicy Chongqing noodles in Sydney.
Dainty Sichuan has arrived in Sydney with all of its numbing spice, offal and famous Chongqing noodles. If you've never tried Sichuan cuisine before, this place is simultaneously the best and worst place to dive in. The menu features favourites from the southwestern China province, but if you're a newcomer to Sichuan spice, it may hit you like a train.
Chongqing spicy noodles ($12.80) are a highlight at Dainty Sichuan. The springy noodles come out in a seemingly frightening red broth, but don't be scared — the spice is more numbing than searing. Chongqing noodles with tender nuggets of beef and pork chitterlings ($17.80) are for those with a slightly more adventurous palate. Chitterlings, also known as intestines, are something you either hate or love — they have a unique chewiness and strong meaty flavour. An umami-filled stewed chicken on the bone and shiitake mushroom noodle soup ($15.80) and a hearty minced pork with chickpea noodle soup ($14.80) are a couple of the not-as-spicy options.
Some of the best items on the menu are also the cheapest: slices of firm but gelatinous pig ear with chilli oil ($5.50), pickled vegetable threads ($4.50) — a vinegary mix of veg, firm tofu and glass noodles with a hit of Sichuan peppercorn and chilli — and spicy sichuan cold noodles ($5.50) tossed with peanuts and bean sprouts.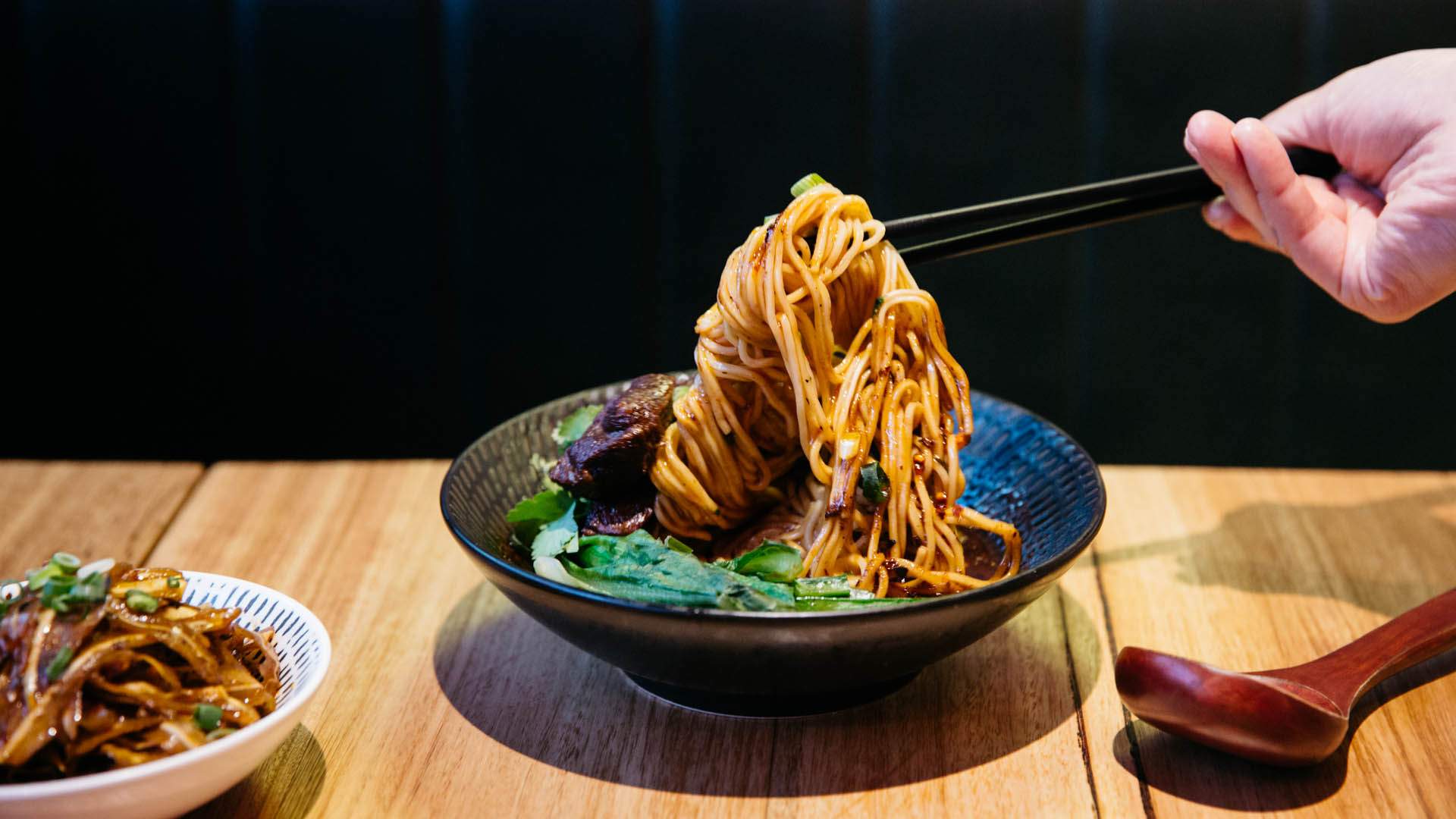 Little fried patties of glutinous pumpkin stuffed with red bean paste, also known as Dainty Pumpkin Cakes ($7.80), are the pick of the desserts. But if you're not keen on hot desserts, the chilled jelly with brown syrup ($5.80) is subtle, sweet and fragrant.
Dainty Sichuan starts getting busy early-on — staff race around with drinks and plates of food and patrons line up at the cashier trying to stay close to the wall so they don't get in the way — but it's a fast operation. You'll notice many people around you slurping down their noodles and leaving quickly; this isn't the place to sit around and linger over a meal. It is, however, one of the best places in town for spicy Chongqing noodles.
Image: Letícia Almeida. 
Food & Drink

Mezzanine level, The Exchange, Darling Square, 1 Little Pier Street, Haymarket
Food & Drink

Thursday, May 5 - Thursday, June 2

Harpoon Harry

Food & Drink

Monday, April 11 - Monday, May 23

Various YCK Laneways Venues