Kinhboy
Enjoy bánh xèo tacos, truffle oil-topped pho and mud crab laksa dumplings at this funky Vietnamese eatery.
It's been a busy year for the crew behind Surry Hills' modern izakaya Tokki and Haymarket's Kogi Korean BBQ. Earlier in 2020, the team opened upscale Japanese restaurant Marble in Barangaroo, then swiftly followed it up with casual Japanese-Korean barbecue joint Khoi and Kinhboy in Redfern. The latter is what we're here to talk about. You'll find it on Regent Street, in the same strip of shops as Huxtaburger and mega-popular ramen joint Rara.
Despite the fairly basic exterior and dim interior lighting, the glow from the neon sign — which read "Pho King Amazing", by the way — will catch your eye from the street. Inside, the open bar and kitchen runs the length of the venue, with tables for two and four running parallel. There's also bar and window seating for solo diners, plus space for larger groups out the back. Paired with the polished concrete floor and walls and the timber finishings, it feels sleek and trendy — a far cry from the stripped-back Vietnamese diners that populate other parts of Sydney.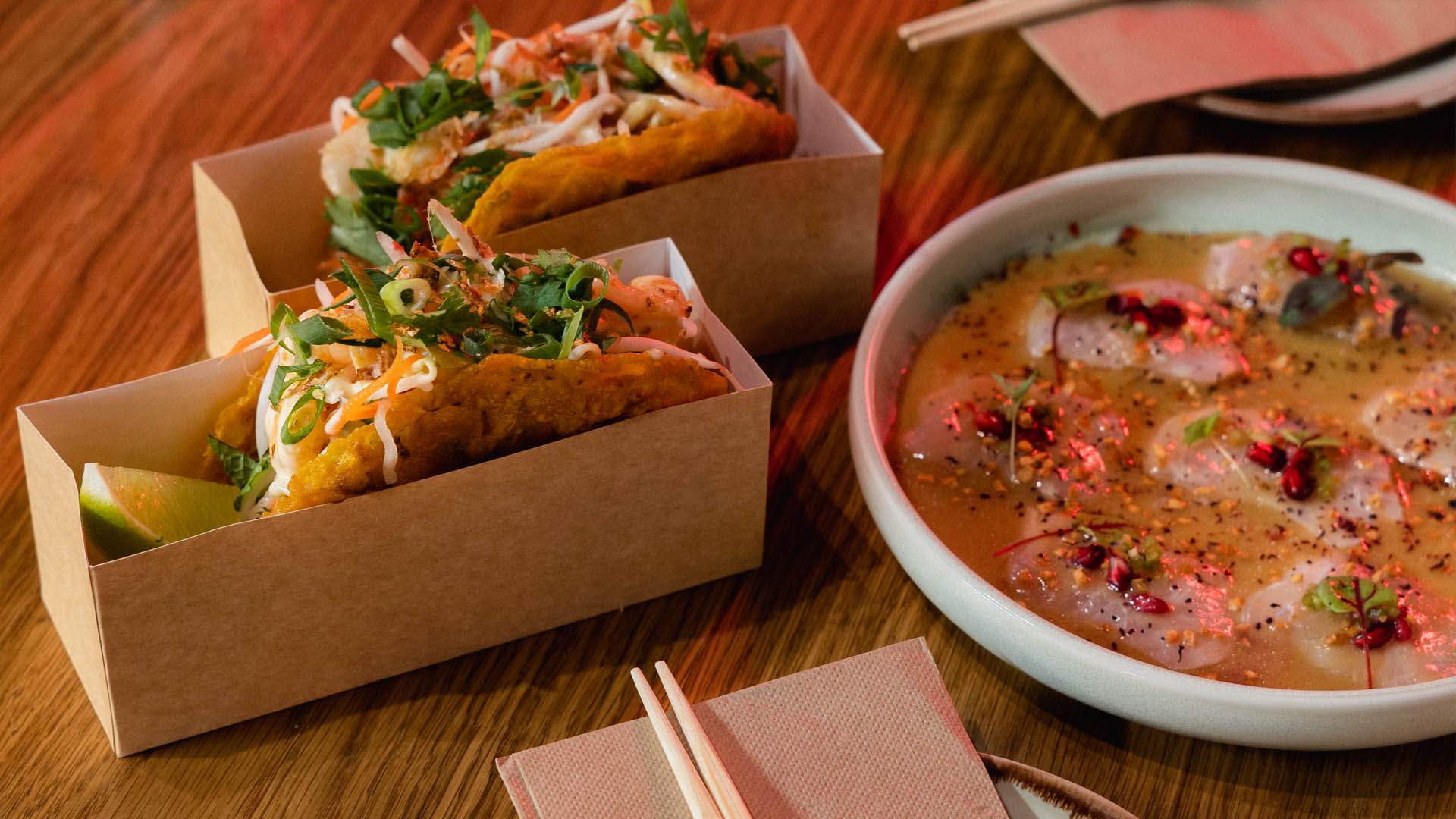 The intention is clear: Kinhboy is putting a modern spin on Vietnamese dining. When it comes to the menu, influences from all over the globe are apparent. There are bánh xèo tacos, filled with pork or prawn, slaw and mayo. The Japanese spice mix togarashi appears several times — including dusted over corn ribs with macadamia snow. See also: mud crab dumplings served in laksa broth and crackling pork pancakes with kimchi.
Fans of pho have the choice between the equally decadent beef short rib or truffled mushroom broths. Groups are also well catered for with the eight-course Feed Me menu for $59 per person. To pair with your feast is a selection of colourful cocktails, like the Fuzzy Spice, tequila blanco, peach liqueur, lime and sriracha, plus natural wines and local craft brews.
Images: Terence-Kent Ow