Little Lagos
Head to this Enmore Road Nigerian restaurant for jollof rice, goat stew and chewy sugar-dusted doughnut holes.
After hosting a series of pop-ups across the city, including one inside Earl's Juke Joint in 2019, Little Lagos has finally moved into permanent digs in the inner west. It's serving up Nigerian dishes on Enmore Road (in the former Wish Bone site), and is set to launch a cocktail menu, by the Earl's crew.
"The time at Earl's gave us that confidence that the market was ready for us," Owner Ade Adeniyi told Concrete Playground. "I find Newtown to be one of the most welcoming suburbs in Australia. It's filled with people who are open to other cultures and ideas."
And Little Lagos has been welcomed into the neighbourhood with open arms — not just by regulars, who already love the food, but also by neighbouring venues like Jacoby's, Colombo Social, Arepa and, of course, Earl's.
Born in Lagos, Adeniyi has lived all over the world — including in Romania, London, Dublin and Dubai — before moving to Australia back in 2016. While he serves Nigerian food now, Adeniyi didn't really start cooking till he'd left the country.
"I grew up with a lot of sisters and wasn't really in the kitchen much growing up. I started cooking when I went to Romania for school," says Adeniyi. "The cravings kicked in and I would message my sisters who would walk me through these recipes from home. Then once every week the boys would come over to my house and I would cook for them. Nigerians are very communal people, we don't eat alone, it's always 20 people around the table."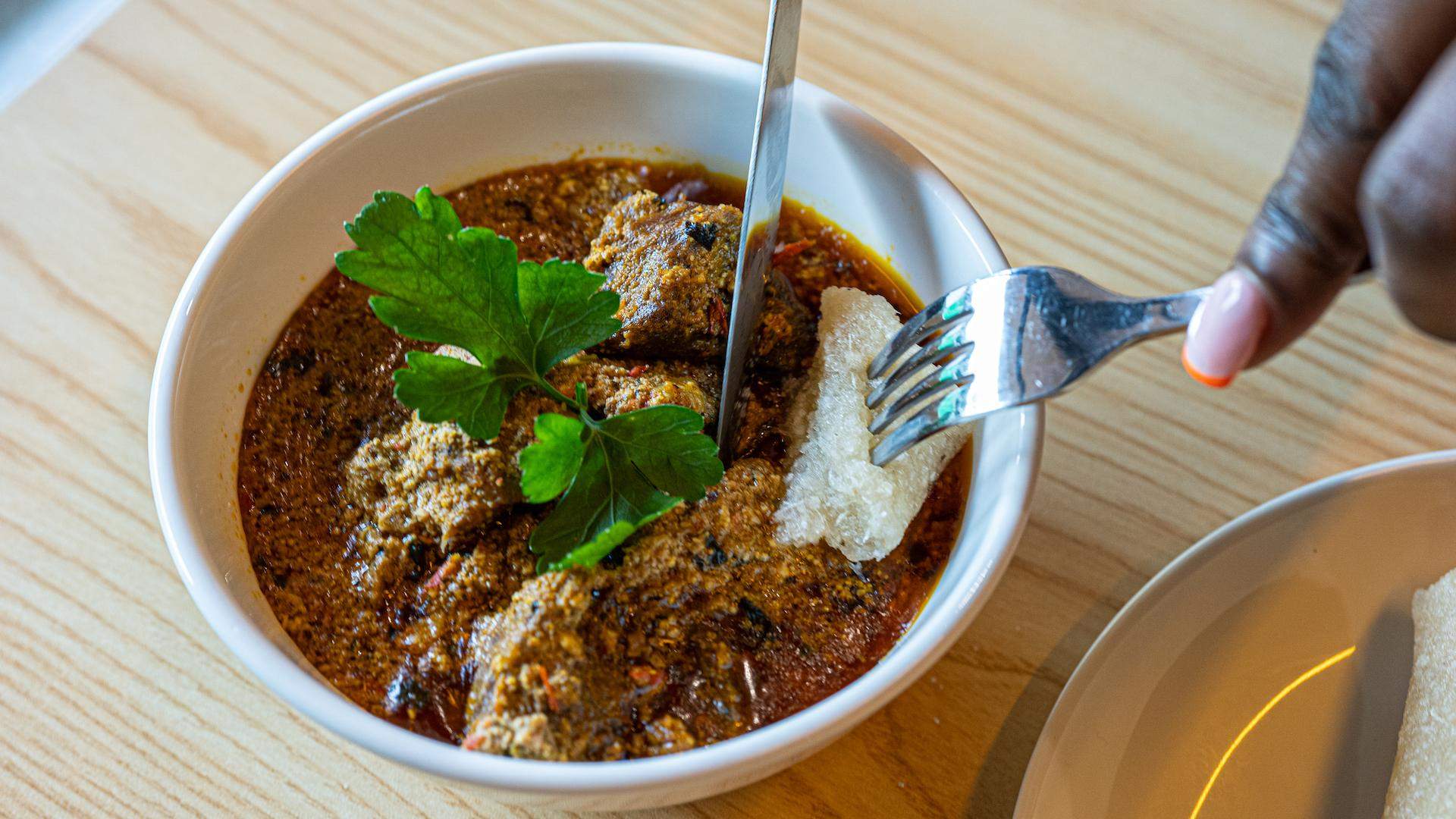 Adeniyi aims to bring that same communal-style dining scene to Sydney with Little Lagos. So far, the eatery's most-popular dish is the jollof rice ($20) — it's cooked in a tomato-based sauce with habaneros, capsicum, onions and traditional Nigerian spices. Another go-to is the spicy goat stew ($28), which is thicker than an Indian or Jamaican curry and best eaten with rice or bread.
As Adeniyi explains, Nigerian food is varied, with over 250 tribes boasting their own specialties. The same dish can be cooked in a completely different way, depending on which region it's made in. At Little Lagos, you'll get a bit of this eclectic taste, with chefs hailing from all across Nigeria.
Adeniyi's dream is to eventually have a massive kitchen that turns out more specialty items from the cuisine. Little Lagos already serves some lesser-known traditional dishes, such as egusi (crushed melon seeds in a spicy stew with beef and tripe, $30) and efo riro (stewed spinach with dried fish, $30). And, for dessert, you'll find chewy doughnut holes (called puff puff, $5) topped with a dusting of icing sugar.
On the bar side of things, the drinks list is minimal for now, including wine, Grifter beers and Castel (one of the most popular beers in Africa). But Earl's owner Pasan Wijesena is currently putting together a cocktail list for the venue — so we suggest you keep a keen eye on this space.