Masala Theory
A Bollywood-meets-Andy Warhol Indian eatery serving butter chicken and bubblegum lassi.
If you want to awaken all of your senses at once, then listen up: you need to pay a visit to Masala Theory. Joining Crown Street on the former site of Luke Nguyen's Red Lantern, the Indian restaurant can be best described as Bollywood meets Andy Warhol; it's all neon lights, brass copper dinnerware, hanging pop art, vivid murals and relics. But don't be fooled into thinking there's no room for tradition here — at Masala Theory, you'll be treated to a plethora of authentic Indian street food snacks and contemporary dishes alike while you dine amongst playful painted backdrops of elephants and women dressed in saris on skateboards.
If you've never tried a lassi before, then this is the best place to try one. There's several to choose from, and while the traditional yoghurt-based drink ($6) will help soothe the chilli burn, the lavender version ($7) is the winner here. The subtle, floral flavour oddly makes it feel more like you're drinking a beverage, rather than just knocking back a glass of yoghurt. But if you're a lassi guru, you might want try the new bubblegum blend — it's made from extracting the flavour out of actual bubblegum pieces and it's surprisingly good.
When it's time to order food, skip the bar snacks and jump straight to the good stuff where everything is made in-house, from the curries and the chutneys to the naan. For something different, try the fried potato dumpling sliders with garlic chilli and mint chutney on a soft bun ($12.90) — it's sort of like a curry puff sandwich. But if snacking on miniature burgers at an Indian restaurant goes against your rules (fair), then opt for the popular north Indian favourite of split green lentil crepes with cottage cheese, spinach, onion, raisins, cashews and tomato chutney ($14.90). The savoury flavours are beautifully rich and moreish, but it's filling — so if this one takes your fancy, don't over-order on the entrees.
While you're at it, you can't go past the south Indian classic: dosa. Masala Theory's thin rice and lentil pancakes, although a little thick, are stuffed with spiced potatoes and served with lentil broth and coconut chutney ($14.90), so it's spicy and soothing all at the same time. And it wouldn't be a complete feast without a bowl of butter chicken ($24.90). Rather than the bland versions of this dish we've tasted elsewhere, this one is much more memorable, mostly due to the chicken, which is nice and moist and has a smoky flavour from the tandoor.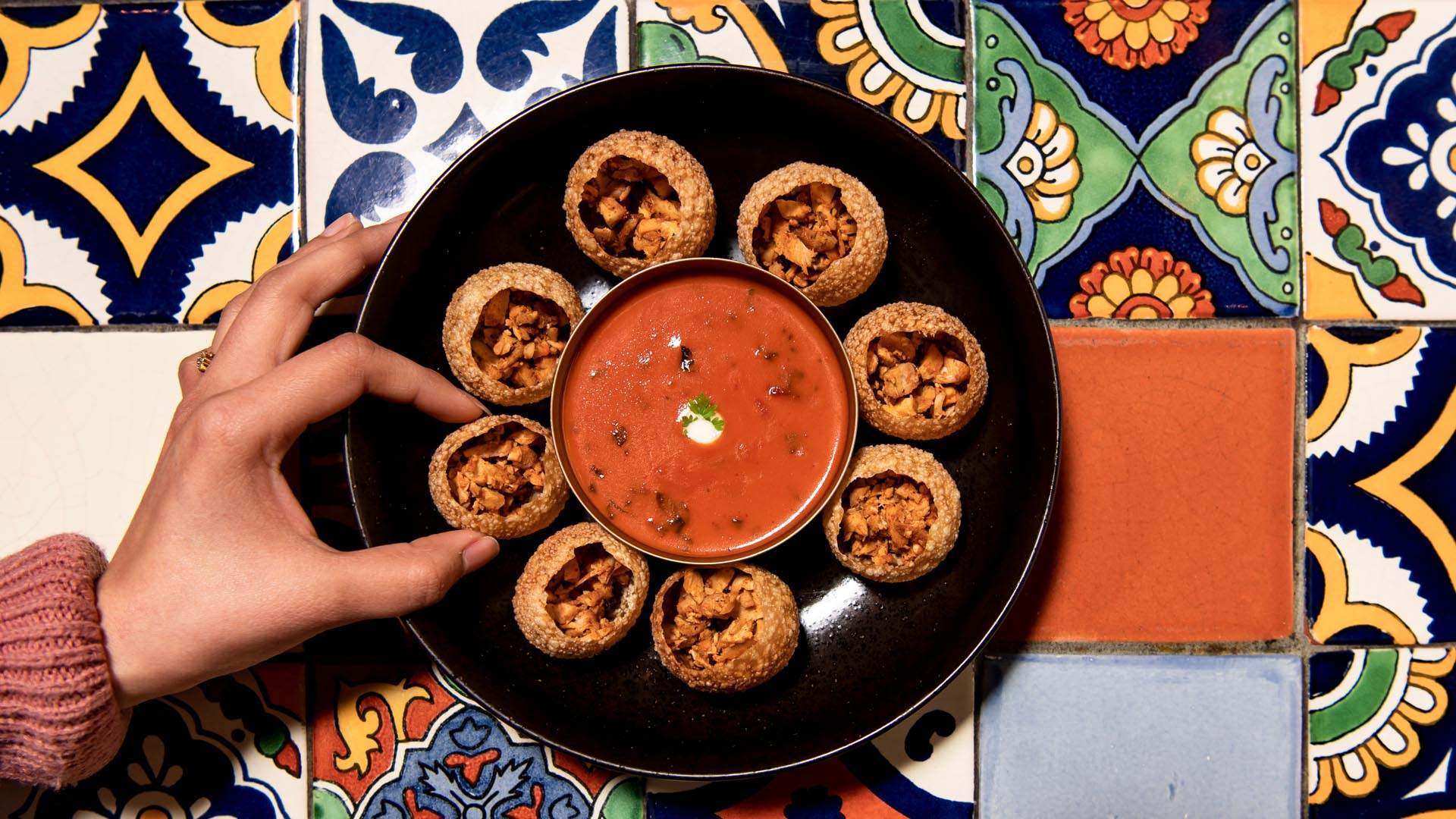 If you can't say no to dessert, then the paan kulfi ($12.90) might float your boat. It's an Indian version of ice cream made with betel nut leaves, and you'll either love it or loathe it because the flavour is quite unique. It tastes like aniseed, but much stronger, and it has a gritty texture. However, it's refreshing and works as the after-dinner mint of Indian cuisine.
If you're booking ahead, try reserving a spot on the leafy terrace, or else in the main dining area, as the back room is narrow and a walkway to the toilet. On the whole, the space doesn't feel warm or cosy (despite, or perhaps in spite of, the '70s trip wall art covered in life-size images of broccoli, vintage cars and a peacock), but, on the plus side, it's BYO. So bring a bottle or two of wine (or pick one up from the bottle-o across the road) and immerse yourself in Masala Theory's kaleidoscope of colour for some solid — and sometimes experimental — Indian food.
Images: Cassandra Hannagan