FOOD & DRINK
Winghaüs Gateway
This American-style diner has 40 beers — and negronis and margaritas — on tap, and the kitchen serves wings in lots of ten, 15, 20, 50 or 100.
After opening several colourful Mexican cantinas around the city in 2019, Rockpool Dining Group has expanded its Sydney footprint again — this time, with a European and American-inspired joint that specialises in wings.
Inside Circular Quay's Gateway Centre, Winghaüs by Bavarian has room for 145 people across a range of high-top tables, benches, bar stools and leather booths. It's the second Bavarian offshoot of its type to open in the country, with the inaugural Brisbane outpost launching last September.
Chicken is the main culinary attraction — buffalo wings specifically — although you'll also be able to tuck into fried wings dusted in either chipotle or habanero powder, or opt for boneless chicken tenders. They're all available in servings of ten, 15, 20, 50 or 100 pieces, with eight hot sauces on offer — ranging from mild Texas barbecue to super-hot habanero — and five dips.
For folks hankering for other US diner-style bites, chicken burgers, sides such as onion rings, potato gems and deep-fried pickles, plus New York-style cheesecake ($9) are all available. And if you like your desserts both sweet and warm, a selection of deep-fried chocolate bars ($8) are likely to prove a highlight, with hot, gooey Mars, Snickers and Picnics all on offer.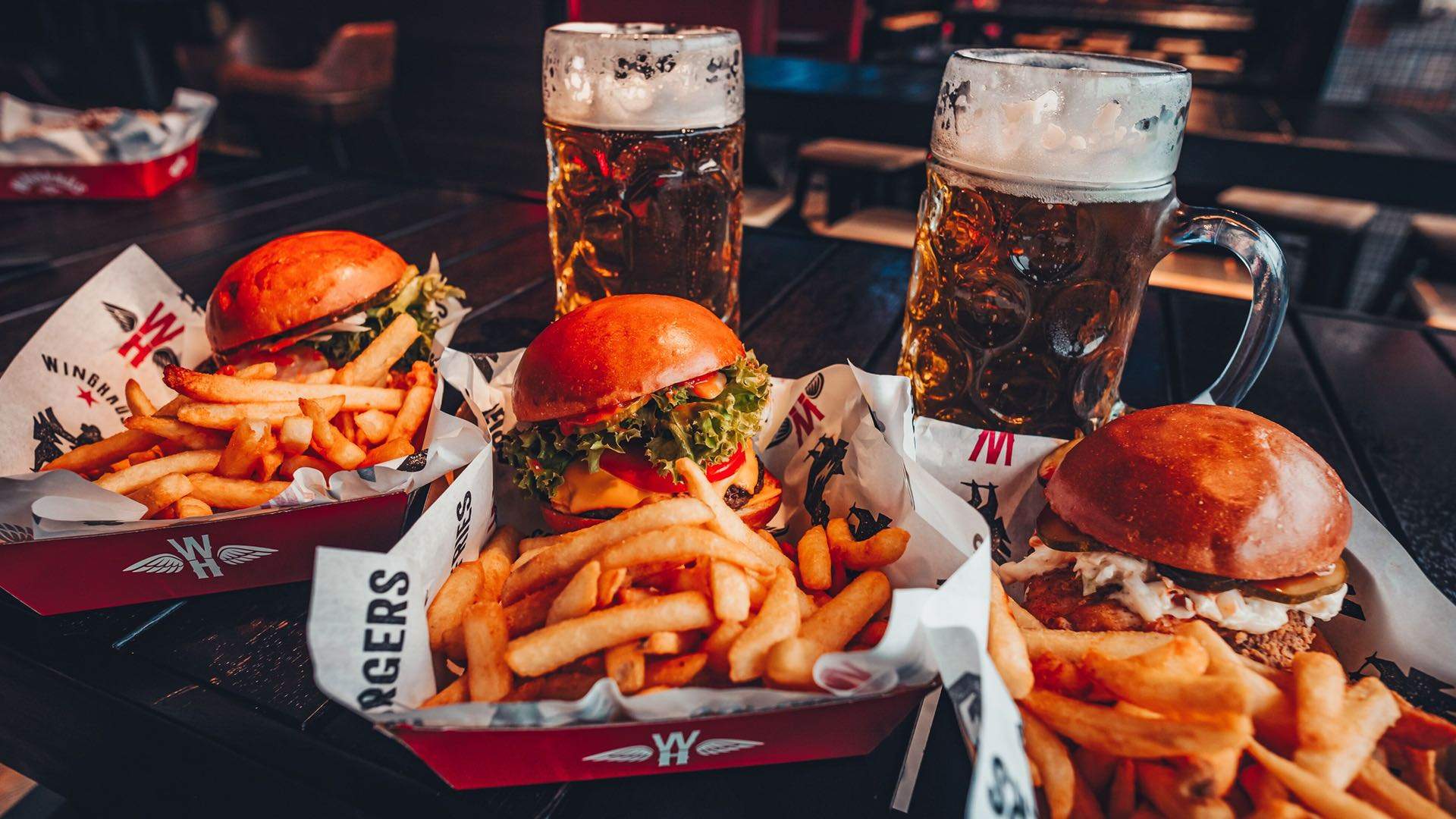 While the menu skews American, European influences come through in the drinks and decor. Like The Bavarian, Winghaüs features a stein chandelier made from 500 one-litre glasses, and serves German brews such as Löwenbräu, Paulaner, Franziskaner, Spaten and Hofbräu. US tipples like Budweiser, Stella Artois and Goose Island also feature, plus Aussie beers like 4 Pines and Pirate Life. And, cocktail-wise, the bar's taps pump out margaritas, old fashioneds, spritzes, negronis and espresso martinis.
The best time to head in is undoubtedly after work — the 5–7pm weekday happy hour includes 50-cent wings, $6 pints, $11 steins and $7.50 espresso martinis and negronis.
Sydneysiders can also expect plenty to keep them entertained at the diner-style spot, whether you're settling in at the long bar or getting cosy in a leather booth beneath neon signs. Given that sports memorabilia line the walls, it should come as no surprise that big-screen TVs also play up to 20 live sports at a time.
Food & Drink

Wednesday, October 20 - Thursday, December 1

About Time

Arts & Entertainment

Thursday, November 25 - Friday, December 3

Sydney Opera House, Joan Sutherland Theatre