FOOD & DRINK
A Wine Lover's Guide to Kumeu
On your next short break in Auckland, dedicate a day to visiting these nearby first-class wineries.
A Wine Lover's Guide to Kumeu
On your next short break in Auckland, dedicate a day to visiting these nearby first-class wineries.
---
in partnership with

Located a mere 40-minute drive from Auckland CBD, Kumeu has become one of New Zealand's most versatile drinking and dining destinations. Here, you'll find lush rolling hillsides, stunning natural sights and a high concentration of family-run estates. It's also the perfect backdrop for everything from cosy winter lunches to celebratory family feeds, casual summer picnics and a slew of wine-related tastings, tours and experiences. If you're after a short break, flights to Auckland from Sydney, Melbourne and Brisbane are super short — around three-and-a-half hours on average — and Air New Zealand offers great everyday direct fares from all three cities. Here are our picks for where you should head for a glass (or two) once you've touched down.


Nestled amongst the gently undulating hillside of the Ararimu Valley, West Brook Winery is undoubtedly one of the most picturesque pit-stops on this tour of the west. Framed by row after row of glorious grape vines, the cellar door is fully equipped with a serene view out over the terraces toward a lily pond.
While the tranquil grounds offer warm respite from the stresses of the working week, the real treat at West Brook must be its comprehensive menu of cellar door experiences. Designed to please every level of wine lover (from the curious to the aficionado), these packages have every budget catered for with prices between $6 and $50 per person for wine tastings, wine and cheese matches and the full monty tasting tour. Consistently applauded for its flawless production of chardonnay and riesling varieties, it's the Sparkling Crackling Rosé which has proven to be most popular with punters. And with tasting notes such as raspberry, mandarin and paprika, it's not a surprise.


Despite a history that stretches all the way back to 1868, current owners the Sutton family have reinvented The Hunting Lodge as one of Auckland's most exciting restaurant destinations. Positioned atop 80 acres of lush green hillside, The Hunting Lodge has a lot to offer, from the rustic cellar door and lawn bar through to the slick restaurant, olive groves, manicured gardens and family zone. You'll envisage a way to celebrate every kind of occasion.
Summers here are synonymous with Mediterranean-style platters and a glass or two of dry chardonnay, yet a transition to the approaching winter should also get you excited — imagine curling up in the comfort of the homestead sampling the rich, gamey flavours of chef Des Harris' seasonal creations. Backed by a slew of industry accolades, which commend everything from the ambience to its aroma, The Hunting Lodge should skyrocket straight to the top of your 'to do' list.


Winning international acclaim and the hearts of visitors far and wide, the family behind Kumeu River Wines definitely deserve some of the credit for putting New Zealand's chardonnay (and damn good pinot gris) on the map. Established in 1944 by Croatian migrants, the Brajkovich family, Kumeu River Wines may just be the most serious of the wineries on this list — but no less warm and inviting. With 40 hectares of vineyards, which bottle around 250,000 wines annually, the operation has become an international benchmark for non-Burgundy produced chardonnay. Stop in and soak up some serious wine knowledge from the incredibly informed team at the cellar door, where you taste up to five different drops for $5, while overlooking Maté's Vineyard just across the road.


Widely regarded as one of New Zealand's premier wine estates, Babich Wines has a distinct family history that filters into every aspect of the 103-year-old business. Managed by third generation family members, visitors to the flagship cellar door, winery and vineyard in Kumeu can expect a tender family atmosphere where nostalgia and comfort envelope you just like a hug from your nan.
Arriving on the shores of Aotearoa in 1910 with a dream of gum digging in the far north, penniless Babich patriarch Josip gave the family a century's worth of family lore — anecdotes they are all too willing to share over the eight-strong tasting menu. The Babich family has traded the traditional restaurant for an easy-going picnic area — a feature which ensures the focus remains on the award-winning wines. Along with a game of petanque, guests are encouraged to bring their own nosh to be enjoyed with an impressive selection of in-house drops. Or, you can nab a spot on the sunny verandah and enjoy a glass of the East Coast Vintara while overlooking the vines.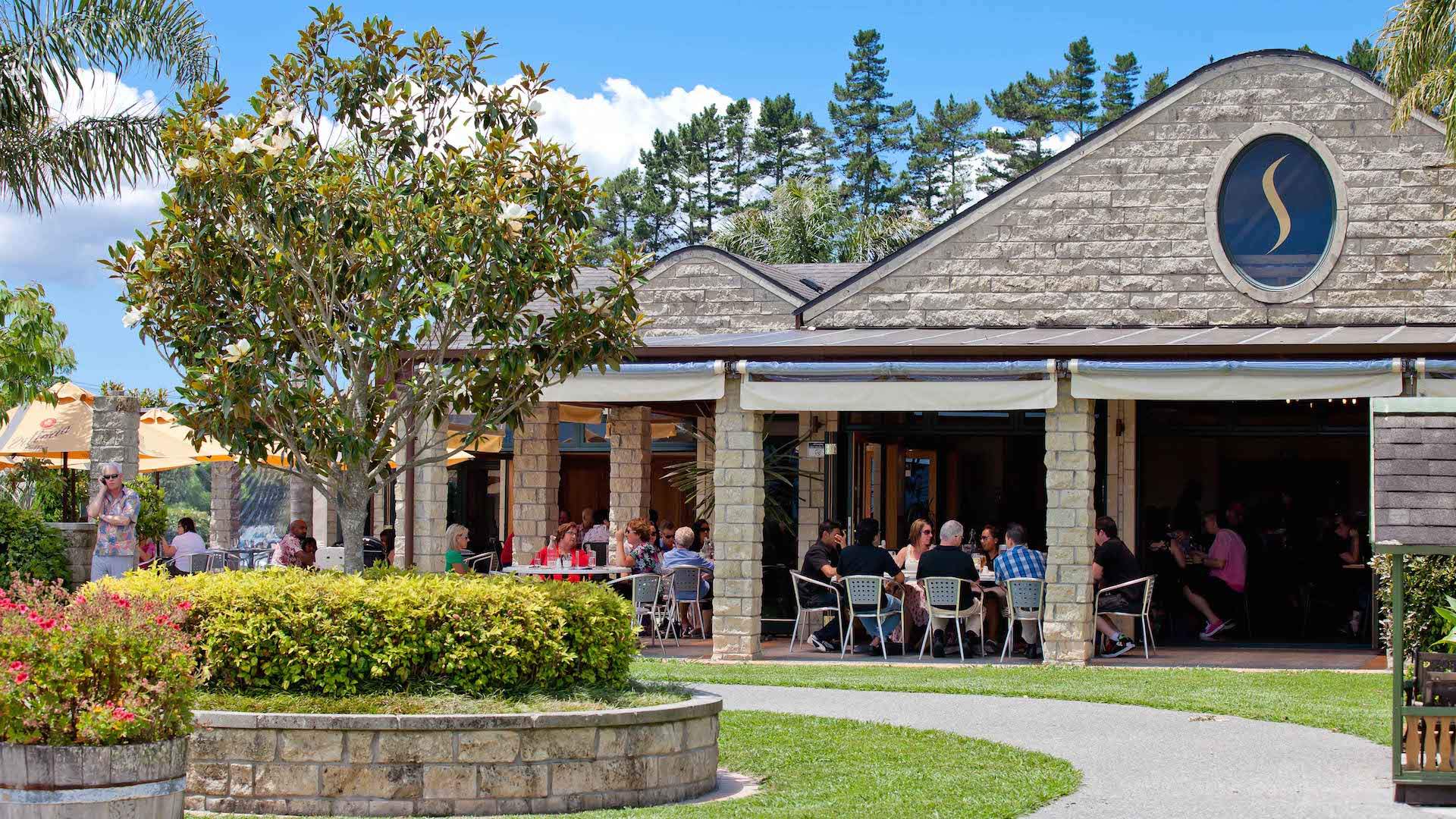 Like many other successful wineries across Auckland's west, Souljans Estate Winery began and continues to thrive as a family business. From humble beginnings in 1937, it has become one of the neighbourhood's most visited wineries today. Soljan is known for producing pinot gris, chardonnay and pinotage from its picture-perfect vineyard. Plus, visitors might be surprised to find that its Fusion Sparkling Muscat is, in fact, New Zealand's most awarded sparkling wine — and an ideal accompaniment to a feast of Mediterranean bites at the adjoining restaurant. The sunny grounds are completed with a casual cage and a surprisingly decent gift store. Soljans has cemented its place in the hearts and bucket lists of wine-lovers both near and far.

Book your flights to Auckland with Air New Zealand and start planning your next long weekend away. Plus, Vinomofo has released a case of wine featuring six delicious wines representing the diverse and unique sub-regions of Waiheke, Kumeu and Matakana. Every case has a one in 50 chance of winning return flights to Auckland (from Sydney, Melbourne and Brisbane). T&Cs apply.  
Published on May 29, 2019 by Katharina Charles