TRAVEL & LEISURE
This Handy New Online Tool Helps You Find Pfizer Vaccination Appointments in Sydney
Whether you're keen to book in one jab or two, it'll update you when slots become available at the RPA Hospital, St Vincent Hospital, Sydney Olympic Hub and Westmead Hospital.
Navigating Australia's vaccine rollout hasn't been easy or straightforward throughout 2021 so far, thanks to changing messages around who can get jabbed and when, as well as the Federal Government's frequently shifting plans and timeframes. And, when it's your turn to roll up your sleeves, booking in isn't always simple either — especially if you're looking for a Pfizer appointment.
Every state has their own booking system, although residents in New South Wales are first directed to the Federal Government's online vaccine eligibility checker. You answer its questions, and the site then points you in the right direction if you're eligible. Well, it directs you towards a list of individual spots where you can get the jab — state-run hubs and GPs alike — and then leaves you to contact them all and work things out from there.
That's not the most efficient or convenient system, which is where new website Covid Queue comes in. Purely directed at Sydneysiders, it aggregates data regarding available vaccination slots at the RPA Hospital, St Vincent Hospital, Sydney Olympic Hub and Westmead Hospital. All you need to do is hop in line — virtually, by pressing a button on the site — and it'll sound a bell when an appointment is available.
If you hear one bell, there's a single appointment on offer. If two bells ring, there's two appointments available within three weeks apart. You can then click through to register from there, although it is recommended that you log in to the RPA Hospital, St Vincent Hospital or Sydney Olympic Hub sites beforehand. That way, when you go to book because an appointment has popped up, you'll already have gone through that step.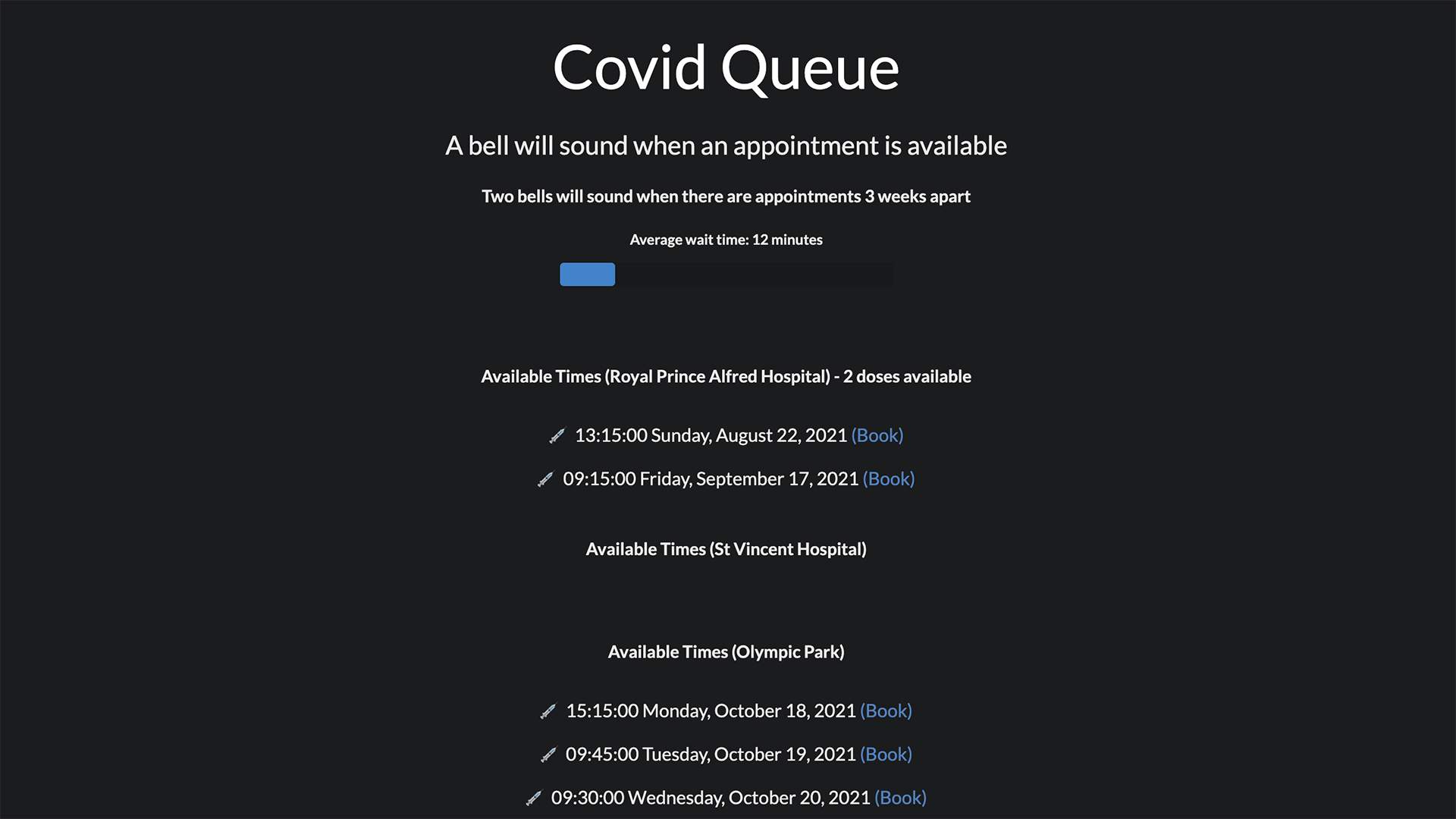 At present, the Pfizer vaccine is available to folks aged between 40–59 years, and to people between 16–39 in certain circumstances. The latter applies if you're from an Indigenous and Torres Strait Islander background; are an NDIS participant, or care for NDIS participants of any age; are pregnant; work in quarantine, health care, aged care, disability care or as a border worker; live in aged care or disability care; or have an underlying medical condition or significant disability — and if you're deemed a critical or high-risk worker because you're employed in defence, police, fire, emergency services and meat processing.
The Pfizer vaccine is recommended for everyone under the age of 60, but Australia's vaccine rollout hasn't reached the stage of jabbing everyone under 40 yet.
If you'd like to get the AstraZeneca vaccine, that's recommended for folks over 60 — but it's also open to all ages if you're informed about possible side effects.
For more information about Covid Queue, head to the online tool's website.
Published on August 03, 2021 by Sarah Ward