I Took the Plunge and Went Swimming With Sharks at SEA LIFE Sydney — Here's What Happened
After two years off the market, a famous Sydney adrenaline junkie activity has returned. Someone had to try it out.
I want to begin by saying I don't consider myself adventurous. Diving into a tank with fully grown sharks isn't something I would have chosen to do for most of my life. But you don't get many chances to take this kind of plunge.
Shark Dive Xtreme takes place in the beloved Sydney SEA LIFE Aquarium, a truly historic landmark of our city. I spent many a school holiday afternoon running among its dark hallways and viewing windows, hypnotised by the aquatic wonders inside.
If you've done the same, you might have witnessed a group of people clad in scuba gear stepping inside the shark tank. Years ago, one of those people was my dad, a typical thrill seeker and the common crowd for this activity. Me on the other hand? I never considered myself doing the same. And for the last two years, nobody could. This was one of the many experiences to close its doors at the height of the pandemic, but, as of December 2022, the sharks are once again inviting small groups of humans to hang out in their tank. I was starting to feel a little too comfortable in my comfort zone, so when given the opportunity to join a group, I said yes without even thinking it through.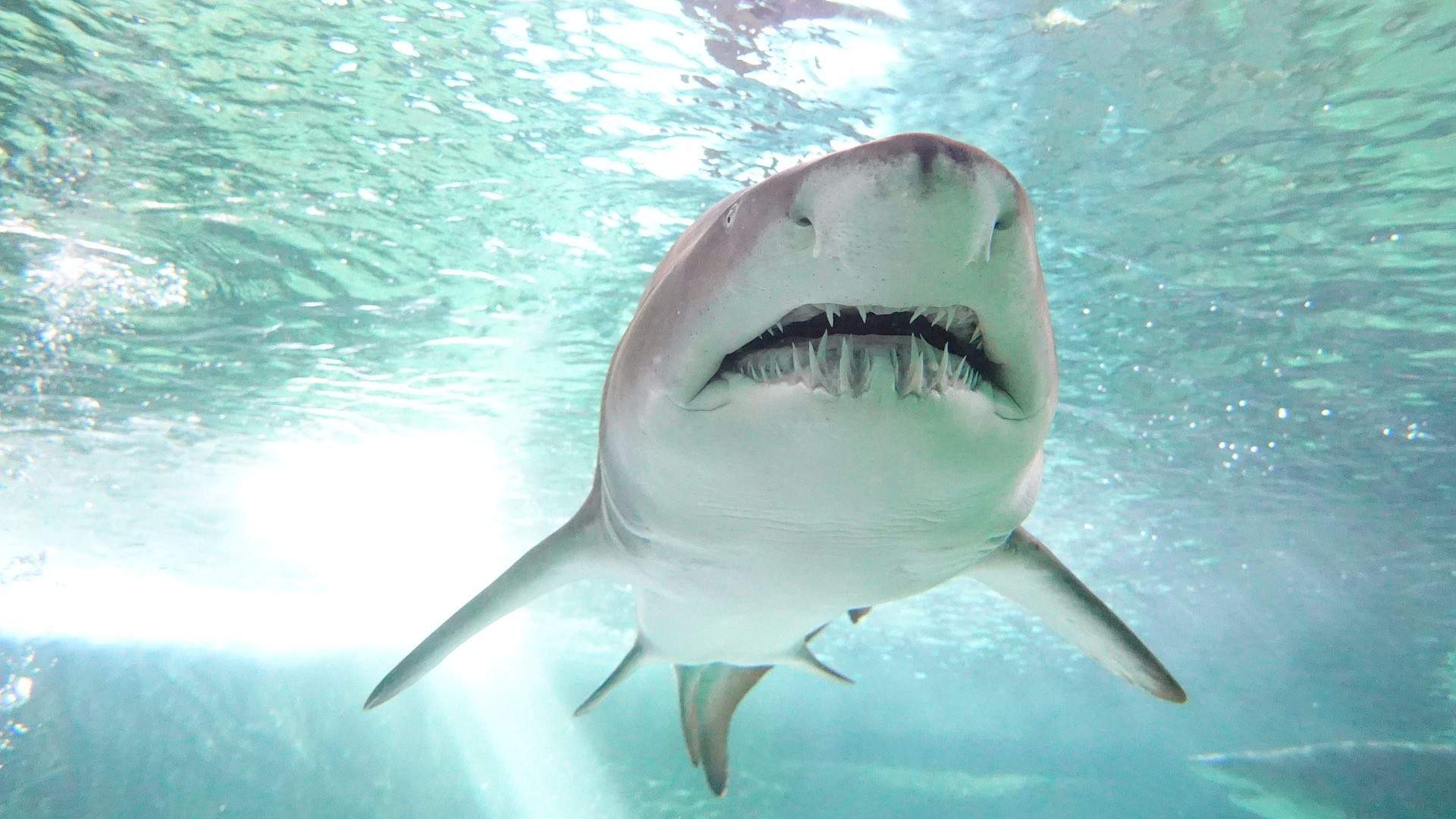 After gathering at the meeting point, my fellow divers and I enter the briefing room, where we go through the necessary red tape and learn the basics and house rules of the tank. I was surprised to learn that no previous scuba certification or experience is needed for this experience. I was a complete scuba rookie pre-dive, but newbies and pros alike spend an hour being briefed on all the essential details, including an overview of the gear, the dos and don'ts of swimming in a shark tank, and the basic hand signals you'll need to communicate with your instructors (walk, kneel, stop, shark, equalise, I'm okay, I'm not okay, etc). It's at this point that I'm at the peak of my nerves — my mind couldn't help but wander to where things could go wrong.
Once we graduate from the classroom, it's time to get wet. We step into the changing rooms to put on our wetsuits and water boots, quickly pose for a pic, and then head behind the scenes. We step into a large space above the tank and all of a sudden, it feels very, very real. The sharks are within sight.
As I walk in, my eyes immediately lock onto a fin slicing through the water, like a beckoning wave. It's surreal, not only because this is behind the scenes of somewhere I've visited many times in my life, but because I'm now looking at a real life shark. That I'm about to swim with. Oddly enough, at this point I feel my nerves fading and my excitement increasing — though that could just be the adrenaline.
But there's one more step before we hop in: the training tank. This is where you take the theory and put it into practice in a watery — but shark-free — environment. Andrew and Nick, our fabulous instructors, help us don the scuba gear and get used to it in chest-deep water. This is the only point I actually feel — albeit briefly — scared. Of the scuba, not the sharks. My leg cramps up and I lose my balance, suddenly tipping over like a sinking ship. Once upright and relaxed, we stand in the water for what feels like an hour, adjusting to our sole source of oxygen being a tube leading out of a tank on our backs. Once we can signal that we're calm and ready, it's go time.
A glass door slides open, and we're suddenly sharing the water with grey nurse sharks, port jackson sharks, wobbegongs, stingrays and all manner of fish. Out we step and down we go into the tank, where everything gets surprisingly calm. I don't feel panicked — I just focus on breathing and taking in my surroundings. Thankfully, I'd been able to convince three friends to come along to take photos for me, and I spot them just outside. Having familiar faces I can look at and mentally anchor to really helps to settle my nerves, so I recommend you invite yours too — they'll score discounted entry to the aquarium for their troubles.
Down below, all I can hear is the sound of my own breath. I don't dare twist my head to look around at the risk of rupturing some critical element of my oxygen supply, so every time I turn, I move my entire body. If a shark doesn't pass into my peripheral vision, I wouldn't know it was there.
Now, I have to confess: it's not so much swimming as it is shuffling. If, like me, you're a total novice at wearing a heavy oxygen tank and weight belt, it can be really tricky to hold your balance. So while the instructors and experienced divers in the group move with ease, I have to put a lot of effort into staying upright and glued to the floor. After all, we've been told that holding your breath makes you buoyant, and I have no intention of floating into the path of a shark. You drift down, sit on the floor for a while then slowly make your way over the tunnel and across to the other end of the tank.
With my friends on the dry side of the tunnel gleefully watching and filming, we set off, gracefully (awkwardly) swimming (shuffling) along the seafloor like true fish out of water. We make our way around the tank, from one end to the other, taking care not to poke or step on any of the residents. When not moving, we quietly lean against the tunnel, taking it all in. Each of the sharks comes over to inspect our dive group more than once, slowly approaching, getting a good look, then gently passing by and going for another lap. Despite their large frame and sharp teeth, I never feel threatened, even when they come close enough to touch me.
After spending roughly 30 minutes in this underwater wonderland, it was time to say goodbye. Hoping nothing is nipping at my ankles, I climb the stairs and step back onto dry land, once again enjoying free oxygen and once again burdened by gravity. The scuba gear feels much heavier, but I feel like I'm on cloud nine.
And just like that, it's over. We remove our gear, shower off the smell of salt and sealife and go about our days. I didn't lose any fingers and didn't see my life flash before my eyes. I was a guest in the home of these beautiful creatures, and they were excellent hosts. It seems terrifying, and it's easy to imagine the worst, but at Shark Dive Xtreme, you are in very safe hands — and fins.
Concrete Playground Trips
Book unique getaways and adventures dreamed up by our editors