TRAVEL & LEISURE
A Tropical Beach Is Popping Up in Circular Quay So You Can Escape Winter Without Leaving the City
Drink tropical cocktails and eat New Caledonian fare on a palm tree-lined beach — without jumping on a plane.
A Tropical Beach Is Popping Up in Circular Quay So You Can Escape Winter Without Leaving the City
Drink tropical cocktails and eat New Caledonian fare on a palm tree-lined beach — without jumping on a plane.
It might not be quite the same as jetting off on an international getaway, but the banks of Circular Quay are about to get a taste of New Caledonian beach life, as part of a four-day pop-up this July.
A whole heap of sand will transform the eastern side of the quay, between the ferry terminals and the Sydney Opera House, into a tropical oasis inspired by the French island's beach villages. The summery beach is part of the city's annual Bastille Festival, which also includes a wintry Christmas in July Village over in the Rocks.
As well as New Caledonia, the temporary beach takes inspiration from the artificial beaches that pop-up along the Seine in Paris during summer, which look a little like this: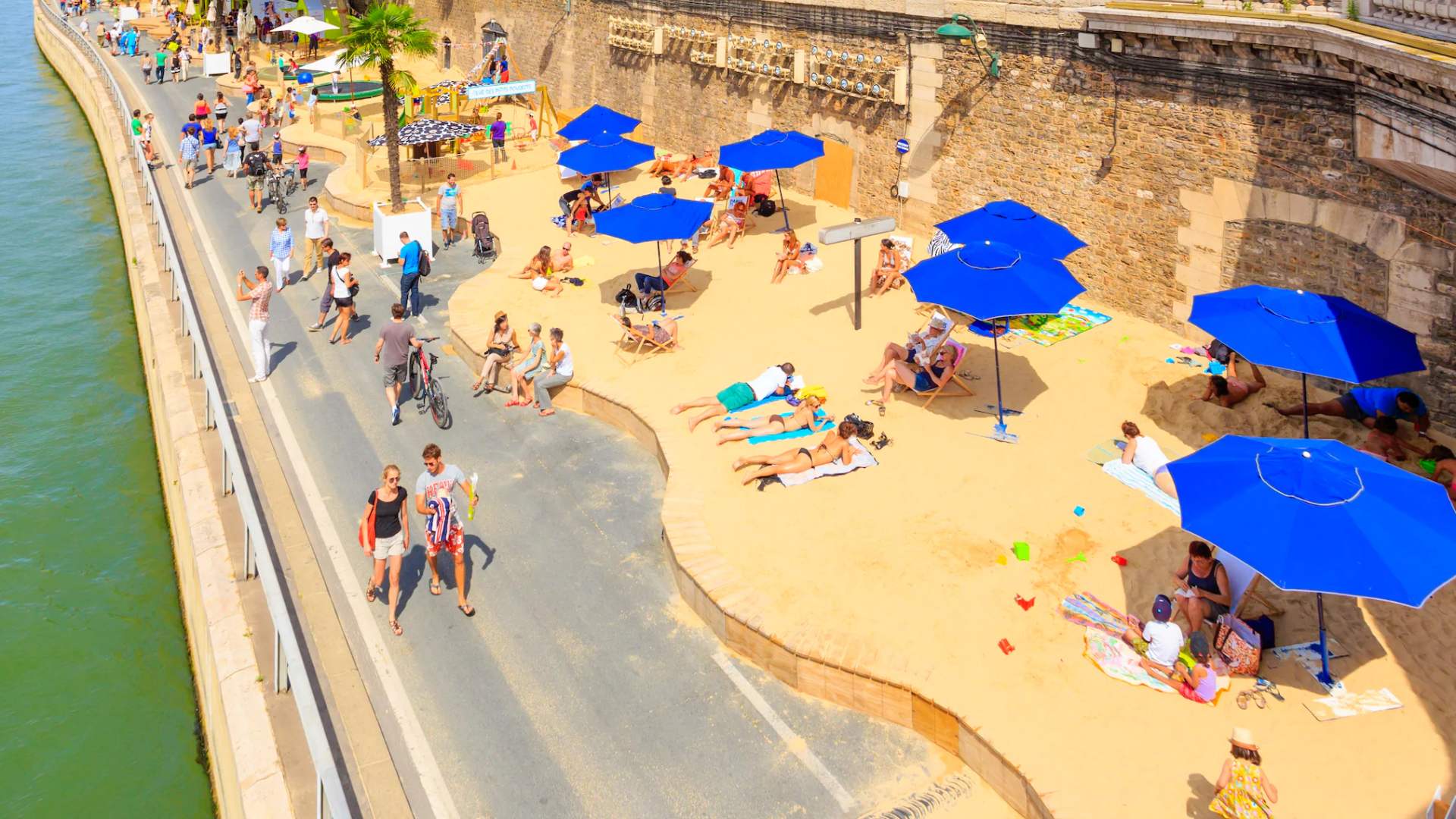 The Sydney beach, however, will have a bit more going on. From July 11 to 14, the sandy stretch is set to be the ultimate playground for those avoiding winter, dotted with beach chairs and palm trees and filled with cocktails, treasure hunts, games and island-inspired fare.
Imagine lazing beneath the beach umbrellas while you tuck into the likes of barbecued prawn and pineapple skewers and coconut-glazed roast pork, before sampling limited-edition Noumea-style ice cream treats and desserts from your mates at KOI and Messina. Yep, the Sydney dessert big guns are getting involved for this one.
To match, there'll be a bar serving a cocktail selection heavy on rum, coconut and pineapple, along with a tidy lineup of French rosé and bubbles.
But it doesn't have to be all lounging and lazing. If you prefer a more adventurous sort of summer getaway, round up your own crew of pirates to take part in a giant treasure hunt, trekking all through Circular Quay and the Rocks. Or, have a crack at 'coconut pétanque' — a riff on the classic European game, which plays a little like Aussie lawn bowls.
The Island Kanak Beach Village will pop up at East Circular Quay from Thursday, July 11–Sunday, July 14 as past of Bastille Festival. It'll be free to enter and open from 10am–10.30pm Thursday–Saturday and 10am–8.30pm Sunday.
Published on June 04, 2019 by Libby Curran