Like beer and sunshine, cheese and crackers and Peter Kavinsky and Lara Jean Covey, wine and cycling are made for one another. And if there's one undoubtedly dreamy way to spend an afternoon, it's meandering through idyllic vineyards on two wheels. Fortunately, Australia's expansive, uncrowded wine regions are made for such adventures.
So, we've scoured every vineyard in the country to find cycling trails filled with cellar doors and ocean vistas — just for you, our dedicated wine lovers. Here are nine of the prettiest and tastiest.
While these trails are made for cycling between wineries, don't forget it's still a crime to ride a bike while intoxicated in all states. So drink and ride responsibly, and be safe on the road. If you plan on drinking at every winery, consider booking a mini bus instead.

BAROSSA TRAIL, SOUTH AUSTRALIA
This 40-kilometre sealed rail trail, shared by cyclists and walkers, travels through the heart of the Barossa Valley, a world-famous wine region located 80 minutes' drive northeast of Adelaide. Your journey begins in the north in Angaston, one of South Australia's oldest settlements, before passing through the villages of Nuriootpa, Tanunda and Lyndoch, to reach Gawler's heritage-listed buildings. Look out for Mengler Hill Sculpture Park, the Barossa Museum, epic views of the Barossa Range and kangaroos, among countless cellar doors and eateries.

CLARE VALLEY RIESLING TRAIL, SOUTH AUSTRALIA
If too much riesling is never enough, this car-free cycling trail is made for you. Find it in idyllic Clare Valley, around two hours' drive north of Adelaide. Your adventure starts on the Valley's southern edge in the gateway town of Auburn, before rolling 35 kilometres north to Barinia. Among the cellar doors you shouldn't miss are O'Leary Walker Wines, surrounded by rural panoramas; Skillogalee, whose rieslings are renowned; and Sevenhill, the Valley's oldest winery, founded in 1851 by a bunch of Jesuits who fled Poland due to persecution.

SHIRAZ TRAIL, MCLAREN VALE, SOUTH AUSTRALIA
Forty-five minutes' drive beyond Adelaide's southern border lies McLaren Vale, known for its Mediterranean climate, excellent reds and proximity to the Fleurieu Peninsula's spectacular coastline. On the Shiraz Trail, you'll cycle 14 kilometres, kicking off in the McLaren Vale township and heading south to the cute village of Willunga. Make slight diversions to visit experimental winemakers Alpha Box & Dice, who are currently working on an entire alphabet of wines, and Hamilton Winery, home to Australia's longest-serving wine making family, who's been stomping on grapes for over 180 years. The Shiraz Trail is one section of the 37-kilometre Coast to Vines Trail.

SWAN VALLEY CYCLE TRAIL, WESTERN AUSTRALIA
This picturesque trail in Swan Valley — around 90 minutes' drive northwest of Perth — gives you not one, but four routes to choose from. For maximum reward for your efforts, conquer the three-kilometre loop starting at Baskerville Oval, which takes in five wineries. Or, if you're keen to spend more time in the saddle, opt for the 18-kilometre loop beginning at Maali Footbridge, Swan River. You'll pass several cellar doors, as well as artists' studios, local produce and a sculpture park. You'll find maps and more info here.

RUTHERGLEN TO WAHGUNYAH RIDE, VICTORIA
Here, your boozy escapades occur in the majestic company of the Murray River. Climb aboard at Rutherglen, a town three hours' drive northeast of Melbourne that's home to more than 20 wineries, and pedal nine kilometres north to riverside Wahgunyah. Along the way, you'll come across Jones Winery, where you can taste shiraz made from 113-year-old vines; Rutherglen Estates, whose home dates to 1886; and Valhalla Wines, which specialises in Rhone Valley varietals. The Rutherglen to Wahgunyah Ride is one section of the mighty 100-kilometre Murray to Mountains Rail Trail.


MILAWA GOURMET RIDE, VICTORIA
For easy-peasy pedalling along super-flat terrain, make tracks to Milawa, a foodie's mecca found three hours' drive northeast of Melbourne. The Milawa Gourmet Ride stretches for five kilometres, from Brown Brothers Cellar Door, where you can borrow a bike for free, to Sam Miranda Winery. In between swirling and sipping, tuck into an array of gourmet deliciousness, including handmade dairy at Milawa Cheese, condiments at Milawa Mustards and fresh fruit at Blue Ox Berries farm gate. Like the Rutherglen to Wahgunyah Ride, this journey is part of the Murray to Mountains Rail Trail. If you want to continue exploring the Victorian High Country by bike, you'll find more great rides here.

STANTHORPE TO BALLANDEAN BIKE TRAIL, GRANITE BELT, QUEENSLAND
Three-and-a-half hours' drive inland from Byron Bay is Queensland's Granite Belt. Elevated 1000 metres above sea level, this dramatic landscape is a wonderland of rugged granite formations and dense woodlands. See it all from two wheels on the Stanthorpe to Ballandean bike trail. For 30 kilometres, you'll wind along tranquil country roads, pausing at wineries, picnic spots and maybe a brewery or two. The way is dotted with signposts, to keep you on track. The Granite Belt's claim to fame is producing varietals seldom grown in Australia. Among the whites, you'll find roussane, alvarinho and petit manseng, and, among the reds, sagrantino and montepulciano.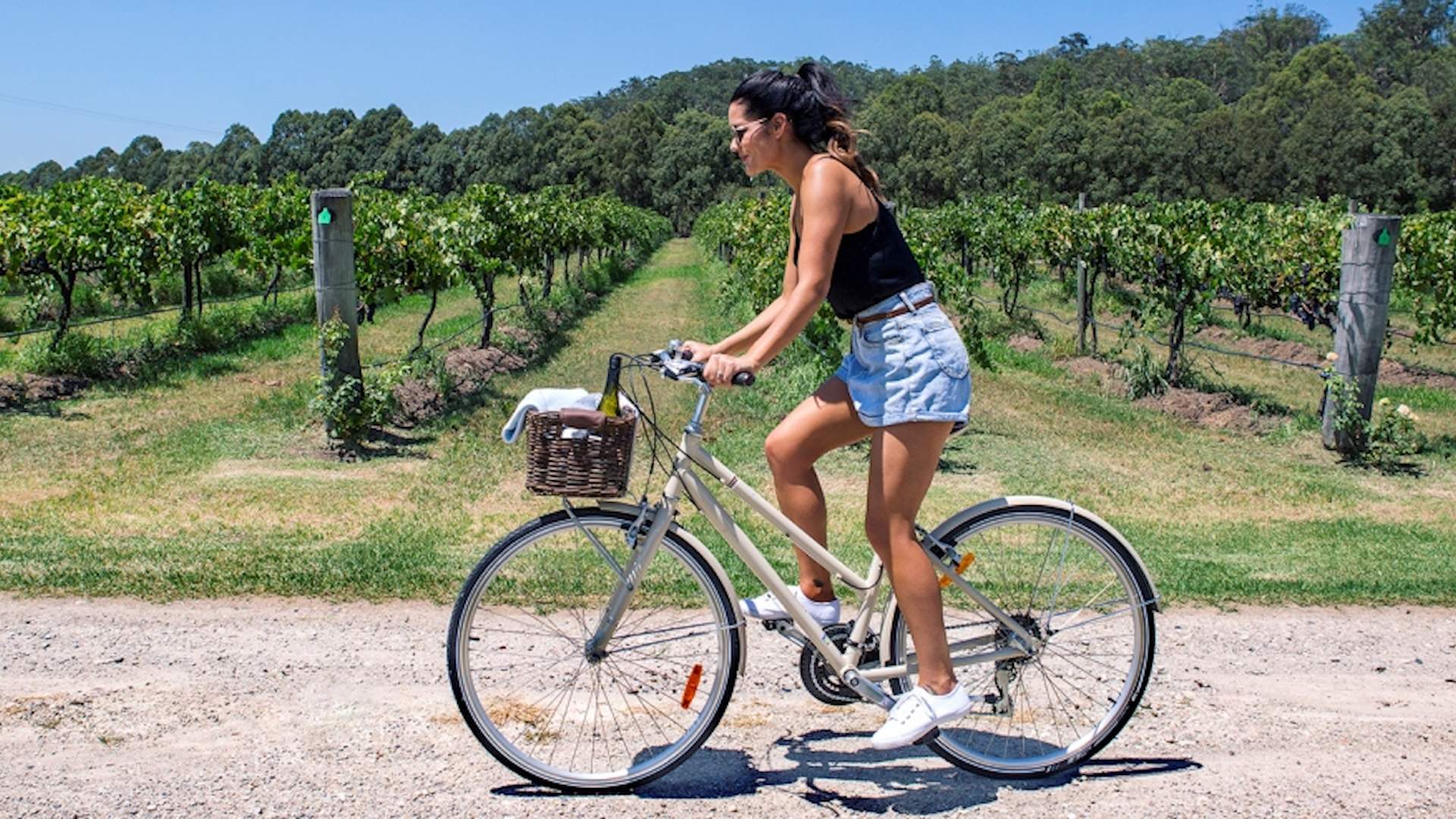 HUNTER VALLEY CYCLEWAY, NEW SOUTH WALES
Opened in 2017, this 10.6-kilometre cycleway runs alongside Hermitage Road – through one of the most winery-dense spots in the Hunter Valley, which lies around 90 kilometres' drive northwest of Sydney. Be sure to visit De Iuliis' stunning cellar door for a cheese and wine flight, as well as Peter Drayton Wines, and its onsite brewery Iron Bark Hill Brewhouse, for excellent wines and craft beers. Meanwhile, at Mistletoe Wines, you'll be sipping sparkling rosé in a sculpture garden, and at Tintilla, sangiovese in an olive grove. You'll find more great wine-filled Hunter Valley bike rides here, too.

MUDGEE WINERY RIDE, NEW SOUTH WALES
Three hours' drive northwest of Sydney, the friendly country town of Mudgee has been cultivating grapes since the mid-1800s. There are now more than 35 cellar doors and you can visit 22 of them along a ten-kilometre loop that starts in town, at the Clock Tower. At Lowe Wines, you'll be sampling organic drops and taking a self-guided tour of the vineyards, while at Vinifera, Di Lusso and Mansfield, you'll be working your way through Mediterranean varietals, from Spanish tempranillo to Italian barbera. The map's over here.
Published on August 31, 2018 by Jasmine Crittenden