TRAVEL & LEISURE
Six Spontaneous Adventures to Have in Sydney's Great Outdoors This Summer
Make this the season of last-minute boat parties, puppy playdates and picnics.
Six Spontaneous Adventures to Have in Sydney's Great Outdoors This Summer
Make this the season of last-minute boat parties, puppy playdates and picnics.
in partnership with

Ah, summer — the season of spontaneity. With the arrival of warm weather, balmy nights and extended hours of sunshine, it calls for more time spent exploring and adventuring. Luckily for us Sydneysiders, our city is filled with plenty of things to do in the great outdoors — whether it's reconnecting with nature outside the city limits or heading to a local park armed with a picnic rug and a bottle of wine. With the silly season kicking into full swing, there's never been a better time to explore all that Sydney has to offer. So, in partnership with Jacob's Creek, we've come up with a list of six thought-starters for the next time you have a free day and the weather forecast is ace. No need to pre-plan, these adventures are best enjoyed with a side of spontaneity.

PLAN A PUPPY PLAYDATE AT CAMPERDOWN MEMORIAL REST PARK
Puppies, sunshine and booze-friendly picnics — need we say more? Head down to Camperdown Memorial Rest Park for a playdate with your favourite four-legged friends and enjoy the sights and sounds of this diverse inner west park. On any given day, you'll find the park packed with picnic-goers enjoying afternoon bevvies and dog walkers taking their furry friends for a stroll. Dust off your picnic rug, bring your pup and grab a bottle of Jacob's Creek Le Petit Rosé, then sit back and enjoy the parade of pooches passing you by.

GO ON A HIKE IN THE BLUE MOUNTAINS
Lace up your hiking boots and venture inland to the beautiful Blue Mountains. Only a couple of hours away by train or car, the Blue Mountains is home to a plethora of walking tracks, which range in difficulty and length. For a gentle walk, we suggest the Leura Cascades track. Those who are feeling more adventurous will be well sorted with the challenging Dardanelles Pass loop, which treats you to beautiful waterfall, rainforest and valley views. Reward yourself after with some local snacks. Grab a cup of specialty tea or coffee from local haunt Anonymous Cafe in Blackheath, or try one of the famous Mountain High Pies.

PLAN A BARBECUE IN CENTENNIAL PARKLANDS
There's nothing quite like the Centennial Parklands; a metropolitan oasis amid a bustling concrete jungle. Being Sydney's largest urban green space means that even on a busy Saturday when the weather's perfect, there's endless open space and plenty of shady picnic spots. Located just minutes from the city, the Parklands boasts a diverse range of landscapes and is home to over 120 bird species. Bring a bottle of Jacob's Creek Better by Half Rosé and some birdwatching binoculars if you feel so inclined, and enjoy a picnic with mates immersed in this natural wonderland.

CONQUERING A DIFFERENT COASTAL TRACK
For those keen to avoid snap-happy tourists and intimidatingly good-looking locals on the Bondi to Coogee Coastal Walk, may we suggest the lesser-known but equally as picturesque Federation Cliff Walk? Spanning Dover Heights to Watsons Bay, this five-kilometre coastal walk boasts spectacular views of the Pacific Ocean and passes the historic Macquarie Lighthouse. Better yet, the walk ends just shy of Watsons Bay Boutique Hotel, so you've got the perfect excuse for a post-walk vino. Go on, you deserve it.

SPEND A DAY AT ONE OF SYDNEY'S HIDDEN BEACHES
Sydney is home to some of the most beautiful harbourside patches — you just have to know where to find them. One of these tucked-away spots is Parsley Bay Reserve in Vaucluse. Whether you're rounding the family up for an adventurous day out or catching up with old friends for cheese and wine, the calm, crystal turquoise-blue waters of Parsley Bay make for the perfect backdrop. And when you're done with snacking, there's also a 20-minute bushland walking circuit that treats you to a waterfall at the end.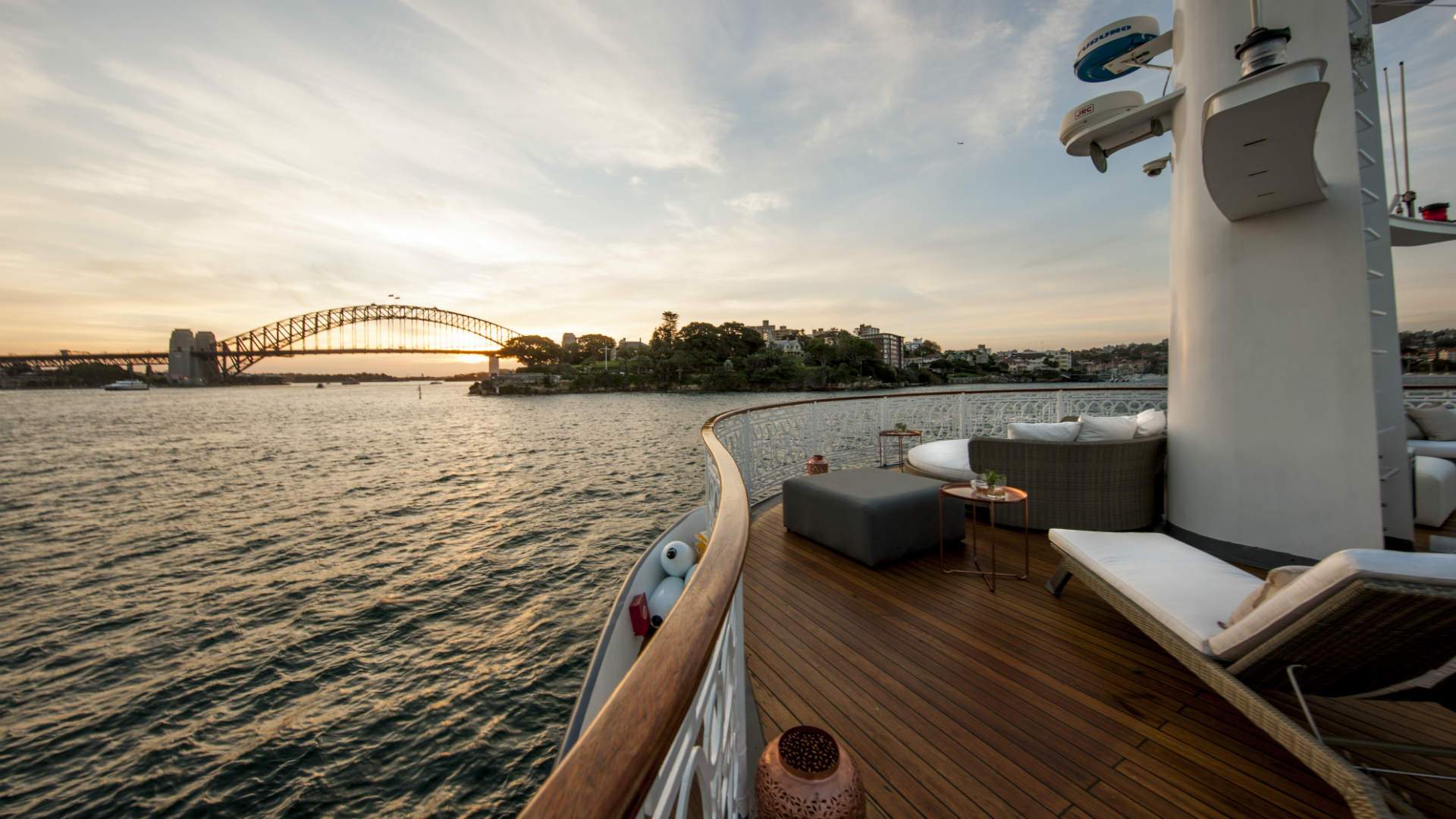 SAIL AROUND THE HARBOUR ON THIS LUXE FLOATING BAR
No one does a harbour party quite like Seadeck does. Hop on this luxe bar on a superyacht docked in Sydney Harbour to experience a day in the life of the rich and famous. With its killer lineup of events and DJs, this exclusive sea oasis is one of Sydney's more unique venues. Every Friday, Saturday and Sunday, Seadeck hosts dance parties where you can get your groove on — with a glass of Jacob's Creek in hand, of course.

Reconnect with your friends and family this summer with a bottle of Jacob's Creek. Discover the Jacob's Creek range and purchase a bottle today from all good liquor retailers. 
Top image: Seadeck
Please drink responsibly.
Published on January 12, 2021 by Bec Zhuang