A Weekender's Guide to Newcastle
Take a trip up the Pacific to street art, pourovers, microbreweries and those famously beautiful beaches.
If ever there were proof of the benefits of giving rent-free spaces to artists, it's Newcastle. A decade ago, the city centre was haunted by more than 150 empty shops — largely thanks to the 1999 closure of BHP's steelworks, which pushed unemployment to 12 percent.
Fast-forward ten or so years. You could be mistaken for thinking you were in an inner suburb of Melbourne. Café seating spills onto pavements, where Novocastrians chat over blends roasted just a few blocks away. A sprawling microbrewery buzzes near old Tower Cinema. Brunchers lazily make their way through brekkie bowls. Shoppers browse windows crowded with homemade sculptures and jewellery and millinery. Locals lead visitors through laneways plastered with street art. Luckily, most chain stores are hidden away in big, loud shopping malls.
This creative explosion is the work of local Marcus Westbury. In 2008, he returned home to a city that "felt like it was not merely slipping, but accelerating into decay". So, he persuaded a bunch of landlords to lend their vacant buildings to artists, thereby launching a nonprofit called Renew Newcastle.
By 2011, Sydney's underrated sister city was one of Lonely Planet's top ten destinations in the world. Not only is it home to a thriving arts scene, it's also surrounded by water. On the northern side, there's the still beauty of the Hunter River and, on the southern, surf beaches and ocean pools and coastal walks — with plenty of shaded picnic tables and beach cabanas to keep locals sun safe.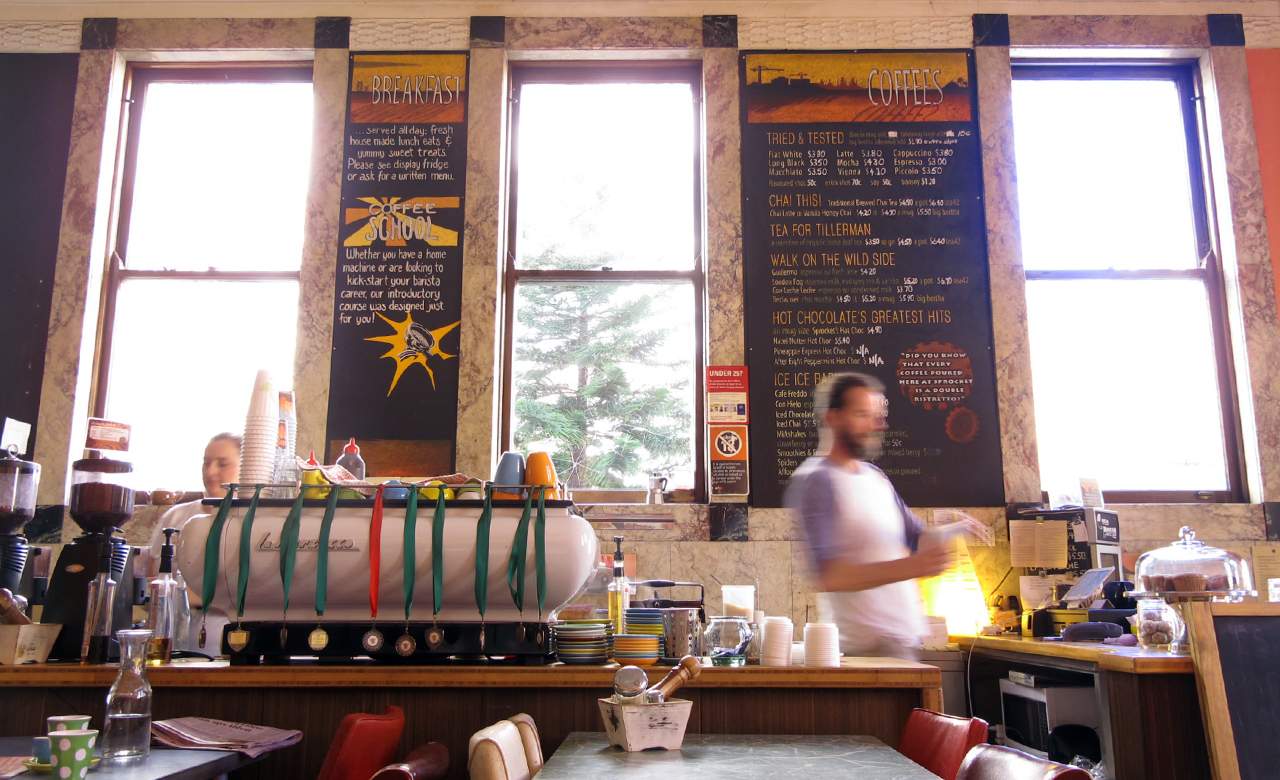 EAT AND DRINK
In 2009, a self-described "rogue collective" of Novocastrian caffeine-obsessives dropped their day jobs to pursue a common goal: Newcastle's best and most environmentally-friendly coffee. They nabbed a heritage-listed building, where mad scientist John Winter built a revolutionary, waste-powered roaster, while law grad Chelsea Daoust got busy sourcing Rainforest Alliance certified beans. And so, Sprocket Roasters was born (68 Hunter Street; (02) 4009 1237). Many other premium coffee joints have opened since then, but this idiosyncratic, couch-dotted cafe is still serving some of the finest in town, as well as running a coffee school.
In the West End, Silverchair's bassist, Chris Joannou, and barista Chris Johnston, have turned the warehouse that was Joannou's parents' laundry business into The Edwards (148 Parry St; (02) 4965 3845) It's a fun, unpretentious cafe-bar, with beer taps made from steam presses, lights made from tumble dryers and loads of space for ping pong matches, art exhibitions, live music and night markets. Generous, creative dishes are served nearly all day. For breakfast, we tuck into wood-smoked ocean trout with poached egg, zucchini and asparagus salad, labna and toasted quinoa; and French toast with berry compote, ricotta, passionfruit curd and pistachio chocolate crumble.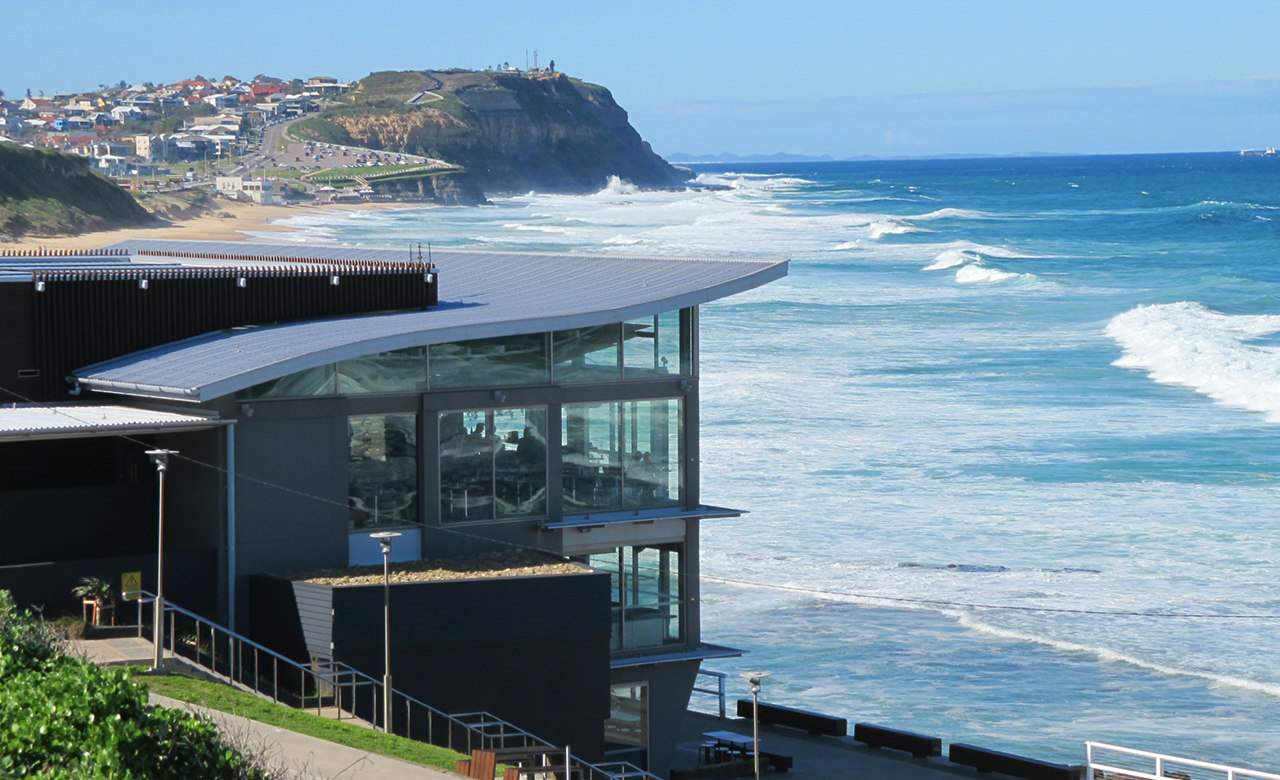 The most summery views in the area are at Merewether Surfhouse (Henderson Parade; (02) 4918 0000). Perched on absolute waterfront, with floor-to-ceiling-windows, this architect-designed masterpiece looks over panoramas of Merewether Beach and beyond. Executive chef Ryan Baird has made fresh seafood king in the top-floor restaurant - from oyster samplers to a posh version of surf and turf (chargrilled pork cutlet, apple and thyme butter, half-lobster mornay, steamed greens, lemon) to pan-fried Daintree barramundi with panzanella salad and chargrilled sourdough. This joint has stolen a bit of thunder from neighbour and longtime rowdy local The Beach Hotel, but for now, the two seem to be enjoying symbiotic success with post-ocean-thirsty locals.
Come evening, the buzzing Darby Street Village Precinct gives you a diverse choice of small bars and offbeat restaurants. At The Bowery Boys, executive chef Steven Zielke (Buffalo Dining Club, Chester White, Table for 20) and bartenders Ryan Hawthorne and Ethan Ortlipp (The Ivy, Sticky Bar, Coal & Cedar) are bringing a dose of 19th century New York City to 21st century Newcastle. Named after the notorious 1840s gang who, when not feuding in the streets, worked as butchers, the eatery specialises in all things pickled, smoked and cured. Photographs of New York City line the walls. Sweeney Todd-style cleavers hang alongside meaty delicacies. Cloudy brown bottles hide their contents (hint: top-shelf liquor). Pickles, olives, charcuterie, cheeses, spanner crab with chilli green mango coconut, spiced dutch carrots and ricotta gnocchi arrive on abundant share plates, matched with small-batch cocktails and exotic wines, like rioja, malbec and zinfandel.
Also worth visiting if you've got the time: Darby Street's One Two Seven Darby for a kickass brekkie, 5 Sawyers for a tipple, Parry Street Garage for a damn good dinner, MoneyPenny for cocktails, The Lass for a bloody good beer garden, The Happy Wombat for craft beer, The Grain Store for drinks and nibbles, One Penny Black for insane pourovers, Roladoor for vintage-clad brunch, Goldberg's for a tried and true local, and Foghorn Brewhouse for locally-brewed beer. Or just take a picnic to Nobby's or Bar Beach — remember to slip, slop, slap y'all.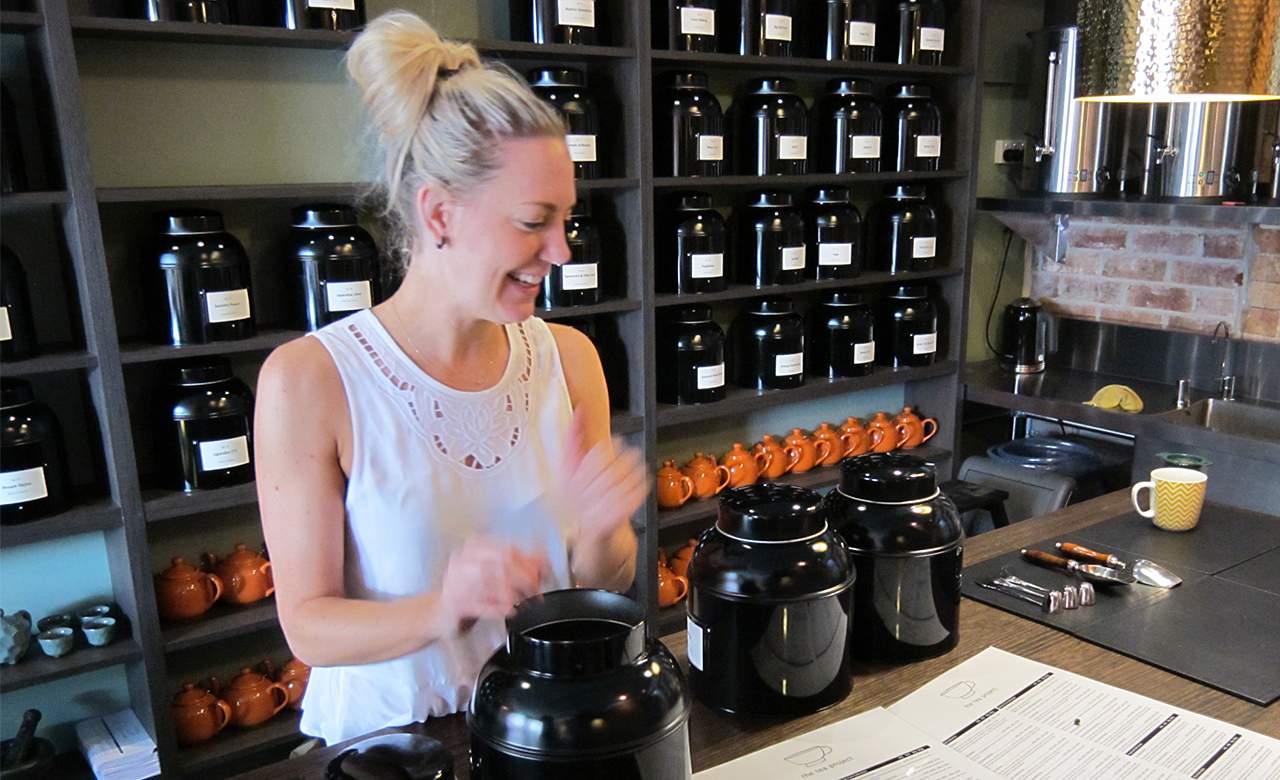 SEE AND DO
Despite having inspired Lonely Planet's admiration, Newcastle is yet to be detected by the mass tourism radar. You won't see glazed-eyed groups straggling behind flag-waving guides and you needn't fear overwhelming crowds — even on weekends. But, if you do want an insider's perspective, there's a handful of quirky tours to choose from.
We meet Neroli Foster for an Underground Epicurean adventure. "There are so many great places for foodies in Newcastle," she says. "But they're not always easy to find." Rather than following a box-ticking itinerary, she takes a casual approach - we feel more like we're with a local friend than a tour guide. We sample gourmet doughnuts at Doughheads (where flavours include citrus cheesecake, Turkish rose and caramel toast); work our way through a wine flight curated from hundreds of bottles cellared beneath Reserve Wine Bar; and dessert on gelato overlooking the water at Estabar, among numerous other delicious stops. My favourite is The Tea Project, where tea expert Becci Fowler pours me the finest cuppa I've ever tasted. More than 70 teas are on the menu and they're all premium quality and beautifully blended.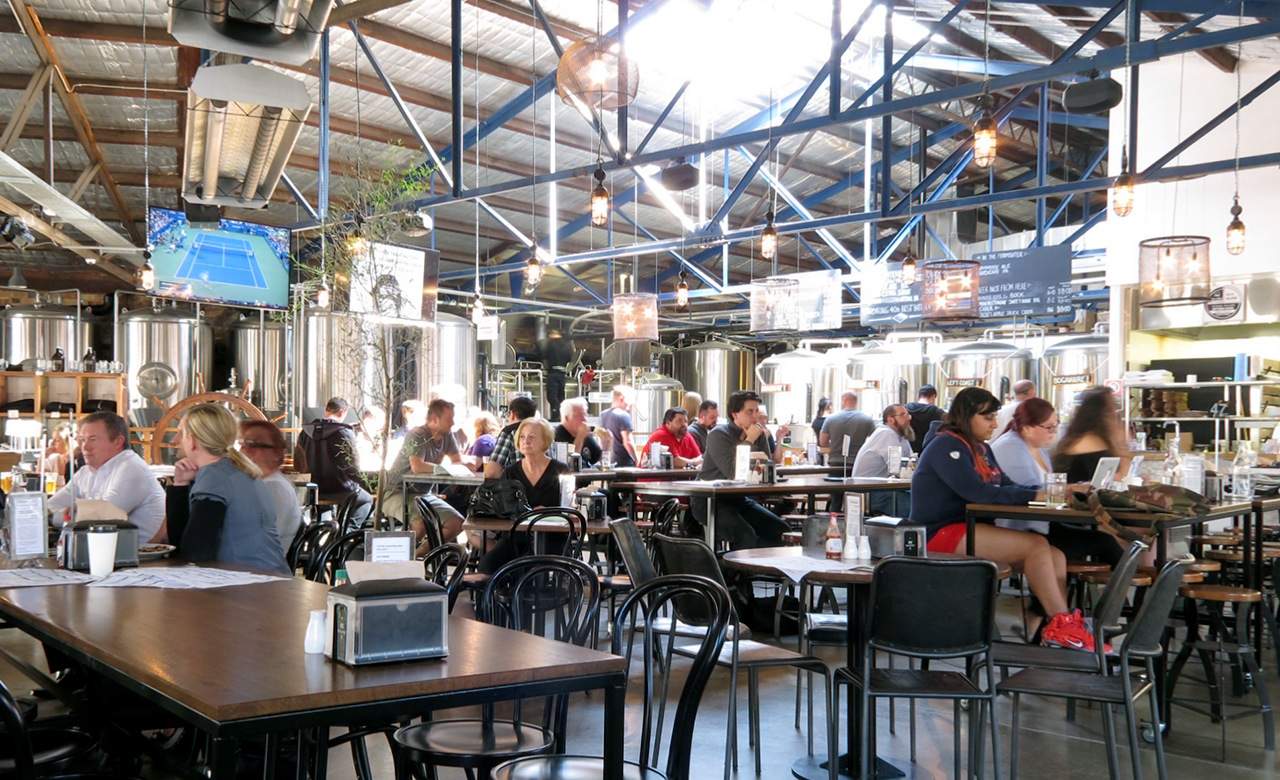 Beer and comfort food more your thing? Let One For the Road be your guide. When I say beer and comfort food, I mean a four-hour stroll through town, taking in ten craft beers and ten moreish, moreish bites. At Chook and Broosky, we discover the many ways in which beer and fried chicken can dance together; at Foghorn, we watch Newcastle's only onsite brewery in action, while feasting on pizza; and, at The Hop Factory, we explore a few of the 20 beers on tap, paired with mini-burgers. Along the way, our easy-going, funny guide fills us in on Newcastle's history — from the convicts who dug out the Bogey Hole (New South Wales's first ocean pool) to current disputes over the railway, which, by the way, has been cut at Hamilton for the time-being.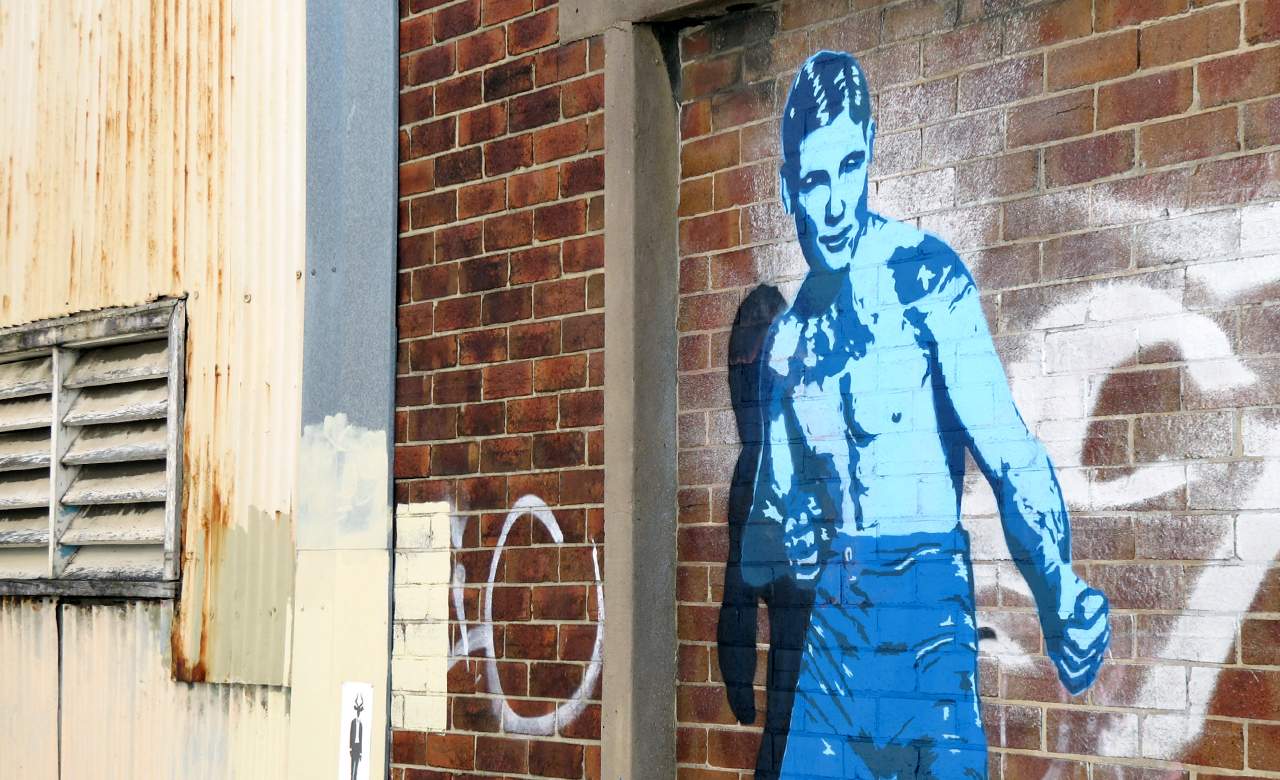 Once you're fuelled up (or, in my case, thoroughly stuffed), you'll be ready to work it off. Slip a hat, slop on some sunscreen and meet Simone Sheridan for a street art tour. Former director of This Is Not Art (TINA) and passionate place maker, Simone shows us painting and drawings in the most unexpected of spots, as well as telling us stories behind the city's best known pieces, such as Adnate's portrait of an indigenous boy in Wickham, which was horrifically graffitied with a racist slur just a month after being completed in November 2013. Simone's tours run by foot or bicycle.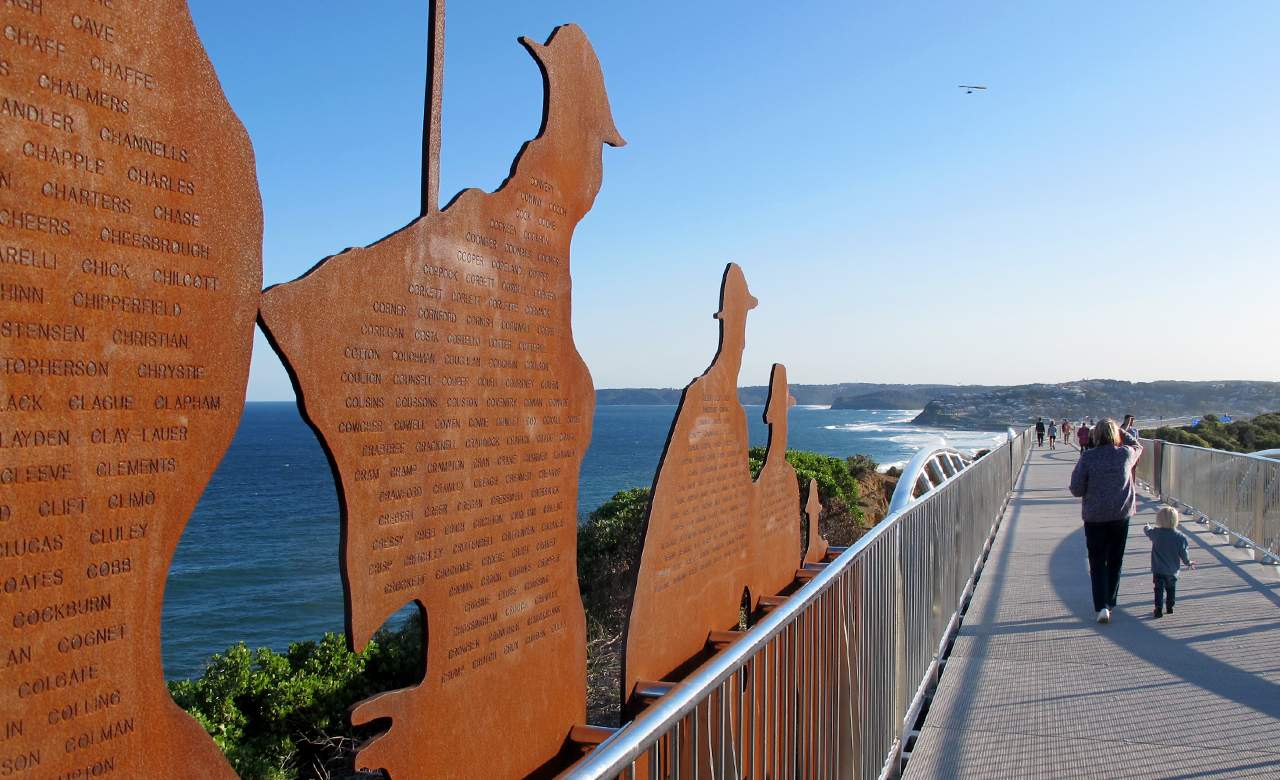 We save the Newcastle Memorial Walk (aka ANZAC Walk) for sunset. If you're keen to tackle it by day, don't forget some skin-saving protection — the sun can get mighty hot. $4.5 million and 64 tonnes of steel went into this 450-metre-long walkway, which opened in April 2015 and spans the cliff tops between Strzelecki Lookout and Bar Beach, affording 360-degree views. For a more epic journey, make it just one part of a six-kilometre trek, from Merewether Ocean Pools to Nobbys Beach.
Speaking of beaches, a trip to Newy's not complete without diving into the ocean. Closer to the city, Newcastle Beach is where you'll find the annual Surfest and the stunningly preserved Ocean Baths, while Nobby's is the big postcard-perfect beach (and home to Horseshoe Beach, the dog-friendly beach). Bar, Dixon and Merewether Beach is one long ocean crawl worth doing to the historic Merewether Baths, and you can even follow this line along to Glenrock Lagoon if you're feeling energetic. Burwood Beach is unpatrolled but great for surfing. If you're keen to venture out of the city centre a little, Redhead Beach is worth the trek, and even further is Caves Beach (which has literal caves on the beach).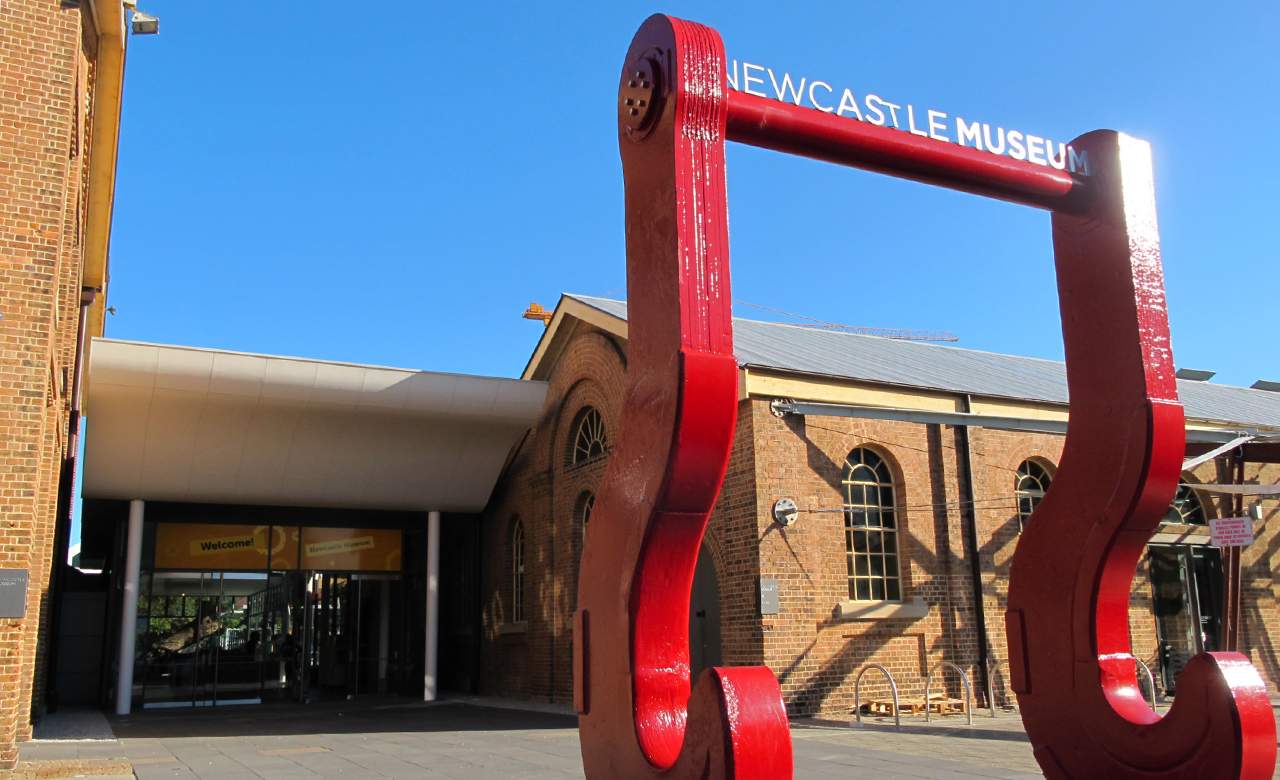 Meanwhile, for indoor escapades, there's the lively Newcastle Museum. Should you visit before 28 February, you'll find yourself face-to-face with ten tyrannosaurs. And, between 2014 and 2018, the First World War effort is being explored in Shadows of Sacrifice, an exhibition that changes every six months, reflecting how life in Newcastle changed as the war wore on.
To check out the latest creations from the city's vibrant arts community, take a wander through the former David Jones store in the CBD, which is now partitioned into independent pop-up shops, or along aforementioned Darby Street (by day, rather than night).

STAY
After six years hiding behind a facade, The Lucky Country Hotel reemerged in 2014 like a rock star making a glamorous come-back jazz album. The (albeit controversial, ask a Novocastrian) McCloy Group poured six million bucks into giving it a good gutting, but kept the bits that worked, like the raw iron beams and warm, red brick work, and dropped the middle name. These days, the hotel is referred to on a first name basis, as The Lucky.
What you notice first will depend on which way you enter. Head into the Drum Bar and an enormous chandelier made of an actual drum kit will be dangling over you. Peer into the courtyard and you'll be mesmerised by vast, dreamy light projections across the back wall, filled with flying birds and dancing figures. Wherever you sit in the 428-capacity pub, you can get stuck into a hearty serving of American barbecue, cooked slow over hickory wood for up to 14 hours; craft beers; and cocktails based on seasonally available ingredients.
Upstairs, forty en-suite rooms spread over two floors. We catch the lift to a deluxe suite with a sofa. Ironically, for a hotel where the menu's pretty meaty, the wall art reads: "A rabbit's foot may bring you good luck, but it brought none to the rabbit", a quotation from American satirist Ambrose Bierce's 'Epigrams'. Each room shares a different philosophy on luck and fortune.
Large windows let in plenty of sun, making the most of the bright, white walls. They're softened by dark carpet and furnishings in muted tones: gentle greys, charcoals, mustards, beiges and browns. The straight-forward, white-tiled bathroom is sparkling clean and the l'Occitane toiletries are a luxurious touch. Despite the positioning, close to the main road, sound proofing keeps out traffic noise. All in all, The Lucky makes for a comfortable sleep, in a neatly composed, refreshing space — just what you need before another day of sun, surf, art and feasting in Newcastle.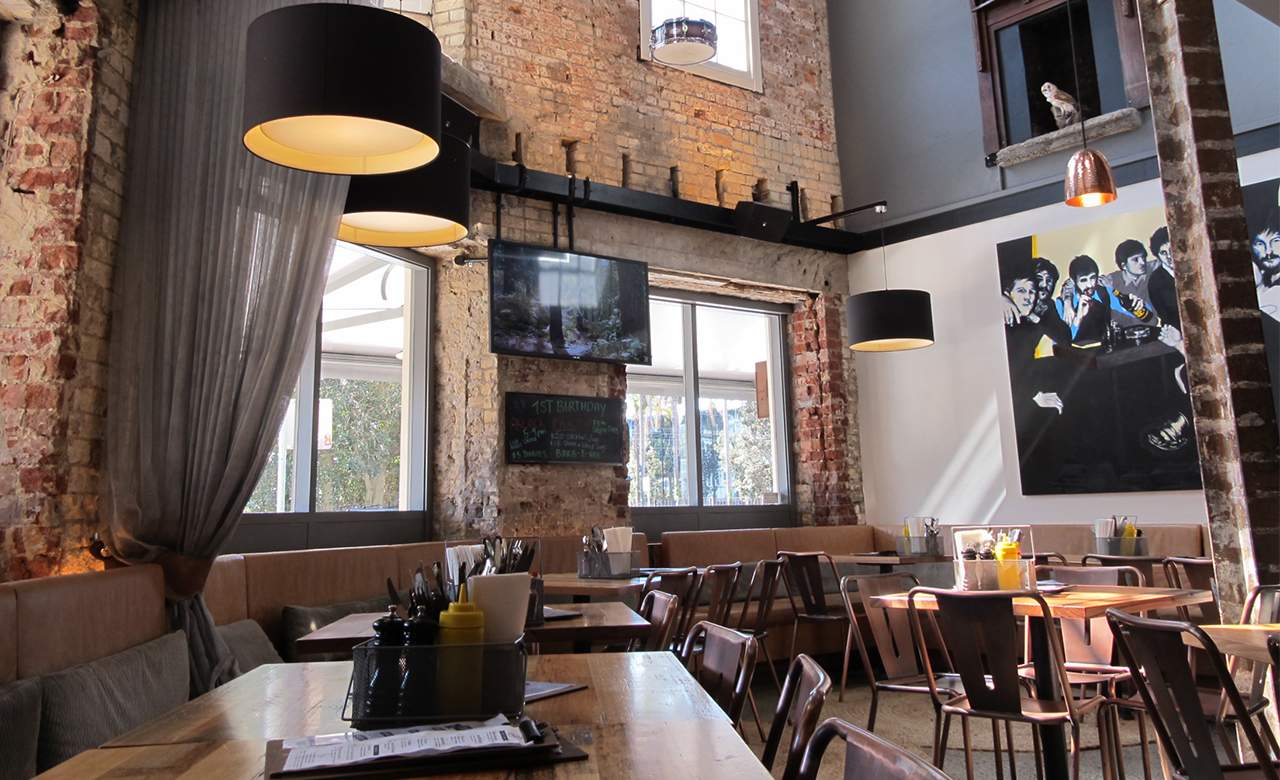 LET'S DO THIS; GIVE ME THE DETAILS
By car: Newcastle is about 160 kilometres, or two hours' drive, along the Pacific Motorway north of Sydney, or about ten hours' drive from Melbourne.
By plane: Rex flies to Newcastle from Sydney at least once a day, with the flight taking 45 minutes. Both Jetstar and Virgin fly from Melbourne, taking 90 minutes.
By bus/train: Sydney Trains travel direct from Sydney to Broadmeadow, taking about 2 1/2 hours. From Broadmeadow, connecting buses take you to Newcastle central. From Melbourne, it's a 14 1/2 hour ride.
Jasmine Crittenden travelled to Newcastle as a guest of Destination NSW.
Top image: Flickr. All other images Peter Saw.