ARTS & ENTERTAINMENT
Ten Films and TV Shows You Need to Stream This Month
Cancel your plans to get stuck into the new 'Star Wars' spinoff, revisit every season of 'Seinfeld' or watch a compelling drama based on a real-life US Senate report.
Ten Films and TV Shows You Need to Stream This Month
Cancel your plans to get stuck into the new 'Star Wars' spinoff, revisit every season of 'Seinfeld' or watch a compelling drama based on a real-life US Senate report.
---
Not all that long ago, the idea of getting cosy on your couch, clicking a few buttons, and having thousands of films and television shows at your fingertips seemed like something out of science fiction. Now, it's just an ordinary night — whether you're gathering the gang for a stay-at-home shindig, cuddling up to your significant other or shutting the world out for some much needed me-time.
Of course, given the wealth of options to choose from, there's nothing ordinary about making a date with your chosen streaming platform. The question isn't "should I stay in?" — it's "what on earth should I watch?". Hundreds of titles are added to New Zealand's online viewing services each and every month, all vying for a spot on your must-see list. And, so you don't spend 45 minutes scrolling and then being too tired to actually commit to watching anything, we're here to help. From the latest and greatest to old favourites, here are our picks for your streaming queue.

NEW STUFF TO WATCH NOW
YEARS AND YEARS
If Black Mirror weaved its dystopian visions of the future into an ongoing narrative, rather than doled out its horror stories in standalone instalments, it might look like Years and Years. Focusing on the Lyons family — which spans Muriel (Anne Reid), her grandchildren Edith (Jessica Hynes), Stephen (Rory Kinnear), Daniel (Russell Tovey) and Rosie (Ruth Madeley), plus their partners and children — the six-part British drama ponders their lives from 2019 onwards. So, all of the usual events happen, such as births, deaths and marriages. Here, they're all filtered through the possible political and technological landscape that could await us all, with wars, embeddable technology, climate change, the gig economy and nationalist politics (with Emma Thompson playing an increasingly popular Pauline Hanson-style politician) all part of the story. Created by Russell T. Davies (Queer as Folk and Doctor Who), Years and Years isn't just a must-watch portrait of what may come, but a smartly written, engagingly performed and absolutely fascinating series that's purposefully designed to intrigue, and to stress viewers out about the current and future state of the world.
Years and Years is available to stream on SoHo.

THE MANDALORIAN
Ever since it zoomed out of George Lucas' mind and into our own cinematic galaxy, Star Wars has always had a space western vibe. Yes, the long-running series is known as a space opera, too, but it's impossible to think about Han Solo and Boba Fett without thinking about space cowboys. Serving up a Han-focused prequel, Solo: A Star Wars Story leaned into that idea. The Mandalorian, Disney+'s eagerly anticipated new live-action Star Wars series, takes the concept even further. The Jon Favreau-created series introduces a bunch of new characters — including Pedro Pascal as the titular bounty hunter, Carl Weathers as the head of his professional guild, and the one and only Werner Herzog as a client who hires the Mandalorian for a dangerous mission — but it's definitely a Star Wars space western. Set five years after the events of Star Wars: Episode VI — Return of the Jedi, it'll also help get you in a Star Wars mood before this year's Star Wars: Episode IX — The Rise of Skywalker hits cinemas in December.
The first two episodes of The Mandalorian are available to stream on Disney+, which launched in New Zealand this week. Episodes will drop weekly on Fridays afterwards.

EARTHQUAKE BIRD
After exploring the life of writer Sidonie-Gabrielle Colette in last year's Keira Knightley-starring biopic Colette, British writer/director Wash Westmoreland jumps from late 19th- and early 20th-century France to Tokyo circa 1989. That's where Swedish expat Lucy Fly (Alicia Vikander) lives, works and starts to date Japanese photographer Teiji (Naoki Kobayashi). And, with the film framed through a police interrogation, that's where she also becomes a suspect in a missing persons case that could also be a murder. Based on Susanna Jones' 2001 novel of the same name, Earthquake Bird charts the fallout after American Lily Bridges (Riley Keough) arrives in town, befriends Lucy and then disappears — after getting close to Teiji. The film takes its time to solve its central mystery, but that patient approach comes packaged with sumptuous visuals, appropriately contrasting portrayals by its female stars (Vikander is icy and restrained, Keough is lively and vibrant), and a considerable command over its slow-burn thrills and tension.
Earthquake Bird is available to stream now on Netflix.

MORNING WARS
Called The Morning Show overseas and Morning Wars in Australia, Apple TV+'s big star-studded series takes a straight-from-the-headlines approach. Set within one of America's popular morning television shows, it follows the fallout after one of its hosts is fired after reports of sexual misconduct (something that did indeed happen on the US version of Today a couple of years back). Steve Carell plays the anchor newly joining the unemployment line, Jennifer Aniston returns to TV for her first regular role post-Friends as his shell-shocked but fiercely ambitious co-host and Reese Witherspoon is the opinionated upstart who starts making a splash — with the latter happening after a video of her passionate tirade at an uninformed protestor goes viral. Billy Crudup, Mark Duplass and Gugu Mbatha-Raw also feature (we said this was star-studded) in a series that doesn't always hit as hard as it wants to, but always remains highly involving.
The first five episode of The Morning Show are available to stream on Apple TV+, with new episodes added weekly on Fridays.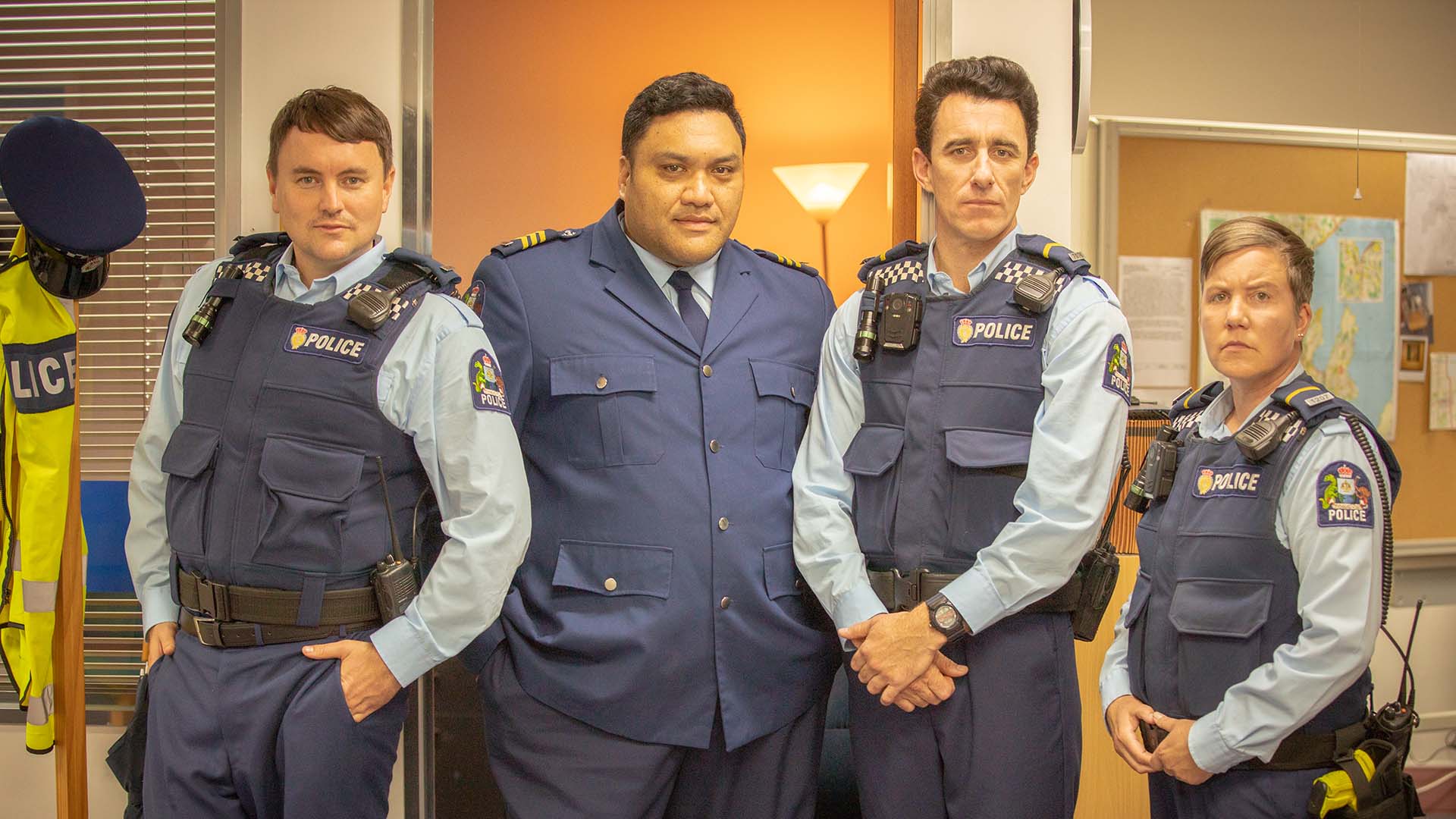 WELLINGTON PARANORMAL
Something strange is happening in Wellington — again. Actually, more than a few odd, otherworldly events keep occurring. So, the Wellington Paranormal unit is back on the case, doing what they do best (and hilariously) The first television spin-off from Taika Waititi and Jemaine Clement's hilarious big-screen mockumentary What We Do in the Shadows, this New Zealand series watches as Officers Minogue (Mike Minogue), O'Leary (Karen O'Leary) and Sergeant Maaka (Maaka Pohatu) investigate the supernatural. Witchy teens, creepy cloning, ghostly cops, a haunted car and a sea monster all pop up this time around, as does Clarke Gayford, the real-life partner of NZ Prime Minister Jacinda Ardern. A low-key delight that keeps serving up big laughs, Wellington Paranormal just keeps coming up with entertaining scenarios. Well, given that the What We Do in the Shadows on-screen universe all started with the undead, it was always going to keep on giving.
Wellington Paranormal's second season is available to stream on TVNZ OnDemand.

LADY AND THE TRAMP
In Disney's non-stop quest to not only remake its animated hits, but to make them look as lifelike as possible, the Mouse House has already brought Dumbo, Aladdin and The Lion King back to our screens so far this year alone. But it's not done yet, with the company's new streaming platform welcoming another high-profile do-over: a live-action version of Lady and the Tramp. The film does actually star real dogs — not photo-realistic canines cooked up by a special-effects team. The adorable pooches have still be given human voices, with Tessa Thompson lending her tones to everyone's favourite pampered pupper and Justin Theroux doing the honours for her street-smart love interest. Playing an American cocker spaniel and a schnauzer, Thompson and Theroux aren't the only big-name talents going to the dogs. A Star Is Born's Sam Elliott gets gravelly as a bloodhound, Catastrophe's Ashley Jensen is a Scottish terrier, Avengers: Endgame's Benedict Wong voices a bulldog and Janelle Monae pops up as a pekingese. Story-wise, the film wags the same tale, as the upper middle-class Lady crosses paths with, eats pasta with and learns to appreciate the whole wide world with a downtown stray called Tramp.
The live-action Lady and the Tramp remake is available on Disney+.

ONES TO WATCH OUT FOR LATER IN THE MONTH
THE REPORT
One of the year's best films is based on a US Senate Intelligence Committee report on CIA torture. No, that's not a sentence that comes up very often. It also just released in cinemas, and will hit streaming mere weeks afterwards — something that, in the age of Roma, The Irishman, Brittany Runs a Marathon and Marriage Story, is becoming far more common. Directed by Contagion, Side Effects and The Laundromat screenwriter Scott Z. Burns, The Report recreates the experiences of real-life Senate staffer Daniel Jones, who, from 2009–2015, delved into the scandalous treatment of terrorist suspects by America's key intelligence agency. It mightn't sound riveting on the page, but as Jones dives deeper into a dark part of recent American history, weathers hefty opposition and dedicates himself to ascertaining the truth, The Report makes for gripping viewing. Adam Driver serves up his latest stellar performance as the committed investigator and, while the film belongs to its star and its subject matter, Annette Bening, Jon Hamm, Michael C. Hall and Corey Stoll also make an impact.
The Report is currently screening in cinemas, and will be available to stream on Amazon Prime Video from Friday, November 29.

While Netflix already has its Dark Crystal prequel, which launched back in August, it'll soon drop new fantasy series The Witcher as well. In fact, the Henry Cavill-starring show will arrive on Friday, December 20, just in time for some Christmas break binge-viewing. As seen in both the initial trailer and the just-released new sneak peek, the witcher of the title is Geralt of Rivia (Cavill, sporting long blonde locks), a monster hunter who prefers to work — aka slay beasts — alone in a realm called The Continent. But life has other plans for the lone wolf, forcing him to cross paths with powerful sorceress Yennefer of Vengerberg (Anya Chalotra, Netflix's Wanderlust) and young princess Ciri (newcomer Freya Allan). The latter harbours a secret, because of course she does, with the series blending plenty of fantasy staples such as magic, royalty, fighting factions, battling hordes, fearsome creatures, a heap of sword-swinging and many a scenic location.
The Witcher will hit Netflix on Friday, December 20.

CULT CLASSICS TO REVISIT AND REDISCOVER
WAYNE'S WORLD AND WAYNE'S WORLD 2
It's party time on your streaming queue, and the appropriate response to that news is "excellent". Twenty-seven years since Saturday Night Live characters Wayne Campbell (Mike Myers) and Garth Algar (Dana Carvey) first took their Illinois public-access TV show to the big screen, the hit comedy is still equal parts silly and amusing, especially if you're in the mood for a retro throwback. Come for the famous 'Bohemian Rhapsody' moment, plus Rob Lowe playing evil (and, if you've seen him in Parks and Recreation, proving that he never ages). There's also Wayne and Garth's catchphrase-heavy banter as well. Stay for a 90s classic, naturally — and, because one goes with the other, make it a double with sequel Wayne's World 2, about Wayne and Garth's efforts to put on Waynestock, a music festival.
Wayne's World and Wayne's World 2 are available to stream on Google Play.



SEINFELD
With the entire catalogue of Friends already on its service, TVNZ OnDemand is becoming the home of classic 90s sitcoms. From 22 November, every season of Seinfeld will join the ranks, taking one hilarious trip back to the 90s. Go back to the very beginning when Jerry was a single man, living in New York City. From there, the neurotic stand-up comic will be joined by his three friends — his best mate and the bungling George Costanza, their frustrated working gal-pal Elaine and eccentric neighbour Cosmo Kramer, as they deal with the absurdities of everyday life in the Big Apple.
Every season of Seinfeld will be available to stream on TVNZ OnDemand from Friday, 22 November.
Published on November 20, 2019 by Sarah Ward