Taste the Start of Autumn at the Stoneleigh Pop Up Bar
Auckland's Viaduct precinct has been going off like a pork chop in the sun of late. Largely thanks to some of the best summer days this city has experienced, setting a platform for what will be a stunning Autumn. Adding to the positive vibes and putting a swing in everyones step, has been the myriad of events, activities and pop up experiences.
The Stoneleigh Pop Up Bar, in the heart of the Volvo Ocean Race Village, would have to be one of our favourite pop ups this city has had the pleasure in hosting. Something about ocean views, the boats, sails and sterns, tasty collaborations intertwined nicely within the thoughtful set up, and the 'strictly limited time' aura that comes with a pop up providing a sense of urgency and curiosity. It certainly seems to be winning the hearts of Auckland's purveyors of good times, as each time we have found ourselves there, it seems to attract a returning mob of familiar faces with a mix of the new.
Since attending the opening night, we here at Concrete Playground have frequented Stoneleigh's pop up creation upon a regular basis, enjoying the afternoon nibbling on a bit of edamame before embarking on a three-part chef's sashimi selection of salmon, terakihi and hapuka. Oh, did we mention the pop up features a collaboration with one of Auckland's finest culinary creators, Masu? And all of course, while sipping award-winning Stoneleigh Latitude Sauvignon Blanc*, (a personal favourite) under the sun-filled open seating area.

The bar overlooks the nearby village main stage, so depending on what time of day you stop by you could be hearing some live music, or even catching some of the cricket on the big screen adjacent to the bar's location. It is the perfect place to soak up the Volvo Ocean Race atmosphere, especially as it ramps up towards the final departure of the race on Sunday, March 15.
Which brings me to my only gripe and that is unfortunately, as with all good pop ups, it must come to an end. Much like summer itself. But rest assured, due to it's popularity and our city's attraction to the pop up, we would imagine the return of Stoneleigh's epic little garden bar as a certainty. However, our advice would be not to take the risk. We recommend you get down there, toast to the beauty of Autumn, sample the fares, views and of course the wine, before the bar eventually closes on Sunday, March 15, 2015.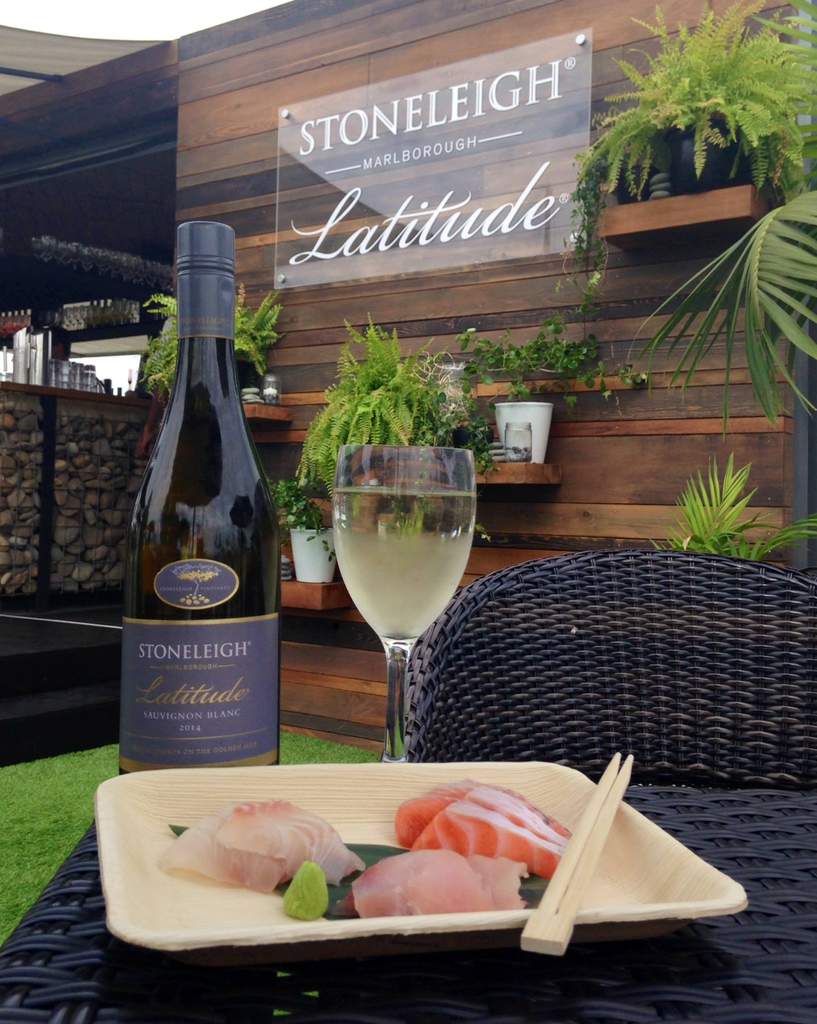 *The wines on offer include – Stoneleigh Latitude Sauvignon Blanc, Chardonnay, Pinot Gris, Pinot Noir and Rosé – heralding from Marlborough's 'Golden Mile', and capture the essence of New Zealand's most acclaimed winemaking region. For more information on the Stoneleigh Latitude Range, click here.
Published on March 09, 2015 by Lara Thomas