A Towering 18-Storey Painting of Nicole Kidman Has Temporarily Popped Up in Sydney
It's soaring above Darlinghurst to promote twisty thriller series 'The Undoing' — and it'll be replaced by a second artwork related to the show this week.
For 14 hours in October, Sydney became home to a very nice and very large statue of Borat. This month, the city has welcomed another supersized and temporary piece of pop culture-themed art — this time celebrating a local star. Until Tuesday, November 17, an 18-storey-high portrait of Nicole Kidman is soaring above Darlinghurst. And yes, like the sculpture of a certain fictional Kazakh journalist, it's designed to promote a new addition to your streaming queue.
For the past three weeks, Binge has been dropping new episodes of HBO's twisty new six-part thriller mini-series The Undoing, with three more episodes left to air across the rest of November. In the whodunnit drama, Kidman stars as successful therapist, Grace Fraser, who lives a life of considerable luxury in New York. But when someone linked to her son's ultra-wealthy private school turns up dead, Grace's seemingly perfect existence starts to collapse — as does her marriage to charming paediatric oncologist Jonathan (Hugh Grant).
Clearly, the new sky-high artwork is simply a very large advertisement for The Undoing. And we do mean large, given that it measures 18.4 metres wide and 36.8 metres high — covering nearly 680 square metres in total. That said, it's all hand-painted, with artists Hamish McBride, Laura Paige, Kailin Hegel, Jacqui Butterworth, Aly Barnard, Matt Mcenally, Meg Hardie, Meg Hales, Michael Iglesias, Nancy Ji and Tia Madden working on the portrait across 400 hours over 15 days (and using around 200 litres of paint in the process).
The aforementioned creatives all hail from Apparition Media, which is also responsible for the huge mural of AFL star Adam Goodes in Surry Hills.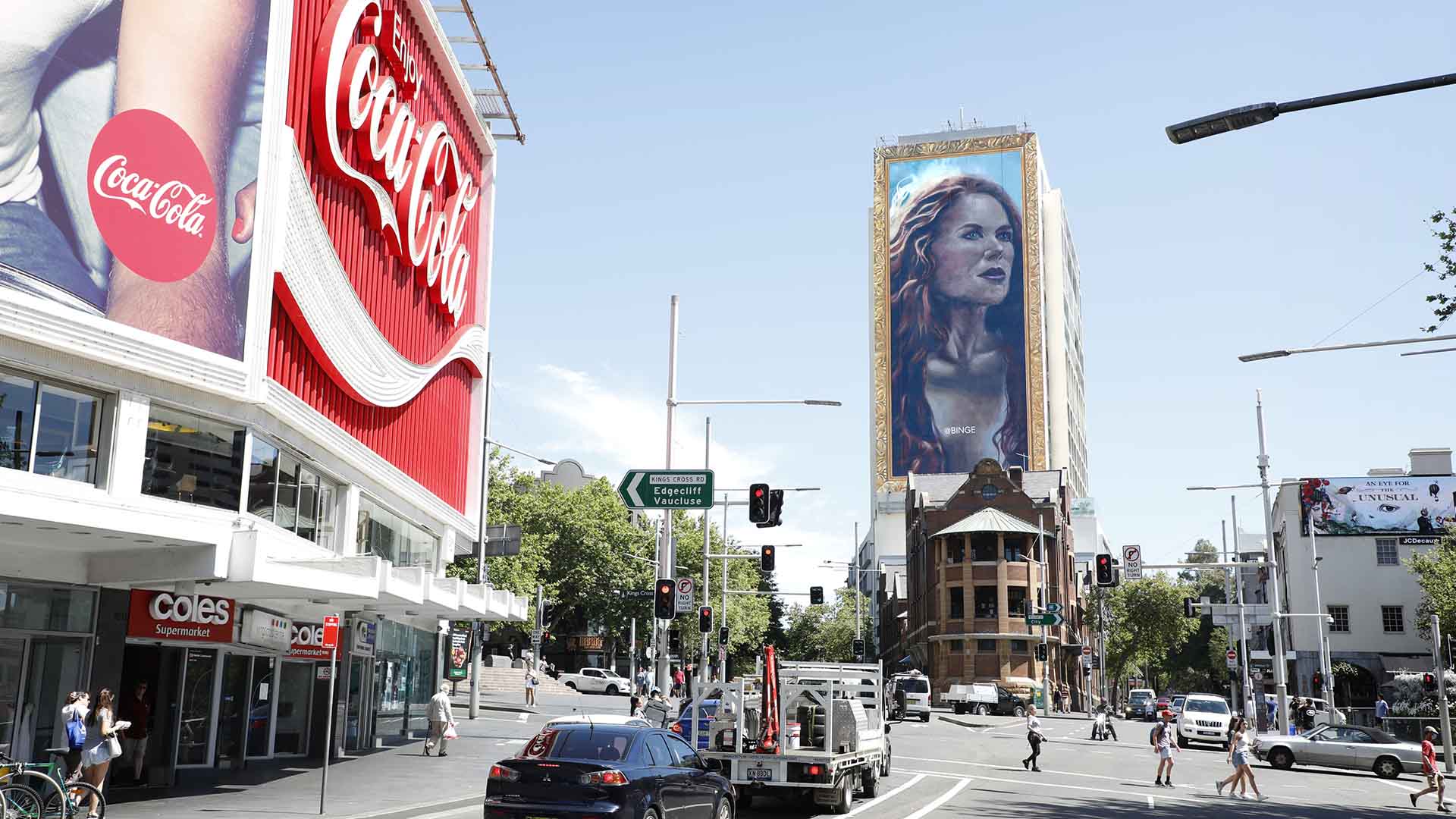 Apparition Media's giant likeness of Kidman is just one half of an overall project, as another painting will replace it from Wednesday, November 18. Yes, you could say that the initial portrait will come undone — but just what the second picture will depict is yet to be revealed.
After Monday, November 23, the wall will be painted for a third time, reverting it back to its original state. If you're wondering whether that's a sign of what's to come in The Undoing — which also features Donald Sutherland, A Quiet Place's Noah Jupe and Edgar Ramirez; is based on Jean Hanff Korelitz's novel You Should Have Known and directed by The Night Manager's Susanne Bier; and was adapted by well-known TV writer David E Kelley (Big Little Lies, LA Law, Ally McBeal, The Practice) — you'll obviously need to watch the series to find out.
Check out the trailer for The Undoing below:
The 18-storey-high portrait of Nicole Kidman will adorn the side of 227 Victoria Street, Darlinghurst, until Tuesday, November 17. It'll then be replaced by a second yet-to-be-revealed painting from Wednesday, November 18–Monday, November 23.
The first three episodes of The Undoing are available to stream via Binge, with new episodes added weekly on Mondays.
Images: Chris Pavlich
Concrete Playground Trips
Book unique getaways and adventures dreamed up by our editors