The Gold Coast Will Soon Be Home to a Huge New Six-Level Art Gallery with a Rooftop Bar
Opening in May, it'll be the largest public gallery outside a capital city in Australia.
When May hits, the Gold Coast will boast yet another attraction — and it doesn't involve sun, surf, sand or theme park rides. Southeast Queensland's popular tourist destination will open its new $60.5 million, six-level art gallery, which'll become the country's largest art gallery outside of a capital city.
If the news sounds familiar, that's because it was first announced back in 2018, with an early 2021 opening date set at the time. And yes, it's sticking to that timeframe. While the pandemic has delayed more than a few things over the past year, the new addition to HOTA, Home of the Arts at Surfers Paradise's isn't among them. It'll launch on Saturday, May 8.
Art lovers can get excited about a multi-floor gallery with more than 2000 square metres of exhibition space, including a main area that'll be used for touring exhibitions, plus a permanent collection space across three levels, a children's gallery and an area for storing works that aren't on display. Simply called the HOTA Gallery, it has been built at the top of the site's concert lawn, and overlooks HOTA's outdoor stage.
View-wise, there'll be much to look at if you're keen on gazing at creative pieces. That includes two sculptural installations that'll be placed outside, as created by Queensland Waanyi artist Judy Watson and Sri-Lankan born, Sydney based artist Ramesh Mario Nithiyendran. Watson's artwork will hero Indigenous native plants, plus a pathway that forms a topographical map of Nerang prior to European settlement. Piccabeen basket and dilly bag sculptures designed with Quandamooka artists Libby Harward and Elisa Jane Carmichael will also feature, as will a two-metre-tall feather canopy and snippets of local language sandblasted onto the bleachers. As for Nithiyendran, he has crafted a six-metre-high, double-sided sculpture made out of bronze, concrete, neon and fibreglass that's designed to reflect the vibrancy of the new building.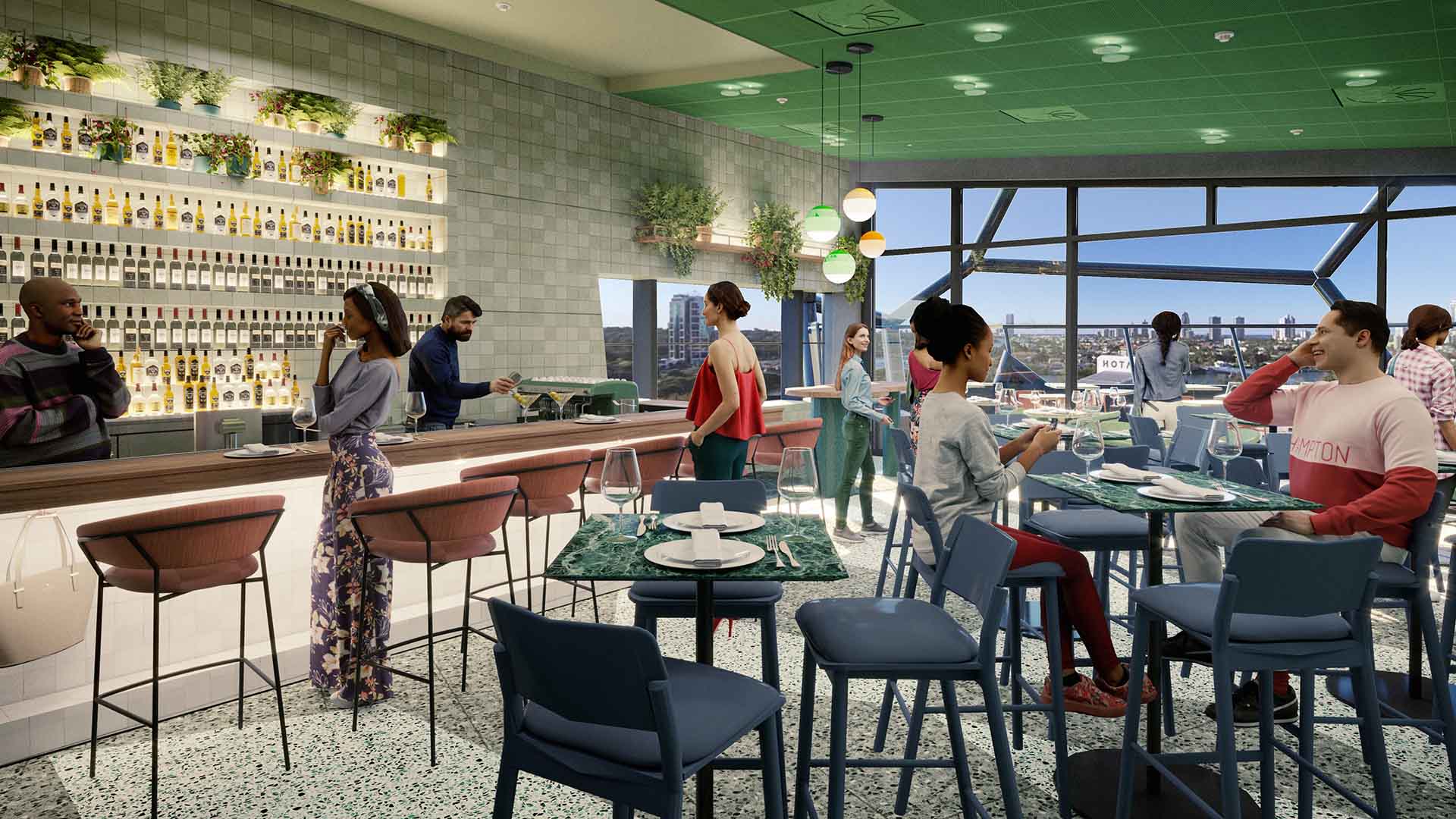 Visitors will also be able to peer at something other than the art gracing the walls, with the building featuring a rooftop bar and restaurant. Called The Exhibitionist Bar, it'll take over 233 square metres, and pair panoramic views with tapas, share plates, cocktails, wine, beer and house-made sodas. And, it's also opening in May.
Both indoor and outdoor terrace seating will feature, and you'll get a vantage that sprawls over the Goldie's waterways, Surfers' Paradise skyline and the hinterland. Plus, in terms of decor, the venue is taking its cues from rainforests — as does the building itself, which is inspired by William Robinson's 'The Rainforest'.
HOTA Gallery and The Exhibitionist Bar are both set to open at HOTA, Home of the Arts, 135 Bundall Road, Surfers Paradise on Saturday, May 8. For more information, visit the HOTA website.
Top images: Scott Chrisman, Pixeltape Media