Coach Beard Talks: 'Ted Lasso' Star Brendan Hunt on Season Three and Playing the Ultimate Offsider
In Apple TV+'s hit soccer sitcom, he plays a man of few words — but the actor, writer and improv comedy veteran shared plenty about the show's origins, success and latest season.
A decade ago, English Premier League team Tottenham Hotspur FC scored a new American coach and assistant in an advertisement hyping up soccer coverage by US TV network NBC. In that four-minute commercial, Ted Lasso made his debut, taking a gig across the pond without knowing a thing about the sport — or letting that whole lack of familiarity with the world game stop him. At his side: a bearded, sunglasses-wearing, cap-donning offsider, who dutifully offered advice and tried to steer him in the right direction.
Unsurprisingly given how successful Ted Lasso has now become as an award-winning sitcom, viewers warmed to the sketch and its characters. A year later in 2014, the clueless coach returned in another ad, this time back in the US and using his Premier League learnings on home turf. But it'd take six more years before the Apple TV+ series that's widely and deservedly loved would grace screens, and before Saturday Night Live alum Jason Sudeikis and his We're the Millers and Horrible Bosses 2 co-star Brendan Hunt would return to the roles of Ted and Coach Beard. Now, Sudeikis has two acting Emmys for the first two seasons of the smash-hit show, and another two as one of its executive producers — and Hunt has a nomination for his on-screen supporting part, and shared those latter two wins.
"It's wonderfully insane," Hunt tells Concrete Playground while chatting about Ted Lasso's long-awaited third season, which starts streaming from Wednesday, March 15 after an almost two-year gap since 2021's season two. Even if you hadn't seen the two ads that sparked the show, Hunt's face might've been familiar when Ted Lasso first hit Apple TV+ — his resume also includes appearances on everything from Parks and Recreation and Community to How I Met Your Mother and Key & Peele — but co-creating, -producing, -writing and -starring in one of the biggest comedy smashes of the past four years has made him instantly recognisable. He's also the man behind one of the show's most beloved characters, which is no mean feat given how widely adored the AFC Richmond crew are. A man of few words who's always at Ted's side, Beard hasn't stopped intriguing viewers yet.
When Ted Lasso started its run as a series, its namesake and his righthand man Beard moved to London, and switched sports. So far, so familiar from the ads. But Ted Lasso as a series has a warmer tone, a busy roster of other players and the hearty embrace of audiences worldwide thanks to its kindness as much as its comedy. The gap between season two and three has been keenly noticed and felt — and not just because season two ended with a bombshell, after AFC Richmond assistant coach Nathan 'Nate' Shelley (Nick Mohammed, Intelligence) defected to rival club West Ham United, burning bridges with his old team and, pointedly, with Ted.
How will Ted and Nate handle their new status quo? How has Hunt handled the Ted Lasso rollercoaster ride so far? Why is Beard such a fan favourite? They're just some of the things that we discussed with Hunt — alongside season two's delightful Beard After Hours episode, of course.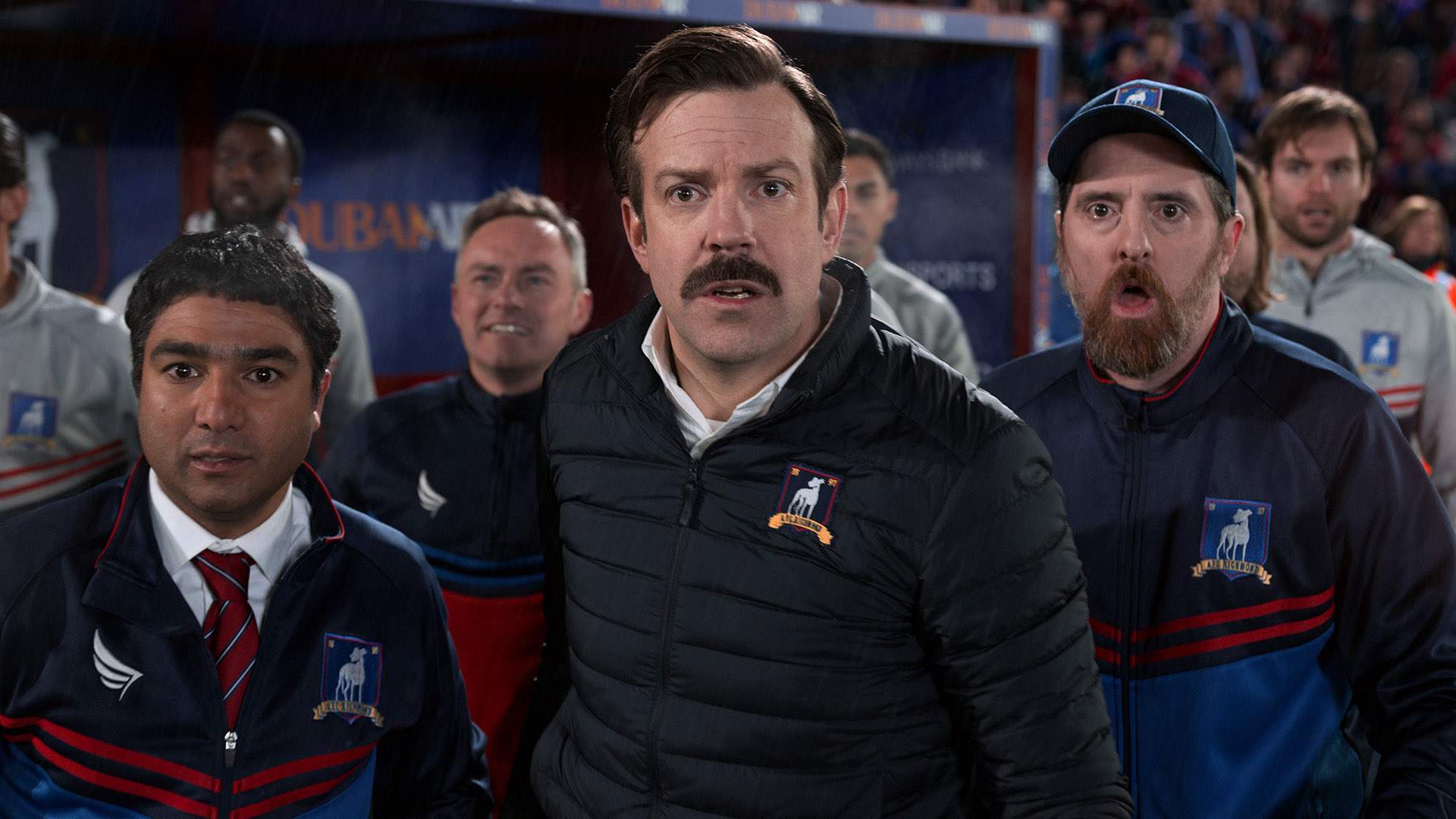 ON TED LASSO'S JOURNEY FROM A SKETCH TO A SITCOM — AND ITS HUGE SUCCESS
"Yeah, it's bonkers. You know, we took that first gig in that first campaign, and the main selling point was 'oh and we get to go to London for three whole days!'. Cut to: last year when we're in London for ten months. I think last year we were in London so long, we were like 'eh, London'. 
But that first one was super fun, and it went well enough that they had us go the next year, and that was fun too. And then Jason, [Ted Lasso co-creator] Joe Kelly and I got together [and went] 'alright, we've got to find a way to do more of this'. And then we wrote a pilot and put together a season arc — that was in late 2014/early 2105, and it felt like 'oh wow, we're going to have a TV show any minute now!'.
And we didn't. We didn't for years. Years passed. Jason's career, he's going fine. Joe's career, he's going fine. Me, I'm baking on a rock, holding on for dear life in Los Angeles. And I had officially gotten to the point where I had given up any hope of anything Ted Lasso happening — like I was no longer even asking Jason if anything was happening.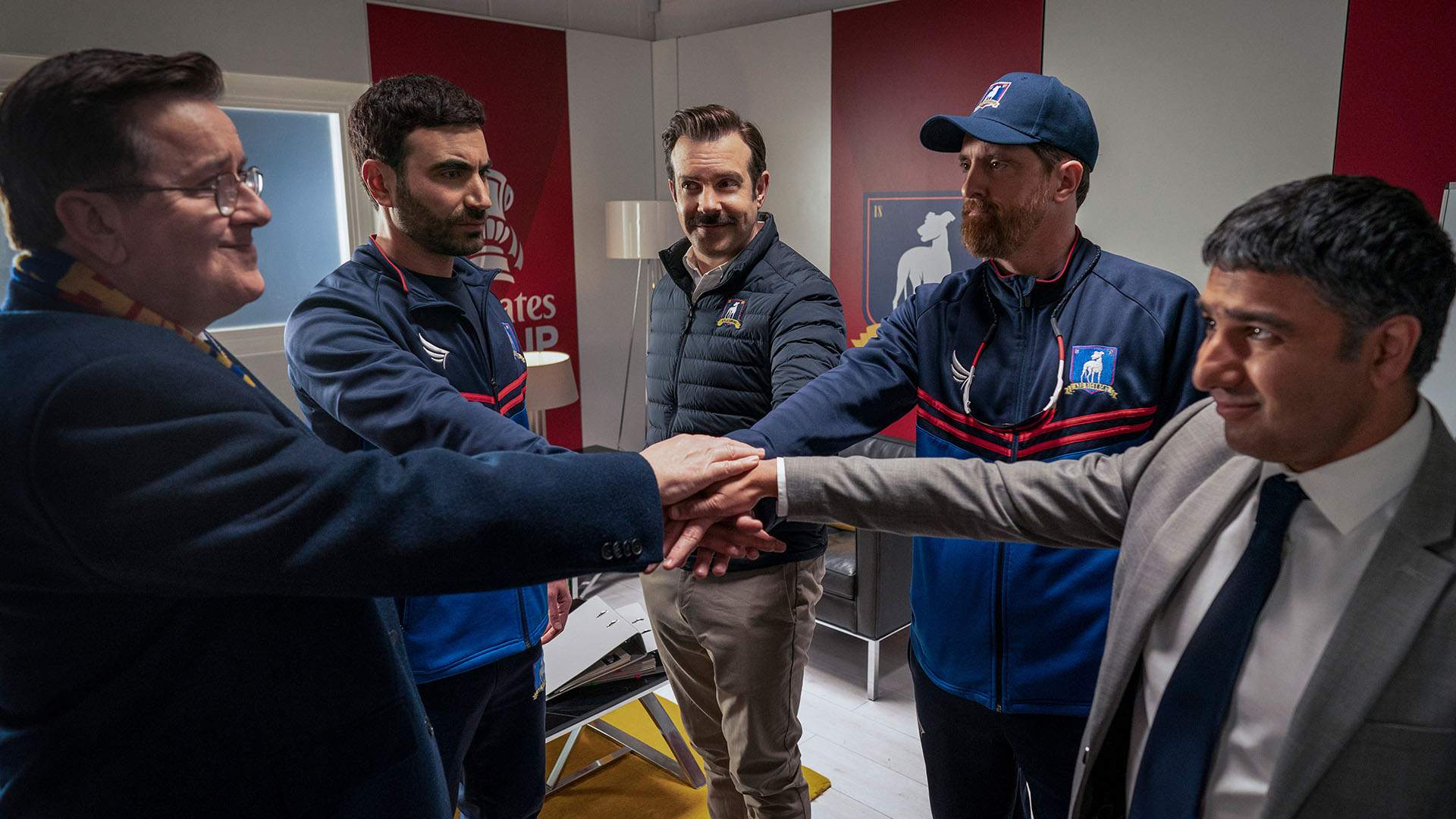 Then one day out of nowhere, he was like 'hey, is that pilot we did, is that still online somewhere?'. Yeah man, of course it is, that's how online works. He goes, 'oh, because Im talking to [Scrubs creator and sitcom veteran] Bill Lawrence tomorrow'. And then suddenly things moved very, very quickly after years of nothingness and heartbreak. 
I mean the last four years — it is what it is, and I just cannot, cannot, still cannot believe what has happened. I try not to think about it. I try to just get on the ride and pull down the harness and shake it and make sure it's secure, and then 'weeeeeeeeeeeeee!' — and then not think about the actual physics of the loop-de-loops, because it's insane."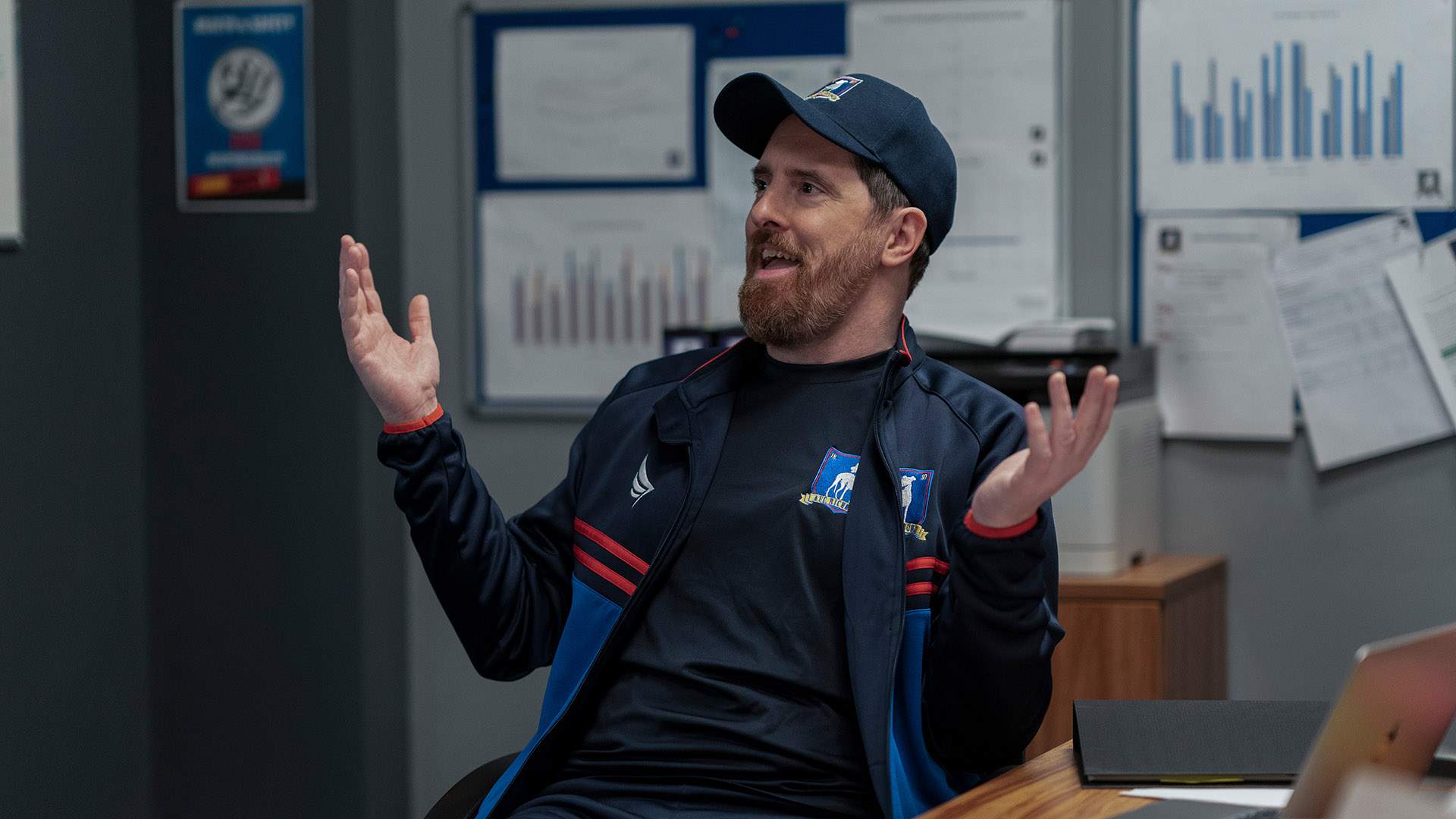 ON WHY TED LASSO HAS STRUCK SUCH A CHORD WITH AUDIENCES
"In the ads, it's a sketch. And a thin sketch idea can work really well for five minutes, but it's unlikely to work for 30. So we just had so much fun doing the first two — 'like, we've got to find a way to do this' — and as soon as were making the TV show, we knew from early on, and this was Jason's idea, that something has to be going on in Ted's life to make him do this crazy thing. And we came upon the idea that he's going through a divorce. 
We weren't going to play the divorce for laughs — we were going to play the divorce for real. Jason and Joe and I, we've all been through a divorce. It's nothing to mess with. It's a very hard time. And once we had that in there, then the reality of this character is more fully formed and is now baked in, and is something to keep returning to.
That's what led the way to panic attacks. That's what led the way to finding out his history with his dad, and stuff like that. 
I think we wouldn't be sitting here still talking about this show if it was still what it was in the original campaign."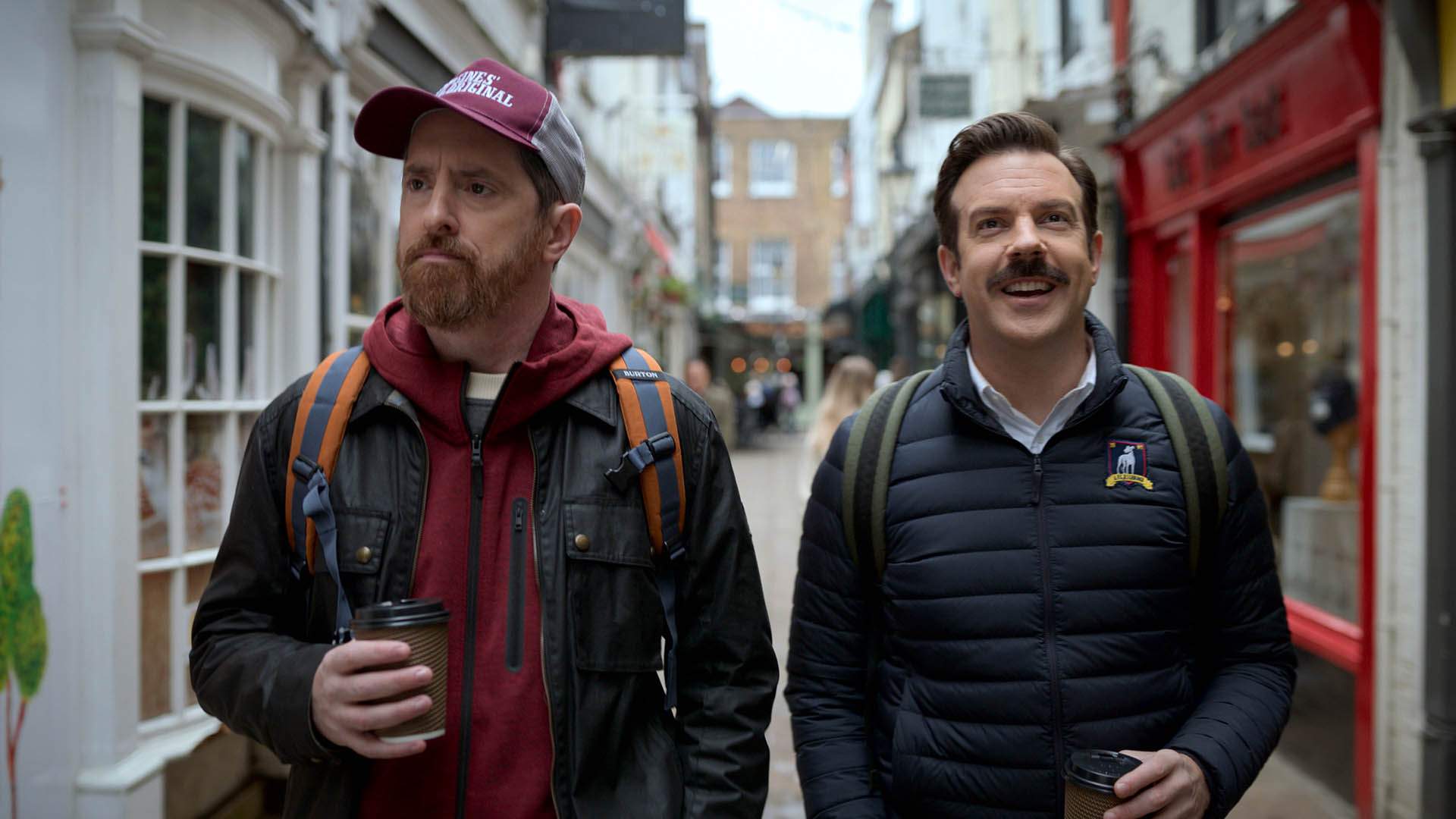 ON COACH BEARD'S ROLE IN THE SHOW — AND HIS FAN APPEAL
"I think the main thing was still have him standing next to Ted as much as possible, because then people understand why he's there. No, it's just the idea that Ted wouldn't do this crazy thing alone. He would do it with someone he trusts — someone who would help him with the finer points, such as offside. 
And Beard's whole mission — we come from an improv and sketch-comedy culture, and one axiom you hear in that world is while you're offstage, while you're watching your partners improvise, ask yourself 'what does the scene need?'. Then you come into the scene with that. Well, Ted is the scene that Beard is watching, and Beard is always asking 'what does Ted need?'.
That is rarely for Beard to talk, because Ted's pretty good at that bit. So Ted and Beard just have a very unspoken yet incredibly clear relationship and dynamic, and one's not going to take such a journey like this without the other — they're bosom buddies.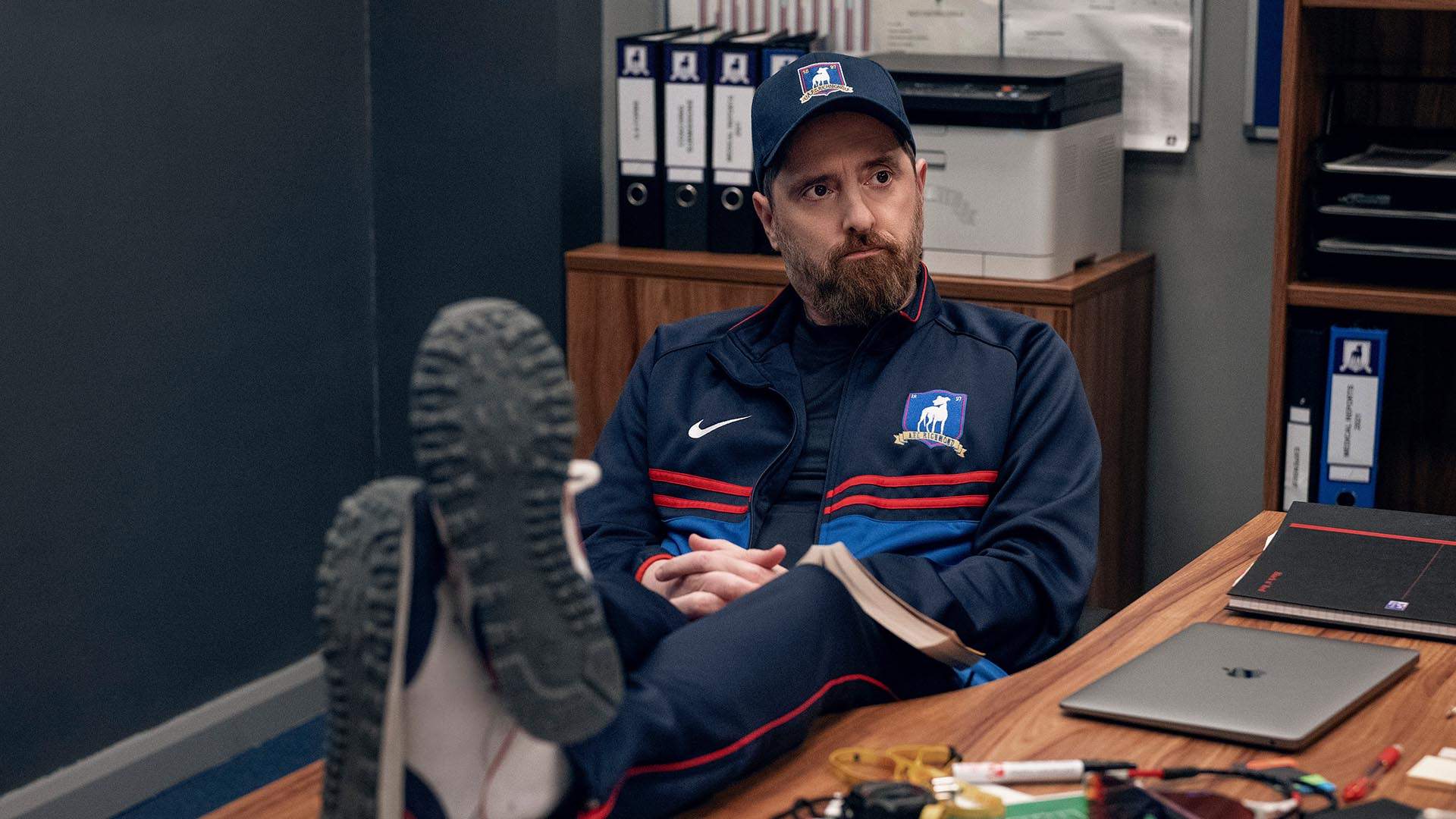 I think it's [Coach Beard's fan appeal] just sort of a happy ancillary result of how little he talks, because he's on camera a lot by dint of the aforementioned standing next to Ted, who will most often be in the centre of your screen. And when someone is on camera that much but isn't talking, well, that's mysterious. Now you don't know what that dude's really about.
It makes him a bit if a blank canvas that people can project themselves on and make their own assumptions about, but they're still unable to fill up that whole canvas themselves. So that accidentally discovered air of mystery, once we knew that was there, then it was like 'we can play with this and have good fun with it'."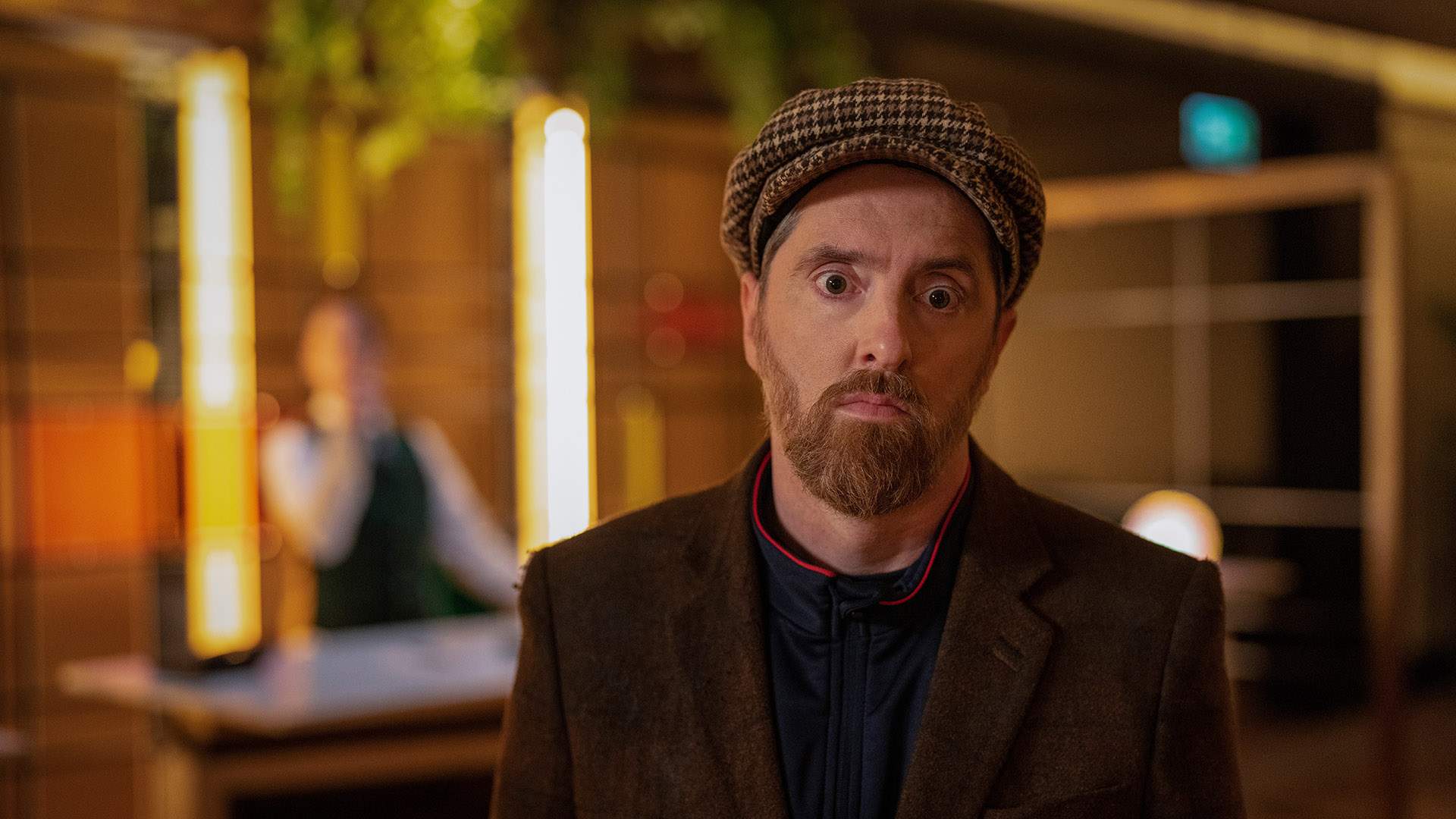 ON SEASON TWO'S BEARD AFTER HOURS EPISODE
"We started writing season two before season one had come out, and season two was going to be ten episodes as season one was. We'd been going for three or four months before season one came out, so by then we had the season worked out — we had it mapped out, we had the dynamics, we had the peaks and valleys, and where things were going to go. 
Then suddenly the show comes out and, as you may have heard, that went pretty well. Almost first thing Monday morning, Apple was like 'you have two more episodes, please do two more episodes!'. And we're like 'okay, alright'. 
But we can't just mess with the dynamics we'd created for the scenes, so we had to come up with two episodes that were kind of standalone. We had a bit of a discard pile of things we were thinking of doing, and one was the Christmas episode, and the other was an episode where we follow Beard around.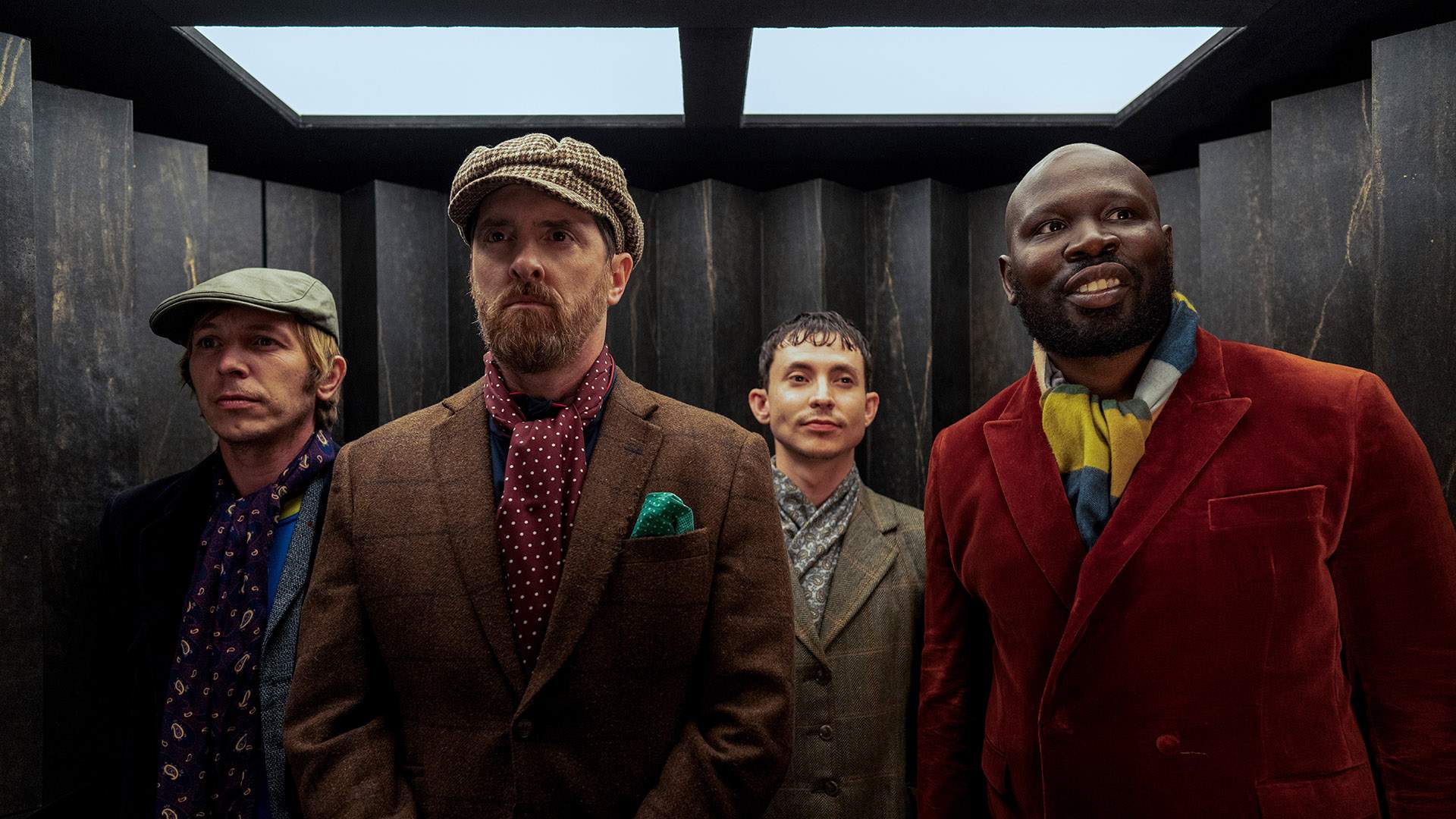 On top of that, where it's placed in the season, we really liked from sort of a mischief standpoint — because the episode before is a very big episode where a lot of big things happen, and by the end of that episode, you're definitely ready for next week and to find out where these things are going to go. And instead we go 'no, no, sorry, you're getting Beard for 45 minutes'. 45 minutes! 'Yeah, sorry, his is how it worked out'. And then, the week later, then we finally get back to business. 
So it was a happy accident, essentially, and it ended up being a pretty fun diversion."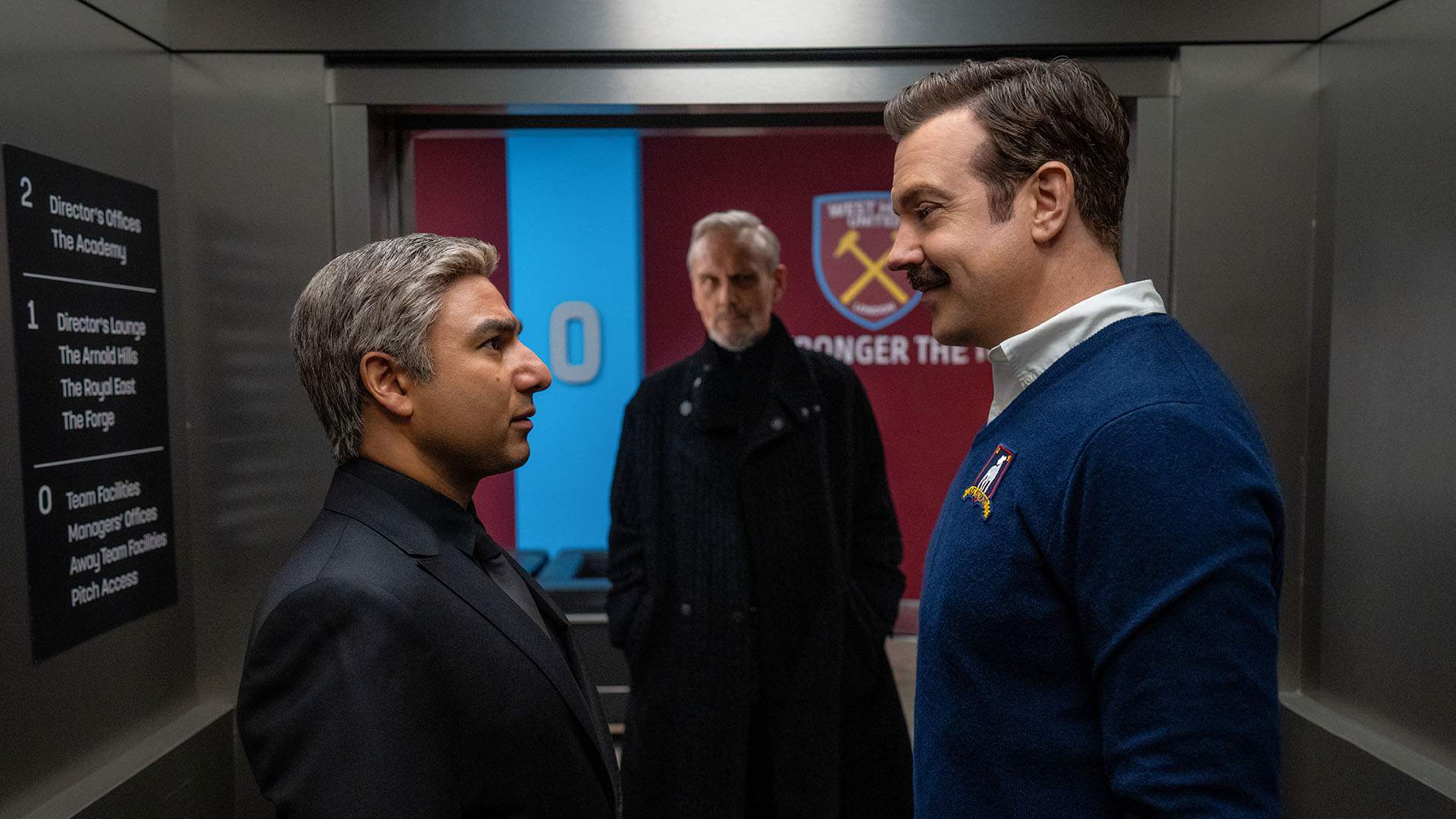 ON SEASON THREE'S BIG THEMES
"Certainly for Ted, he made a promise in season one if they ever got back he'd try to win the whole fucking thing. Well, now they're back, and he doesn't give promises lightly. So he has to decide if he's going to go whole hog with that and, if so, is that at the risk of the values that he's trying to teach?
And at the same time, Nate is off at West Ham having to figure out if what he's done or what he's doing, and what he has now, is worth the bridges that he's burned. With Rupert in his ear, that can go a few different ways. 
Other than that, we're looking at some of the same things we always have — vulnerability and honesty, and love and pain.
And every ten minutes or so, somebody apologises for something."
Season three of Ted Lasso starts streaming via Apple TV+ from Wednesday, March 15. Read our full review.
Concrete Playground Trips
Book unique getaways and adventures dreamed up by our editors