ARTS & ENTERTAINMENT
Brisbane Festival Has Unveiled Its Jam-Packed Local-Focused 2020 Program
Get ready for a huge light and laser installation, giant finches popping up on Brisbane landmarks and a live-action drive-in horror show.
Hosting a city-wide arts festival during a pandemic is no small feat, but that's exactly what Brisbane Festival is doing in 2020. Returning in its usual September slot to shower Brissie in culture for three weeks, this year's fest isn't ignoring the obvious, though. If you've been peering at the heavens during lockdown, playing tourist in your own town once restrictions started easing and just generally making the most of your own backyard over the past seven months, prepare to keep doing the same, Bris Fest-style.
When the festival takes over Brissie from Friday, September 4–Saturday, September 26, it definitely wants the city's residents to look up — at super-sized installations. The first, designed by audiovisual artist Robin Fox, combines lasers, lights and sounds in a huge onslaught of brightness and colour called Night Sky. Able to be seen from hundreds of spots around the city, it'll dazzle on Friday and Saturday evenings. And, it appears to replace the fest's usual Riverfire fireworks display — which was the source of controversy in 2019, when the fest's Fire Gardens centrepiece was cancelled due to a bushfire-induced total fire ban.
Then, there's Messengers of Brisbane. We hope you like giant Gouldian finches, because six of them will take up residence in the Brisbane CBD and South Bank, atop the Goodwill Bridge, and at QPAC, Queensland Museum and Brisbane Powerhouse. This is the latest large-scale art work by Dutch artist Florentijn Hofman, who is known for placing oversized animals in iconic spots. If you've seen footage of his massive inflatable Rubber Duck sculpture, then you'll know why you should be getting excited.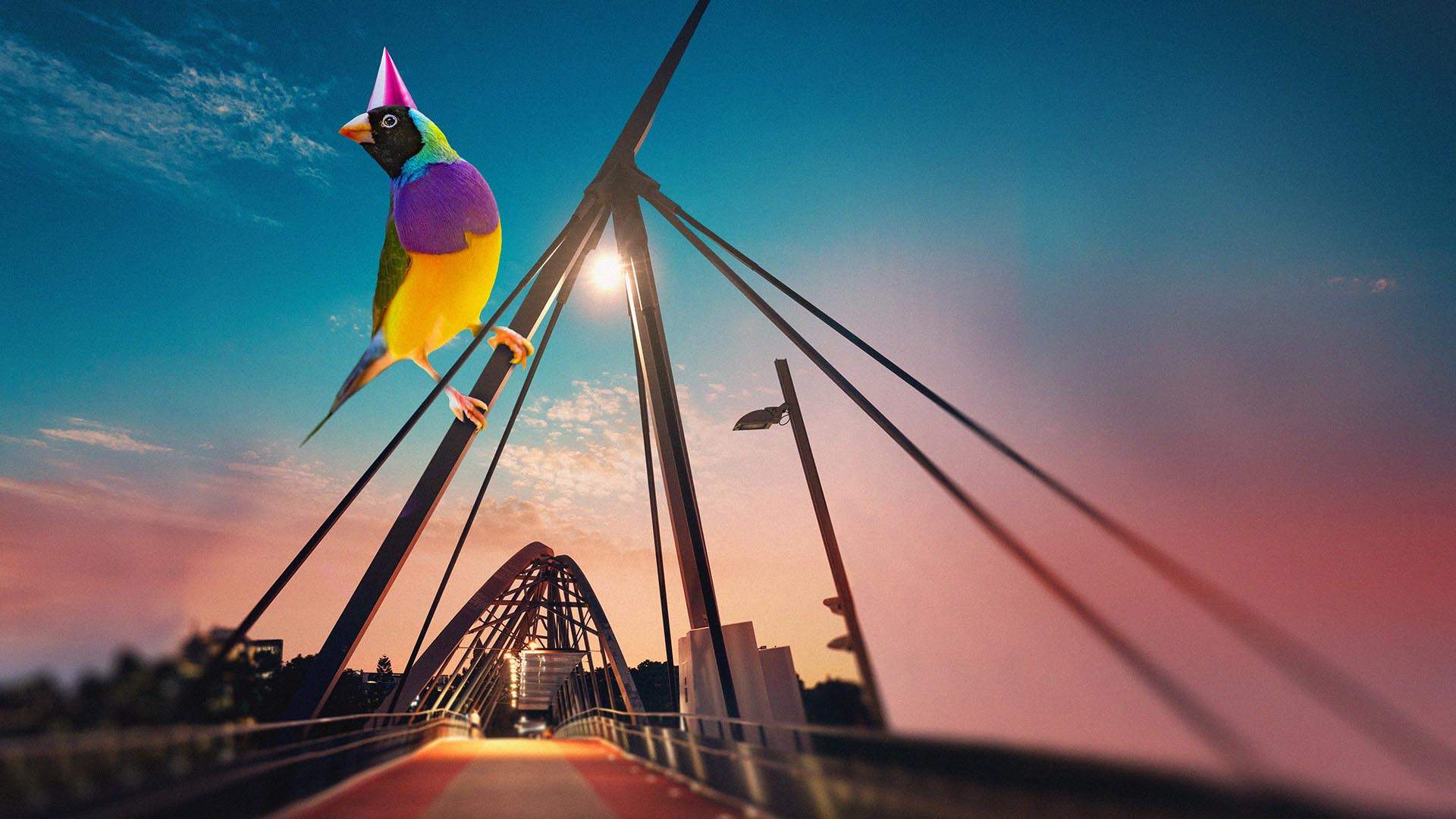 Hofman's inclusion on the 2020 Bris Fest program stands out for another reason — his is one of the very few projects on the bill from an international creative. Usually when the festival rolls around, it does so with a hefty lineup of overseas shows and performers; however, this year's event will feature more than 700 homegrown artists across 490 shows and 91 events. It'll also include 28 new works that have been specifically commissioned for Brisbane Festival, so Brisbanites will be seeing brand new locally made productions. Plus, 73 of the fest's shows will be free to attend.
From the first Bris Fest under new artistic director Louise Bezzina (ex-Bleach* Festival), highlights include kicking off with Jumoo, a city-wide smoking ceremony that pays respects to Brisbane's First Nations peoples; unveiling Circa's latest blend of acrobatics and dance, called Leviathan; and unleashing the powerful Silence, Karul Projects' dance work about the conversations that aren't being had with Indigenous Australians. The festival will also play host to Throttle, which turns a performance into a live-action drive-in horror movie — all while attendees remains seated in their cars.
A considerable portion of the 2020 Bris Fest program is designed to spread the love far and wide audience-wise, too, with the festival having a presence in 190 Brisbane suburbs. That includes hosting 24 gigs in different Brissie spots as part of the Street Serenades series; flash mob-style dancing in the street with All You Need is Love; and puppets and cheer squads taking over local bikeways and walking paths at Exercise Surprises.
Also on offer as part of this year's fest: Embassy, which pays tribute to the Aboriginal Tent Embassy first assembled in 1972; smartphone-based mass game and social experiment Avoidable Perils; a huge black-and-white fancy dress party for Megan Washington's latest album Batflowers; a gig by Brissie legends Custard; and a time-capsule artwork about life under lockdown called Snapshot. And, over at West Village, Hiromi Tango's installations Brainbow Magic and Rainbow Circles (Healing Circles) will provide a burst of fluorescence, as well as glowing rainbow arches.
Brisbane Festival will run from Friday, September 4—Saturday, September 26 — for the full program, and to buy tickets, head to the festival's website.
Published on July 28, 2020 by Sarah Ward