A Gold Coast Hotel Is Letting You Peer Into Other People's Rooms and Lives
Because everyone's a voyeur — and a performer.
We've all wondered what goes on behind closed doors. It's the whole reason that gossip magazines and reality TV exist, after all. But, there's a difference between reading about it or watching it on television, and actually walking into someone's hotel room and seeing it with your own eyes — and QT Gold Coast is currently letting people do the latter.
At the first Hotelling program in what is hoped will become a regular event, audiences explore the building from the penthouse down to the tennis court; however they're privy to more than fancy '80s-style baths in the former and somewhere to play sports at the latter. They also meet the inhabitants, from a hostess living right at the top, to a visiting IT exec fighting with his wife, to an otherworldly presence channelling a rock star. Okay, okay, so they're actually actors that are playing a part in a site-specific performance piece put together by Bleached Arts, QT Gold Coast and City of Gold Coast, but they're replicating the weird, wonderful, over-the-top and ordinary things that go on the mini society that is a hotel (and a hotel on the Gold Coast in particular).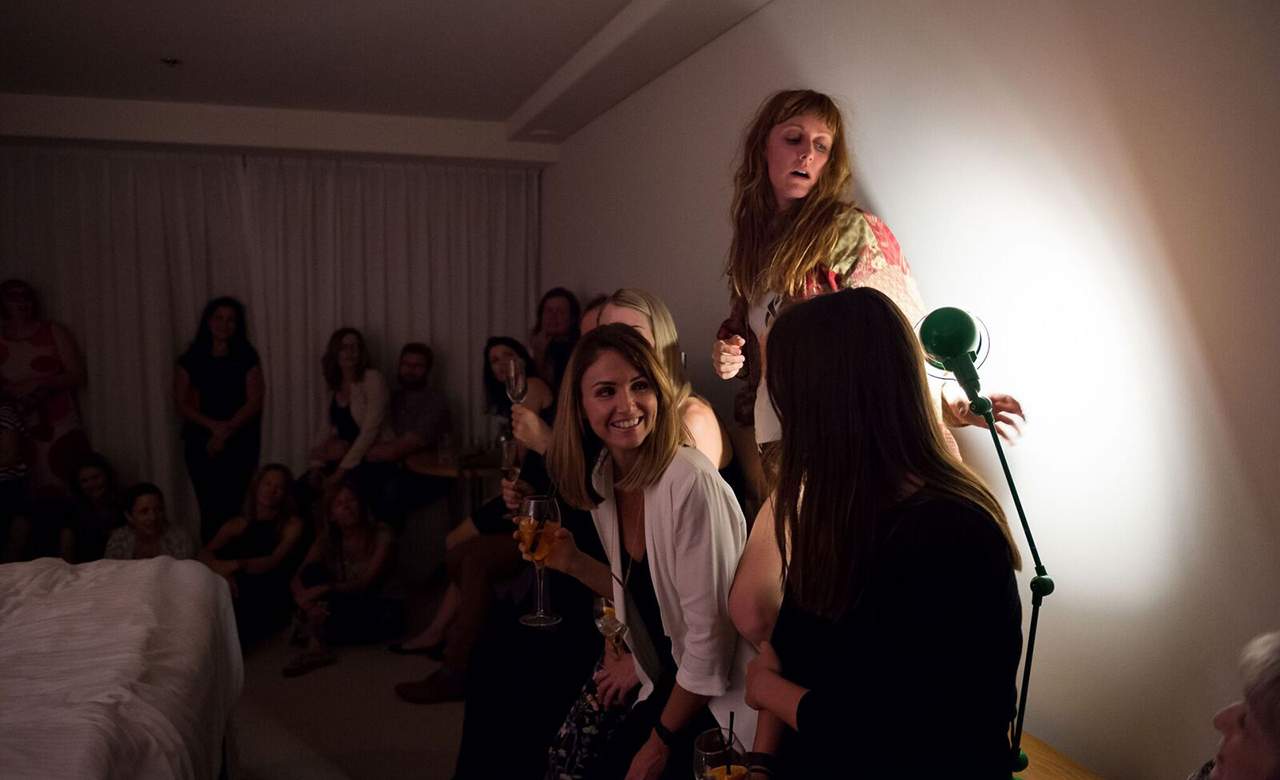 First cab off the rank is Slavka, partying on the highest level of the place that just last week hosted the Thor: Ragnarok wrap party. She greets attendees warmly, gets them dancing, and then sends them on their merry way. With the event called Down The Rabbit Hole, that's mostly the direction everyone is then headed, with multiple stops. At one of them, the aforementioned Larry from Perth lets you into his room, where you'll overhear his phone conversation, help sing happy birthday to his son Morgan, and watch his reaction as his marriage almost falls apart.
Also on the itinerary: a homage to rock-gods like Mick Jagger, Iggy Pop and Patti Smith, which will make you feel like you're in their rooms. Plus, there's some more adventurous fun on the agenda when you enter the domain of a Gold Coast-based sex counselling service, Rhythm Stick, that has chosen QT Gold Coast as a venue to solicit new clients.
Or, do what absolutely everyone does when they're somewhere with plenty of high-rises: try to look into a neighbouring tower. Here, international surveillance artist Joao Montessori customises his signature artwork, In-Focus, to Gold Coast's hotel landscape, inviting you to stare in at a neighbouring block. Yep, it's a little bit like Rear Window.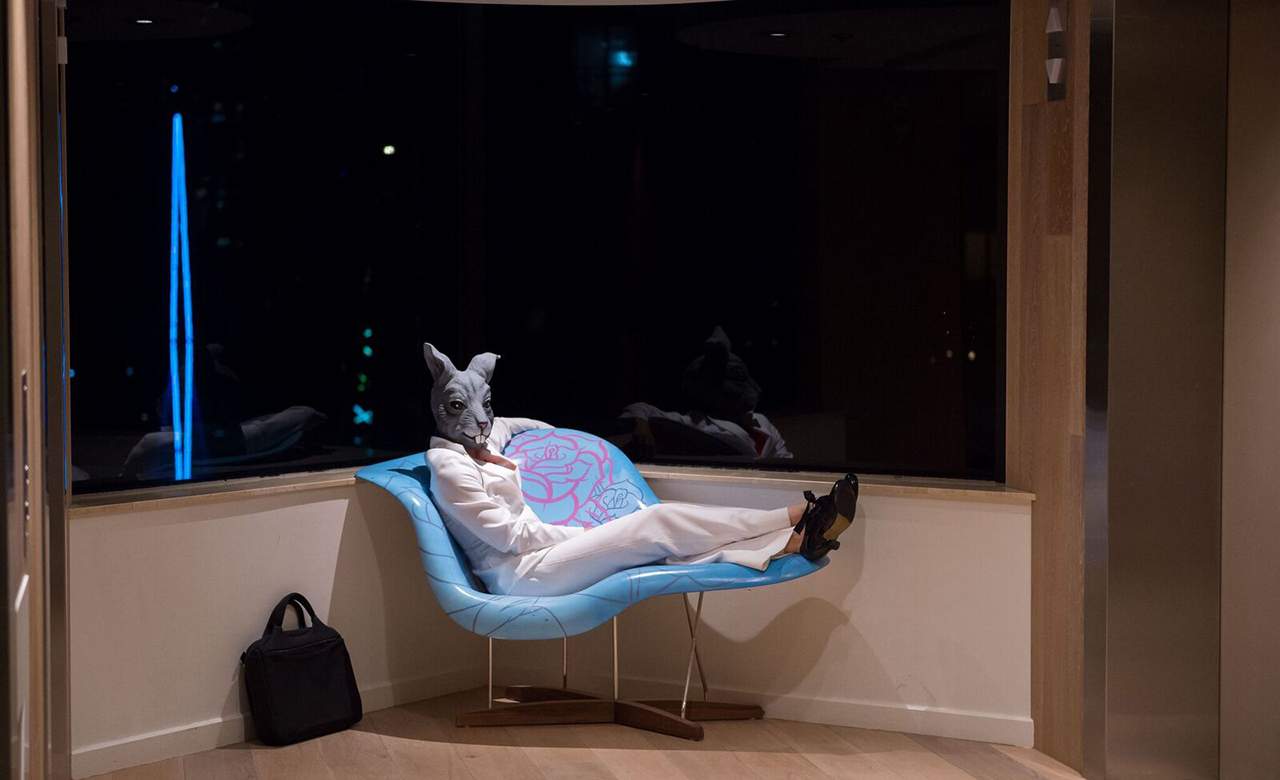 Over the course of the three-hour event, attendees go up and down between different rooms and peering into different lives in four groups — and no group has the same experience, or sees the exact same performances. Don't think the hallways are safe, though. There, you just might spy a Russian wrestling his bear-hat; a tall, twitchy and somewhat creepy Donnie Darko-esque rabbit, a pyjama-clad woman looking for her best bunny buddy (yep, rabbits are a thing), a go-go dancer who doesn't dance and a lost Kiwi.
There's more, including several interactive components — but, at something like Hotelling, much of the fun is about experiencing it for yourself. And, about getting into the swing of things; everyone's a voyeur and a performer down deep, after all. Just a word of warning, though: you'll be in close quarters with many, many people in a whole lot of elevators. And, even if you've never had vertigo before, the experience of continually getting into a lift just might cause your first bout (we're speaking from experience).
Hotelling takes place at QT Gold Coast from November 4 to 5. For more information, visit the event website and Facebook page.
Images: Matt Marny. Slavka, Penthouse, performed by Nadia Sunde; Like A Rolling Stone, Room 706, performed by Kate Harman; The Crying Man, Room 306 performed by Todd MacDonald; In-Focus, Room 1915 performed by Hayden Jones with Steph Pokoj, Reuben Witsenhuysen, Marco Sinigaglia and Tammy Zarb; The Otherworld, Hallways.