Brisbane has seen a dumpling invasion in the last year. Prior to this, dumpling enjoyment was restricted to a trip out to Sunnybank or a meal of yum cha in Chinatown. Now we have trendy and delicious dumpling places scattered so thickly throughout the city that it is hard to walk 100 metres without the allure of these little bundles of joy drawing you in. It is for this reason that Concrete Playground has narrowed down our top five dumpling places in Brisbane.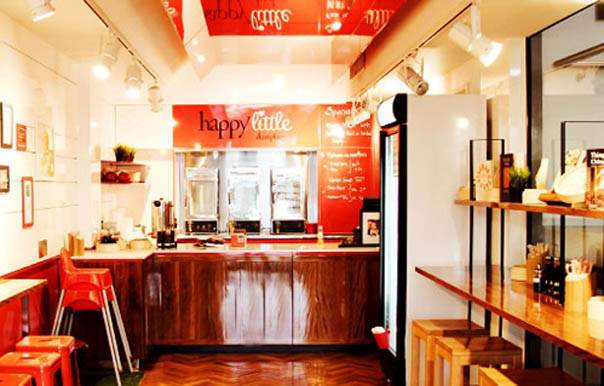 This Happy Little place located in the vibrant James Lane is as joyful as its name suggests. With complimentary bottomless Jasmine tea and fillings such as Prawn Har Gow - plump prawns with a hint of bamboo, it's little wonder that they had to open a second store (the original HLD is located in Bulimba for all the south-siders out there!). If you do however overdose on dumplings (impossible!) the desserts on offer are a must try. If you can't choose between the mango pancake and the black sticky rice pudding, you might like to take both home, surround yourself with soft furnishings, indulge and let the blissful food coma take over you.
Shop 10, 65 James St, Fortitude Valley; 07 3854 0741; www.littledumplings.com.au


Things to bring to Harajuku Gyoza: 1. Your inner anime character 2. A sense of celebration. 3. An empty stomach. 4. Paracetamol for your ear-ache afterwards. From the minute you step through the giant heavy sumo-like door, you are greeted with a loud "Irasshaimase!" Japanese for "Welcome, come in!". The gyoza (dumpling) menu is impressive and for all the lovers of these parcels of pleasure, the apple gyoza dessert is a bucket-list worthy treat. Without a doubt, Harajuku Gyoza is renowned for its fun atmosphere and gorgeous staff equipped with some serious pipes, don't believe me? Order a shot of celebratory Sake and watch what happens.
394 Brunswick Street, Fortitude Valley; 07 3852 4624; www.harajukugyoza.com


Every wild night out in the Valley should begin and end with dumplings. Lucky for you, Brunswick Social provides a classy yet relaxed atmosphere with it's indoor subdued décor and soft lighting. With dumplings and drinks aplenty, it's a wonder why you would even stray from this place. The chicken and chive dumplings as well as the chicken sui mai are stand outs. Talk about the stock market over fish cakes or plan your next boozy encounter over a Singapore Sling. Whatever you fancy, it's guaranteed you'll probably end up back here for a midnight fix anyway.
367 Brunswick Street  Fortitude Valley; 07 3252 3234; www.thebrunswicksocial.com


One might scoff at the mention of this place and wonder how on earth the humble dumpling and fine dining go together. Sono Portside offers it's guests a modern yet traditional Japanese dining experience, and where would Japan be without it's glorious gyoza? Although there is plenty of posh nosh to choose from on the menu, Sono's pork and chive gyozas are grilled to perfection and offer undercover dumpling devotees a quick fix from the fancy food on offer.
39 Hercules Street, Hamilton; 07 3268 6655; www.sonorestaurant.com.au


The dumpling chefs at this restaurant might as well be rockstars. It's often one finds themself casually walking the streets of Southbank only to stop and stare through the glass windows of Bamboo Basket's open kitchen and marvel at the craftsmanship of these heroes. Within minutes and with origami-style precision, bite-sized dumplings are formed right in front of you. You shed tears. You have just witnessed a miracle.
The real wonder of nature however, happens once you enter the restaurant and partake in the delicious Shan-Dong style dumplings or any of it's pan-fried friends on the menu. Prepare yourself for endless choices and your very own food baby at the end of the night.
Shop 1003 - 1004/199 Grey Street  South Brisbane; 07 3844 0088; www.bamboobasket.com.au
Published on October 15, 2012 by Julia Mawande