ARTS & ENTERTAINMENT
You Can Now Buy Joyrides in a Functioning Batmobile
Your date just got significantly more impressed.
Everyone knows Batman is the best superhero. Superman and Captain America are too pristine and dull, Spiderman whines a lot and had an unfortunate stint as an emo kid in 2007. And though Robert Downey Jr is nearly enough to sway me on side with Iron Man, he just can't beat the brooding growl and moral complexity of the Dark Knight. As such it's no surprise that Batman fanatics are a particularly passionate breed. But what one of them has done now will truly baffle you.
Zac Mihajlovic, a die-hard fan from Sydney, has spent two years creating a custom-made Batmobile. As a replica of the 1989 model used in Tim Burton's classically cartoonish Batman films, the six-metre-long chassis had to be custom built — its body panels were actually spares from the original set that were imported from the US. Completed with such skill and dedication, the resulting masterpiece was actually deemed roadworthy. Zac's been driving it around for the last few years, quickly racking up street cred as either the coolest or nerdiest man in the country (depending on your allegiances to commemorative geek memorabilia).
Now, to mark the 25th anniversary of Tim Burton's original film, this absolute champion is renting out his ride to Sydney residents via Groupon. (We're not going to be offended if you immediately leave us for that link). For $250 you can experience 20 minutes in the passenger seat, or $2,500 will get you 'The Gotham Package' — a four-hour joyride with ten friends.
To put this experience in perspective, this is the only Batmobile in existence in the Southern Hemisphere besides a prop at Movie World. Between 10-12 are believed to be around elsewhere, but Zac believes his is the only one with legit street registration. The creator himself has only taken it out casually a few times (because of the huge fuss it creates), and it's been predominantly utilised for kids in the Make-A-Wish foundation. Honestly, I don't even know why you're still reading this. Book it. Now.
If you're not in Sydney, or don't have $250 lying around for joyrides in fictional cars that have magically manifested themselves into reality — not everyone can be as loaded as Bruce Wayne — then you'll have to settle for some mopey internet stalking instead. The rest of Zac's work/his life in general is totally worth checking out. Under the moniker of Batmobile Australia, he rents his Batmobile for weddings and conventions, and also shows off his accompanying Batbike and Batsuit. It's entertaining to flip through, but browser beware: it will dwarf every accomplishment in your own life.
As for everyone else, this is your opportunity. You can be the hero Sydney deserves, but not the one it needs right now. You'll be hunted, but you can take it. Because you're not a hero. You're a silent guardian. A watchful protector. A Dark Knight.
This offer expires Sunday, June 22 so get in quick.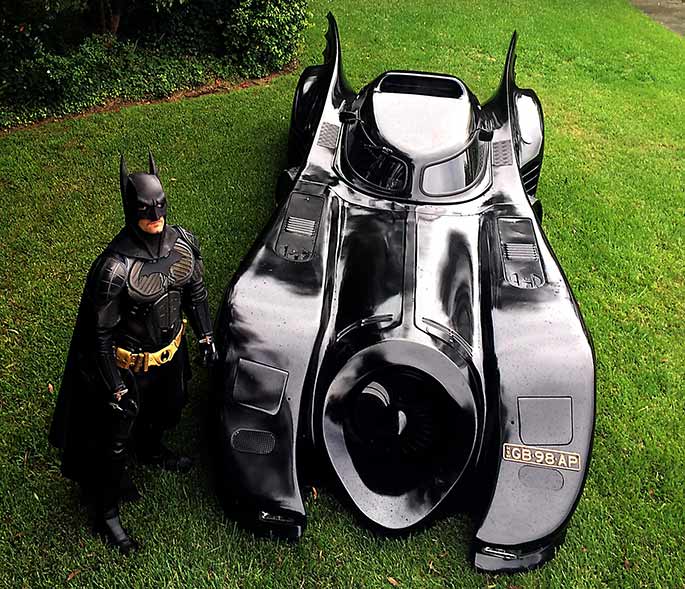 Via Gizmodo.
Published on June 12, 2014 by Meg Watson