Turning Tongan Pride Into the Feel-Good Hit of 2023: Damon Fepulea'i and JP Foliaki Talk 'Red, White & Brass'
When Tongan rugby superfans in Wellington claimed to be a brass marching band to score World Cup tickets, their story was always going to inspire a movie.
Whatever lengths you think you'd go to in order to watch your favourite sporting team, the Wellington residents that inspired big-screen comedy Red, White & Brass have you beat. In 2011, New Zealand hosted the Rugby World Cup. As part of the competition's games in the Aotearoa capital, Tonga was set to play France. Understandably, the local Tongan community was thrilled — and, amid painting the town red and white, also determined to go along.
The avid fans at one particular Wellington church hit a snag, however: with tickets to attend the match both expensive and popular, they didn't end up with seats. Then, they lucked into a unique opportunity. If they said they were a brass marching band, exaggerating their experience with instruments — which was largely zero — they could perform on the field before kickoff, and sit down to watch their heroes afterwards.
It's the kind of story that sounds like a pure Hollywood concoction, but it genuinely happened to Halaifonua (Nua) Finau and his family. Now, it's exactly the tale at the heart of NZ comedy Red, White & Brass. Not only stepping through this wild IRL twist of fate, but celebrating Tongan pride and māfana in the process, the resulting movie is an instantly heartwarming crowd-pleaser. It has also proven a big hit, both at home where it premiered in March, and now that it's both doing the film festival circuit — complete with a stop at the Sydney Film Festival — and opening in general release in Australian cinemas.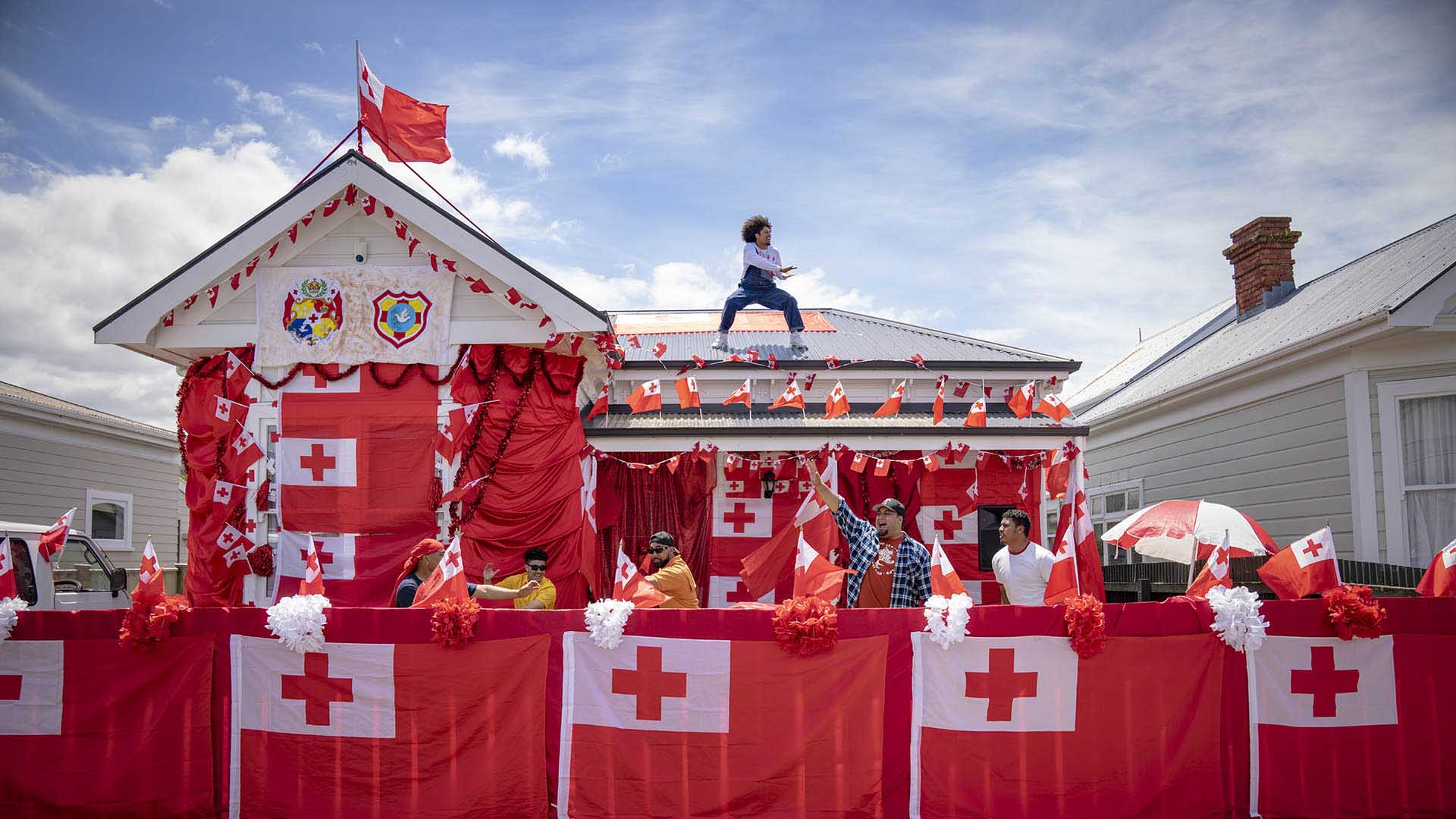 Nua co-wrote the script, and also produces, with first-time feature director Damon Fepulea'i and on-screen movie debutant John-Paul Foliaki taking on a daunting task. How do you turn someone's real-life experience into a movie with them right by your side? That was Fepulea'i's job as both Red, White & Brass' helmer and co-scribe. How do you play the person that's there on set with you, including with his parents as your character's parents? That was Foliaki's gig as fictionalised on-screen ringleader Maka, in his first-ever acting credit after coming to fame as a NZ Popstars personality.
With Red, White & Brass now screening in Australia, Fepulea'i and Foliaki chatted with Concrete Playground about their Red, White & Brass journey, including discovering the true story at the movie's core, working with Nua and his family, making a love letter to the Tongan community and the response so far.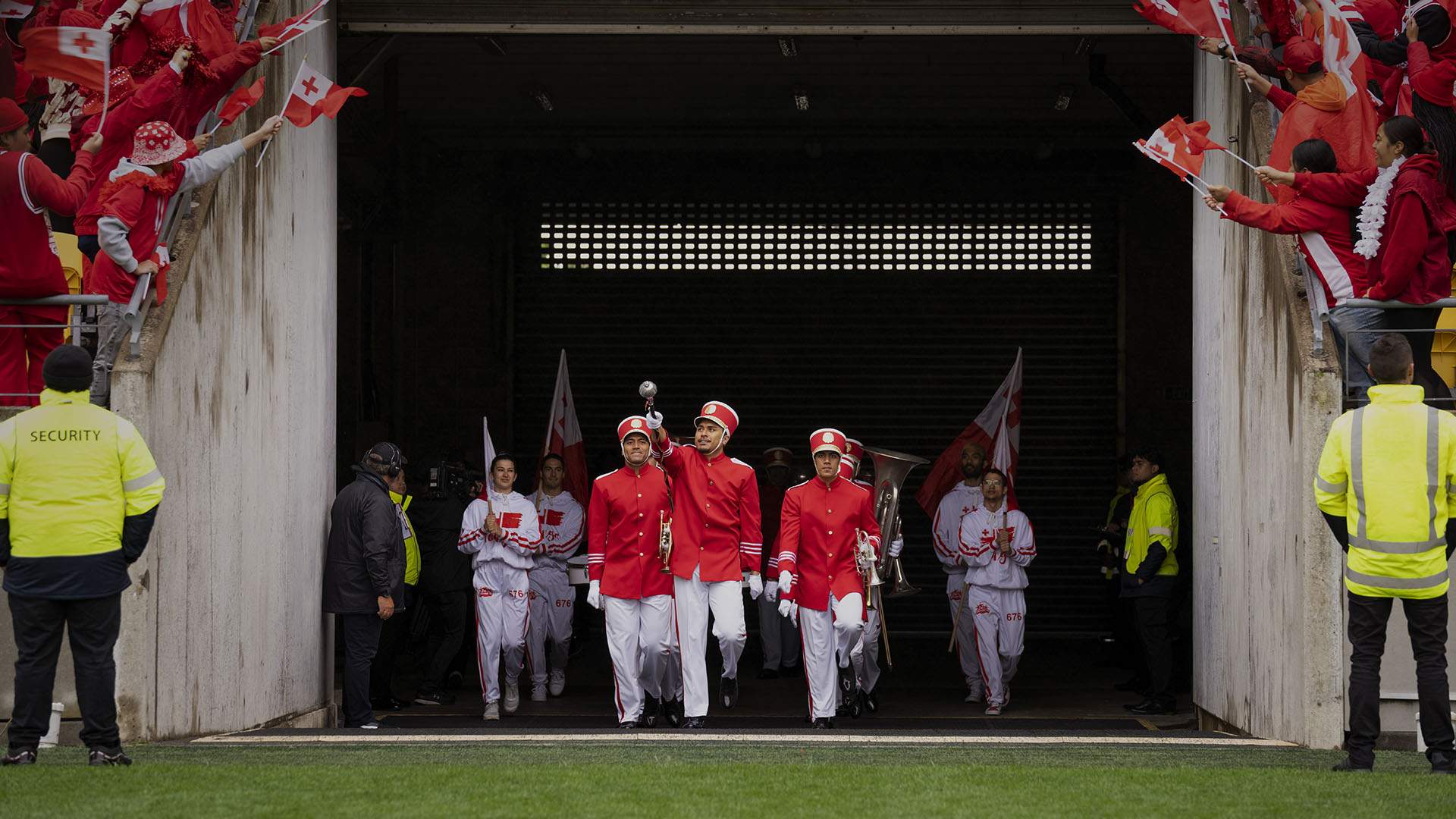 ON WORKING WITH A STORY THAT'S SO WILD THAT IT CAN ONLY BE TRUE
Damon: "Writer and producer Halaifonua (Nua) Finau, it's basically his story, his family's experience. So he's an actor and a producer, and he's was just sort of telling people the story — and everyone was like, 'oh man bro, this is a really great story, you've gotta turn this into a film'.
And him being like the real-life Maka, he basically just shopped the idea around and then ended up getting the film made. So when I was brought on, he told me the story and I was really connected to it as well, and we worked together and wrote the script."
JP: "Honestly, when I got the script, when I got that audition — when I got the audition and when we did that first table read — that was something special. That's the first time I'd heard about it properly, and knew the story as based on a true story, and also got an insight to how special the project was going to be."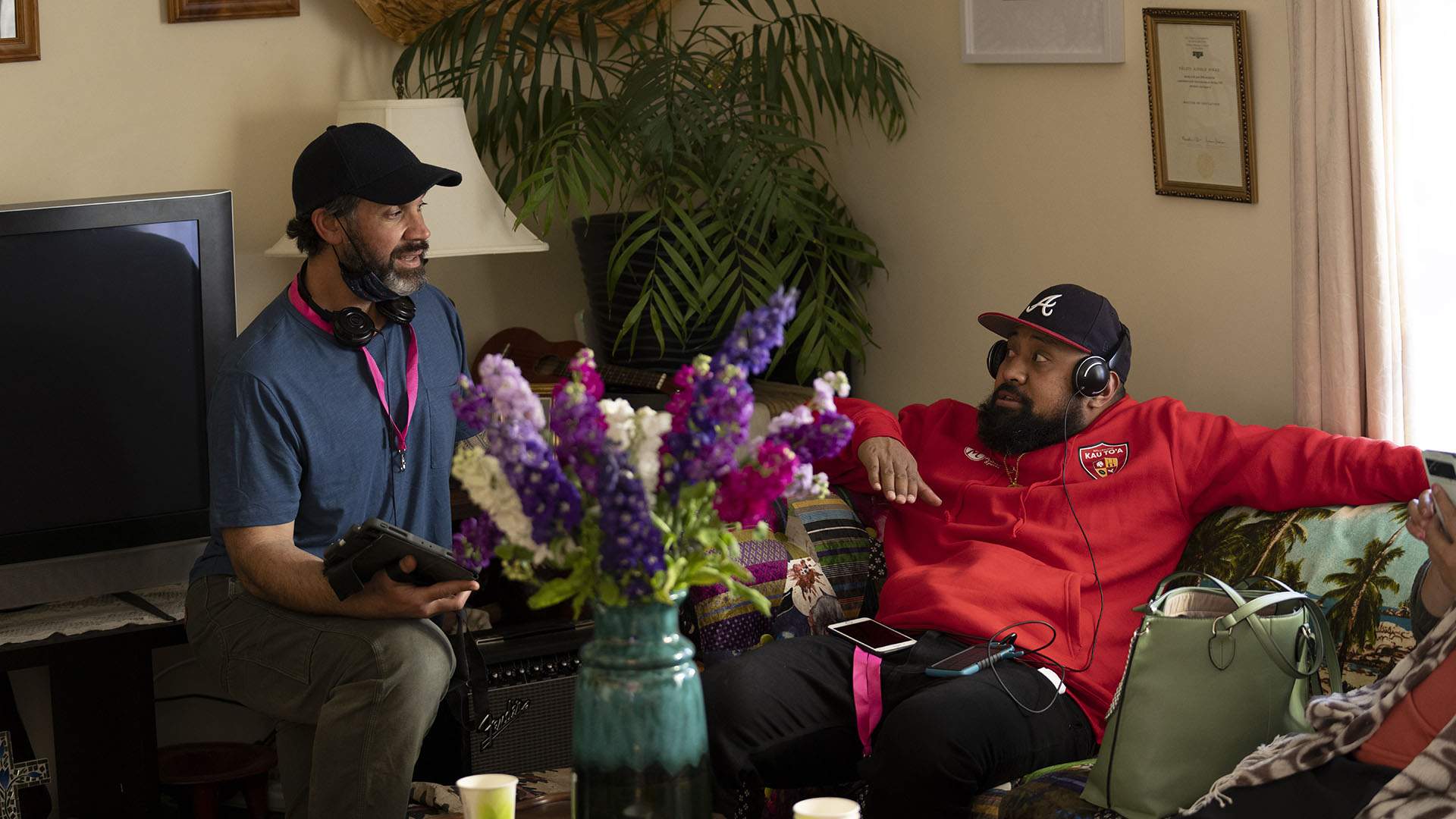 ON TURNING REAL-LIFE EVENTS INTO A MOVIE WITH THE PERSON WHO LIVED IT
Damon: "I think Nua and I had a really good chemistry when we were writing, because I think I had more experience as a screenwriter, but Nua is such a natural, gifted storyteller. So he would come in and yeah, lots of stories. Whether they're true or not, who knows?"
JP: "Yeah!"
Damon: "But actually, he would just tell stories, and we would talk and I'd ask him questions. I have a documentary background as well, so I'm always genuinely interested — and me being non-Tongan, a lot of it was just like 'what makes Tongans Tongan?'.
So we explored that during the writing process — and it was actually, looking back, it was really quite a joy because we I think we complemented each other in terms of me being more kind of structure-focused, having experienced writing feature-length films, but also him bringing the truthfulness and the just the funny stories. He just would talk and he wouldn't even know he's being funny.
It would just be like 'oh bro, tell this' — he'd go on these long stories and it'd be like 'oh, that's a scene'."
JP: "It's like the real-life Maka and Veni from the movie."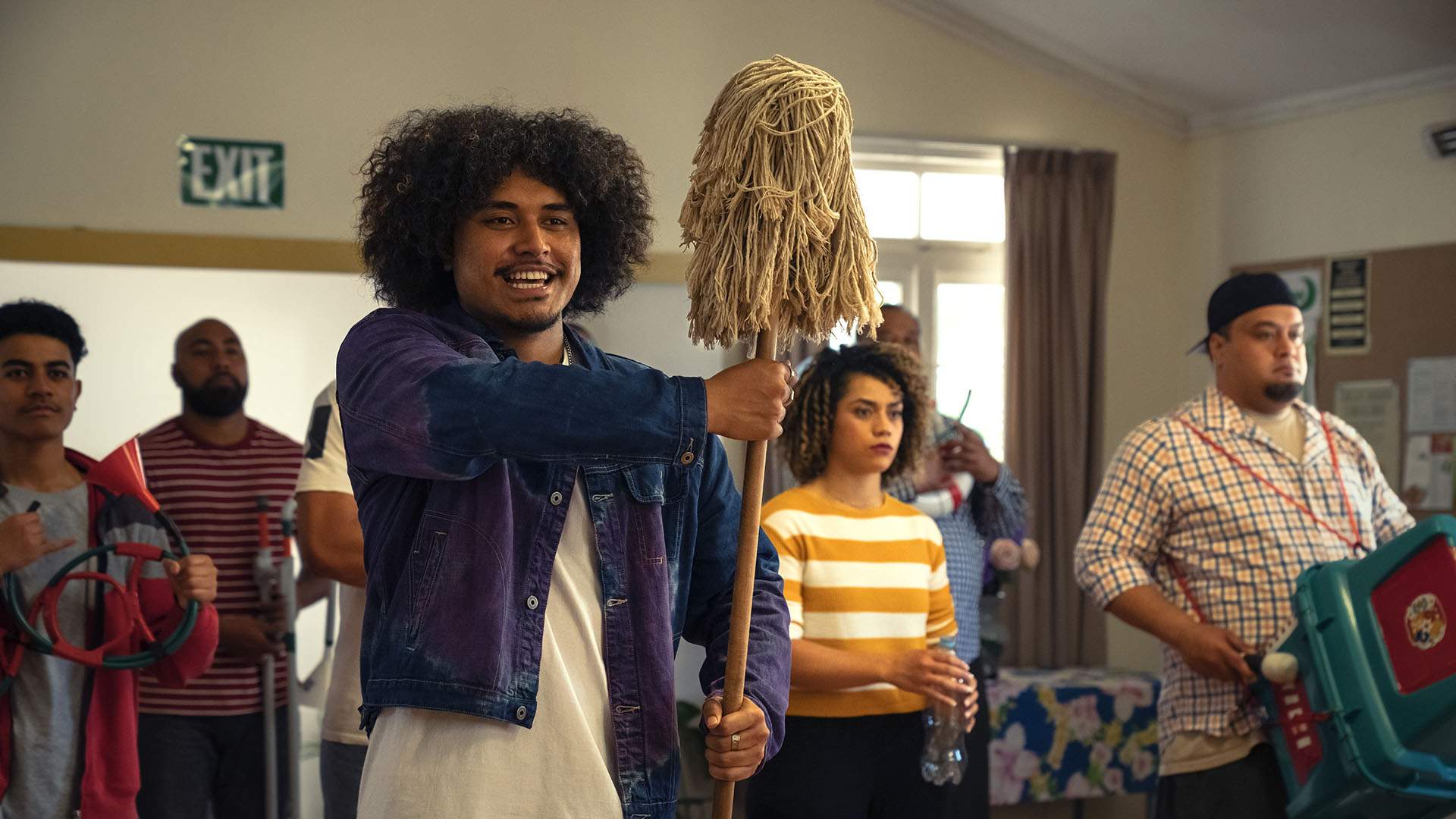 ON STEPPING INTO NUA'S IRL SHOES WHILE HE WAS THERE WATCHING
JP: "I think at first I had a lot of doubts about myself being able to do good job of the role. But I think also just having him on set, yeah, I did feel like 'oh, man, I need to bring my A game'.
But it was also super helpful, and he was really supportive — and he was definitely open to Maka being my own interpretation, and to bringing someone to life that I could relate to as well.
And also just asking him questions when I wanted to. And his mum and dad in real life played Maka's parents in the film, so they were there and I could ask them lots of questions.
We all have that type of cousin. To be honest, I'm that type of cousin to a lot of my cousins — so that was good. I had multiple sources that I could pull from."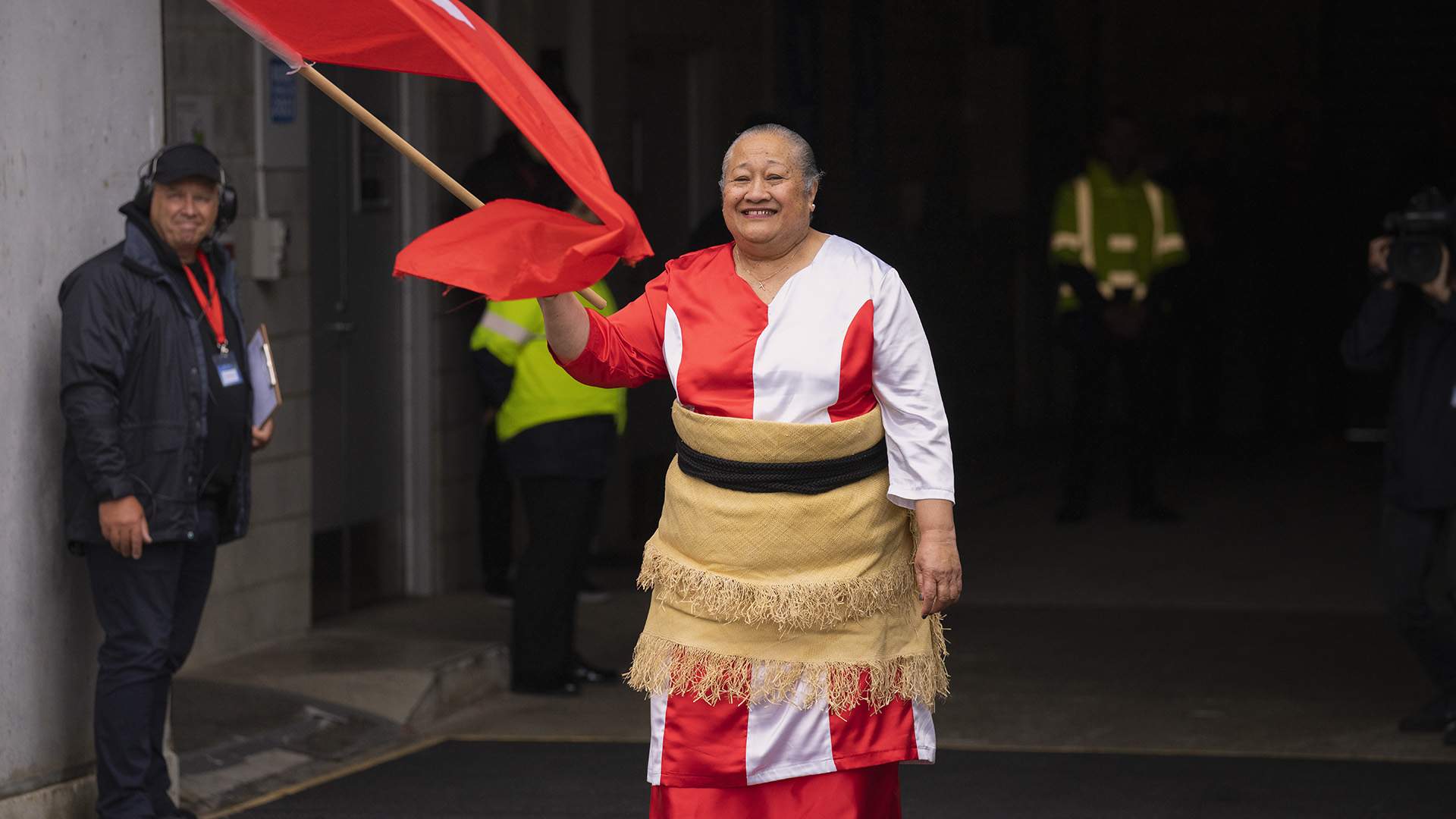 ON HAVING NUA'S PARENTS PLAYING MAKA'S REAL PARENTS
JP: "For me, I think it was the kind of thing that — priceless may be the wrong word, but I think what I'm trying to say is that's the kind of thing that you almost can't cast or you can't wish for. Or, you wouldn't even think that's possible that they're writing the story about this family and the real parents from that family are going come play the parents.
You know, no acting experience, Tongan through and through. They are part of the older generation of Tongan parents where they would think that this kind of thing is a joke, and you just do it when you're mucking around, or you do it for Sunday church productions and things like that — but it's nothing too serious. So to have them support their son and his story, and their family story, but also to be on the set, yeah, it meant a lot.
It was sometimes really hard because it reminded me a lot about of my parents and my grandparents, and the journey that we took to get there, and all those themes of migration and having limited resources, and reaching an end goal and not worrying about what people say about you. And, that constant battle between church culture and family.
Those themes are able to be brought to life — one, because of the cast, but also because the parents from the real story were there actually on set as well."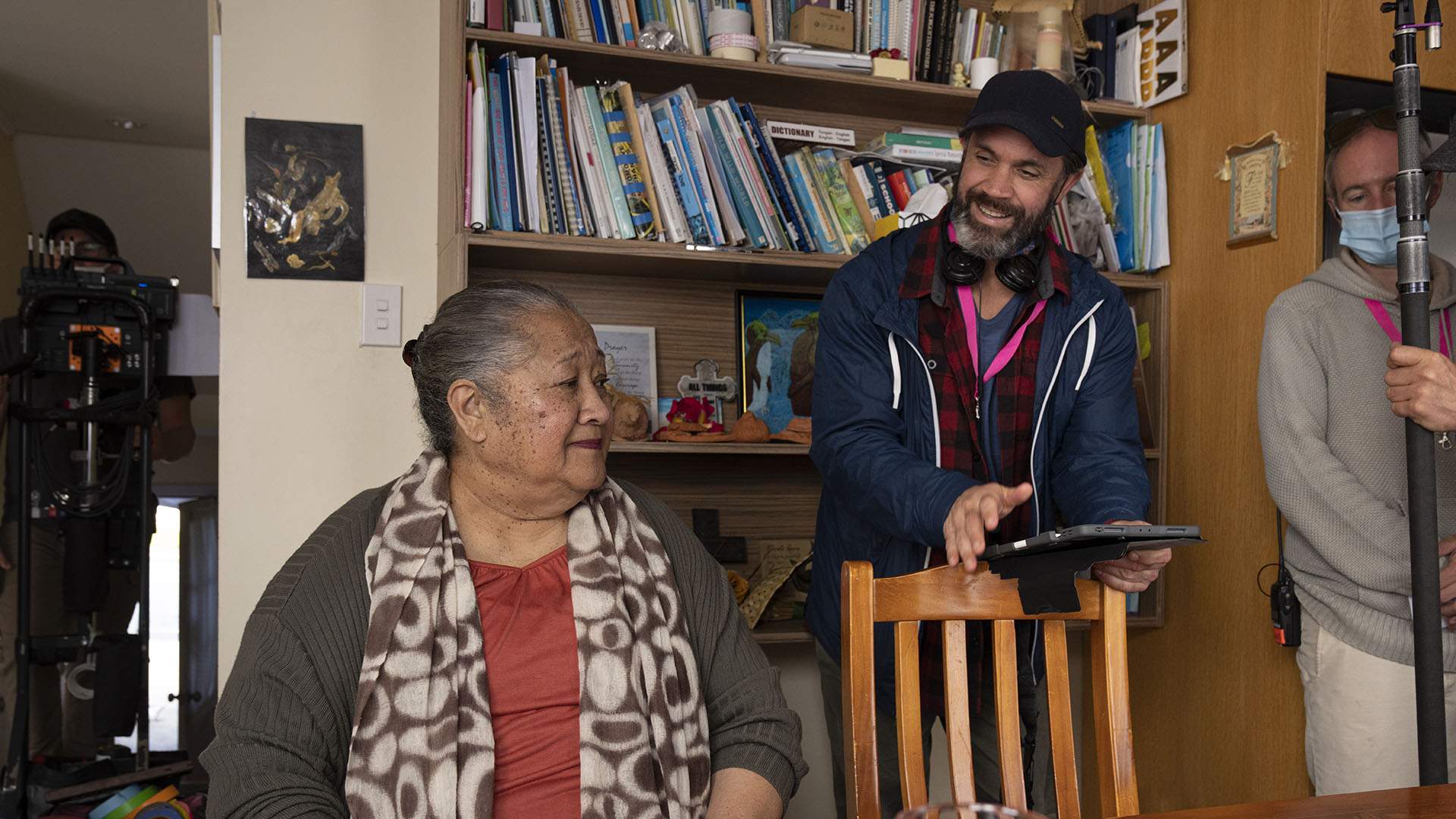 Damon: "Yeah, they brought that authenticity that you just couldn't get from actors, I think. I don't know if there was actually that much acting going on — it's just them being themselves.
Sometimes, in terms of directing, it'd just be like 'oh, what would you say to Nua? And how would you say it?'. And they just do it. It's just how they how they'd say things. It was an amazing blessing to have them."
JP: "I was so proud of them, too. Because I'd see them highlighting their lines, learning their lines — and one of them forgets their lines, and the other one is trying to correct them. And they're talking to each other on Tongan on set, and it's so funny. They did such a good job."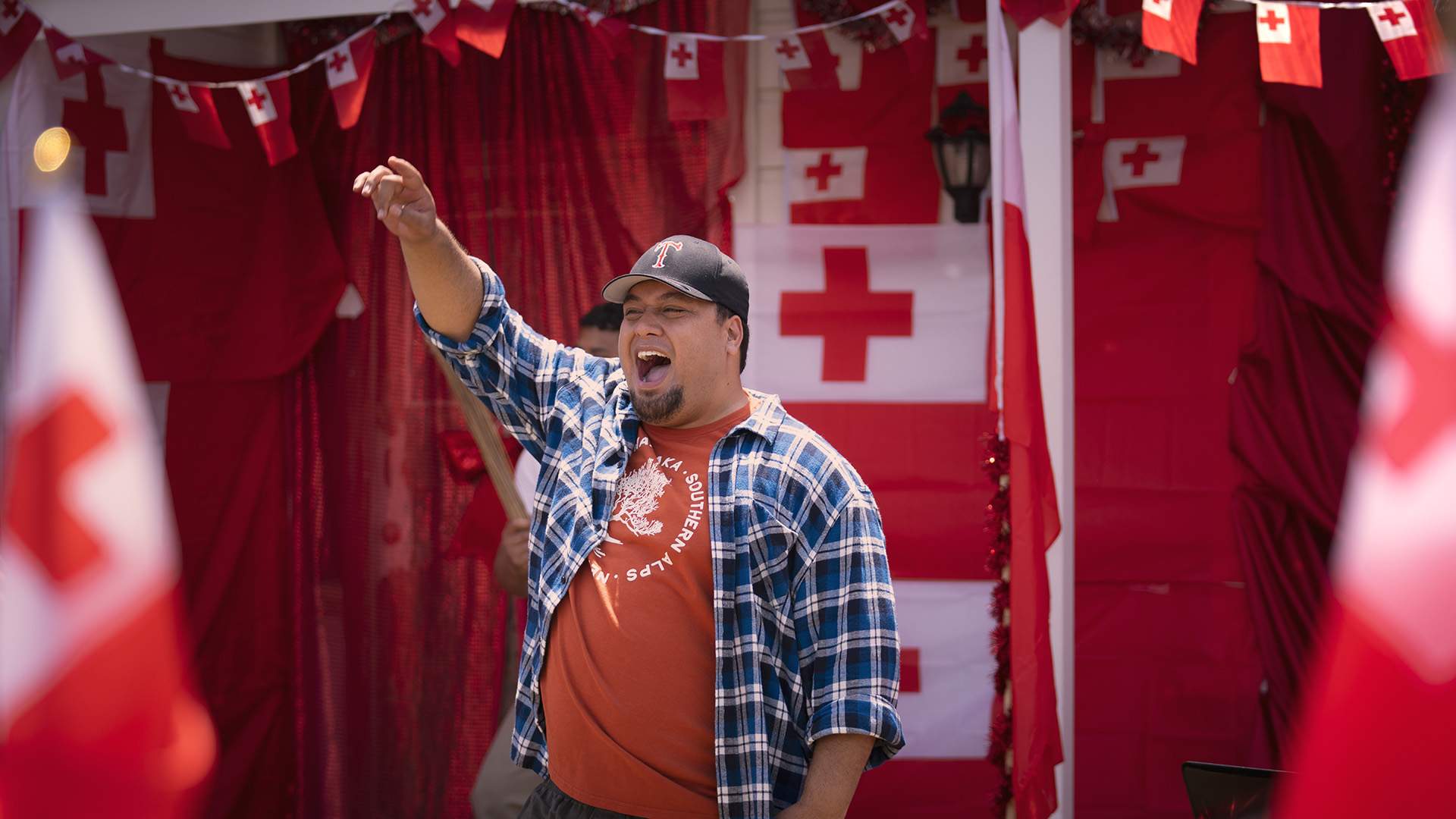 ON MAKING A LOVE LETTER TO THE TONGAN COMMUNITY
Damon: "It was always meant to be a feel-good film right from the start. The game plan was always to capture that Tongan energy and the extraness. And the film explores what it means to be Tongan — and the way that Tongans go to these great lengths in showing the amount of pride that they have for their country and for their family.
It's really about capturing that and the energy to go with it."
JP: "A love letter to the community — that's such a good way to put it. I think when you think about being Tongan and and all the things that you love about being Tongan, a lot of that is displayed through the film. And not even just the things you love about being Tongan, but also the many challenges that we go through being New Zealand-born Tongans, or Tongans that, obviously, a lot of us have migrated to Australia, New Zealand, America and beyond.
So all those challenges that we face, it was so cool to be like 'man, regardless of where we've moved overseas, we all share this and have this shared experience, and we can make a good movie out of it'."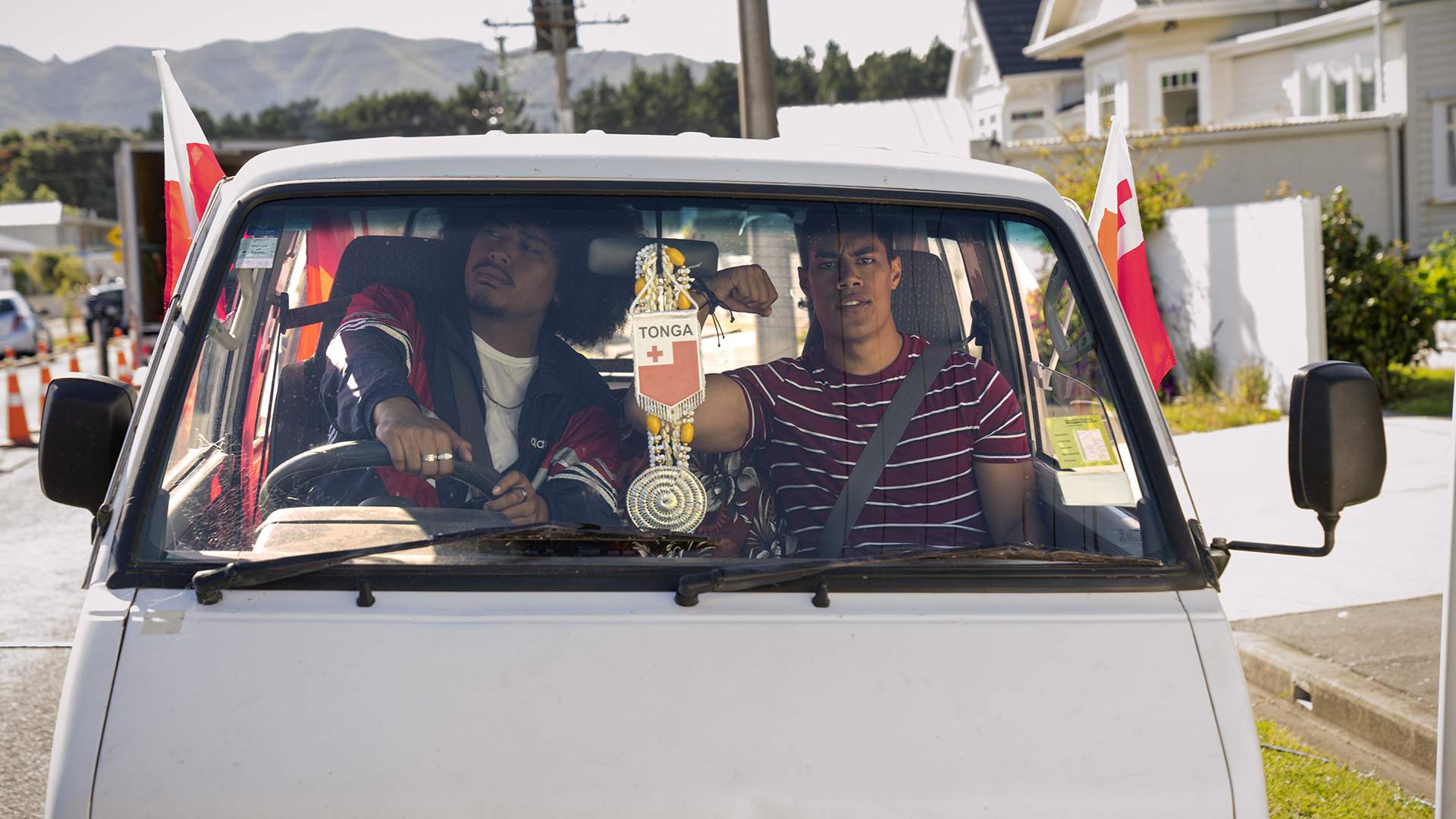 ON THE RESPONSIBILITY THAT COMES WITH SUCH A STRONG ODE TO TONGAN CULTURE
Damon: "It was really important for us right from the start that we wanted to tell the story as authentically as possible, and also to represent Pacific culture as real as possible, and to not make it feel like it was like we were pandering to an audience, or taking out things just to make it easier to watch for non-Tongans.
We always wanted to make sure the Tongan language was in there, and it was realistic, and that all the details from the costumes to the props were also all there. We really wanted to make sure that we got it right — and for me being a non-Tongan, I wanted to make sure that what I was doing represented Tonga in a good way as well."
JP: "I think from an artist perspective or performance-wise, Tongans, we support 100-percent over and above — and we let it be known to the whole world that something is Tongan or something's happening that has to do Tonga. But when they don't like something, they also come out in full force as well.
So I was very nervous about that. It was my first official acting role and I really just wanted to do the role justice, and make my family and my country proud, because I could see after our first reading and getting the script that it truly was going to be something special.
And you don't know until you see the final cut, so I'm really happy that translated well and that we were able to do that."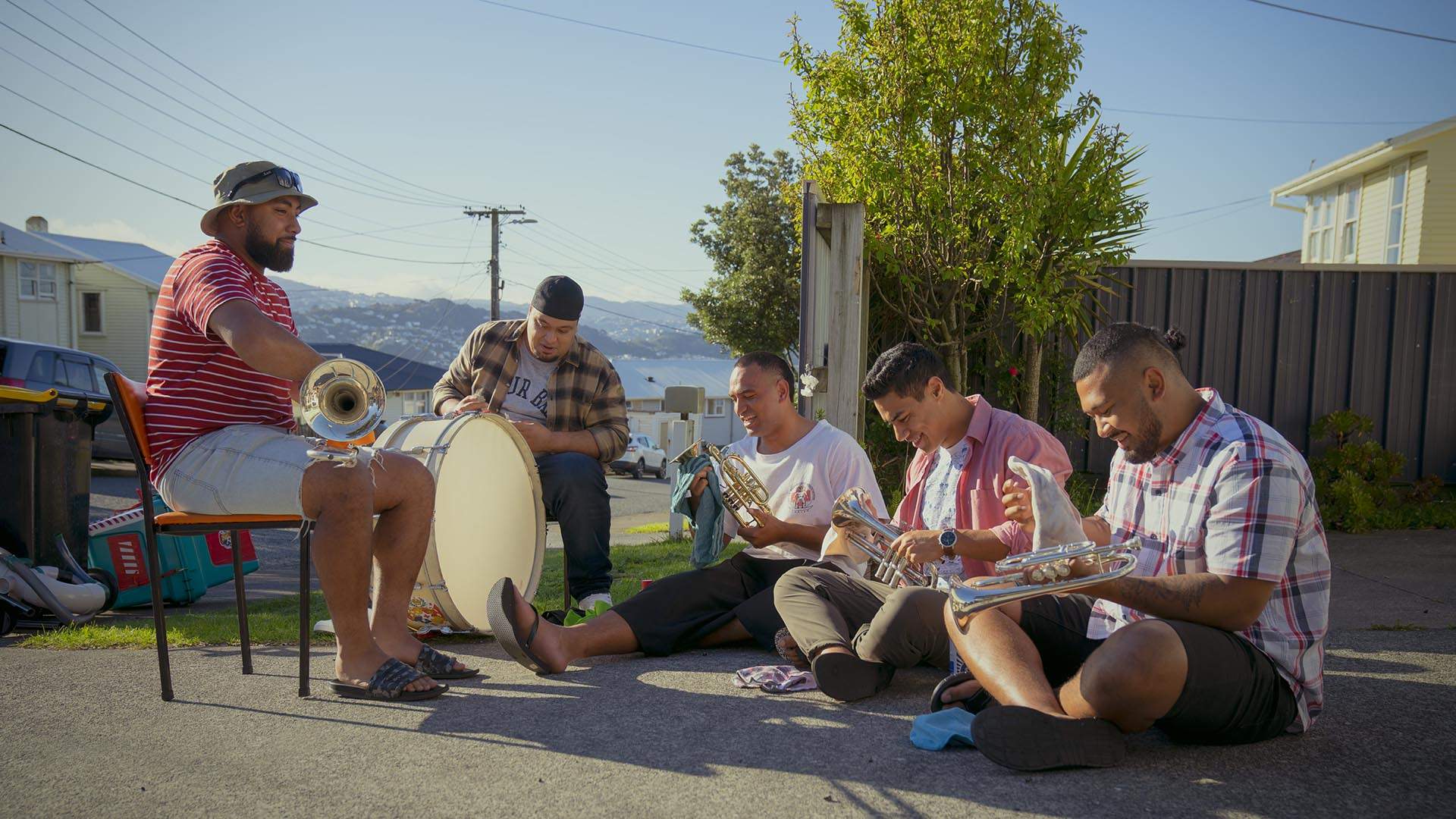 ON THE FILM'S SUCCESS —
 

AND THE RESPONSE FROM TONGAN VIEWERS

Damon: "It's been surreal, I have to say. We had the world premiere in Wellington, and that was in the Embassy Theatre, which is Peter Jackson's theatre. It was pretty much just full of Tongans, and they were waving flags—  and it was probably the best screening experience I've ever had. It was just so much fun.

It feels like we've just been on this whirlwind since then as well — it's been kind of surreal as well. It's sometimes hard to believe like 'oh, we made a film' and 'oh, people are watching it'.

So yeah, it's still a lot of 'pinch me' moments."

JP: "It's been incredible. I think a lot of people have shown a lot of love, and I think it's the whole idea of being able to see themselves on-screen and carrying out the themes that we know so well as Tongans, and the life that we live in our churches and our communities and our families. And having so many different versions of our cousins on the screen, but then also having universal messages and themes throughout the film.

So Tongans have been very supportive — but honestly a lot of people, regardless of their ethnicity, have shown a lot of love."
Red, White & Brass is currently screening in Australian cinemas. Read our full review.
Concrete Playground Trips
Book unique getaways and adventures dreamed up by our editors