HBO Just Dropped the First Trailer for Its 'Game of Thrones' Prequel 'House of the Dragon' 
The new series is set 300 years before its predecessor, and explores the story of House Targaryen.
2021 isn't over just yet, and none of us have worked through all the new shows currently sitting in our streaming queues. Still, 2022 is already shaping up to be a huge year in television. Stranger Things will finally return, for instance, and The Crown will also unleash its new cast. Oh, and HBO will debut a little prequel to one of its biggest hits ever.
Given how successful Game of Thrones proved for HBO — even after its eighth and final season caused plenty of uproar — the on-screen world inspired by George RR Martin's books was never going to simply disappear. Indeed, before GoT even finished, there was chatter about what would come next, with the network first announcing that it was considering five different prequel ideas. It then green-lit one to pilot stage, scrapped it and later decided to adapt Martin's House Targaryen-focused Fire & Blood for the small screen as a show called House of the Dragon. Next, it opted to give novella series Tales of Dunk and Egg the TV treatment, too, and to work on an animated GoT show. And, it's been reported that another three prequels are also under consideration.
Of course, all of the above announcements have been happening for so long that it's easy to forget that new GoT-related fare will eventually grace the small screen — starting next year. Although an exact premiere date hasn't yet been announced, we won't merely be talking about House of the Dragon in 2022. We'll also be watching its ten-episode first season.
And, thanks to the just-dropped teaser trailer for the series, we can get a glimpse of what's in store right now. HBO released a few images from the show earlier this year, but now they've gone one better. Yes, dragons are mentioned. Yes, everyone looks suitably broody. Yes, the Iron Throne shows up, because of course it does.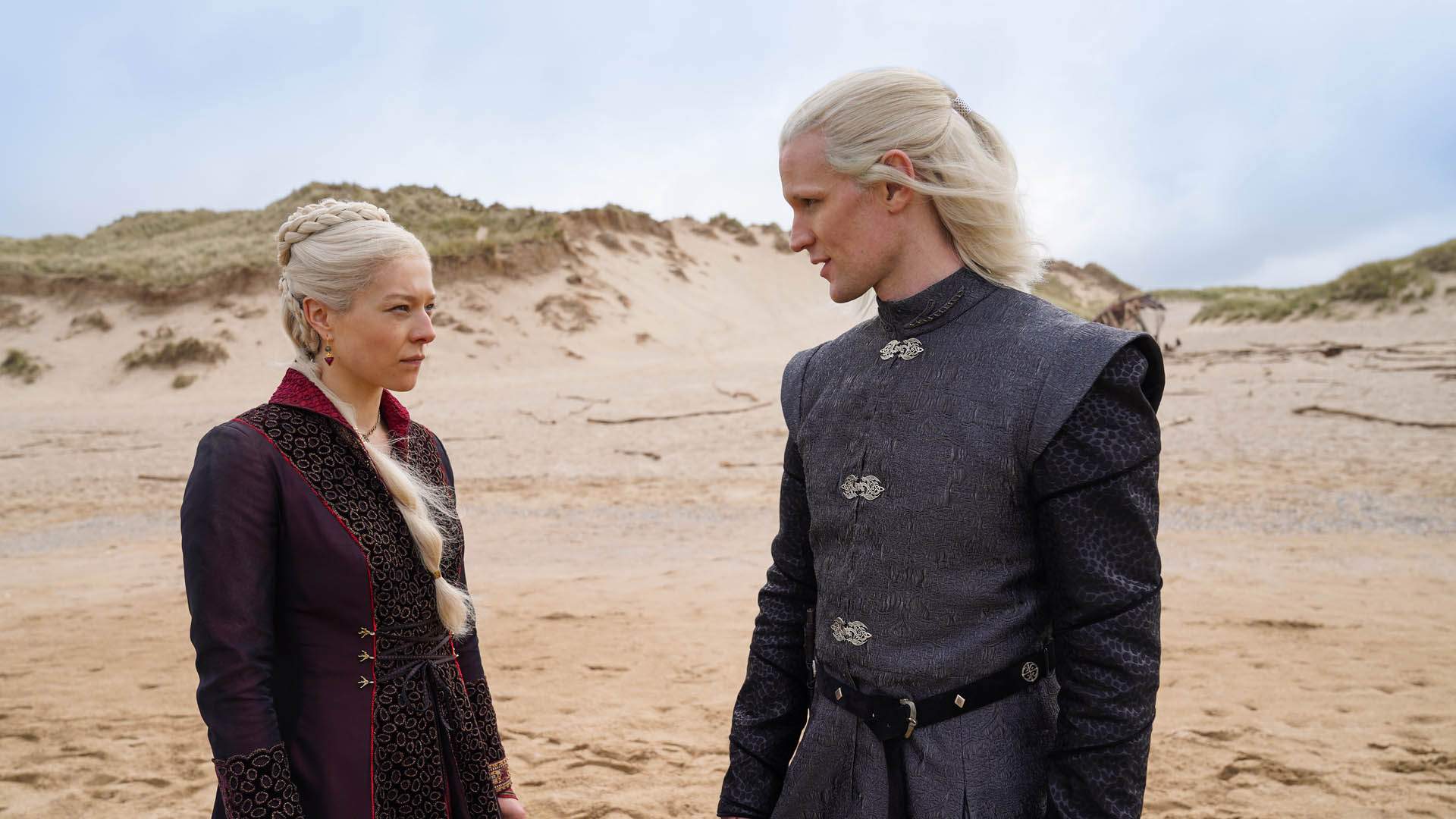 While the trailer really is just a teaser, viewers can expect to spend more time with flame-breathing scaly creatures and the family that adores them when House of the Dragon arrives in 2022. If you thought the Targaryens were chaotic already, delving into their history — and their love of using dragons to wage wars and claim power — is certain to cement that idea. We all know what happened to the last surviving members of the family in GoT, including Daenerys and her boyfriend/nephew Jon Snow; however, House of the Dragon, like Fire & Blood, jumps back 300 years earlier.
Cast- and character-wise, House of the Dragon stars Emma D'Arcy (Misbehaviour) as Princess Rhaenyra Targaryen, the first-born child of King Viserys; Matt Smith (His House) as Prince Daemon Targaryen, the King's brother; Rhys Ifans (Official Secrets) as Otto Hightower, the Hand of the King; Olivia Cooke (Pixie) as Alicent Hightower, Otto's daughter; and Steve Toussaint (It's a Sin) as Lord Corlys Velaryon, aka 'The Sea Snake', a nautical adventurer from a Valyrian bloodline as old as House Targaryen.
These Westerosi folk will all grace a tale that harks back to Aegon I Targaryen's conquest of the Seven Kingdoms — which is what started the hefty 738-page first volume in Fire & Blood's planned two-book series — and then works through the family's history from there. Aegon I created the Iron Throne, hence the returning favourite's prominence. And you don't have to be the Three-Eyed Raven to know that this tale involves plenty of GoT's staples: fighting, battles for supremacy and bloodshed.
Also set to pop up on-camera: Paddy Considine (The Third Day) as King Viserys, Eve Best (Nurse Jackie) as Princess Rhaenys Velaryon and Sonoya Mizuno (Devs) as Mysaria, Prince Daemon's paramour.
Behind the scenes, Miguel Sapochnik and Ryan Condal are acting as the series' showrunners. Sapochnik has a hefty GoT history, winning an Emmy and a Directors Guild Award for directing 'Battle of The Bastards', helming season eight's 'The Long Night', and doing the same on four other episodes. As for Condal, he co-created and oversaw recent sci-fi series Colony, and co-wrote the screenplay for the 2018 film Rampage.
Check out the first teaser trailer below:
House of the Dragon is due to start airing sometime in 2022 — we'll update you with further details when they're announced.
Images: Ollie Upton/HBO.
Introducing Concrete Playground Trips
Book unique getaways and adventures dreamed up by our editors