Instantly Gripping New Miniseries 'Nine Perfect Strangers' Turns Seeking Bliss Into a Twisty Thriller
Nicole Kidman plays an eerie wellness guru in this Byron Bay-shot series, which also features exceptional performances by Melissa McCarthy and Michael Shannon.
Lavish locations just screaming to fill Instagram feeds, wealthy clientele whiling away their hours in luxury, a significant chasm between the haves and the have nots: that's the setup behind two star-studded new miniseries that've hit streaming queues in the past month. Indeed, with The White Lotus just wrapping up its first season, Nine Perfect Strangers' arrival couldn't be better timed. TV fans can farewell the former's Hawaii-set dramas — and its biting sense of humour, savage insights into class disparities and spot-on dissection of societal inequities — and then step into this Byron Bay-shot thriller on Amazon Prime Video.
Saying goodbye to the familiar and welcoming all things new sits at the heart of Nine Perfect Strangers, actually. That's because the same notions linger at the core of the wellness industry, too. In a field that's all about helping people find their bliss, any hard-earned sense of contentment tends to stem from letting go of baggage, moving past previous traumas and appreciating yourself for who you are — and often doing so in the types of spaces that'll make you forget the real world exists anyway. That's why Masha Dmitrichenko (Nicole Kidman, The Prom) has established Tranquillum House, and why the eponymous group of newcomers have sought its sprawling expanse. Each of the latter wants to break free of their troubles, and the former and her offsiders Delilah (Tiffany Boone, Hunters) and Yao (Manny Jacinto, The Good Place) are eager to assist. But there's a reason that this eight-part series keeps gazing at brightly coloured smoothies quite often, and it isn't just because that's what's on Masha's menu.
Tranquillum House carefully curates each intake of paradise-seeking customers. In the case of school teacher Napoleon Marconi (Michael Shannon, Knives Out), his wife Heather (Asher Keddie, Rams) and their 20-year-old daughter Zoe (Grace Van Patten, Under the Silver Lake), Masha is even willing to drastically reduce the fee. She's mixing in the right ingredients — people who arrive broken and ready to be swirled around — and trying to perfect the recipe for everyone. Also arriving with this cohort: best-selling novelist Frances Welty (Melissa McCarthy, Thunder Force), who is having both personal and professional crises; Tony Hogburn (Bobby Cannavale, Superintelligence), who doesn't like having his pills taken away from him; and influencer Jessica Chandler (Samara Weaving, Snake Eyes: GI Joe Origins) and her husband Ben (Melvin Gregg, The United States vs Billie Holiday), whose marriage could use a new start. Then there's the newly divorced and still bitter Carmel Schneider (Regina Hall, Breaking News in Yuba County), plus exposé-courting journalist Lars Lee (Luke Evans, Crisis).
Masha has brought all of these strangers together to talk out their problems, laze by the pool and soak in the natural splendour — with Byron Bay doubling for California — but it's immediately obvious that her intentions aren't quite that straightforward. Nine Perfect Strangers draws out its mysteries; however, it also lets its audience start guessing from the outset. Casting Kidman as a Russian-accented wellness guru who wades in and out of her clients' days at random, and also happens to be getting death threats via text messages, will do that. Complete with ice-blonde locks, it's a part she inhabits well, in her latest TV performance following Big Little Lies and The Undoing, and her third project after those two fellow miniseries with writer/showrunner David E Kelley. Playing a character first penned on the page by Liane Moriarty, the author behind Big Little Lies as well, it's a showcase performance — and here, her reliably inscrutable expression conveys magnetism, power and a succeed-at-all costs level of determination.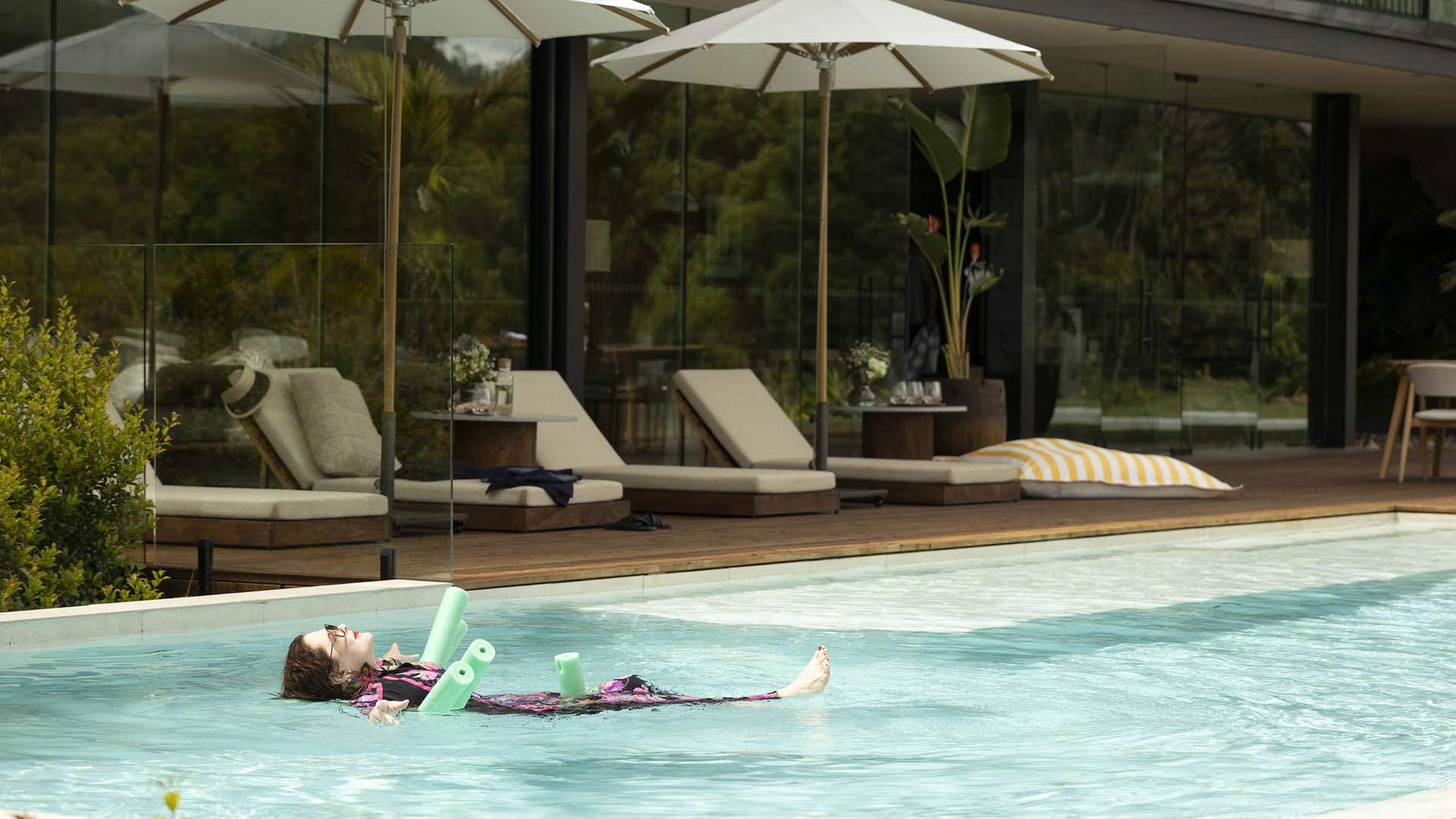 Nine Perfect Strangers is an ensemble piece, however — and, when it comes to the narrative, thankfully so. It's the time spent with its full suite of characters that makes the series gripping, even though it's the thriller elements that keep viewers instantly wanting to press play on each new episode. As the show keeps teasing what Masha is really up to, who's after her and what's in her past, it finds just as many questions within Tranquillum's other residents, because that's just how humans tick. Everyone has their subplots, and their pasts, and the script by Kelley and John-Henry Butterworth (Ford v Ferrari) is all the more compelling when it's unpacking as many stories as possible stories. Everyone seeks bliss, too, even when they're not paying through the teeth to do so, and everyone has struggles and secrets holding them back.
Kidman perfects her central role, but three of her big-name co-stars are just as impressive — and often more so. Shannon's usually forceful energy jostles behind an everyman exterior, giving Napoleon's affable air an always-perceptible edge. It's a stellar stroke of casting, especially given that the Marconis have sought Tranquillum's services to help cope with heartbreaking grief. McCarthy turns in her best work since her Oscar-nominated performance in the phenomenal Can You Ever Forgive Me?, and layers the distress of someone whose life keeps taking unwanted turns over Frances' flowing wardrobe. She's at her strongest opposite the impeccably haunted Cannavale, unsurprisingly. Now working on their fourth collaboration following the aforementioned Thunder Force and Superintelligence, and also Spy, the pair cycle from antagonism and comfort via everything in-between, and give Nine Perfect Strangers its most compelling double act.
Directing every episode, filmmaker Jonathan Levine (Long Shot, Snatched, The Night Before) lets his stars play to their strengths, and it works. As lensed by cinematographer Yves Bélanger (another Big Little Lies alum), he also sees the show's glitzy setting with the eye of someone who appreciates how it glimmers, and how brightly, but isn't willing to lose themselves to that shine shine. That's Nine Perfect Strangers' approach overall — it doesn't sink its teeth in as firmly as The White Lotus, but it isn't here to just to play along with its chosen world either. And, in the process, it knows how to lure its audience in and keep them watching.
Check out the trailer below:
The first three episodes of Nine Perfect Strangers are available to stream via Amazon Prime Video from Friday, August 20, with new episodes dropping weekly afterwards.
Images: Vince Valitutti/Hulu.
Concrete Playground Trips
Book unique getaways and adventures dreamed up by our editors