A Western, an Offbeat Mystery and Eerie Sci-Fi: That's New Josh Brolin-Starring Series 'Outer Range'
Set on a Wyoming ranch, this genre-bending thriller proves moody and intriguing — and Brolin is pitch-perfect.
Some shows commence with a dead girl wrapped in plastic. Others begin with a plane crash on a spooky island. With Outer Range, it all kicks off with a void. On the Abbott family ranch in Wyoming, in the western reach that gives the show its name, a chasm suddenly appears. A perfect circle swirling with otherworldly mist and resembling an oversized golf hole, it's just one of several troubles plaguing patriarch Royal (Josh Brolin, Dune), however.
There is indeed a touch of Twin Peaks and Lost to Outer Range. A dash of Yellowstone, The Twilight Zone, The X-Files and whichever family-focused prime-time soap opera takes your fancy, too. As a result, while Royal is visibly disconcerted by the unexpected opening staring at him in an otherwise ordinary field, he has other worries. His rich, ostentatious and increasingly madcap neighbour Wayne Tillerson (Will Patton, Halloween Kills) suddenly wants a parcel of the Abbotts' turf, claiming mapping inaccuracies. One of Tillerson's mouthy and entitled sons, Trevor (Matt Lauria, CSI: Vegas), ends up in a bar spat with Royal's sons Rhett (Lewis Pullman, Them That Follow) and Perry (Tom Pelphrey, Mank). And there's also the matter of Perry's missing wife, who disappeared nine months back, leaving both her husband and their young daughter Amy (Olive Abercrombie, The Haunting of Hill House) searching since.
Into this sea of faith-testing chaos amid such serene and dreamlike scenery, a stranger arrives as well: "hippie chick" backpacker Autumn Rivers (Imogen Poots, The Father). She just wants to camp for a few days on the Abbotts' stunning and sprawling land, she says. She just happened this way, she claims in the process. But the always-guarded, fiercely protective Royal is immediately suspicious — and while he still takes the fat wad of cash she waves around as payment to stay on the outskirts of the property that's been owned by his wife Cecilia's (Lili Taylor, Perry Mason) ancestors for generations, he remains openly and grimly wary.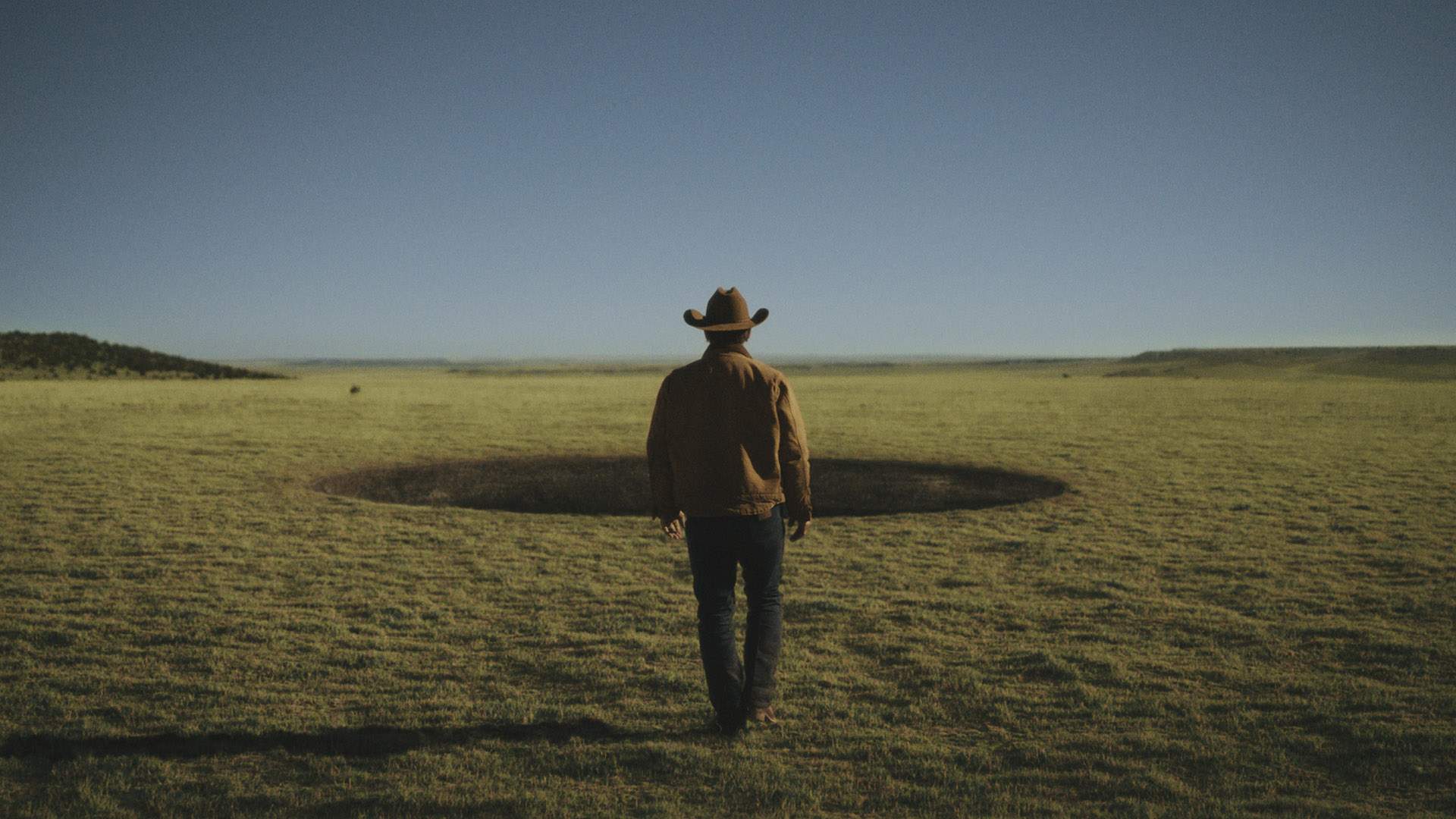 That's Outer Range's setup, although it's also just where the genre-bending new addition to Prime Video launches into its many mysteries. Across its eight-episode first season, it's a ranch-dwelling western, complete with a family battling secrets and struggles of both the internal and external kind, and left grappling with existential doubts when they keep being stripped of everything they believe in. It's an offbeat enigma, too, where bottomless gaps in the centre of the earth aren't the only things that can't be easily explained. Thanks to said hole and surrounding supernatural occurrences, it dives into eerie sci-fi as well. And with Indigenous acting sheriff Joy (Tamara Podemski, Run) trying to work out what's going on on several levels, all while campaigning to be elected to her job outright, it's also a detective quest and a thriller.
In other words, it's a puzzle box of a program — and the weirder that Outer Range gets, and moodier as well, the more it intrigues and engrosses. Its giant twists are obviously best discovered by watching, but its small quirks are quickly compelling. This is a series where an ethereal feeling permeates the land, even when Royal is nowhere near the void he's desperate to keep hidden. It's a show where one of the other neighbour sons, the quiet yet perturbing Billy (Noah Reid, Schitt's Creek), loves breaking out into song, crooning 80s and 90s pop and rock hits at odd moments. At a funeral, he even sings Peter Gabriel and Kate Bush duet 'Don't Give Up', covering both parts himself and leaving mourners utterly bewildered.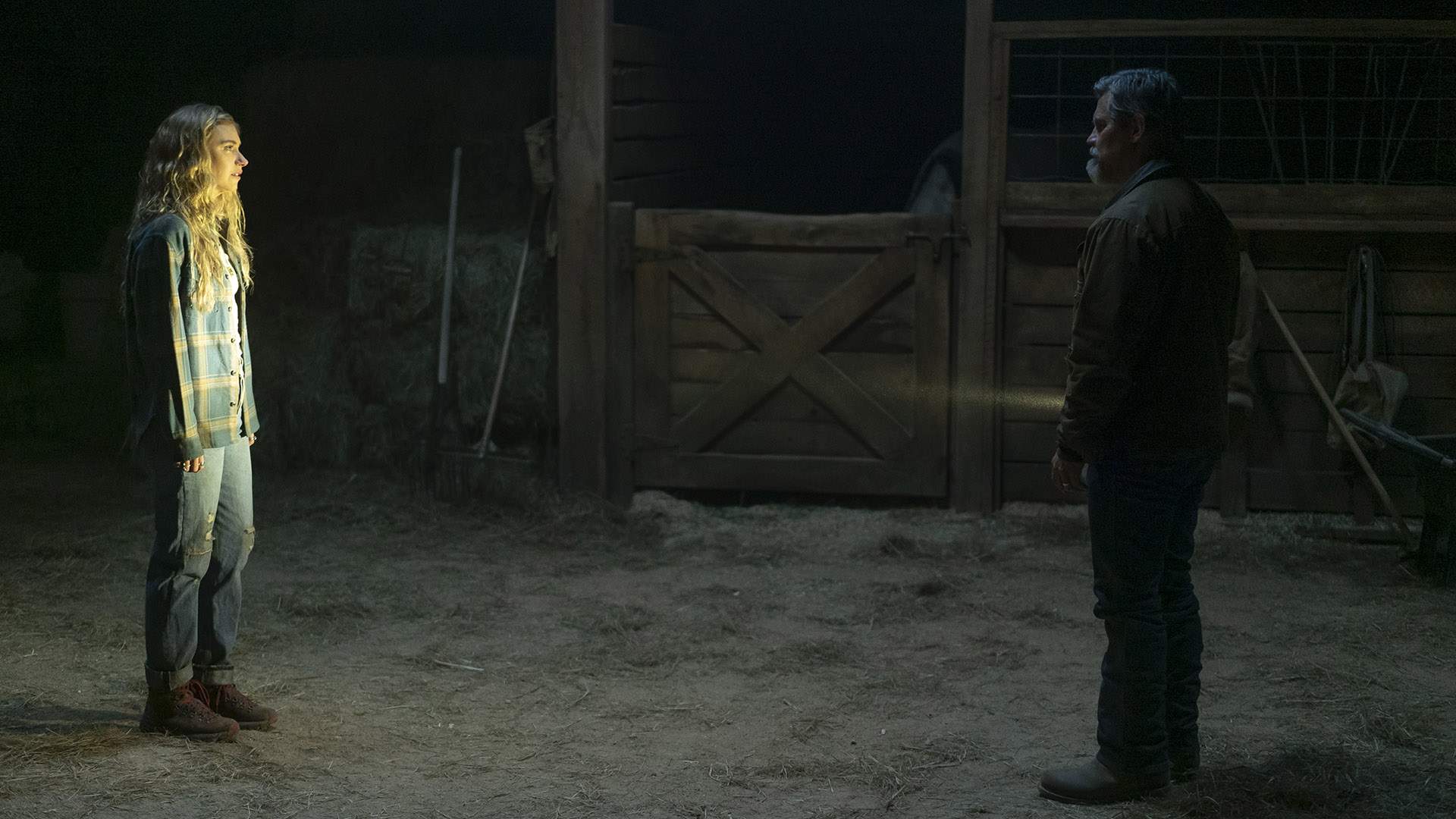 Reid is unnervingly difficult to peel your eyes away from in Outer Range, but the series is well-cast in every part — starting with Brolin as Royal, naturally. While the Milk Oscar-nominee has been happily dallying with sci-fi of late, including getting villainous in Avengers: Infinity War,  Avengers: Endgame and Deadpool 2, his is a grounded performance here. He sidles in as a stern-and-silent western archetype, unfurling more of Royal's layers — and unpacking what it means to embody that portrait of western masculinity in the process — with each grimace and glare. Taylor does phenomenal work in support, and although Poots sometimes suffers from the thinner writing establishing Autumn's moves and motivations, she still commands the frame.
Family, faith, fate, the land, legacies, the ties of love, the disappointments of life, the inexplicable elements inherent in all of the above: they're all baked into Outer Range, providing plenty of puzzle pieces for its actors to play with. That said, as created and co-written by TV first-timer Brian Watkins, the series turns those familiar components into something shadowy and surreal. Its narrative path isn't always tricky to predict — one huge late revelation especially — however, it constantly surprises in how it tackles its moments and dynamics on a scene-by-scene basis. That's what lingers in Billy's songs, overtly so. It's there in Cecilia's response to every trying development that's sent the Abbotts' way, usually with her at home, on the sidelines, yet no less impacted. And it blazes through in the choice of shots, which bask in the glory of nature's vast expanse but also see far more than just postcard-perfect wonders.
The latter stem from a strong roster of contributors, spanning filmmakers such as She Dies Tomorrow's Amy Seimetz and A Cop Movie's Alonso Ruizpalacios in the director's chair, as well as cinematographers such as Waves and Red Rocket's Drew Daniels, The Last Black Man in San Francisco's Adam Newport-Berra, and Seimetz regular Jay Keitel. Helping ramp up the tension, composers Danny Bensi and Saunder Jurriaans' (Windfall, Becoming Cousteau, The White Tiger) anxiety-inducing score drips with tension, too. Pondering big ideas with heaving style and hefty ambition, Outer Range frequently looks and sounds cinematic — and, from the moment it first spies its gaping chasm, swiftly makes for beguiling viewing.
With Jordan Peele's latest horror epic Nope also on its way in the coming months, 2022 seems set to be a big year for disquieting screen stories set amid vast American ranches and springing from stellar talent. What that film will bring is currently yet to be seen, of course, but Outer Range gives this entrancing trend an impressive start.
Check out the trailer for Outer Range below:
Outer Range's first two episodes are available to stream via Prime Video from Friday, April 15, with two new episodes dropping weekly until Friday, May 6.
Concrete Playground Trips
Book unique getaways and adventures dreamed up by our editors