Taika Waititi-Produced Comedy 'Reservation Dogs' Is One of TV's Most Moving and Thoughtful Must-Sees
The first season of this Indigenous North American-focused sitcom was extraordinary — and the second is just as remarkable.
When Reservation Dogs first breezed into streaming queues in 2021 — including via Binge in Australia and Disney+ in New Zealand — it did so with heart, style and purpose, delivering a rarity in the current TV landscape. Authentic depictions of life for Indigenous North Americans are scarce on the small screen, or any screen. Such shows that riff on a Quentin Tarantino movie with their moniker, start with a brazen and entertaining heist, unfurl their stories through creative cinematography, serve up a stunningly thoughtful coming-of-age tale and survey an entire community obviously are, too. And a series that does the above with Taika Waititi's (Thor: Love and Thunder) brand of deadpan humour, befitting his role as co-creator and executive producer, as well as co-writing the very first episode — doing so alongside showrunner and Seminole Nation filmmaker Sterlin Harjo (Mekko) — is genuinely unclaimed territory.
In Reservation Dogs' first season, the end result was one of the best new TV shows of 2021. This year, its second season is one of the best and most moving returning shows of 2022. This gloriously heartfelt and perceptive series is dedicated to diving deep into the Indigenous North American experience today — as a teenager, primarily, but constantly broadening its focus to the parents, elders and spirits so instrumental and influential in its central foursome's life in Oklahoma's Muscogee Nation. It's no wonder that season one earned a Peabody Award, which celebrates US media's most powerful, enlightening and invigorating stories. It's no wonder, either, that the show has been picked up for a third run as well.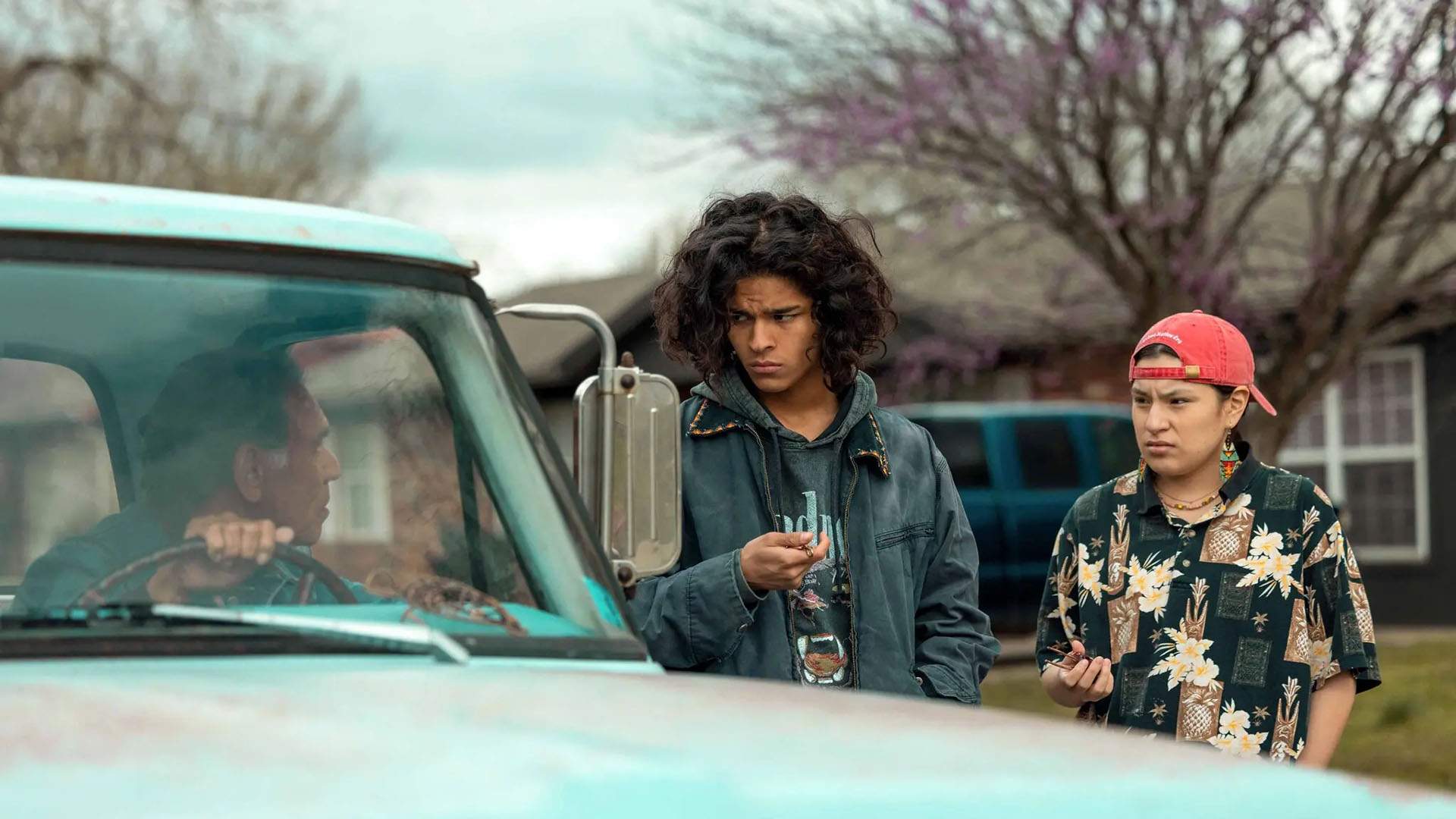 Bear (D'Pharaoh Woon-A-Tai, Beans), Elora (Devery Jacobs, Rutherford Falls), Willie Jack (Paulina Alexis, Ghostbusters: Afterlife) and Cheese (debutant Lane Factor) are those restless adolescents at the heart of Reservation Dogs, and they've shared a California dream since the series' very first episode. But when the debut season wrapped up with a tornado, plus a figurative storm of hard truths and buried feelings, the gang's relocation fantasy didn't play out as expected. The lure of family and culture remained strong, as did holding onto a past that's brought happiness as well as hurt. While losing one of their best friends, Daniel (first-timer Dalton Cramer), to suicide was big motivation for wanting to head away — it was also his plan, too — actually following through proved a far trickier prospect when it became tangible.
In season two, the more things change, the more they stay the same — until they don't. Elora still attempted to go west anyway to close out season one, but being on the road with enemy-turned-travelling companion Jackie (Elva Guerra, Dark Winds) gets tumultuous. For Bear, Willie Jack and Cheese, staying on the reservation requires facing life on the reservation and all that it entails, including the pain that no one wants to shoulder and plotting out a future that no one ever thought would exist without Daniel. Bear tries by getting a job in roofing, which ends up being beside Daniel's dad (Michael Spears, 1883). Willie Jack and Cheese feel like the group is cursed, and turn to town elder Uncle Brownie (Gary Farmer, First Cow) for assistance. Elora is called back, confronting loss, tradition and the friends she left behind.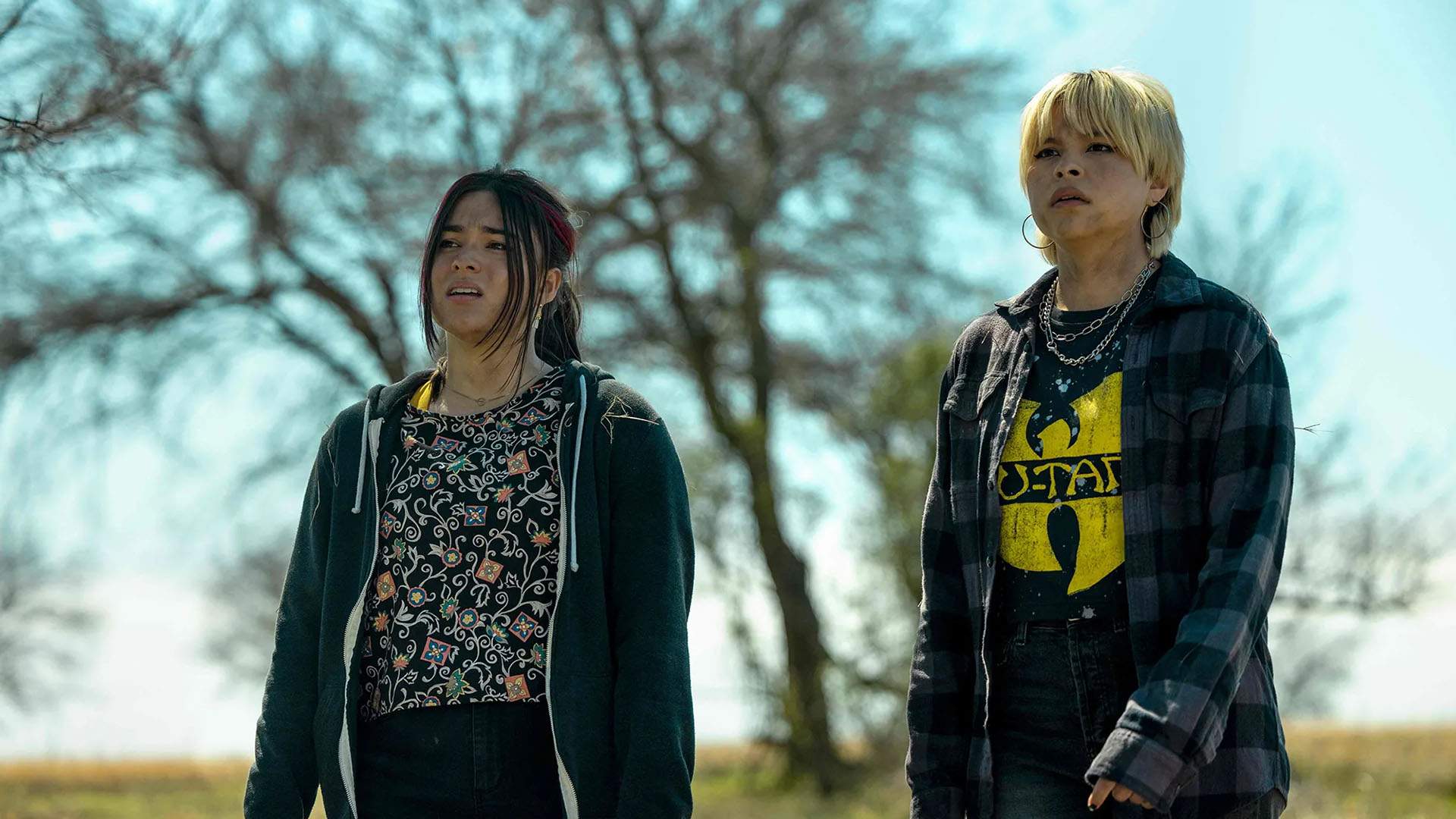 Reservation Dogs can be a series of side-splitting comedy. The lines that the writers find for Spirit aka William Knifeman (Dallas Goldtooth, Rutherford Falls), the warrior who died at (but not in) the Battle of Little Big Horn and is quick to dispense advice Bear's way, are comic gold every time he's on-screen. (Wanting him to get his own spinoff comes easily.) It's also a show filled with goofy capers, from the opening Flaming Flamers chip-truck heist through to a hilarious late season-two episode where lighthorseman Officer Big (Zahn McClarnon, Westworld) unwittingly takes acid, then stumbles upon a racist land-grabbing conspiracy that's fuelled a local myth, all with salvage yard owner Kenny Boy (Kirk Fox, Parks and Recreation) by his side.
This is and always has been a sitcom about home, though, a term that's oh-so-loaded in a First Nations context. What does it mean to want to flee land that's been taken from Indigenous communities from centuries? That was one of the first season's key questions. What does it mean to rediscover that homeland, even knowing how much heartache lingers? That's a pivotal consideration in the second season. California — the oasis it represents, including fresh scenery, leaving everyday troubles behind and seeing the ocean for the first time — still can't be shaken, however. Sometimes, the only way to weather life's ups and downs is to realise how much you'd miss what you already have if it was gone, too.
Made with such an evident commitment to minutiae, and to feeling lived-in at every moment, Reservation Dogs spins both its episodic stories and its long-running arcs, themes and emotions into something wonderful and insightful again and again. One season-two episode departs to the yearly Indian Health Summit with the Aunties, including Bear's mother Rita (Sarah Podemski, Resident Alien), who get their own time away. Another follows Cheese to a group home run by the misguided Gene (Marc Maron, Respect), where he's sent through no fault of his own — while yet another goes to prison, where Willie Jack visits Hokti (Lily Gladstone, Certain Women), her aunt and Daniel's mother.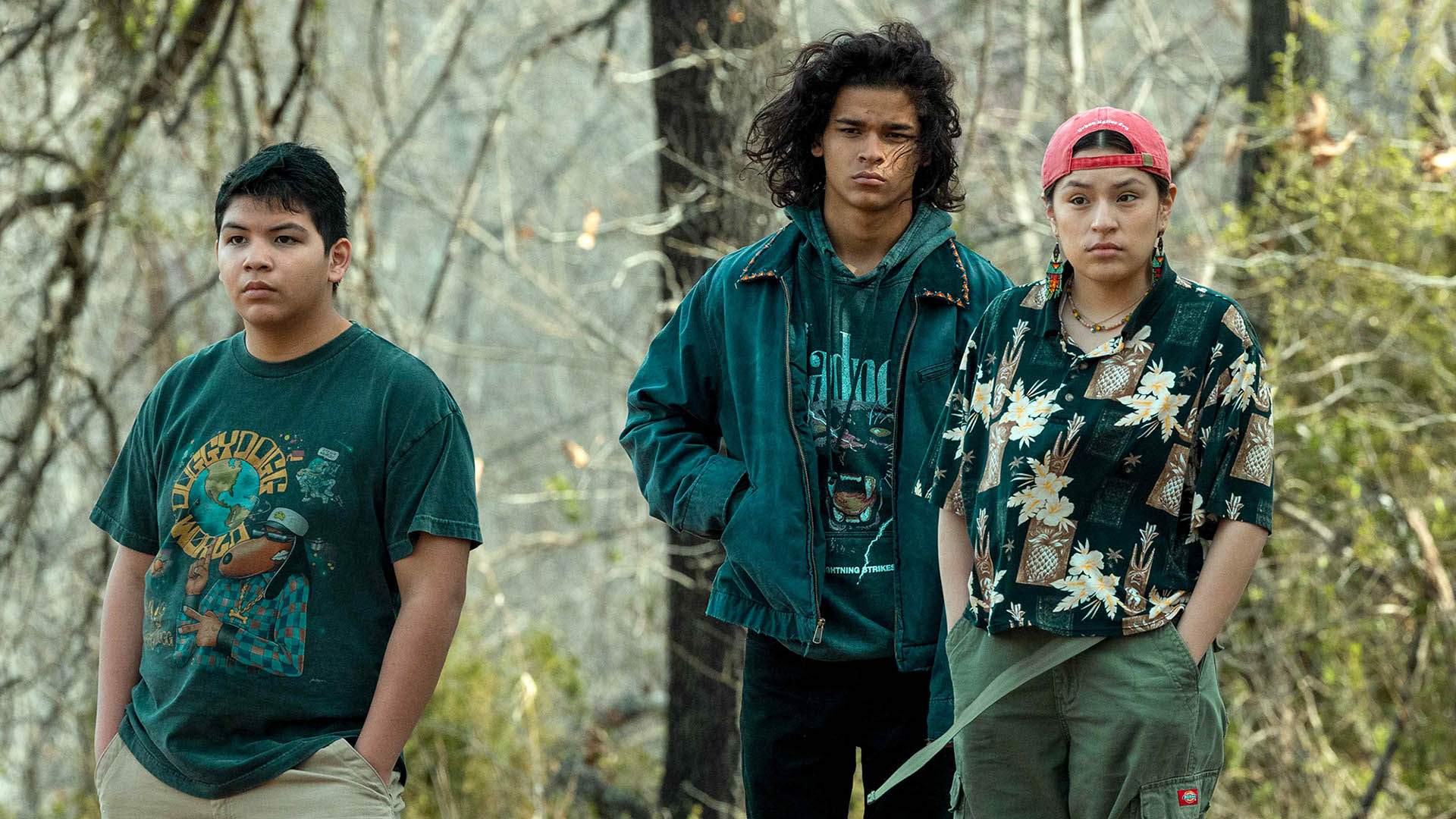 From the engaging cast and complex narrative to the incisive examination of everything it means to be an Indigenous North American right now, plus the crucial commitment to telling Indigenous stories with Indigenous on- and off-screen talent (every writer, director and series regular is Indigenous), Harjo deserves all the kudos that can be showered his way for this gem of a show. Seeing where each episode heads, what surprises are in store, and how it keeps giving the USA's First Nations people on-screen representation and a voice, is a continual and rewarding delight. Seeing how Reservation Dogs values both personal tales and fleshing out a community portrait, and excels equally in realistic and magical storytelling, is as much of a highlight. 
As for Waititi, his way with sitcoms shouldn't be astonishing. The Eagle vs Shark, Boy and Hunt for the Wilderpeople helmer is three for three in America — including not only this, but also Our Flag Means Death, which will return for a second season after 2022's debut run; and the What We Do in the Shadows TV spinoff, which just aired its fourth season and has a fifth and sixth on the way. Indeed, while there are many reasons to be thankful for the New Zealand filmmaker as his resume keeps attesting, using his fame to help bring the gift that is Reservation Dogs into the world is firmly one of them.
Check out the trailer for Reservation Dogs season two below:
Reservation Dogs streams via Binge in Australia and Disney+ in New Zealand.
Images: Shane Brown / FX.
Concrete Playground Trips
Book unique getaways and adventures dreamed up by our editors