Ahoy, Taika Waititi and Rhys Darby Fans: 'Our Flag Means Death' Is a Warm-Hearted Pirate Comedy Gem
When Taika Waititi and Rhys Darby team up, great things happen — and this swashbuckling comedy is no different.
In the on-screen sea that is the never-ending list of films and television shows constantly vying for eyeballs, Taika Waititi and Rhys Darby have frequently proven gem-dappled treasure islands. When the immensely funny New Zealand talents have collided, their resumes have spanned four of the most endearing comic hits of the big and small screens in the 21st century so far, aka Flight of the Conchords, What We Do in the Shadows, Wellington Paranormal and Hunt for the Wilderpeople — and now, with HBO Max pirate parody Our Flag Means Death, they've given viewers another gleaming jewel.
The brainchild of writer, showrunner and executive producer David Jenkins (People of Earth), this show was always going to swashbuckle its way into streaming must-see lists — and into comedy-lovers' hearts — based on its concept alone. The inimitable Darby stars as Stede Bonnet, a self-styled 'gentleman pirate' and a great approximation of Flight of the Conchords' Murray if he'd existed centuries earlier. Meanwhile, Waititi dons leather, dark hues aplenty, an air of bloodthirsty melancholy and a glorious head of greying hair as Edward Teach, the marauder better known to the world as Blackbeard.
While the latter is a household name — pop culture has been inserting him into stories for decades: Ian McShane played him in Pirates of the Caribbean: On Stranger Tides and Hugh Jackman did the honours in Pan, for instance — Bonnet will be a new discovery to most of Our Flag Means Death's audience. Also a real-life figure, he left his life of wealth, privilege and comfort to rove the oceans. That's a scenario that this ten-episode comedy has plenty of fun with, complete with Bonnet's onboard library decked out with classics and summer linens-filled auxiliary wardrobe.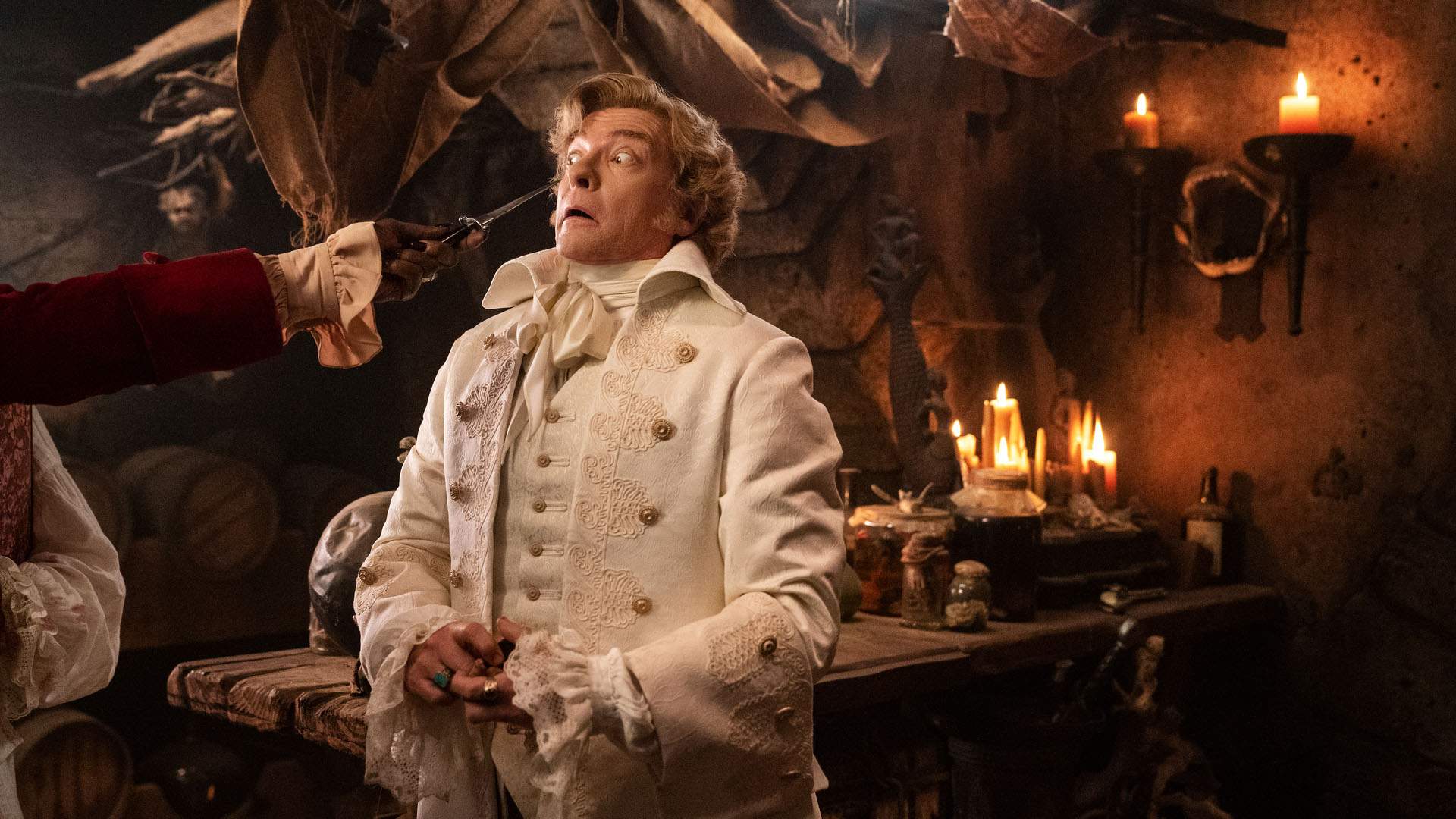 In its first three episodes, Our Flag Means Death establishes its fish-out-of-water situation — or its tale about a ruffled shirt-wearing aristocrat seemingly out of his depths while sailing across treacherous waters, to be more accurate. Bonnet is not one for the usual pirate stereotypes, and that takes some adjusting to by his crew. Among those with him on the Revenge: Lucius (Nathan Foad, Bloods), his righthand man and official scribe; Buttons (Ewen Bremner, First Cow), a seasoned seafarer and source of advice; Black Pete (Matthew Maher, Marriage Story), who constantly claims to have worked with Blackbeard; the fire-obsessed Wee John Feeny (Kristian Nairn, aka Game of Thrones' Hodor); and the initially secretive Oluwande (Samson Kayo, Truth Seekers) and Jim (Vico Ortiz, The Sex Lives of College Girls).
Scene-setting and ensemble antics abound in the series' opening instalments, including a run-in with a British navy captain (Rory Kinnear, No Time to Die) with ties to Bonnet's past, and another a fellow pirate captain-turned-bar owner (Leslie Jones, Death to 2020) and one of her husbands (Fred Armisen, Los Espookys). But then Blackbeard arrives, taking over the Revenge with his first mate Izzy (Con O'Neill, The Batman) — and Our Flag Means Death starts becoming a rom-com. From the outset, it's already a gloriously inclusive and emotionally astute comedy. Bonnet wanting his crew to be in touch with their feelings, rather than simply solve everything with swords and violence, is one of the aforementioned ways that he bucks expectations. But that trend deepens and grows as its two key swashbucklers gravitate towards each other, riding the waves from adversaries to co-captains to potentially something more.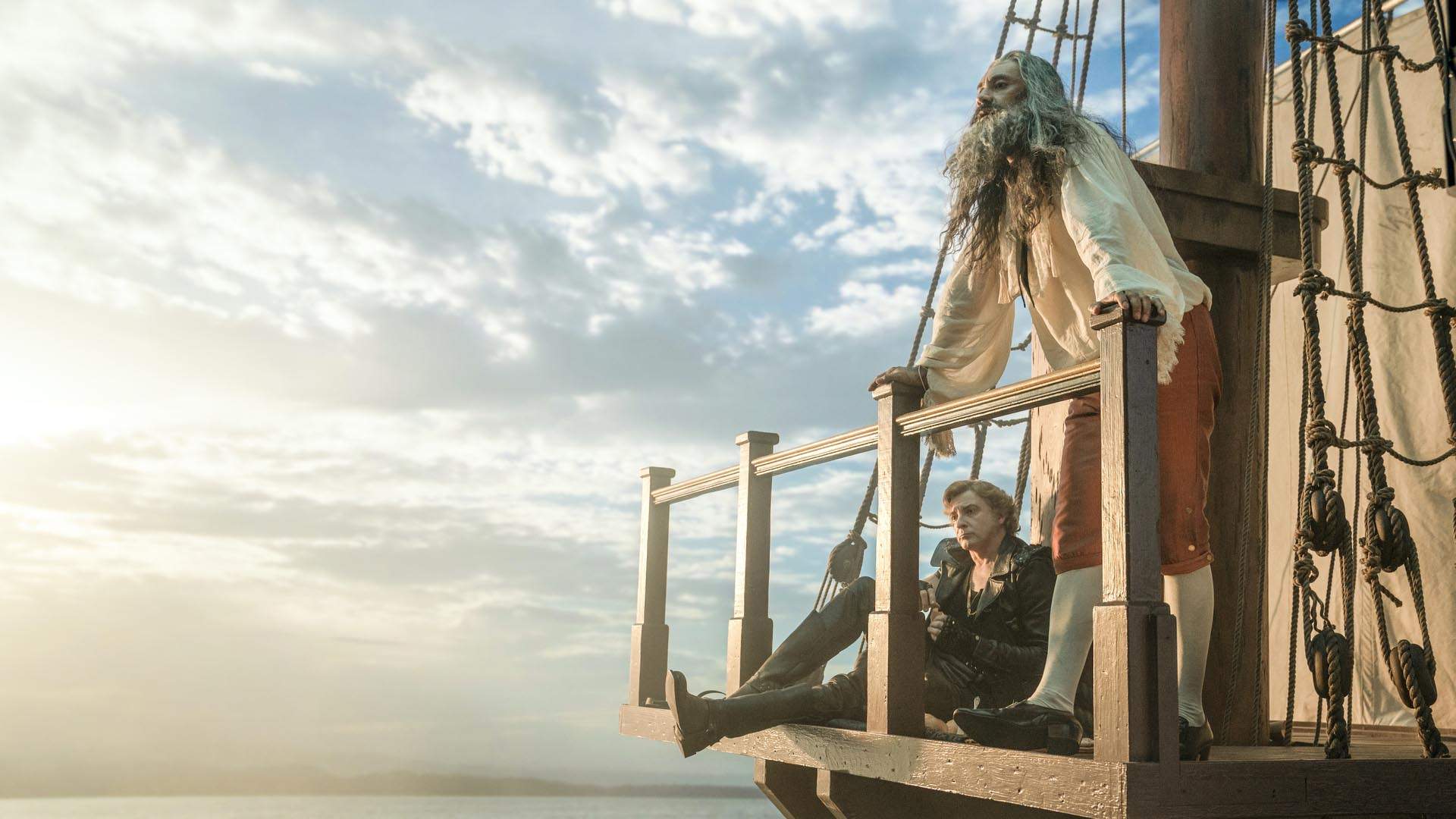 From its first trailer, Our Flag Means Death delivered answers to questions that no one knew they had, such as "what'd happen if Waititi and Darby played pirates?" and "what if Waititi and Darby played pirates alongside Spud from Trainspotting and Hodor?". Now that the results have played out across an entire season — all of which is available to stream in Australia via Binge and in New Zealand via Neon — it's sweeter than a bottle of rum to a buccaneer (or oranges to fend off scurvy, which definitely get a mention in the show). Smartly, Our Flag Means Death doesn't just satirise pirate archetypes. It isn't content with finding easy laughs at the whole 'gentleman pirate' caper, either. Instead, it's a comedy about plundering one's own depths to find out who you really are, where you truly belong and who should comprise your chosen family — whether you've been set up for a life of luxury, you're the world's most fearsome scourge of the seas or you're simply roving the oceans with them.
When Waititi's Blackbeard steps into the story, meet-cute and all, less of its focus resides upon its other supporting characters. When you've got comedic greats such as Waititi and Darby bouncing off of each other — as they do from episode four onwards, and with pitch-perfect comic chemistry — you let them have the spotlight. Still, subplots that flesh out the remainder of the Revenge crew's histories wholeheartedly link in with Our Flag Means Death's focus on reinvention and rediscovery, and its open heart. Relationships are laid bare, and secrets, too. In the process, cliches are dismantled, correct pronouns are used, and everyone helps build a thoughtful and sincere comic caper. Indeed, add Our Flag Means Death to the list of delightful sitcoms that beam with warmth, even when it's soaking cat flags (yes, that's a pirate banner adorned with a feline) with blood.
Stellar talent doesn't always equate to a must-see, something special or both, of course; however, Our Flag Means Death ticks all of those boxes — and the who's who that is its guest and supporting cast also includes fellow Conchords alum Kristen Schaal, Big Mouth's Nick Kroll, Arrested Development's Will Arnett, and Aussies Claudia O'Doherty (Sarah's Channel) and Angus Sampson (Bump). With Waititi also helming the pilot and executive producing, his winning ways with TV comedies continue, too, after a top-notch few years that've included the What We Do in the Shadows television spinoff and Reservation Dogs as well.
Ahoy, streaming lovers — let Our Flag Means Death sail into your queue right now.
Check out the full trailer for Our Flag Means Death below:
Our Flag Means Death's first season is available to in Australia via Binge and in New Zealand via Neon.
Images: Aaron Epstein/HBO Max.
Concrete Playground Trips
Book unique getaways and adventures dreamed up by our editors