ARTS & ENTERTAINMENT
Five Brisbane Date Ideas for This Week That Aren't Dinner and a Movie
Just think of us as your cultural wingman.
Five Brisbane Date Ideas for This Week That Aren't Dinner and a Movie
Just think of us as your cultural wingman.
---
Tired of the classic movie and dinner date night combo? Us too. That's why we're always on the hunt for new things to do, scouring the city for not-boring Brisbane activities — ones that are guaranteed to take your next date way beyond done-before beers at the pub. Whether you're taking someone on a second date or doing your 100th with your significant other, we've got some killer (and, yes, cute) ideas for dates to go on this week, no matter how much money you've got to spend. Just think of us as your cultural wingman. You're welcome.


FREE

TAKE A FREE YOGA, TAI CHI, ZUMBA OR AQUA CLASS
We all know that solid dose of 'the good feels' you get after you've done something nice for yourself/your body (like exercise). And, we all know that every workout can be improved by sharing it with great company. Throughout the months of October and November, along with a much-needed increase in temperature, you can expect all of the above feelings to increase two-fold.
Thanks to the return of Brisbane's Feel Good Program, the city will welcome a series of outdoor fitness classes — and, unlike that fancy new yoga studio in your neighbourhood that smells like acai berries and only serves charcoal tea, these classes are all entirely free.
Ranging from sessions to get you and your partner's blood pumping (Zumba) to classes to get your zen flowing freely (yoga, tai chi), plus aqua classes held at the Boat Pool, the Feel Good Program is an initiative designed to suit any and all fitness levels.
Classes are held at both South Bank Parklands and in the city at Queens Park. BYO water bottle, towel and, where required, a yoga mat — the ones provided are subject to availability.
Classes happen every day except Fridays and Sundays, booking isn't required and they all run for 45 minutes. Get started early and face the day with a 7am bootcamp session, or finish it with pilates from 5.30pm. Either way, it'll have you embracing the warm outdoors and feeling good — check out the timetable online.

UNDER $20

GO SEARCHING FOR SECONDHAND TREASURE
On the lookout for a dope new denim jacket? Or do you want to be rid of that weird-looking lamp taking up space in the living room? Whether you're searching for a vintage gift for your special someone or helping them clear out their clutter, by golly, you're in luck. The Garage Sale Trail works with local council partners Australia-wide to get as many trash-and-treasure troves happening on the same day as possible. More than 18,000 garages are expected to open their doors to bargain hunters, selling two million items, when the event returns for its tenth time across the weekend of Saturday, October 19 and Sunday, October 20.
Aside from the retro goodies up for grabs, the Trail is all about sustainability. Instead of ending up in landfill, unwanted clutter becomes a fantastic find. So get that tight pair of sunnies for peanuts and help the environment at the same time.
The Garage Sale Trail began humbly in Bondi in 2010 and is growing bigger every year. There'll be a right slew of sales happening all around Brisbane, so keep your eyes on the event website.

UNDER $50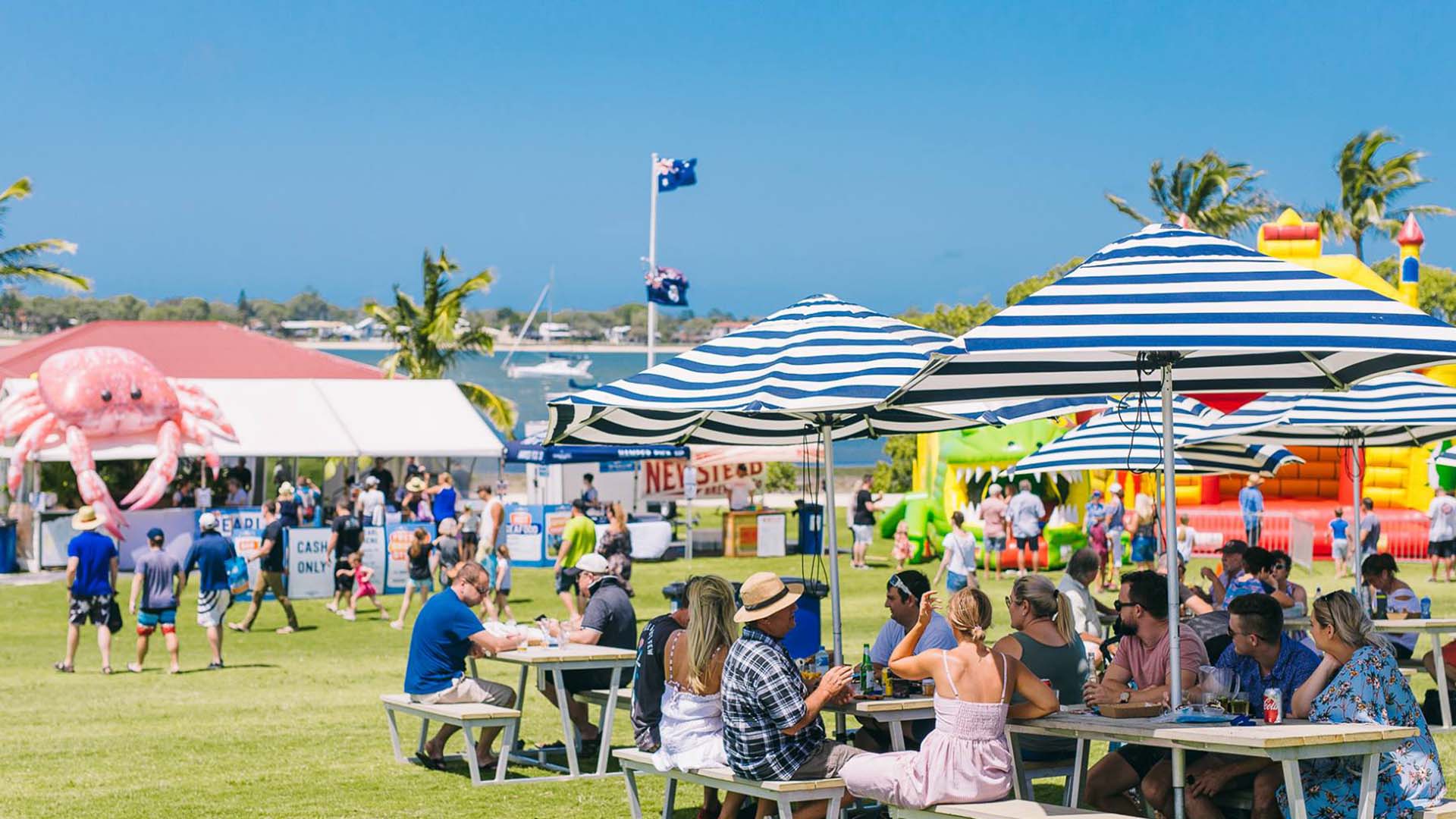 SLURP DOWN OYSTERS BY THE WATER
It's that time again, seafood-loving Brisbane couples, with the Sandstone Point Hotel hosting its annual Oyster Festival. If you and your other half are fans of slurping down molluscs, prepare to be in your element. The fact that you'll be doing so while you're on Bribie Island adds to the fun, of course.
Taking over the venue on Saturday, October 19, the day-long celebration of salty, slimy deliciousness will treat your tastebuds to oysters from all around the country, asking whether you can discern the difference. They'll be freshly shucked at the fest's oyster bars — and if you need something to snack on in-between, you can feast on the rest of the ocean's finest (and sip a few beverages) at an array of seafood and wine stalls.
Anyone that really, truly loves their oysters can also take part in the competitive portion of the day, because it wouldn't be a food festival without a contest. Chef demonstrations and live music are on the bill as well, alongside a cruisy day hanging out off the Brisbane mainland, with entry costing $5.
Image: Sandstone Point Hotel.

UNDER $100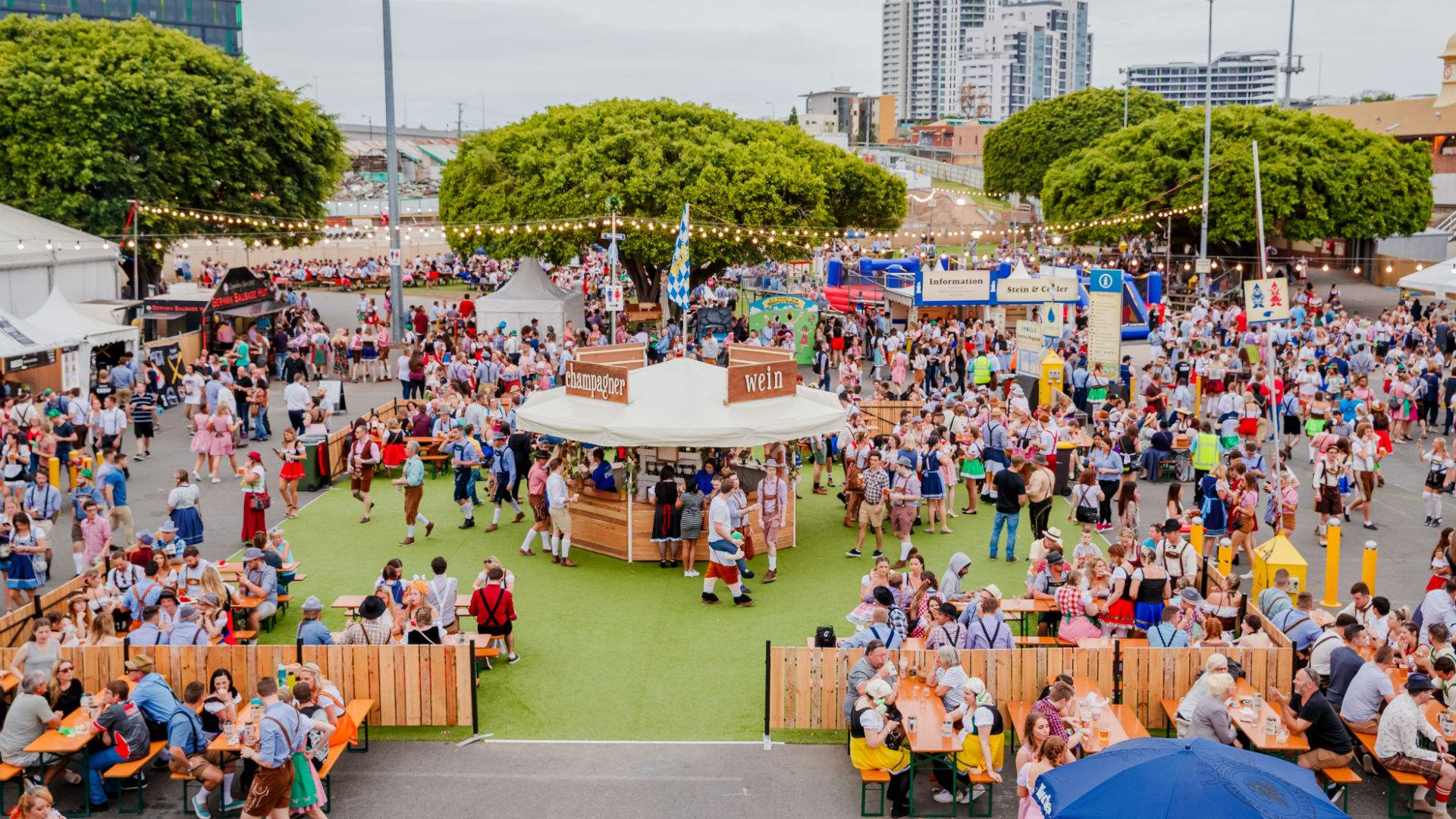 SAY PROST TO STEINS, SCHNAPPS AND SCHNITZELS
Dust off your lederhosen or dirndl — Oktoberfest is returning to the Brisbane Showgrounds. Now in its 12th year, the festival extends over two weekends, with its second taking place across October 18–20.
Australia's largest German culture festival spans traditional live music tents, Munich-style biergartens and carnival rides. An all-day lineup of live music — including Oompah band Münchner Buam, Heidi the Yodeller and Alpenrosen Dance Group — will keep you and your favourite person entertained while you eat, drink and celebrate all things Bavaria.
A handful of stalls peddling Christmas merch, traditional clothing and toys will also be on-site. There'll be plenty of food stalls offering hearty German cuisine when hunger strikes, including gravy-doused schnitties, candied apples, pork knuckle and sauerkraut. On Saturdays, you can also add a Bavarian brekkie and beer combo to your ticket, which includes two veal sausages served with sweet mustard, a giant soft pretzel and a weissbier (wheat beer).
On the topic of beer, the festival likes to keep things traditional: all beer served on-site has been brewed specifically for the event, following the Bavarian Purity Law, and all brews are served in steins. Not a big beer-lover? There'll be classic German wines and non-alcoholic drinks available, too.

ONE BIG BLOWOUT

JOG BETWEEN BREWERIES ON THIS BOOZY FIVE-KILOMETRE FUN RUN
Have you or your partner ever promised yourselves an ice-cold beer at the pub as motivation to workout? Well, the minds behind The Beer Run are on the same wavelength. They are quite literally combining brews with a five-kilometre fun run that stops at five Brisbane breweries along the way. And, because they're doing it in October, they're theming it after Oktoberfest.
The run will kick off at noon on Sunday, October 20, making its way between a number of Brissie breweries. Punters will enjoy a beer at each location before running on to the next, with the whole event expected to take around two to three hours.
The $55 ticket price includes the five brews, a novelty medal and a numbered bib for the run. Tickets are on sale now — and given that the last few Melbourne events sold rather quickly, getting in fast is recommended.
Published on October 15, 2019 by Concrete Playground