The Best Caves to Visit Near Brisbane and Beyond
Crawl out of your living room cave and into these awe-inspiring ones.
Offering a hearty dose of Mother Nature's magic, there's something pretty special about a good cave, rocky and majestic as they are. After all, what better antidote to that hectic city life than a visit to an impressive natural rock formation?
Without trekking too far out of Brisbane, you'll find a handful of captivating grottos to light your adventurous spark — from glow worm caves and underground marvels to huge limestone beauties filled with stalactites.
And, if you're keen on a trip further afield, more beauties await. Here are seven caves near and far in Queensland that are worth the visit.
NATURAL BRIDGE, SPRINGBROOK NATIONAL PARK
As far as caves go, this specimen in the heart of Springbrook National Park is downright majestic. Located about an hour and a half south of Brisbane, Natural Bridge is a striking rock archway, created by the force of a waterfall running onto a basalt cave.
The result is a stunning natural oasis, where daylight spills through the cave's top and onto pools of water below. By day, you'll catch a glimpse of creatures like tusked frog, paradise riflebirds and koalas, while come night, it's buzzing with microbats, fireflies, luminous fungi and a sizeable colony of protected glow worms.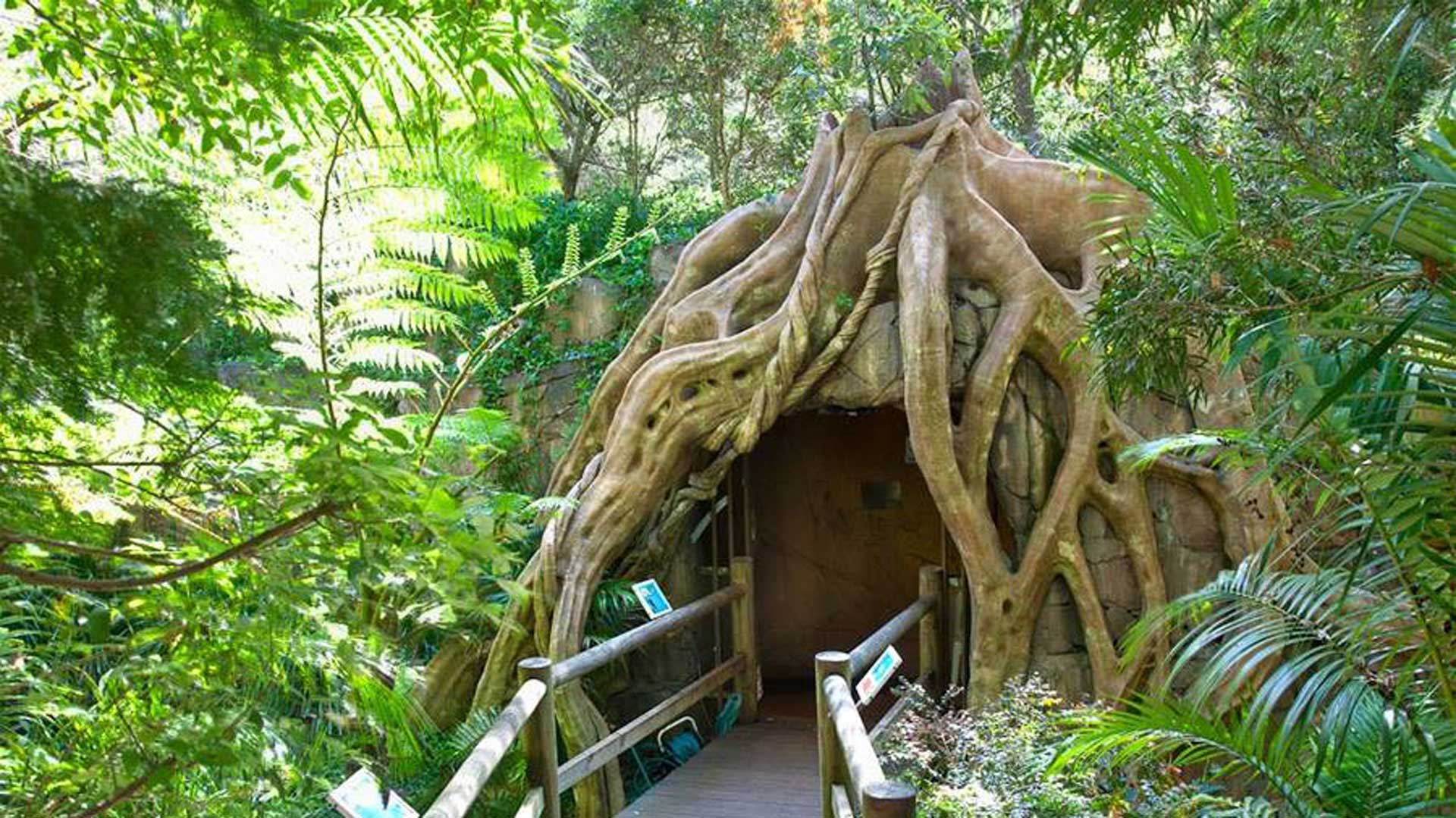 GLOW WORM CAVE, TAMBORINE MOUNTAIN
If you like your caves with a little extra sparkle, Tamborine Mountain's offering will be right up your alley. Constructed in 2004 as part of an eco preservation project, the Glow Worm Cave at Cedar Creek Estate is home to a booming population of native glow worms, which are carefully nurtured to help control insects and boost local glow worm numbers in the wild.
You can jump on a 30-minute tour of the cave, seeing these creatures in all their glowing glory while learning about their life-cycle and behaviours. It's a man-made cave, but with the realistic rock formations and plethora of creepy crawlies, it feels a whole lot like the real deal.
MOUNT MAROON CAVES, SCENIC RIM
One of several peaks in Mount Barney National Park — alongside the eponymous Mount Barney, of course — Mount Maroon in the Scenic Rim is known for its shrubland, hiking tracks, and lake and waterside camping ground. Thanks to the latter combination, it's a haven for sailing, fishing, canoeing and kayaking, all around an hour's drive from Brisbane.
Don't miss Mount Maroon's caves, though. That said, you will literally need to go off the beaten path to get to them. So, make sure you have a GPS trail map handy, and your sturdiest shoes — and get ready to go exploring.
CHERUBS CAVE, MORETON ISLAND
For a stunning hidden cave of the underwater variety, grab your dive gear and venture about four kilometres off the eastern edge of Moreton Island to discover Cherubs. A popular dive site and a photographer's wet dream, the cave is named for the concrete cherub statue that used to mark its entrance.
It's a pretty hefty space, clocking in at around 20 metres wide, and boasting a series of exits to swim in and out of. And it's positively brimming with sea life, home to a colourful mix of kingfish, barracuda, turtles, trevally, gropers and wobbegong. Depending on the season, you might even spy a school of grey nurse sharks getting comfy inside.
KWEEBANI CAVES, LAMINGTON NATIONAL PARK
Set among the dense eucalypts of Lamington National Park in the Gold Coast Hinterland, this circuit of caves was once shelter for the Yugambeh Aboriginal kinship group, the area's original inhabitants. Created by wind and rain erosion, some of the caves have some serious size to them — and in one of the biggest, Kweebani Cave (or 'cooking cave'), you might even spy fragments of bone and charcoal hinting at the space's past.
See these natural beauties up close and personal when you hike the park's five-kilometre Caves Circuit.
CATHEDRAL CAVE, NEAR ROCKHAMPTON
If you ever went on a central Queensland road trip as a kid, chances are you stopped at Capricorn Caves for a tour. But that doesn't you should write off a return trip straight away. Chances are, you'll appreciate it way more now.
The limestone cave system is over 390-million-years old, and the most impressive one is Cathedral Cave — its high ceilings feel historic and sacred. You can book in a walking tour or go all out with an adventure tour. Be warned, though, as the latter includes abseiling and squeezing through tight spots.
UNDARA VOLCANIC CAVES, UNDARA VOLCANIC NATIONAL PARK
This system of underground caves (well, lava tubes) was produced by a volcano that erupted around 189,000 years ago. Running for 160 kilometres, it's one of the longest lava tubes in the world — and it's for real exploring enthusiasts. Why? It's located a cool 18-hour drive from Brisbane. You could, alternatively, fly to Cairns then drive 300 kilometres southwest to Undara Volcanic National Park, where the caves are located.
Once you're there, you'll need to join a guided tour to explore the ancient caves, because of their unstable nature. There are a heap of free hikes you can take through the crater-spotted national park, too, but keep an eye out for closures during wet season due to the conditions.
Top image: Tourism and Events Queensland.
Concrete Playground Trips
Book unique getaways and adventures dreamed up by our editors