ARTS & ENTERTAINMENT
Five Brisbane Date Ideas for This Week That Aren't Dinner and a Movie
Just think of us as your cultural wingman.
Five Brisbane Date Ideas for This Week That Aren't Dinner and a Movie
Just think of us as your cultural wingman.
---
Tired of the classic movie and dinner date night combo? Us too. That's why we're always on the hunt for new things to do, scouring the city for not-boring Brisbane activities — ones that are guaranteed to take your next date way beyond done-before beers at the pub. Whether you're taking someone on a second date or doing your 100th with your significant other, we've got some killer (and, yes, cute) ideas for dates to go on this week, no matter how much money you've got to spend. Just think of us as your cultural wingman. You're welcome.


FREE
CATCH 45 BANDS AT NINE FORTITUDE VALLEY VENUES
When the Mountain Goat Valley Crawl kicked off in 2016, it did so in simple but great style. Recognising that the key to many a good night out is a multi-venue itinerary, it made hopping between Fortitude Valley's finest hangouts a streamlined, well-organised yet still laidback experience — with brews aplenty and an ace live music soundtrack.
Five years later, the sprawling music and beer festival is still going strong — and it's coming back in 2020. On Saturday, February 15, you and your favourite person can jump between nine Valley spots to see a huge heap of interstate and local artists. And we mean a heap, with 45 musicians and bands on the bill.
The simultaneous sonic fun takes place at The Brightside, The Foundry, Black Bear Lodge, Barbara, Crowbar, Blutes, The Elephant Hotel, The Valley Drive-In and the Woolly Mammoth Mane Stage. As always, the agenda includes running between each to sip frosty beverages and catch crackin' sets, with the entertainment once again sponsored by a brewery.
The whole shindig kicks off at 5pm, so the only thing left for you both to do is clear your calendar for an ace day of tunes, brews and hopping around the Valley.

UNDER $50

PAIR DESSERT DUMPLINGS WITH CAKES, ICE CREAM AND DESSERT WINE
Every balanced diet recommends eating sweet treats in moderation. It's probably best you and your other half don't think about that at the Sunshine Coast Dessert Festival, though. No one is being sensible at a fest dedicated to cakes, brownies, ice cream, doughnuts, crepes and lollies, after all.
Thanks to a hefty lineup of dessert food trucks, you'll have plenty of dishes to choose from. Also on offer: dessert dumplings and dessert wine tastings. Demonstrations, live music and artisan markets are on the bill as well, so you'll have something to do when you're not gulping down the sugary stuff.
It all takes place on Saturday, February 15, running from 10am–7pm. Head north and make a day of it, with the fest taking over Aussie World. That means you can just nab a $10 ticket (with all food bought for separately), or pay $40 and get access to the venue's rides as well. Mini golf and a sideshow alley are also part of the Palmview spot, too.

CLIMB UP AND DOWN AN INDOOR RIVERBED
Brisbane's Gallery of Modern Art boasts plenty of highlights, including its location right next to the Brisbane River. Art lovers can walk through the venue's halls, enjoy a snack at its waterside cafe and even relax on the grass while taking in the view — but you and your special soneone can't usually walk along a massive indoor riverbed.
'Usually' is the key word, with GOMA serving up just that during its huge 2019–20 summer program, Water. As part of an expansive exploration of the titular liquid substance in all of its forms until April 26, 2020, the site is now home to Olafur Eliasson's Riverbed installation. Created by the Berlin-based, Danish-Icelandic artist, the huge piece uses more than 100 tonnes of rock to recreate an Icelandic stream inside the South Brisbane venue.
With more than 40 works by international and Australian artists included in the exhibition, Riverbed also has some serious company. Cai Guo-Qiang's installation Heritage makes its return to GOMA, with the piece inspired by Stradbroke Island, featuring more than 40 life-size animals drinking around a waterhole, and appearing at Water in a new arrangement.
And if you're fond of art that you can interact with and learning about the biggest threat facing humanity — and climbing — then keep an eye out for William Forsythe's The Fact of Matter, which is comprised of suspended gymnastic rings. As visitors make their way through the space, they're asked to contemplate the weight and strength of their body, the impact it has on the earth, and the power we can exert if we all come together to combat climate change.

UNDER $100
DRINK YOUR WAY AROUND A COCKTAIL MARKET
No one really knows when alcohol-loving humans first started mixing their booze with other ingredients, but we do know when they first started referring to the resulting concoctions as cocktails. It was in 1806, so more than 200 years ago. There's some food for thought next time you mix up or knock back a drink — or to impress your date with when you're drinking, chatting and making the most of Jade Buddha's returning cocktail markets.
What's a cocktail market? A chance to try plenty of different types, all in sample-sized tastes so you really can wet your lips with a few. Because the latest event is taking place on Valentine's Day, it'll be serving romance-themed tipples — and you can sip them from 6–8pm on Friday, February 14.
While entry to the riverside bar is free, $35 will get you four cocktail tokens to use at the special pop-up bar. For each token, you'll get one standard drink.
And it's worth remembering the golden rule of cocktails: they always taste better when you're drinking them with other people, especially on this particular occasion.

ONE BIG BLOWOUT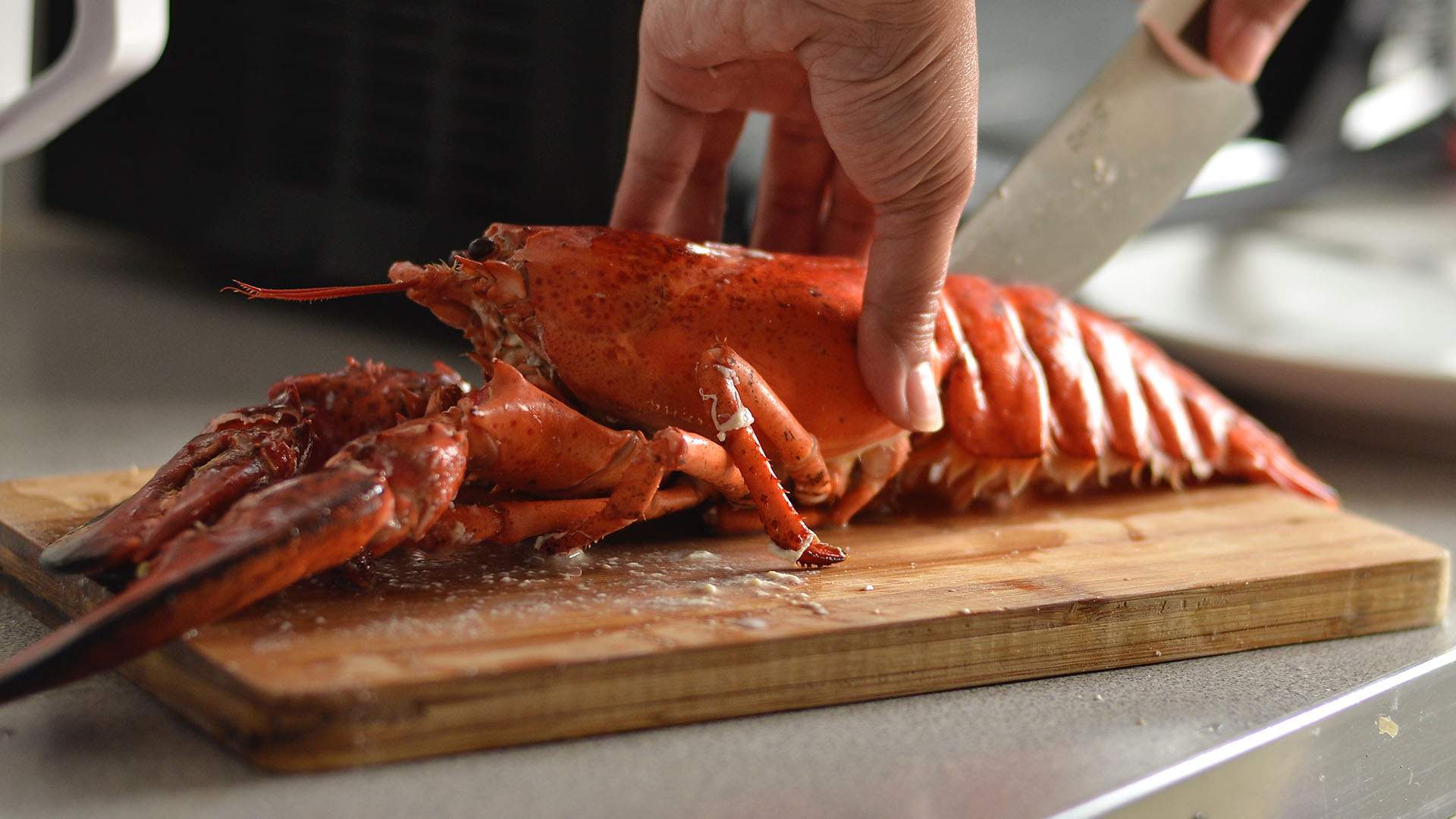 FEAST ON FIVE COURSES OF LOBSTER
Usually, five courses of lobster is an expensive and indulgent meal — the kind that makes you and your partner break open your piggy bank, don your fanciest threads and lap up a big night out. But for a week at Fortitude Valley's SK Steak & Oyster, it's simply part of the menu for the reasonable price of $85.
The reason: Australia's lobster industry finds itself overstocked, with shipments to China cancelled at present. That means more Tasmanian rock lobster left at home, so SK has snapped up plenty — turning it into raw lobster tartare, classic lobster cocktails, lobster risotto and butter-baked lobster, plus lobster mash and lobster salad.
Eat your way through all of the above at the Calile Hotel's latest addition, with the five-course menu available for a week from Friday, February 7.
Understandably, bookings are essential — because, as the frenzy surrounding Betty's Burger's lobster roll has demonstrated, lobster is always popular.

Top image: William Forsythe. America, b.1949. The Fact of Matter 2009. Site-specific installation comprising gym rings, fabric straps, gym mat and truss system. Dimensions variable. Pictured: Installation view, William Forsythe: Choreographic Objects, The Institute of Contemporary Art, Boston, 2018-19Image courtesy the artist. Photograph: Liza Voll. © William Forsythe.
Published on February 11, 2020 by Concrete Playground