FOOD & DRINK
Blues, Roots and Langos: A Journey Through Bluesfest's 2017 Food Lineup
From Yemeni bread to vegan pasta and those organic doughnuts — here's what we ate at Bluesfest this year.
When Patti Smith tells you to put your hands up and feel your fucking freedom, it's pretty difficult not to oblige. And, when you take a second to look around at the lights, gums and five stages at Tygarah Tea Tree Farm (which somehow was not a swamp despite all the area's recent rain), you realise Bluesfest 2017 is a pretty good place to do it.
Of course, how you feel your festival freedom is up to you. This year, the five-day Easter long weekend festival, gave punters the opportunity to skitter from Courtney Barnett to NAS, sing along with their dads at The Doobie Brothers, feel some high note tingles during Gallant's set and join an audience-wide line dance with New Orleans eight-piece brass band The Soul Rebels. That's not to mention Patti's two sets (we're sure that everyone who saw her play Horses in full on Friday came back for her acoustic set on Saturday), a jazz orgy from the always-great Trombone Shorty and Neil Finn closing out the festival with some Crowded House on Monday.
We did all of this, but we also decided to find our freedom by way of food. This is pretty easy at Bluesfest — most of the nosh on offer is delicious and, better yet, comes from local producers and eateries. As always, the offering was vast and dietaries were well catered for. Even if you weren't there this year, it's likely a lot of these eateries will make a return appearance at this year's Splendour in the Grass, and many of them can be found around Byron and the Northern Rivers area at other times of the year. Here are some of the best things we demolished during the festival.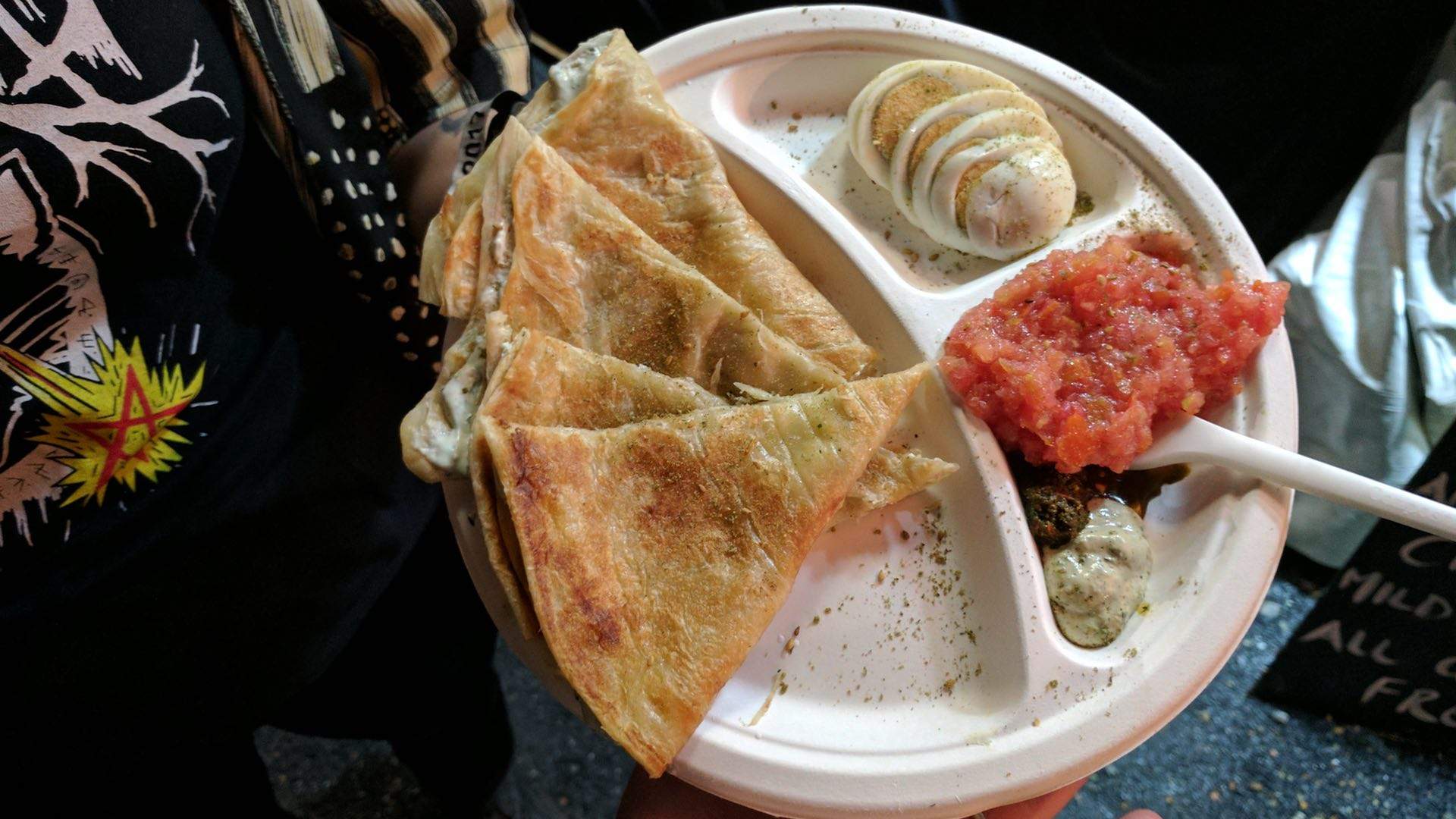 MELLAWACH FROM YAMAN
Gozleme is generally a staple of the festival diet, but at Bluesfest, it's all about mellawach. But that's no reason to be disappointed — the Yemeni fried bread is possibly even better than its Turkish counterpart. Get it stuffed with spinach and feta (and served with pureed tomato, zhug and a boiled egg) or, for eating on the run between stages, you can get it all thrown in a wrap. Yaman do catering for festivals and markets around the area, and have just opened a restaurant in Mullumbimby.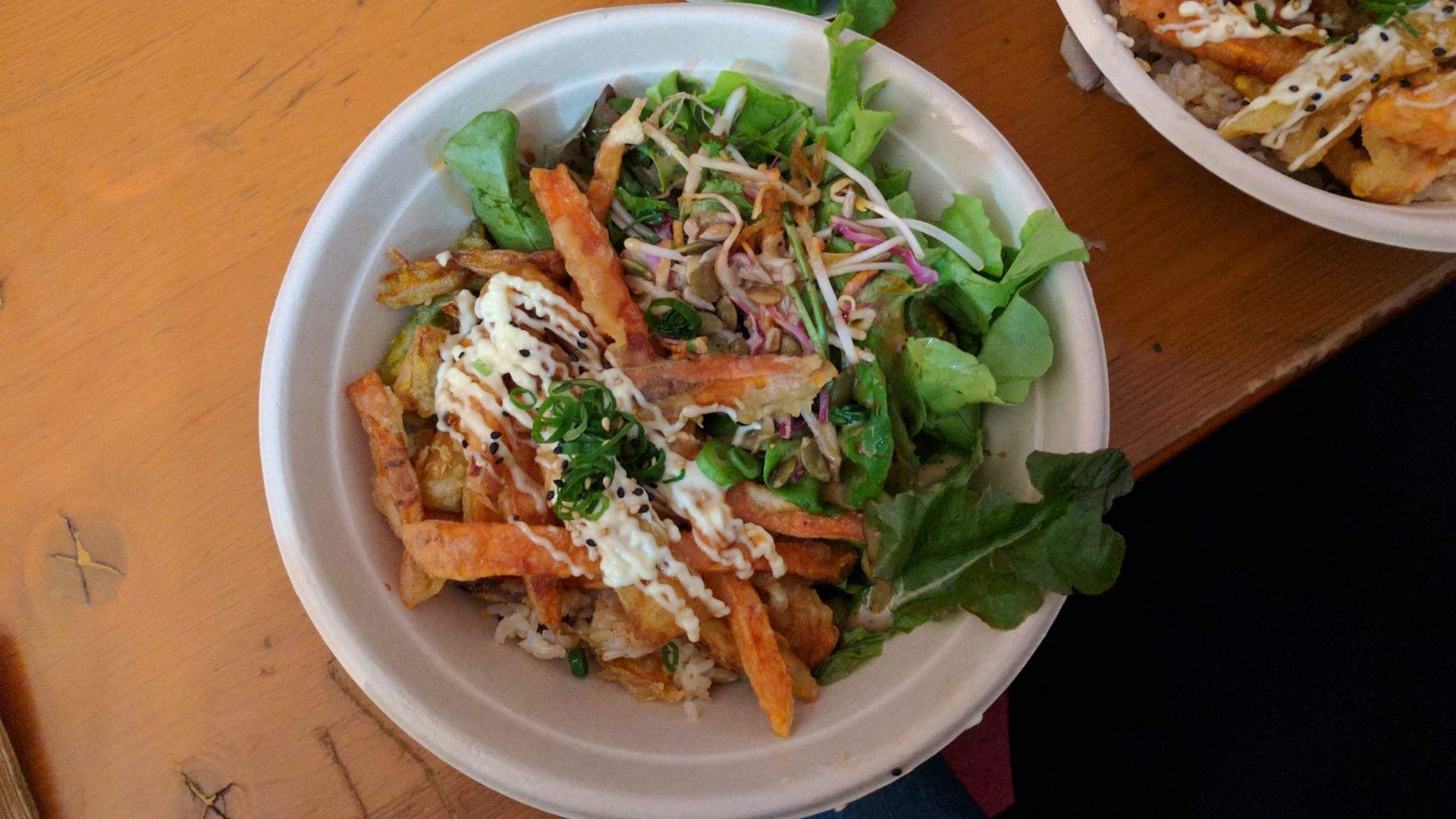 TEMPURA VEGGIE BOWL FROM FEDERAL DOMA CAFE
Bluesfest is a long festival, and you can't survive on fried bread for the whole five days. But these Japanese bowls are another story. The veggie tempura (also available with salmon or teriyaki chicken) comes with brown rice, leafy greens and a sesame dressing, and it was one of the best things we ate at the festival. The stall is run by Federal Doma Cafe, which is worth a visit in its own right — the drive out to Federal from Byron is lovely and the food is worth hunting down outside of festival time.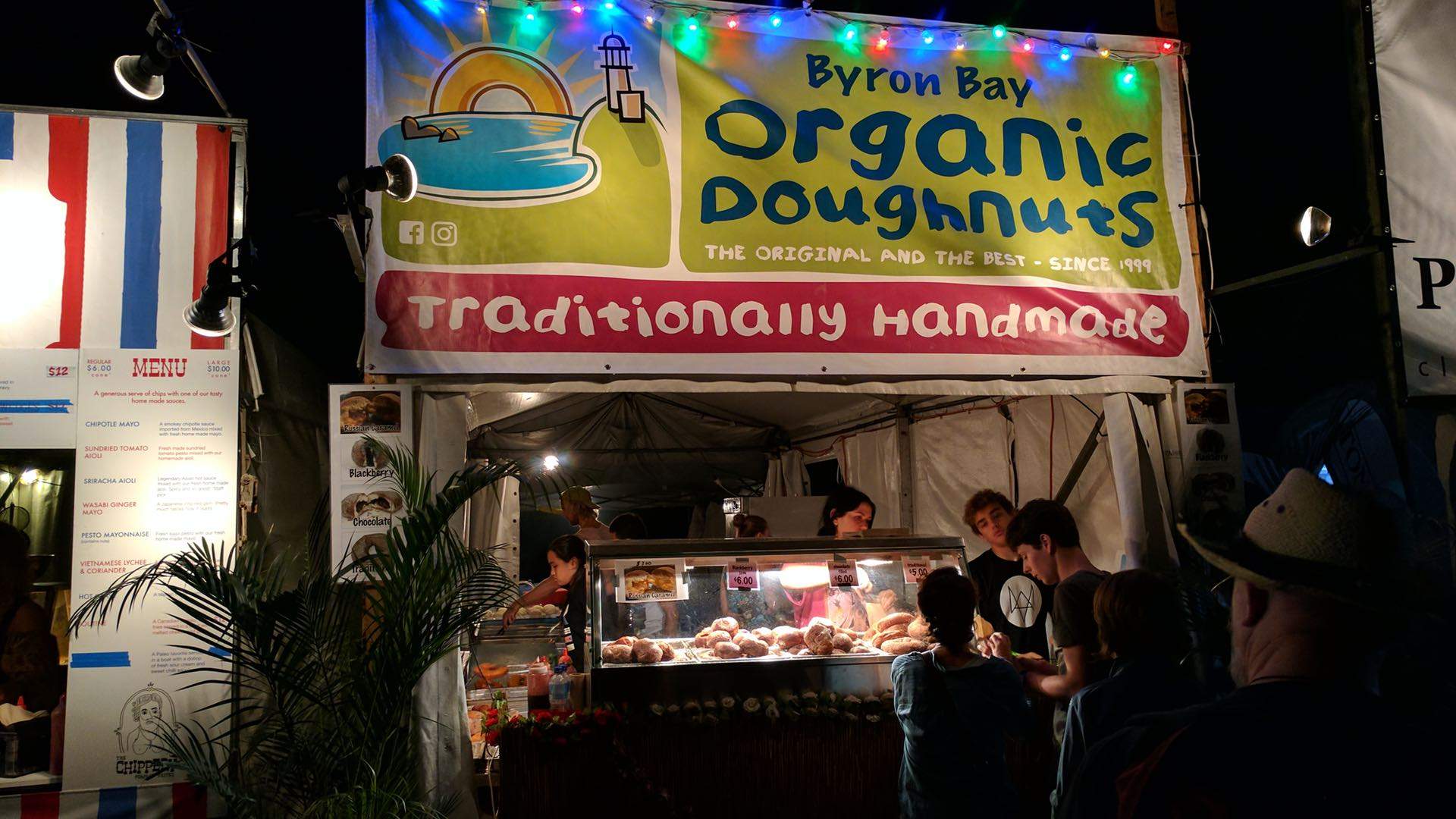 A DOUGHIE FROM BYRON BAY ORGANIC DOUGHNUTS
Look, we're not saying this is the reason we go to Bluesfest year after year, but we're not saying it's not. These balls of dough are about as legendary as the festival itself. Like all popular eating establishments, the line can get really, really long — on Friday night it was at least 30 people deep. But you've gotta do it. For future festivals, we recommend going around lunchtime, grabbing a coffee and scoffing one of these bad boys (in caramel, chocolate, blackberry or plain) while they're still warm. Byron Bay Organic Doughnuts also regularly appear at markets in Byron, Bangalow, Brunswick Heads, Mullumbimby and Lennox Head, just FYI.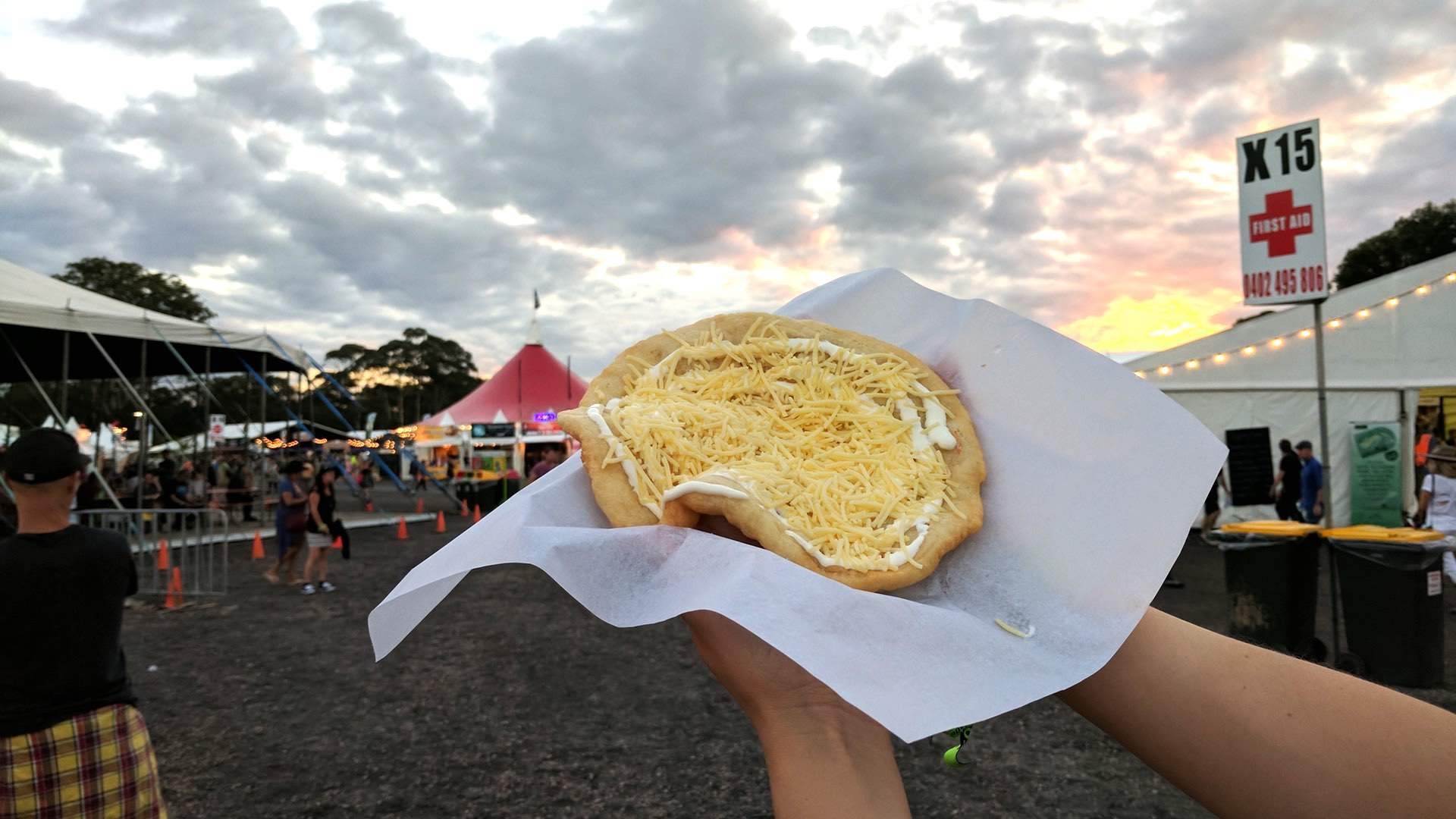 LANGOS FROM LANGOS HUT
How good can bread with cheese and sour cream really be? Well, pretty bloody good. Langos is a Hungarian style of fried flatbread topped with various condiments — sort of like a personal pizza, but much simpler. This is a good one if your tummy's feeling a little fragile from the night before — it's plain, but it's bready, chewy and savoury and will fill you up for a few hours.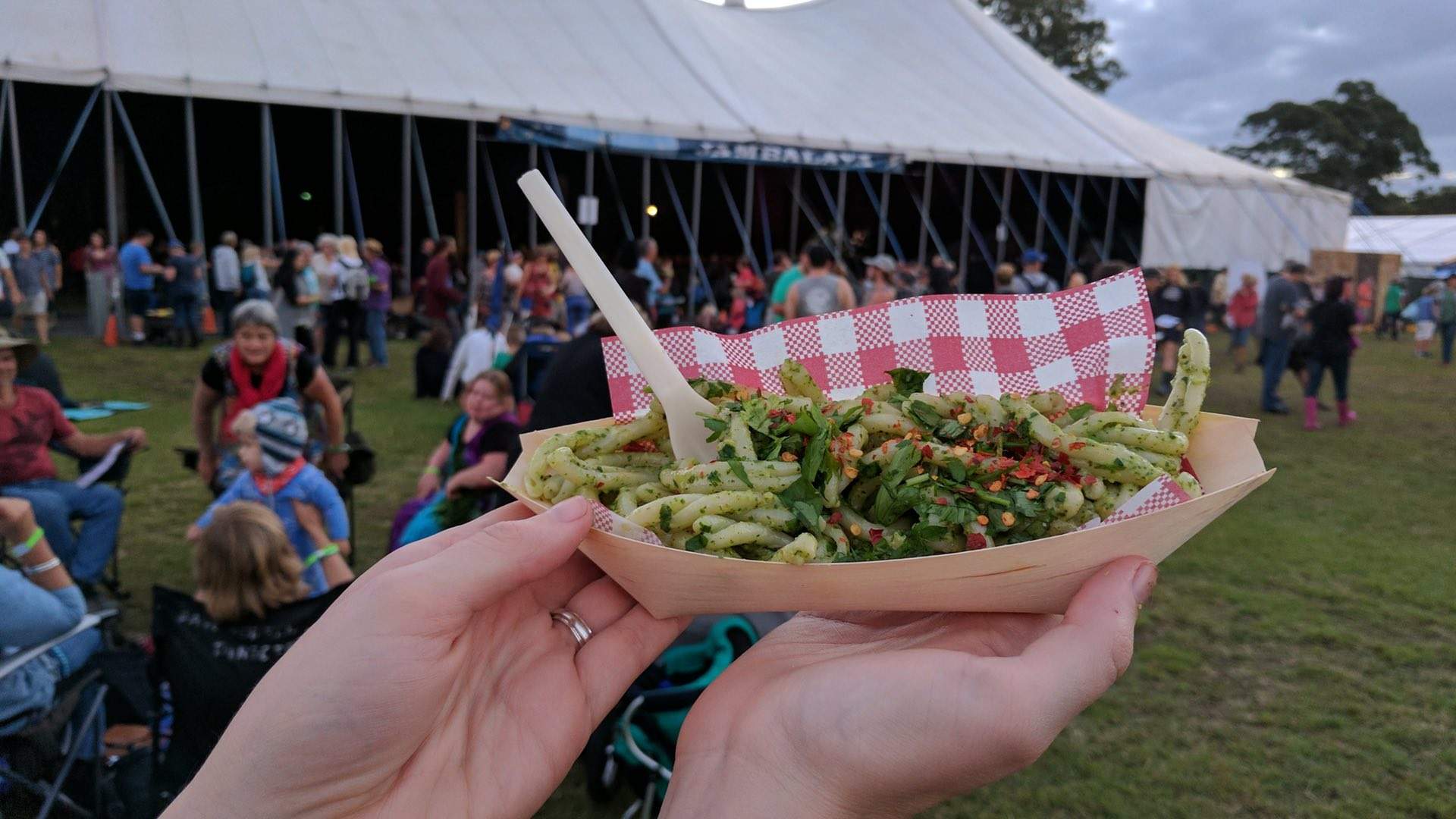 VEGAN GLUTEN FREE PASTA FROM THAT ARANCINI GUY
When you've got one or more dietary requirements, you're pretty used to eating hot chips and self-supplied rice cakes at festivals. Luckily, festival food has evolved way beyond meat and wheat, and Bluesfest is certainly no exception. That Arancini Guy covered off all of our own/our mates' dietaries in one fell swoop — this lil' bowl of pesto pasta is not only vegan, but gluten-free as well. Plus, they bring their own parmesan wheel to the festival, so you can also get spaghetti straight outta the cheese wheel if there are no intolerances holding you back. These guys are actually based in Melbourne and are regulars at festivals and markets around Victoria.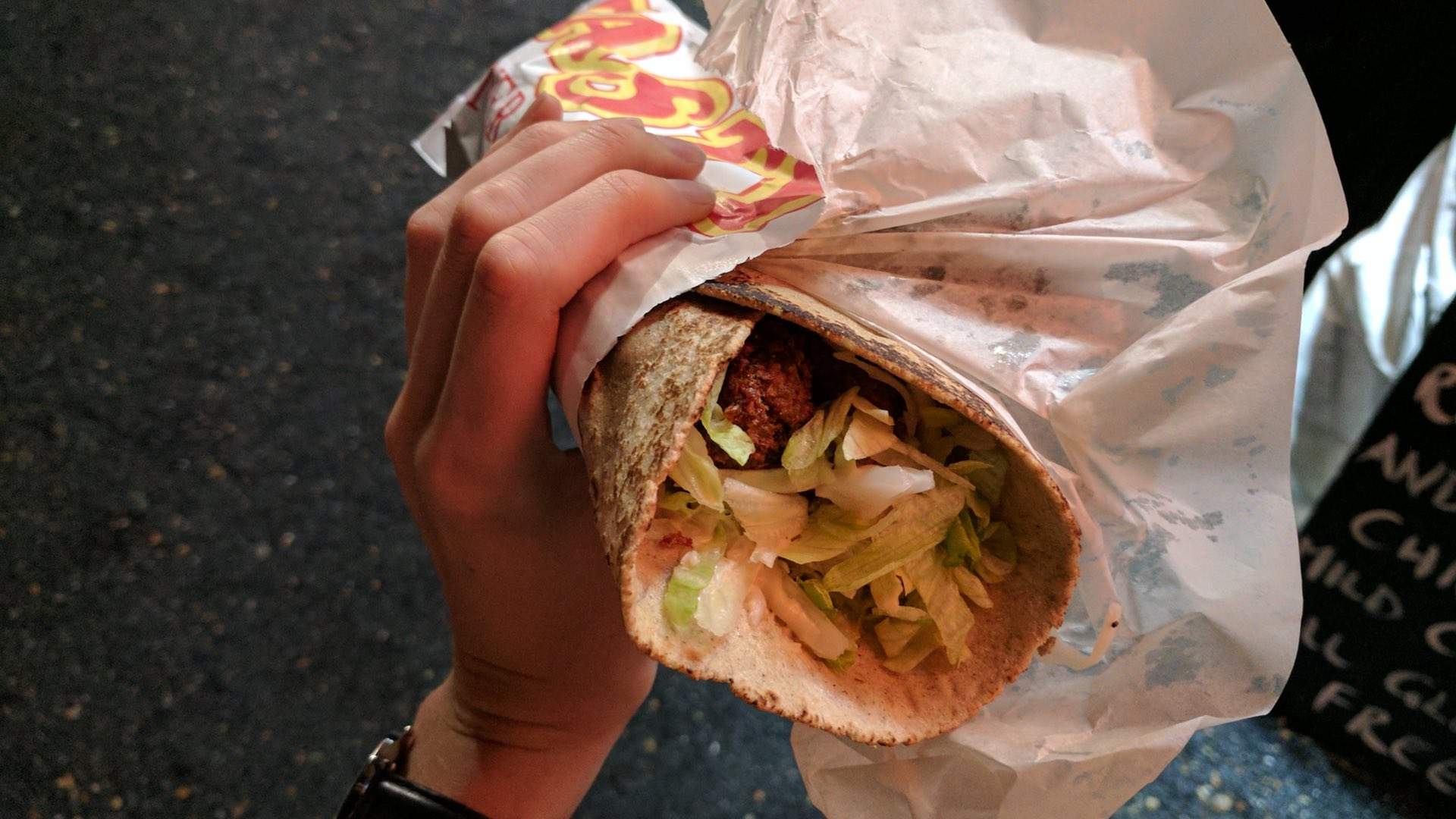 FALAFEL FROM FALAFEL & KEBABS BYRON BAY
Every festival needs a good falafel — and while this one from Falafel & Kebabs wasn't the best falafel we've ever had, it did the trick nonetheless. The falafels were hot and crunchy, and they even have gluten-free wraps. But perhaps we've just got high standards because we know Orgasmic Food (one of Australia's best falafel purveyors) is only a few kilometres away. Someone start a petition for them to come to Bluesfest next year.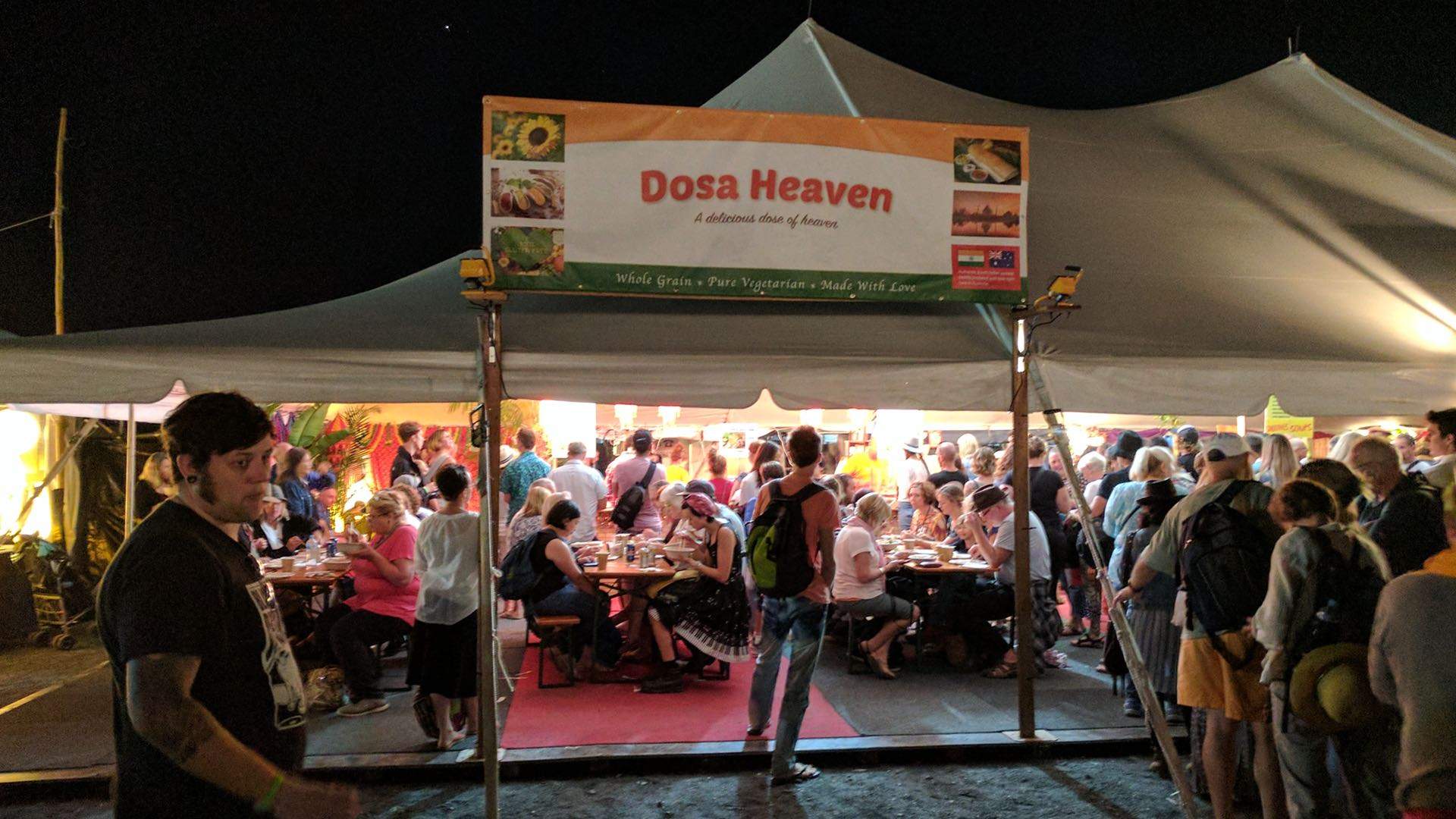 MASALA DOSA FROM DOSA HEAVEN
Future Bluesfest tip: walk past the potato spiral tent (there's always one...) and proceed to find potato of a different kind. Arguably the best way to eat potato at Bluesfest is when it's ensconced in a paper-thin Indian crepe and served with coconut chutney. Dosa Heaven regularly makes appearances at the markets at Murwillumbah and up on the Gold Coast too.
A FLAT WHITE FROM BUNCOFFEE
No Bluesfest weekend could go by without a visit to the coffee tent. Somehow the Byron-based BunCoffee crew, in their fifth year at the festival, managed to knock out copious cups of coffee each day (and night) and still make each one taste good.
Published on April 19, 2017 by Lauren Vadnjal