ARTS & ENTERTAINMENT
Port Melbourne Is Now Home to the Southern Hemisphere's Largest Mural
The 9000-square-metre animated 'gif-iti' was created by local artist Kitt Bennett.
Port Melbourne Is Now Home to the Southern Hemisphere's Largest Mural
The 9000-square-metre animated 'gif-iti' was created by local artist Kitt Bennett.
---
The usually sparse, concrete surrounds of Port Melbourne's Fisherman's Wharf precinct have been given a dramatic facelift, jazzed up with the help of a huge, record-breaking artwork. Gracing the ground of the waterfront stretch, you'll now find a sprawling mural by Melbourne-based large-scale artist Kitt Bennett. And, not only is the 9000-square-metre design the largest mural in the southern hemisphere, but it's also nabbed the title of the world's largest independently produced work of animated 'gif-iti' — a term referring to gif-style graffiti or street art which is viewed online, as coined by UK artist ISNA.
Called Revolution, the giant artwork was crafted using satellite technology and over 700 litres of paint, taking Bennett a whole 30 days to complete. Designed to be viewed from above, it features a row of ten individual 30-metre-long figures each in different poses which, when seen together, form separate frames in an animated sequence. A team of animators and designers have also optimised it for audiences, creating a fluid, gif-style animation that audiences will be able to view online.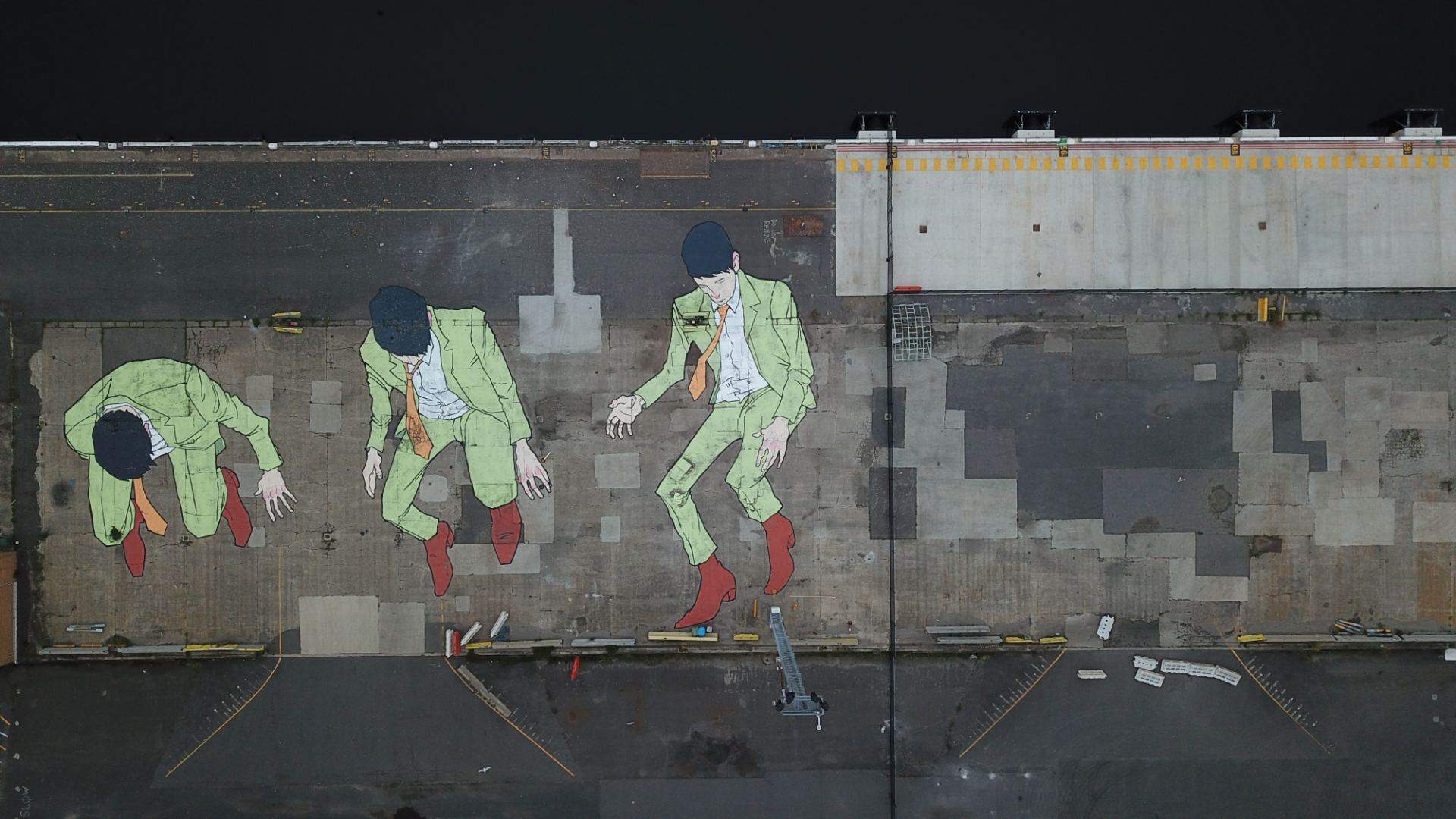 This new piece was born of a collaboration with local street art collective and street art collective and creative agency Juddy Roller, who you might know from teeing up Adnate's Collingwood public housing block mural last year, as well as regional Victoria's famed art silo trail.
The Port Melbourne work has stolen the ultimate bragging rights from Perth's new Adnate hotel, which was previously home to the southern hemisphere's largest (and still its tallest) mural. That mural reaches 27 storeys in height, while Revolution covers the equivalent of 90 floors worth of ground space.
A short film documenting the whole Port Melbourne mural process has also been created, and will be on show at an exhibition at Juddy Roller next month.
It's designed to be seen from an aerial perspective, but Revolution is now gracing the ground at Port Melbourne's Fisherman's Wharf. For further information about Juddy Roller, visit its website.
Top image: Nicole Reed.
Published on November 10, 2019 by Libby Curran